2020 Raja Ampat Underwater Photo Workshop
Join us December 4 - 14, 2020 for some of the most amazing diving in the world on one of Indonesia's most luxurious liveaboards with a maximum of only 12 divers!
December 4 - 14, 2020
Sorong to Sorong Route
Led by Mark Hatter

10 Nights for:
Double Cabin - $6,120
Master Cabin - $6,750
Single Cabin - $7,870
Cabin 7 - $5,508
WHY JOIN THIS TRIP?
25% off rental photo gear from Bluewater Photo
Arguably the best diving in the world: highest number of fish and coral species in the world, great macro, amazing reefs and much more
FREE daily photo workshops
Great itinerary with unlimited diving covering Raja Ampat's best dive sites
One of Indonesia's most luxurious liveaboards: the Damai I
All-inclusive price: taxes, port fees, full rental gear, laundry, massages, Nitrox, beer and 1 glass of wine at dinner included (park fee excluded)
Trip Overview
The jewel-like islands of Raja Ampat are caressed by a convergence of swift nutrient-rich currents. Here, the pulse of marine life thrives from the sea floor to the surface where the kaleidoscope of corals can start in less than a meter of water.
There are sites that are so pristine and packed with growth, that a photographer is hard-pressed to find a spot to place a steadying finger. Exotic sea life and macro critters abound, of course, and photo opportunities border on overwhelming. But at the end of the day, the most memorable moments for us are what can rarely be captured in digital format: the incredible experience of drifting along miles of exquisite reef brimming with a rainbow of hues and activity, the likes of which few have ever experienced.
Read all about the BWT trip to Raja Ampat in November 2019 here.
Damai I has been specifically designed for cruising and diving in the tropical waters of Indonesia, and passenger well-being is always the top priority. Equipped with the latest navigation, communication and safety equipment, the DIVE DAMAI fleet sets a new standard for safety as well as comfort, service and passenger amenities.
Of course, even the best ship is only as good as her crew, and this is another area where DIVE DAMAI shines. Every trip is managed by a highly qualified and experienced western cruise director, complimented by an ever-helpful Indonesian crew, all of whom are dedicated to making your diving holiday the trip of a lifetime.
Marine Life to Photograph
Raja Ampat has one of the highest numbers of fish species of anywhere on the planet. Here are just a few examples of marine life you're likely to see: wobbegong sharks, jacks, barracuda, Napoleon wrasse, trevally, bumphead parrotfish, pygmy seahorses, batfish, angelfish, butterflyfish, barramundi cod, and a good variety of nudibranchs.
If you look a little deeper when the current picks up, you can see reef sharks at most sites, especially at places like Blue Magic and Sardines. These are also prime locations for schooling fish, which tend to gather when the current is running. At such times, it's not unusual to be surrounded by clouds of fusiliers and surgeonfish in mid-water, while legions of sweetlips completely obscure large coral heads below.
See also: Raja Ampat Dive Travel Guide
December Conditions
Average Raja water temperatures in December are in the low to mid-80s. A full 3mm wetsuit is recommended.
Read the reviews on diving Raja Ampat here
Inclusions
All meals, snacks, soft drinks, beer, and one glass of wine at dinner. Additional wine and spirits extra.
Unlimited diving, including night dives. Maximum diver to guide ratio of 4:1
Full rental gear: BCD, regulator, 3mm or 5mm wetsuit, mask, fins, and computer
Tanks, weights, weight belts, pony bottles (spare air) and dive torches
Nitrox
Laundry service
Massages
Land tours and group activities organized by Dive Damai during the cruise
Government taxes
All vessel port and harbor fees
Transfers to and from Sorong airport or a local hotel on the day of embarkation and disembarkation
Exclusions
Park fee (IDR 1,000,000), to be paid separately onboard, subject to change
Airfare to and from Sorong. We can work with the Damai concierge team to assist in arranging your travel within Indonesia.
Gratuity
Dive insurance (compulsory) - we recommend DAN!
Travel Insurance: click here to learn more about our preferred plan
Daily Photo Workshops
Workshops will be given daily on topics such as wide-angle underwater photography, ambient light shots, snorkeling with large animals, strobe exposure, and positions, avoiding backscatter and composition.
Trip Schedule
The itinerary can be variable and will be planned according to the direction of the trip leader and cruise director on board. They will have a good idea at that time of the conditions at the various locations. A typical December itinerary would include the following locations:
Days 1 - 3: Dampier Strait, Arborek, Waigeo, Aljui Bay (all considered to be Northern Raja Ampat)
Days 4 - 7: Move to "Southern Raja Ampat" - Bo'o, Fiabacet, Daram, Balbulol
Days 8 - 10: Slowly move north back to Sorong - Batanta, Yanggefo, Kri, etc.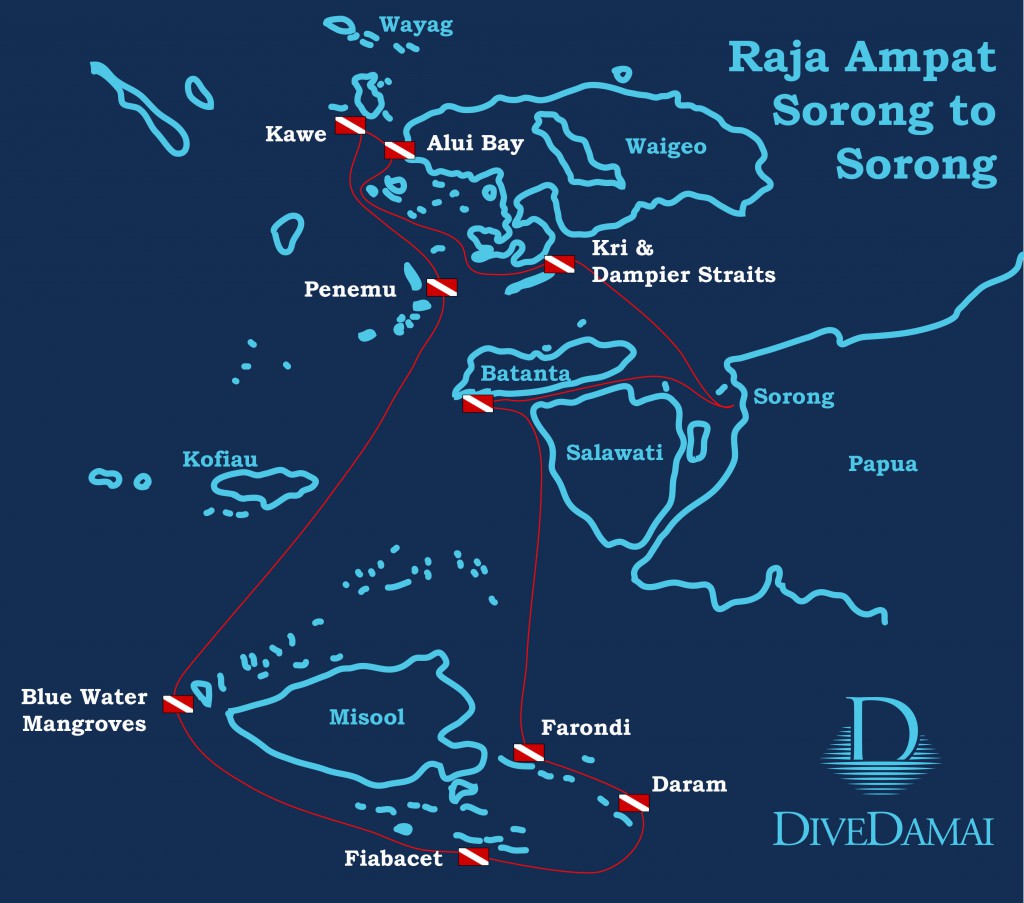 About Damai I Vessel
The vessel has been designed with three large deck areas for relaxing in both the sun or shade and for enjoying relaxing massage and spa treatments. Specifically designed for divers, the vessel offers large dive stations with individual rinse tanks and a camera room with separate camera workstations with integrated 110v and 220v charging station for each photographer.
Read the reviews of the Damai I here.
ABOUT THE TRIP LEADER
Mark Hatter is an accomplished photojournalist who has had nearly one hundred feature articles with many hundreds of images published in more than two dozen fly fishing and diving publications over the last two decades. His most recent destination features have appeared in Alert Diver and Diver (UK) magazines.
Mark has traveled the world in pursuit of new underwater photography challenges, including cold water destinations such as British Columbia and even in Antarctica in January 2018.
"Of course I love shooting in tropical locations but I think cold water diving is a great forcing function to hone one's photography skills as the environment and equipment are much more demanding of a diver. Good image capture in cold water is particularly rewarding." Mark tells us.
Mark has been shooting underwater since the early 1980s and has worked in both film and digital medium in his photojournalism pursuits. In 35 years of diving, Mark has logged over 2000 hours, much of it doing underwater photography. Currently, he teaches underwater photography classes locally at Seminole Scuba in Lake Mary, Florida. You can email Mark at markh@bluewaterdivetravel.com.
Learn more about Mark Hatter here
Flight Information
The trip will begin and end in Sorong. When the time comes (no sooner than 1 year before departure) we can assist you with flight suggestions and booking if you prefer. Getting to Raja Ampat generally takes at least 2 layovers/connections, and will require roughly 2 days of travel.
Payment Schedule
Deposit: 15%
Payment 2: 15% Due 11/1/19
Payment 3: 30% Due 3/1/20
Payment 4: Balance, Due 6/1/20
SEE also:
Damai I Liveaboard: Amenities, Cabins, Reviews & More...
Got Questions? Ready to Book?
Call us today at +1-310-915-6677 email us at trips@bluewaterdivetravel.com
Or stop by our office at 3961 Sepulveda Blvd, Suite 206 Culver City, CA 90230
And let us book your dream vacation!
Photo Gallery

---
Raja Ampat Underwater Photos from Previous Trips