Roatan Diving (+Utila & Guanaja, Honduras)

---
Roatan Diving Highlights (+UTILA & GUANAJA)
Experience diving Roatan, Utila, and Guanaja - described as the last undiscovered dive destination in the Caribbean. The Bay Islands of Roatan, Utila, and Guanaja lie west to east off the coast of Honduras and are conveniently accessed from the US. Part of the Mesoamerican Barrier Reef System, all three islands boast pristine beaches, clear warm waters, and rich and diverse marine life with plentiful dive options.
ROATAN, UTILA & GUANAJA DIVE RESORTS & LIVEBOARDS
Roatan, Utila and Guanaja (also known as Bonacca) are the main islands of the island collective known as the Bay Islands of Honduras. Roatan is the largest island of them all and is easily accessible from the US with direct flights to the Coxen Hole airport (airport code RTB). Due to its British history many islanders speak English or creol English in addition to Spanish, making it even easier to visit.
As the largest of the Bay Islands, Roatan is more developed and as such attracts more tourists and families than the other islands, however, this does mean a wider choice of accommodation options and a modern airport.
Utila's laid-back attitude and budget-style accommodation options make this a popular destination for backpackers and independent travelers.
Almost all visitors to Guanaja will stay at one of the island's several luxury all-inclusive resorts. Getting there is a bit more involved than traveling to Roatan or Utila, however, this tropical paradise is worth the journey.
The main dive sites on Roatan and Utila are reachable from land-based dive operations, though for liveaboard lovers there is an option as well. The Roatan Aggressor embarks off the port in Roatan and combines the best dive sites of Roatan, Utila and Cayos Cochinos. A great way to start or end your liveaboard trip is by staying in one of Roatans' dive resorts.
The Bay Islands are not only a fantastic dive destination but also offer many activities on land for non-divers or snorkelers and water sport enthusiasts. Diving in the Bay Islands offers a great variety of hard and soft corals, combined with beautiful tropical fish, macro life and turtles. Roatan's shark dives are not to be missed on any stay. Nor is Utila's most famous dive site, Black Coral Wall, with its spectacular shallows and dramatic drop. Between February and April and October to December it is whale shark season on Utila - however you still need some luck to encounter them.
Intro to DIVING Roatan, Utila Honduras
Thirty miles (fifty km) from Honduras' Caribbean coast, Roatan offers fabulous dive resorts at reasonable prices along with easy and plentiful scuba diving. The Roatan dive sites offer a wide variety including wrecks, caves, walls, shark dives, and dolphin dives. Conditions are easy with minimal currents and plenty of shore dives perfect for beginners and snorkelers.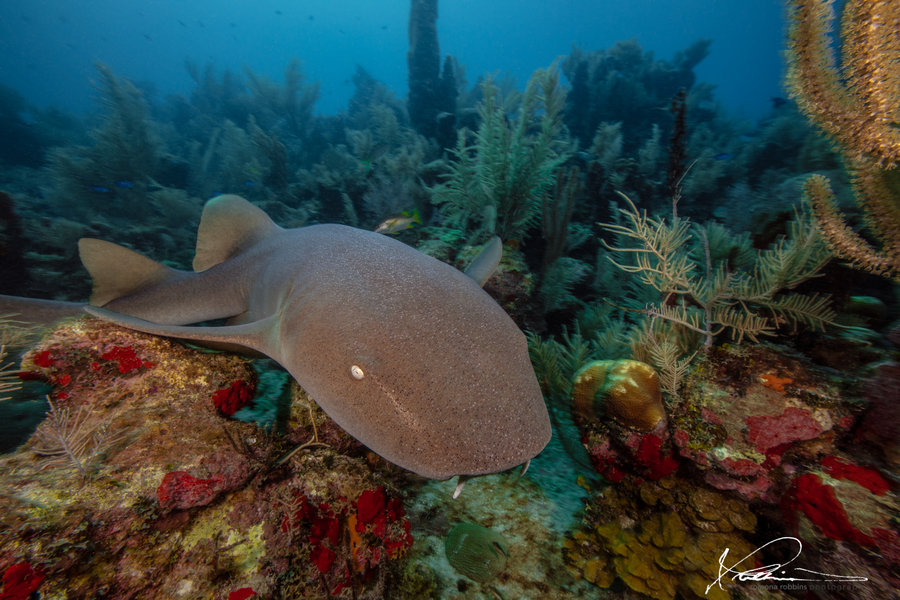 Just to the west of Roatan, Utila is the smallest of the major Bay Islands and is less developed than Roatan. The scuba diving in Utila is fantastic, in particular the chance to dive with migrating whale sharks. The majority of the island's 100 dive sites are on the sheltered southern coast, with a range of walls, caves, and caverns, as well as the wreck of the Halliburton.
Furthest east, Guanaja is lush, green, and home to only three small settlements. Ringed by a fringing reef and encircled by dive sites, visitors will discover sheltered reefs and a myriad of reef fish, and intriguing critters.
Roatan, Utila, and Guanaja are year-round dive destinations.
Roatan Diving Information

---
DIVE RESORT AREAS IN ROATAN, UTILA AND GUANAJA
ROATAN
Located on the northern coast of the western tip, West Bay Beach is Roatan's most famous area. It is also one of the most famous diving and snorkeling spots on the island. Protected from wind and weather the West Bay Beach coral reef is a terrific year-round dive destination. West Bay Beach is known for its lively area with many resorts, restaurants and shops to choose from.
Do not get confused by Roatan's second most famous area, West End. Just a little further up the coast this vibrant neighborhood is a phenomenal spot to be. With shops, dive outfitters, bars and restaurants, and smaller hotels, it is the perfect place to dive, dine and drink. Even if you are staying in West Bay Beach, it is worth visiting West End because it's only a 30-minute walk or 5-minute taxi ride away.
UTILA
Just a one-hour ferry ride or 15-minute flight away, the small island of Utila has a lot to offer. All resorts, restaurants and dive shops are located on the main strip of the south shore. The southeast side of the south shore (the point) is only a 30-minute walk from the southwest side. Being well-known for its high concentration of dive schools along a short strip, you are where the diving is no matter where you stay. If you are looking for big resorts with big pools, Utila might not be the right choice for you. Typically resorts in Utila consist of the dive shop with an extra building for accomodation. You can literally get up and jump on the boat in the morning or get off from the night dive just a step away from the dive bar.
GUANAJA
Guanaja is definitely not as easy to reach as Roatan, but it is well known for its natural beauty. This small jewel in the Caribbean is less than 16 miles (25 km) long and has an amazing coral reef around it. Not only do divers get a lot of value out of their vacation time, it is also outstanding for non-divers. With numerous hiking trails, it is easy to explore by foot. The main settlement is located on a key, with only a boat to travel to from the airport. With only one road connecting the area of Mangrove Bight (north) and Savanah Bight (south), it is a dive destination well off the beaten track.
Let Bluewater Travel help you find the perfect Roatan, Utila, or Guanaja diving resort!
MARINE LIFE & PHOTOGRAPHY SUBJECTS
Roatan, Utila, and Gunaja boast a wide variety of Caribbean reef life along healthy reefs covered in encrusting, elkhorn, and pillar corals, impressive sea fans, sponges, and unique patches of black coral. Expect to spot trumpetfish, groupers, parrotfish, and triggerfish going about their business while grunts, tang, and wrasse add splashes of color in the foreground. Small schools of chromis mingle just above the coral heads, and spotted drum, octopus, and moray eels loiter in crevices and overhangs. Divers can also expect to see squid, porcupine fish, pufferfish, eagles rays, and turtles on a good number of dives. Rarer spots include barracuda and nurse sharks.
There is also some interesting macro to be found, in particular around Guanaja. Lettuce slugs, arrow crabs, lobsters, flamingo tongue cowries, numerous crustaceans, and the occasional seahorse are waiting to be discovered.
Whale Sharks, Reef Sharks & Dolphins
Whale sharks are occasionally seen in Utila, and if one is spotted word quickly spreads through the Utila resorts. These huge filter feeders gather along the banks to the north of the island, and are most often spotted between March and May, and again between August and October.
Many resorts in Roatan run shark dives on a weekly basis. As many as 15 Caribbean reef sharks are attracted to feed on buckets of fish, giving visitors the opportunity to photograph and interact with the sharks face to face.
Some resorts in Roatan also offer dolphin dives with semi-wild dolphins. The dolphins play and interact with divers on the ocean floor.
roatan diving Conditions
Water Temperatures: Warm throughout the year, around 81-88°F (27-31°C).
Diving Difficulty: Suitable for all levels.
Visibility: Averages at 66ft (20m).
Depth Range: 33 - 131 ft (10 - 40m).
BEST Dive Sites in Roatan, utila, and guanaja
Coco View Wall, Roatan
Just a short swim from Coco View Resort, this dramatic, coral-encrusted site features exciting overhangs and crevices full of crustaceans and other critters. In the sand at 82ft (25m), garden eels and sand divers play hide and seek.
Mary's Place, Roatan
One of the most popular sites on the island, Mary's Place can get busy at peak times. This beautiful site features mazes and canyons covered in huge gorgonians, sea rods, and sea plumes, the perfect environment for abundant macro life.
Dolphin's Den, Roatan
On the north side of Roatan, this site boasts a similar topography to Mary's Place but is far less crowded. A honeycomb of tunnels and swim-throughs is full of shrimps and other crustaceans, and the skull of a dolphin sits deep within one cave.
Fish Den, Roatan
On the west side of the island, 8 miles (13km) of protected marine park is home to an abundance of reef life. The shallow Fish Den site is perfect for photographers and teeming with schools of jack and grunts, angelfish, and feeding turtles.
El Aguila, Roatan
At 108ft (33m), the wreck of El Aguila, or The Eagle, is relatively deep for recreational divers. However, she rests against a wall that allows divers to shallow up and enjoy a longer dive after the first few minutes at depth. This is one of the few sites featuring larger fish life, including black and goliath groupers, barracuda, and big moray eels.
Jack Neil Point, Utila
On the sheltered southern coast of Utila, this long, shallow dive features hard and soft corals in a unique tongue and groove formation. A good number of Caribbean reef fish inhabit the reef, and green and hawksbill turtles often make an appearance.
CJ's Drop-Off, Utila
The north coast of the island is exposed to the open ocean, and sites such as CJ's Drop-Off boast dramatic drifts along sheer walls. Unique rock formations, deep caverns, and huge sponges and corals make for exciting diving.
Black Rock Canyon, Guanaja
An intriguing trail of caverns, canyons, and tunnels created by ancient volcanic activity, this site is alive with silverside sardines, glassy sweepers, and barracuda. It's not unusual to come across a sleeping nurse shark or moray eel during exploration.
Jim's Silverlode, Guanaja
At 70ft (21m), a long tunnel follows the wall down into an amphitheater-like bowl full of grouper and moray eels. Schools of yellowtails and silverside sardines flit in and out of the shadows creating a dramatic dive.
best time to dive ROATAN, UTILA & GUANAJA
All three islands can be dived year-round. If there is swell or wind on one side of the island, the opposite side coast is usually calm. The rainy season is mid-October to late February, and during this time November, December, and January get the most rain. However, these are also the coolest months, and May through to September can be quite hot.
How much does it cost to dive in Roatan?
Roatan is a popular scuba diving destination and offers resorts and liveaboard options to suit all budgets. Juan Manuel Gálvez Roatán International Airport (RTB) is easily accessible from many major US cities and attracts a large number of tourists every year because of this.
For a customized quote, please get in touch and let us know the details of your trip. Through our network of partners, we can put together custom packages and offer a low-price guarantee. You'll never pay more when booking through Bluewater Travel, but you will get a dedicated travel expert with local knowledge to help with advice and booking the trip of a lifetime.
Roatan dive packages
There are some amazing dive packages available in Roatan, so you can enjoy an adventure vacation knowing that everything is taken care of. We can provide you with full-board options including daily dives in a number of great resorts. We also run frequent specials, so don't forget to check them out on our specials page or ask one of our travel experts about our latest offers.
How Deep are the Dives in Roatan?
One of the great things about Roatan diving is the fact you are surrounded by coral reefs. This means there is a wide range of depths at different dive sites, sometimes even on the same dive site. Dives can range in depth from just a few feet to well over 150 feet and beyond.
Some resorts allow you to shore dive, which will be shallower than boat dives at sites such as Big Bight, which can, in places, be easily deeper than 150 feet. So, all in all, there are a variety of dive sites with different depths to cater to all experience and certification levels.
Travel Information
---
How to Get to roatan, Utila & guanaja
Roatan - Fly directly from the US to Juan Manuel Gálvez Roatán International Airport (RTB) from various cities including Houston, Miami, New York, and Atlanta.
Utila - Fly to Utila Airport (UII) from Roatan, or from Ramon Villeda Morales International Airport (SAP) in San Pedro Sula, Honduras. There are also ferry services from Roatan to Utila.
Guanaja - Fly to Roatan and then take the Saturday flight to Guanaja Airport (GJA). Alternatively, from Roatan or San Pedro Sula, fly to La Ceiba and then on to Guanaja. This is longer but offers more flexibility. There are also several boat charters available from Roatan to Guanaja.
How to Dive Roatan, Utila & Guanaja
A good number of resorts on all three islands include an on-site dive center and will offer shore and boat diving to guests and day visitors alike. There are also many stand alone professional dive shops and operators.
The Roatan Aggressor runs 7 and 10-day trips around the Bay Islands, and this is a great way to discover all the best diving this area has to offer.
Where to Stay in Roatan for Diving
As one of the most popular destinations for scuba diving in the Caribbean, Roatan boasts tons of excellent options to choose from when it comes to accommodation. We recommend staying at a specialist dive resort with the facilities needed to give you the best diving experience possible. We're partners with some great dive resorts in Roatan, ranging from more budget-friendly options to mid-range and luxury resorts. Get in touch with our team of expert travel advisors, and we'll help you find the best resorts in Roatan to suit your needs.
Alternatively, if you want to be as close to the diving action as possible at all times, we can arrange a liveaboard trip for your Roatan diving adventure. We regularly book guests onto the Roatan Aggressor, which is part of a family of very popular boats. Click here to see the Roatan Aggressor's availability.
other things to do in ROATAN, UTILA HONDURAS
The Bay Islands are a great family destination, but also offer a variety of wildlife experiences. On Roatan, there is a nature refuge where you can see white-faced capuchins, howler monkeys, caimans, and various birds. Roatan also has a butterfly garden, an iguana farm, and botanical gardens. Visitors can explore the rainforest canopy with exciting jungle excursions, or swim, snorkel, or dive with dolphins.
Utila offers a whole host of watersports including stand-up paddleboarding, kayaking, and fishing, as well as the chance to do some white knuckle activities such as caving and horseback riding. Most visitors spend their time relaxing on tropical beaches and swimming in turquoise waters.
On Guanaja, visitors can enjoy snorkeling and fishing around coast, or venture into the jungle interior on a hike to the island's only waterfall.
DIVE RESORTS IN ROATAN
Bluewater Travel can help you book a dive resort and liveaboard in Roatan, Utila or Guanaja and over 40+ other destinations in the world at the same price or even lower than booking any other way. We are experts on the boats, cabins, diving, and logistics in Roatan, Utila and Guanaja. Email us today or leave us a message through the chat box to start planning your dream dive vacation in the Bay Islands of Honduras!
Read all about Bluewater Trip Leader Ramona Robbins' (Reynolds) amazing 2022 trip to Roatan here.
ROATAN LIVEABOARD AVAILABILITY
The Aggressor fleet of boats is well-known among divers for their excellent liveaboard trips, and the Roatan Aggressor is no different. Below you'll see its availability and the option to request a booking.

---
Other Useful Information

---
Practical Information
Currency: Honduran Lempira (HNL)
Electricity: Generally is 120V
Time Zone: Central Standard Time (GMT-6)
Language: The official language in Honduras is Spanish, but English is the primary language of local islanders.