BLUEWATER TRAVEL JANUARY LIVEABOARD SALE
UP to 40% oFF on liveaboard trips to 11 destinations
French Polynesia, the Solomon Islands, Truk Lagoon, the Maldives, Palau, Malapascua & Visayas, Komodo, Raja Ampat, the Red Sea, Myanmar & Thailand - all on luxury Worldwide Dive and Sail vessels!
Booking window: January 3 - 31, 2020

---
JUMP TO:
---
Up to 40% off on selected trips in 2020 & 2021!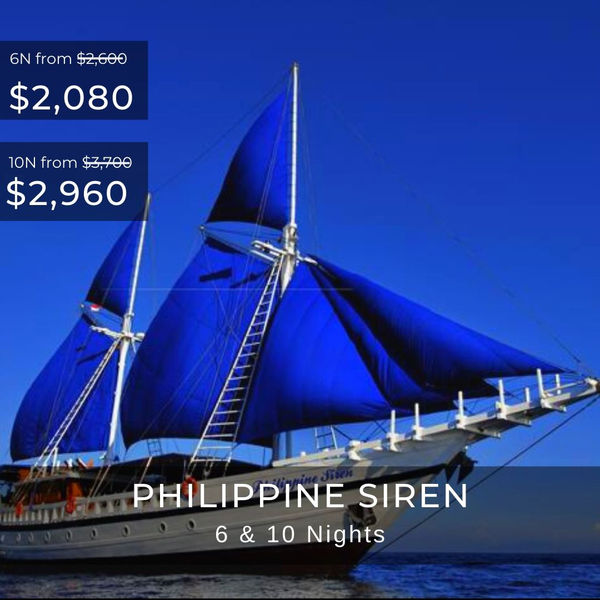 ---


TERMS AND CONDITIONS:
Valid on new bookings made between January 3 - 31, 2020 on eligible sailings.

Client name is required upon booking, and required deposit must be received within 72 hours.
If payment is not received within 72 hours, the space will be open for other bookings.
Bookings will be confirmed in the order payment is received.
Sale bookings may not be combined with any other offer
Group bookings will be accepted during the January Sale.
Destinations and sailings may be removed from the January Sale at any time and without notice.
Standard payment and cancellation terms apply to January Sale bookings.
---
HOW TO BOOK
1. Choose your trip and cabin preference from our live availability and click on the "Booking Request" button to send us your information.
2. If you are booking more than one spot, enter the full name of all guests in the "Remarks" section.
3. All booking requests will be held at option and you will receive an invoice within 24 business hours. Required deposit must be received within 72 hours of receipt of invoice to lock in the sale price. Click on the credit card icon at the bottom of the invoice to make the payment with a credit card.
4. If payment is not received after 72 hours, the booking request will be automatically canceled and the option released.
5. Your spot is not guaranteed until a confirmation email has been sent to your email by one of our agents. Do not book non-refundable flights or hotels until you have received notification of confirmation from us, or do so at your own risk.

---
TRIP DETAILS:
Note: Prices listed are for the cheapest cabin type, however, the applicable discount is given on all cabin types.
BLUEWATER TRAVEL GUIDED TRIPS
Special price on the last 2 spots on our "Best of the Visayas" Philippines Siren trip. Call or email for details. Led by Mark Hatter, includes free photo workshop. Feb 9th - 19th 2020.
French polynesia
Feb 6 - 16, 2020: 10 Nights from $6,250 now $3,750 (40% off) Tuamotus Archipelago
Feb 26 - Mar 4, 2020: 7 Nights from $4,525 now $2,715 (40% off) Tuamotus Archipelago
Apr 14 - 24, 2020: 10 Nights from $6,250 now $3,750 (40% off) Tuamotus Archipelago
Jul 24 - Aug 3, 2020: 10 Nights from $6,250 now $4,375 (30% off) Tuamotus Archipelago
Nov 27 - Dec 4, 2020: 7 Nights from $4,525 now $3,167.50 (30% off) Fakarava & UNESCO Biosphere Reserve
Dec 13 - 20, 2020: 7 Nights from $4,525 now $3,167.50 (30% off) Tuamotus Archipelago
Dec 21 - 28, 2020: 7 Nights from $4,525 now $3,167.50 (30% off) Tuamotus Archipelago
Dec 29, 2020 - Jan 8, 2021: 10 Nights from $6,250 now $4,375 (30% off) Tuamotus Archipelago
May 18 - 25, 2021: 7 Nights from $4,525 now $3,620 (20% off) Tuamotu Archipelago
May 26 - June 5, 2021: 10 Nights from $6,250 now $5,000 (20% off) Tuamotu Archipelago
Nov 21 - Dec 1, 2021 10 Nights from $6,250 now $5,000 (20% off) Tuamotu Archipelago
Dec 10 - 17, 2021: 7 Nights from $4,525 now $3,620 (20% off) Tuamotu Archipelago
Dec 18 - 28, 2021: 10 Nights from $6,250 now $5,000 (20% off) Tuamotu Archipelago
The Bahamas
Jun 12 - 26, 2020: 14 Nights from $6,300 now $4,410 (30% off) Ultimate Bahamas Experience
Jun 27 - July 11, 2020: 14 Nights from $6,300 now $4,410 (30% off) Ultimate Bahamas Experience
Jul 12 - 22, 2020: 10 Nights from $4,500 now $2,700 (40% off) Wrecks, Blue Holes & Sharks
Jul 23 - Aug 2, 2020: 10 Nights from $4,500 now $2,700 (40% off) Wrecks, Blue Holes & Sharks
Aug 11 - 21, 2020: 10 Nights from $4,500 now $2,700 (40% off) Wrecks, Blue Holes & Sharks
Sept 1 - 8, 2020: 7 Nights from $3,150 now $2,205 (30% off) Tiger Beach Experience
Sept 9 -16, 2020: 7 Nights from $3,150 now $2,205 (30% off) Tiger Beach Experience
Sept 17 - 27, 2020: 10 Nights from $4,500 now $3,150 (30% off) Wrecks, Blue Holes & Sharks
Sept 30 - Oct 7, 2020: 7 Nights from $3,150 now $2,205 (30% off) Tiger Beach Experience
The Galapagos Islands
Apr 13-20, 2020: 7 Nights from $5,850 now $4,095 (30% off) Master the Galapagos
Apr 20 - 30, 2020: 10 Nights from $7,450 now $5,960 (20% off) Master the Galapagos
May 28 - Jun 7, 2020: 10 Nights from $7,450 now $5,960 (20% off) Master the Galapagos
Jul 6 - 13, 2020: 7 Nights from $5,850 now $4,095 (30% off) Master the Galapagos
The Solomon Islands
May 2 - 12, 2020: 10 Nights from $4,305 now $3,013.50 (30% off) Solomons & PNG Navigator
May 13 - 23, 2020: 10 Nights from $4,305 now $3,013.50 (30% off) Solomons & PNG Navigator
May 24 - Jun 3, 2020: 10 Nights from $4,305 now $3,013.50 (30% off) Solomons & PNG Navigator
Jun 27 - Jul 7, 2020: 10 Nights from $4,305 now $3,013.50 (30% off) Solomons & PNG Navigator
Sept 5 - 15, 2020: 10 Nights from $4,305 now $3,013.50 (30% off) Best of the Solomons
Oct 31 - Nov 7, 2020: 7 Nights from $2,995 now $2,096.50 (30% off) Tufi
Nov 8 - 18, 2020: 10 Nights from $4,305 now $3,013.50 (30% off) Tufi
Nov 18 - 25, 2020: 7 Nights from $2,995 now $2,096.50 (30% off) Tufi
Dec 12 - 22, 2020: 10 Nights from $4,305 now $3,013.50 (30% off) Guadacanal & the Western Province
Dec 23, 2020 - Jan 2, 2021: 10 Nights from $4,305 now $3,013.50 (30% off) Best of the Solomons
Truk Lagoon
Feb 9 - 16, 2020: 7 Nights from $3,095 now $1,857 (40% off) Truk Lagoon
Dec 20 - 27, 2020: 7 Nights from $3,095 now $2,476 (20% off) Truk Lagoon
Dec 12 - 19, 2021: 7 Nights from $3,200 now $2,560 (20% off) Truk Lagoon
Dec 19 - 28, 2021: 9 Nights from $3,900 now $3,120 (20% off) Truk Lagoon
Oct 8 - 18, 2020: 10 Nights from $2,500 now $1,750 (30% off) Best of Northern Atolls
Oct 18 - 25, 2020: 7 Nights from $1,960 now $1,372 (30% off) Baa & Central Atolls
Dec 13 - 20, 2020: 7 Nights from $2,170 now $1,519 (30% off) Central Atolls
Dec 20 - 30, 2020: 10 Nights from $2,770 now $1,939 (30% off) Best of Central Atolls
Dec 30, 2020 - Jan 9, 2021: 10 Nights from $2,770 now $1,939 (30% off) Best of Central Atolls
May 16 - 23, 2021: 7 Nights from $1,750 now $1,400 (20% off) Central Atolls
May 23 - Jun 2, 2021: 10 Nights from $2,230 now $1,784 (20% off) Best of the Central Atolls
Jun 3 - 13, 2021: 10 Nights from $2,230 now $1,784 (20% off) Best of the Central Atolls
Aug 8 - 15, 2021: 7 Nights from $1,750 now $1,400 (20% off) Baa & Central Atolls
Aug 15 - 25, 2021: 10 Nights from $2,230 now $1,784 (20% off) Best of the Central Atolls with Baa
Aug 26 - Sep 5, 2021: 10 Nights from $2,230 now $1,784 (20% off) Best of the Central Atolls
Sept 5 - 12, 2021: 7 Nights from $1,960 now $1,568 (20% off) Baa & Central Atolls
Sept 15 - 22, 2021: 7 Nights from $1,960 now $1,568 (20% off) Baa & Central Atolls
Palau
Aug 4 -14, 2020: 10 Nights from $5,410 now $3,787 (30% off) Palau Islands
Sept 11 - 18, 2020: 7 Nights from $3,950 now $2,765 (30% off) Palau Islands
Sept 26 - Oct 3, 2020: 7 Nights from $4,190 now $3,352 (20% off) Spawning Special - Full Moon
Dec 16 - 26, 2020: 10 Nights from $5,410 now $3,787 (30% off) Palau Islands
Sept 12 - 22, 2021: 10 Nights from $5,410 now $4,328 (20% off) Palau Islands
Sept 23 - 30, 2021: 7 Nights from $3,950 now $3,160 (20% off) Palau Islands
Oct 21 - 31, 2021: 10 Nights from $5,410 now $4,328 (20% off) Palau Islands
Jul 21 - 26, 2020: 5 Nights from $2,450 now $1,715 (30% off) Komodo National Park
Aug 17 - 27, 2020: 10 Nights from $4,900 now $3,430 (30% off) Komodo National Park
Sept 19 - 29, 2020: 10 Nights from $4,900 now $3,430 (30% off) Komodo National Park
Dec 17 - 29, 2020: 12 Nights from $6,540 now $4,578 (30% off) Triton Bay & Raja Ampat
Dec 30, 2020 - Jan 6, 2021: 7 Nights from $3,900 now $2,730 (30% off) Raja Ampat
Apr 24 - May 4, 2021: 10 Nights from $5,340 now $4,272 (20% off) Raja Ampat
Jul 26 - Aug 2, 2021: 7 Nights from $3,750 now $3,000 (20% off) Komodo National Park
Aug 3 - 10, 2021: 7 Nights from $3,750 now $3,000 (20% off) Komodo National Park
Dec 18 - 29, 2021: 11 Nights from $5,995 now $4,796 (20% off) Triton Bay & Raja Ampat
Feb 13 -20, 2020: 7 Nights from $1,150 now $690 (40% off) Deep South
Feb 20 - 27, 2020: 7 Nights from $1,150 now $690 (40% off) Deep South
Feb 27 - Mar 5, 2020: 7 Nights from $1,100 now $660 (40% off) Simply the Best
Mar 12 - 19, 2020: 7 Nights from $1,100 now $660 (40% off) Simply the Best
Mar 19 -26, 2020: 7 Nights from $1,150 now $690 (40% off) Deep South
Mar 26 - Apr 2, 2020: 7 Nights from $1,100 now $660 (40% off) Simply the Best
Apr 2 - 9, 2020: 7 Nights from $1,100 now $880 (20% off) Simply the Best
Apr 27 - May 4, 2020: 7 Nights from $1,100 now $770 (30% off) Simply the Best
Aug 10 - 17, 2020: 7 Nights from $1,250 now $1,000 (20% off) Best of Wrecks
Aug 24 - 31, 2020: 7 Nights from $1,300 now $1,040 (20% off) Simply the Best
Feb 14 - 21, 2020: 7 Nights from $850 now $595 (30% off) Strait of Tiran & North
Apr 17 - 24, 2020: 7 Nights from $850 now $680 (20% off) Northern Wrecks & Reefs
Aug 28 - Sept 4, 2020: 7 Nights from $1,150 now $920 (20% off) Best of Wrecks
Thailand & Myanmar
Jan 11 - 15, 2020: 4 Nights from $1,031 now $824.80 (20% off) Similan & Surin Islands
Jan 20 - 26, 2020: 6 Nights from $1,360 now $1,088 (20% off) Similan & Surin Islands
Jan 26 - Feb 1, 2020: 6 Nights from $1,360 now $1,088 (20% off) Similan & Surin Islands
Feb 2 - 6, 2020: 4 Nights from $1,031 now $876.35 (15% off) Similan & Surin Islands
Feb 24 - 28, 2020: 4 Nights from $1,031 now $876.35 (15% off) Similan & Surin Islands
Feb 28 - Mar 3, 2020: 4 Nights from $1,031 now $876.35 (15% off) Similan & Surin Islands
Mar 21 - 25, 2020: 4 Nights from $1,030 now $875.50 (15% off) Similan & Surin Islands
Apr 12 - 16, 2020: 4 Nights from $1,030 now $875.50 (15% off) Similan & Surin Islands
May 4 - 8, 2020: 4 Nights from $1,030 now $875.50 (15% off) Similan & Surin Islands
May 9 - 15, 2020: 6 Nights from $1,360 now $1,156 (15% off) Similan & Surin Islands
Jan 11 - 18, 2020: 7 Nights from $1,950 now $1,170 (40% off) Myanmar - Mergui Archipelago
Jan 19 - 29, 2020: 10 Nights from $2,900 now $1,740 (40% off) Myanmar - Mergui Archipelago
Mar 12 - 19, 2020: 7 Nights from $1,950 now $1,170 (40% off) Myanmar - Mergui Archipelago
Apr 19 - 26, 2020: 7 Nights from $1,950 now $1,365 (30% off) Myanmar - Mergui Archipelago
Apr 28 - May 8, 2020: 10 Nights from $2,500 now $1,750 (30% off) Best of Thailand
Malapascua and Visayas, The Philippines
July 27 - Aug 6, 2021: 10 Nights from $3,700 now $2,960 (20% off) Malapascua & Visayas
Aug 20 - 26, 2021: 6 Nights from $2,600 now $2,080 (20% off) Southern Visayas
Sept 3 - 9, 2021: 6 Nights from $2,950 now $2,360 (20% off) Southern Visayas
SEE also:
Bahamas, Red Sea, Galapagos, Maldives, Palau, Malapascua & Visayas, Papua New Guinea, Solomon Islands, Truk Lagoon, Raja Ampat, Komodo, Thailand,& French Polynesia Dive Travel Guides
Click to see Cabins, Reviews, Photos and More: Bahamas Master, M/V Galapagos Master, M/V Blue Voyager, Palau Siren, Philippine Siren, M/V Solomons PNG Master, French Polynesia Master, M/Y Blue Adventurer, Blue Horizon, Indo Siren, The Junk, The Phinisi, and Truk Master