Destination: saudi arabia
Farasan Banks, and Seven Sisters and Five Corals (7 Nights) | From $130/night

---
m/y almonda Quick Pitch
The M/Y Almonda is a luxurious five-star liveaboard designed to prioritize the comfort, safety, and stability of its guests. Managed by the Ocean Breeze Liveaboards, this spacious vessel is 39.9m long with a 8.57m beam. Up to 24 guests can be comfortably accommodated onboard, where they can enjoy the vessel's various amenities such as its large sun deck, spacious salon, jacuzzi, and more!
Why You'll Like m/y almonda
Five-star spacious liveaboard
Designed for comfort, safety, and stability
Itineraries designed to explore some of the best diving spots in Saudi Arabia
Land activites and attractions also available
Location
The M/Y Almonda departs from either Al-Lith, Yanbu or KAEC, depending on the itinerary. Guests who choose the Farasan Banks itinerary will dedpart from Al-Lith, while guests who choose the Seven Sisters and Five Corals itinerary will either depart from Yanbu or KAEC. A representative of Ocean Breeze will welcome guests at the airport. From there, they will take an air-conditioned bus to the boat.
Dive Overview
The Red Sea offers exquisite dive options as the "Egyptian Riviera," where you will find stunning wrecks and reefs in close vicinity to historic above-water heritage sites.
[See: Red Sea Dive Travel Guide]
Check out this amazing video from Ocean Breeze Liveaboards!
Accommodations
Types of Cabins, Amenities and Photos

---
m/y almonda Cabin Overview
The M/Y Almonda can accommodate up to 24 guests in its 12 spacious staterooms. The Deluxe Cabins (8) are outfitted with two twin beds, Double Cabins (2) with a queen bed, and the Master Suites (2) also with a Queen Bed. All staterooms come complete with a 32-inch flat-screen TV with a selection of 400 movies, shows, and documentaries, ample storage, a porthole view window, mirrored cabinet, a hair dryer, fresh towels, and volume controls. All rooms are also fully air conditioned and are equipped with a private bathroom.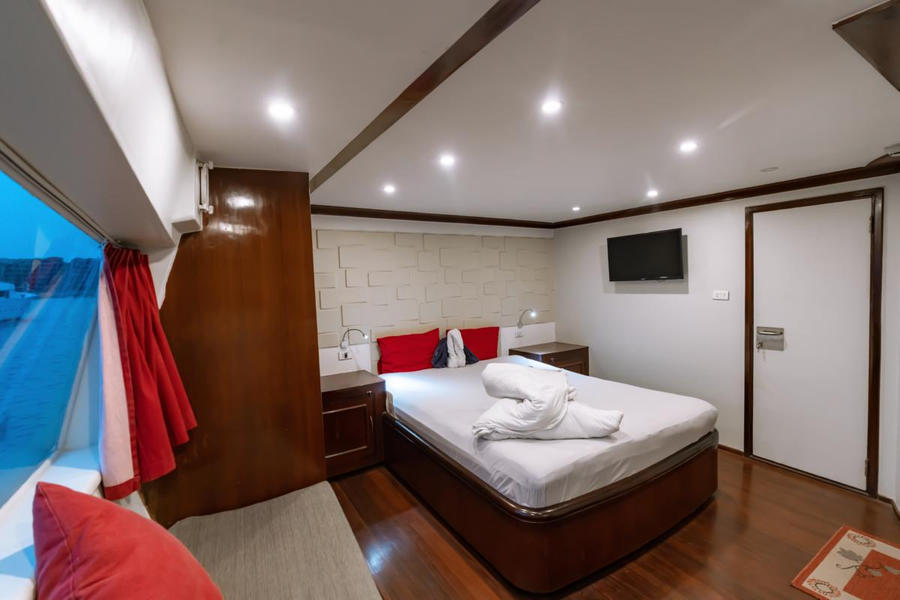 Master Suite
General Facilities

---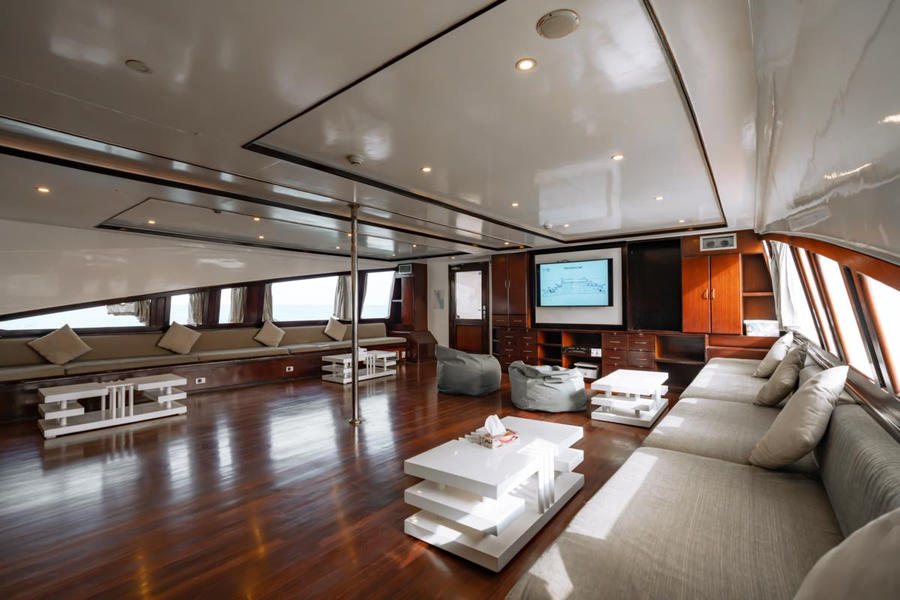 m/y almonda Boat Features
Large sun deck with deck chairs
Partially covered outdoor area
Jacuzzi
Spacious salon
Diving platform
Individual storage for diving equipment
2 zodiacs
Food & Drinks Aboard m/y almonda
Aboard the M/Y Almonda, guests are served 3 meals per day, buffet-style. Breakfast typically consists of bread, toast, pancakes, jam, honey, a different variation of eggs, and yogurt; while chicken, beef, or fish, together with the garnishing rice, noodles, potatoes, and different kinds of vegetables and salads are ususally served as the during lunch or dinner. Pudding, cakes, or fruits are also typically served for dessert. During the day, coffee, tea, water, Cola, Sprite, and juices are also available, free of charge.
SchedulE, Rates & Availability
M/Y Almonda Schedule & Rates

---
All rates are in USD and per person.
[See also: Inclusions & Exclusions and Full Rates by Cabin Type]
full rates by cabin type
| | |
| --- | --- |
| Cabins | Price Per Person USD |
| Lower Deck Twin Cabin | $1,850.00 |
| Lower Deck Double Cabin | $1,900.00 |
| Main Deck Master Suite | $2,000.00 |
Inclusions
Airport transfer
Hotel transfer
Nitrox for certified divers
Night dives
Complimentary toiletries
Cabin towels
Beach towels
Dive deck towels
Laundry / Pressing services
Wifi internet
Stand up paddleboard
Full-board meal plan
Snacks
Soft drinks
Tea & Coffee
Drinking Water
National Park fees
Fuel surcharge & port fees
Exclusions
Entry visa
Gratuities
Land excursions
Scuba diving courses
Nitrox courses
Rental gear
Alcoholic beverages
International flights
Local flights
Travel insurance
Dive insurance
Rates & Availability
For more information on rates and availability email us at info@bluewaterdivetravel.com or call us at +1-310-915-6677 and we will gladly help you plan your dream dive vacation!
Dive Information & Itineraries

---
sample itinerary
Day 1
Upon arrival in Saudi Arabia, meeting with our representative and transfer to the port of departure. Check in the boat at 18:00.
Day 2 - 6
The departure of the cruise in the early morning, cruise with full board + 2/3 daily dives with a scuba guide.
Day 7
2 dives, lunch, and return to port in the afternoon.
Day 8
Check out max at 09:00. Transfer to the airport in Jeddah for boarding return flight.
Farasan Banks
The departure base of the cruise is the port of Al Lith located 210 km south of Jeddah. In the spring, a few miles outside the port, it is easy to come across families of whale sharks intent on feeding on the rich plankton present below the coast in these waters. After navigation for about 3 hours, we reach the first dive sites. Dive spots that will immediately give the feeling of being in an unexplored world. The island of Mar Mar besides being a splendid dive is an excellent night mooring. Not far away are the islands of Dohra, Jadir, and Malathu and the splendid outcropping reefs of Gorgonia, Bandu, and Long Reef. Sailing for 25 kilometers to the south we will come across a second reef area which includes Sha'ab Ammar, a large horseshoe-shaped reef also used as a night mooring.
Continuing southwards we meet the islets of Danak, Jabbara, Eagle, and the coral atolls of Mudarr, Fantasy, and Choppy, stages of spectacular diving. A common feature of all these dive sites is the incredible variety of hard and soft coral found on the plateaus as well as the massive presence of coral and pass fish. Diving on the falls of the plateaus, generally oriented to the north and south, you can witness the passage of the large pelagic fish, including schools of hammerhead sharks and the tiger shark admired several times at different diving points. We will also pass by Mubarak reef and Marbat Al Khail which are remarkably healthy and pristine dive sites. The last dive at Canyon reef will close this wonderful itinerary on the edge of reality.
Farasan Banks is an area of ​​virgin reefs and wild islands, a kingdom of ospreys and gannets; where turtles lay their eggs. Uncontaminated seabeds inhabited by all kinds of marine animals and walls that rise vertically from the depths are the scenario that presents themselves when you dive at Farasan Banks. You are expected to see whale sharks, hammerheads, reef white, reef black tip, turtles and a variety of hard and soft corals.
Seven Sisters and Five Corals
Starting from the port of Yanbu sailing for 18 kilometers to the west you reach the Seven sisters area where dives such as Marker 32, Marker 34, Abu Galawa, Marker 39, and others, will offer the opportunity to dive along the plateaus that stretch out towards the blue from which it will be possible to spot shoals of large pelagics. Hammerhead sharks, silvertip, and silky sharks are the masters of these waters but the real surprise will be the richness of the walls where multitudes of hard corals mix with forests of gorgonians. With the light of sunrise and sunset, you will admire the incredible life that surrounds these reefs where every coral is still intact. Sailing 8 kilometers further south is the isolated Mansi reef or Marker 42 which in Arabic means the forgotten, a large madreporic column that rises from the depths with walls covered with gorgonians. From the blue, with a little luck, a school of hammerhead sharks may appear, stationed along the southern slope. Continuing further south for 16 kilometers we will come across the atoll of Sha'ab Suflani or Marker 44 with the walls falling vertically to over 300 meters deep.
Located halfway between Jeddah and Yanbu we encounter the five corals of Rabigh. 5 corals are united by an extraordinary wealth of life. Each of them will offer us the opportunity to make indescribable dives. The Seven Sisters of Yanbu will immerse us in a fabulous experience. You are expected to see whale sharks, hammerheads, tiger sharks, reef white, reef black tip, mantas, turtles and a variety of hard and soft corals.
Other Information

---
Boat Specifications
Built: 2017
Length: 39.9 m
Width: 8.57 m
Draft: 2.5 m
Max. speed: 12 knots
Cruise speed: 10 knots
Engines: 2 x Man, 1050 each
Fuel: 16 tons
Generators: 2 x Cummins, 130/160 kW
Water tanks: 14 tons
Sewage: 2 x 6 ton
Tenders: 2 x 6.5 m 45 Hp
Camera tables: 3
Practical Information
Time Zone: UTC+2
Local Currency: EGP (Egyptian Pounds)
Language Spoken: English & German
Electricity: 220V
Payment Onboard: Cash (USD and Saudi Riyals) or Credit cards (VISA and MasterCard)
Underwater Gallery

---