Destination: Cuba
Gardens of the Queen (7 Nights) | From $425++/night

---
avalon outdoor Cuba Quick Pitch
Avalon Outdoor offers all-inclusive 7-night itineraries for guests interested in exploring Cuba, known as one of the top watersports destinations. With its pristine coral reefs and crystal clear Caribbean waters, guests are sure to have a once-in-a-lifetime experience with an abundance of curious sea creatures. Upon arrival you will be assigned one of six luxury cruising yachts that make up the Avalon Fleet: the Jardines Avalon I - IV and the Jardines Avalan F I-II.
AVALON ITINERARIES
AN ADVENTURE LIKE NO OTHER
Avalon Outdoor will take you on an adventure like no other to explore and experience the results of Sustainable Marine Conservation in the beautiful Jardines de la Reina, the Gardens of the Queen, located 60 miles off the southern coast of Cuba. The all-inclusive liveaboard trip runs Saturday through Saturday, departing out of Jucaro port every week, all year long.
Avalon Outdoor offers a variety of eco-adventures and activities guests can participate in during their week aboard that support the conservation efforts including diving, snorkeling, mangrove exploration, and even crocodile encounters. The trip is suitable for all levels of eco-enthusiast, divers, and non-divers alike. (Minimum age for the trip is 10yrs, the minimum age to dive is 15yrs).
The program is designed as a Sustainable Marine Conservation Humanitarian Project. As a result, your participation in our program qualifies US Citizens for legal travel under the OFAC General License: 515.575 Humanitarian Projects. Prior to your departure Avalon will provide all guests with a certificate and itinerary to validate their reason for travel.
The standard dive program includes 3 dives per day (18 total: 17 dives + 1 night). All divers have the option to upgrade to 4 dives per day (22 total: 20 dives + 2 night). The dive schedule is semi-customizable based on the dynamics and consensus of the group aboard. Please communicate with your trip leader and the cruise director for any particular requests and when possible, they will do their best to accommodate.
[See: Cuba Dive Travel Guide]
INCLUSIONS
7 nights accommodation on a luxury cruising yacht (your yacht will be assigned upon arrival)

3 dives/day (17 dives + 1 night dive)

All meals, snacks, filtered water, coffee, and juice

6 speciality beverages per day (alcohol, soft drinks)

Tanks and weights

For full/half charter groups: Round-trip group transfers from Cayo Coco, Camaguey or Santa Clara included
EXCLUSIONS
Port fee & supplemental health insurance: $340 pp.

Conservation fee: $120 pp.

Airfare.

Land transfers to and from Jucaro Port

Land portion tips and crew gratuities (suggested 10% of base package price)

Beverages beyond the daily allotment of 6

Equipment Rental
Dive Information & Destinations

---
DIVE OVERVIEW
You can expect to see pristine coral reefs, steep walls dropping from the reef to the abyss, large populations of adult fish including sharks, jewfish up to 400 lbs, snapper, grouper and much more. There are many different species of sharks you're likely to see including; nurse, blacktip, lemon, silky and the great hammerhead.
[See: Cuba Dive Travel Guide]
JARDINES DE LA REINA MARINE PARK
Jardines de la Reina was declared a Marine Park in 1996. Together with the Cuban Sciences and Environment Ministry, this area has been preserved for future generations as a complex network of untouched marine ecosystems. It has been regarded by many knowledgeable scientists and organizations as a reference of what is the original status of a coral reef; as it was found by Christopher Columbus in the times of the discovery.
An underwater paradise is all that comes to mind when you first enter the water. Imagine the vertical walls covered with brightly hued sponges, huge Pilar Corals, and black corals extending their branches in the contrasting blue water. Many species of gorgonians, fragile laminar corals show their beautiful shapes through crevices, canyons, and caves. The mangroves provide an incredible nursery area for young fish populations, filtering the water that goes to the reef together with the seagrass beds and in return receiving protection from the open ocean wave energy; all interconnected in a very fragile net that helps keep its variety, richness, and splendor.
The biggest populations of adult fish in the Caribbean, Sharks, Snappers, and Groupers; Jewfish up to 400 pounds are an everyday experience. Sharks are one of the main attractions and you can see them everywhere. You can easily dive with 6 different species: Silkies, Reef, Lemon, Blacktip, King Hammerhead, and nurse sharks. From July to November you have the chance to swim with Whale Sharks. Gardens of the Queen is certainly one of the last virgin reefs known by man. Dive and snorkel sites are well protected from the winds and sea currents. Visibility is more than 40 meters. There is a wide variety of fish and corals.
The Gardens of the Queen Marine Park is a wonderful place, both in and out of the water. This marine park is probably the most important group of islands in the Caribbean, integrated by one million-acre wetland. In addition, this marine park acts as a critical refuge for North American birds migrating along the route through Florida and the Gulf of Mexico to South America. This wildlife sanctuary hosts more than 68 species of migratory birds.
Avalon Diving Center is the only operation in the area hosting no more than 3000 divers per year. The dive center is well equipped with new compressors, nitrox blenders, and quality equipment for rent.
SCHEDULE & RATES
Avalon Outdoor Schedule & Rates

---
The Avalon Outdoor fleet offers all-inclusive 7-night itineraries aboard their luxury vessels. Guests will get assigned a vessel upon arrival. All the boats offer the same amenities and services - the luxury standard of accommodation (standard cabin or full suite), the same number of dives, and the same destination.
Avalon Diving
2022
2023
Low Season (June - September)
High Season (January - May / October - December)
Low Season (June - September)
High Season (January - May / October - December)
Garden of the Queen
$ 2,975
$ 3,950
$ 3,275
$3,950
IMPORTANT NOTE
Rates do not include Port Fee & Conservation Fee.
OTHER DATES & AVAILABILITY
For more information on other departure dates that are not listed above and on availability email us at info@bluewaterdivetravel.com or call us at +1-310-915-6677 and we will gladly help you plan your dream dive vacation!
ACCOMMODATIONS
Types of Cabins, Amenities and Photos

---
AVALON OUTDOOR CUBA ACCOMMODATION DETAILS
Upon arrival you will be assigned one of the following vessels:
Jardines Avalon I
At 110-feet, the Jardines Avalon I offers a total of 10 rooms that feature single side-by-side beds. Two of the rooms can be converted into queen-sized cabins with side-by-side beds. Each room comes fully equipped with a private bathroom, toilet, shower, individual climate controls, and a safe.
Jardines Avalon II
The Jardines Avalon II is a 136-foot long yacht that offers a total of 12 rooms. Most of the rooms have twin beds that can be converted into a queen bed. There are also two suites that come with a balcony. Each room is fully-airconditioned and comes with a TV.
Jardines Avalon III
The Jardines Avalon III is a 160-foot luxury motor yacht with 15 staterooms, including 4 suites with balconies. All staterooms come with a private bathroom and 2 beds, either double or twin. The fully air-conditioned staterooms can accommodate an overall capacity of 30 passengers on board.
Jardines Avalon IV
The Jardines Avalon IV features a total of 20 staterooms that can accommodate up to 40 guests. The staterooms are made up of 12 standard cabins, 4 suites with balconies, and 4 demi suites. Each room comes complete with a private bathroom, air conditioning, ample storage space, and convertible double beds.
Jardines Avalon F I
At 130-feet, the Jardines Avalon F I can accommodate up to 20 passengers in 10 deluxe king cabins. The cabins come with air conditioning, heat controls, electricity plugs, and storage in drawers. Each room also comes complete with panoramic windows that offer a breathtaking view of the Caribbean.

Jardines Avalon F II
Also at 130-feet, the Jardines Avalon F II offers 10 deluxe staterooms equipped with air conditioning and individual thermostats. These comfortable cabins each have a private bathroom and 2 beds, one full and one twin.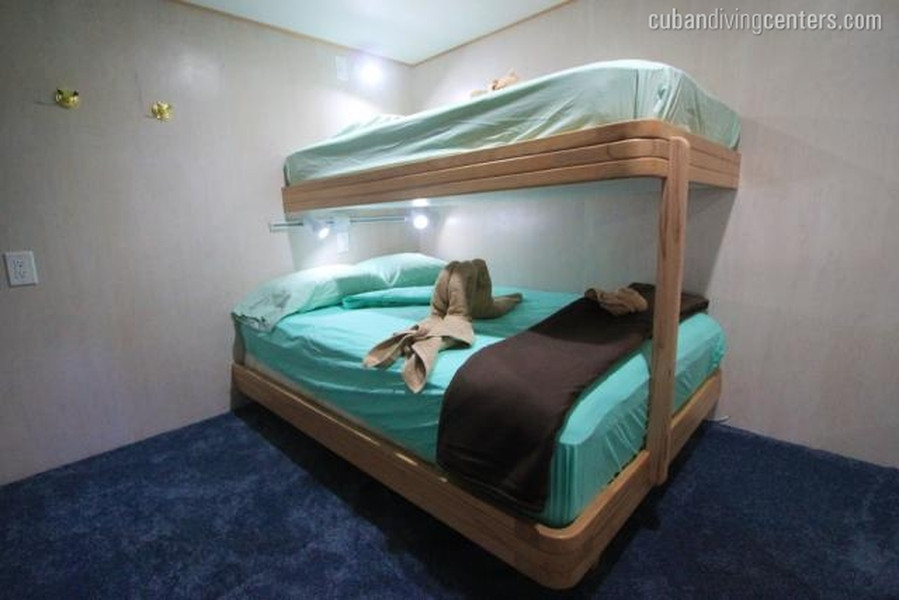 GENERAL FACILITIES

---

AVALON OUTDOOR CUBA BOAT FEATURES
Sun Deck

Leisure Deck

Shaded diving deck

Hot Tub

Outdoor Dining

Indoor and Air Conditioned Saloon

Audio & Video Entertainment

Aircon Cabins with TV

Warm Water Showers

Laundry Service

Daily housekeeping
AVALON OUTDOOR CUBA DIVE FACILITIES
DIN adaptors
Nitrox available
Rinse hosts
Separate rinse for u/w camera
Dive deck
Tenders for diving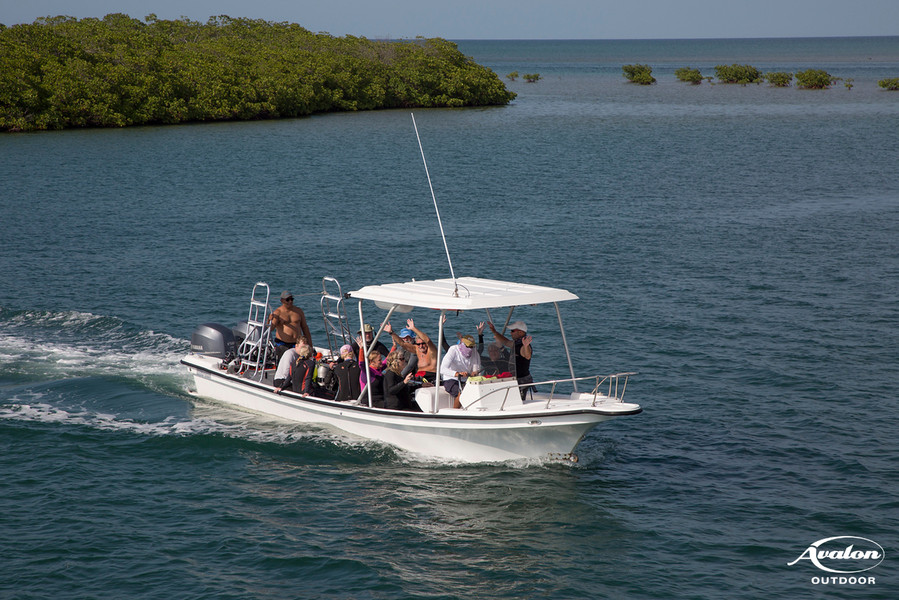 Jardines Avalon I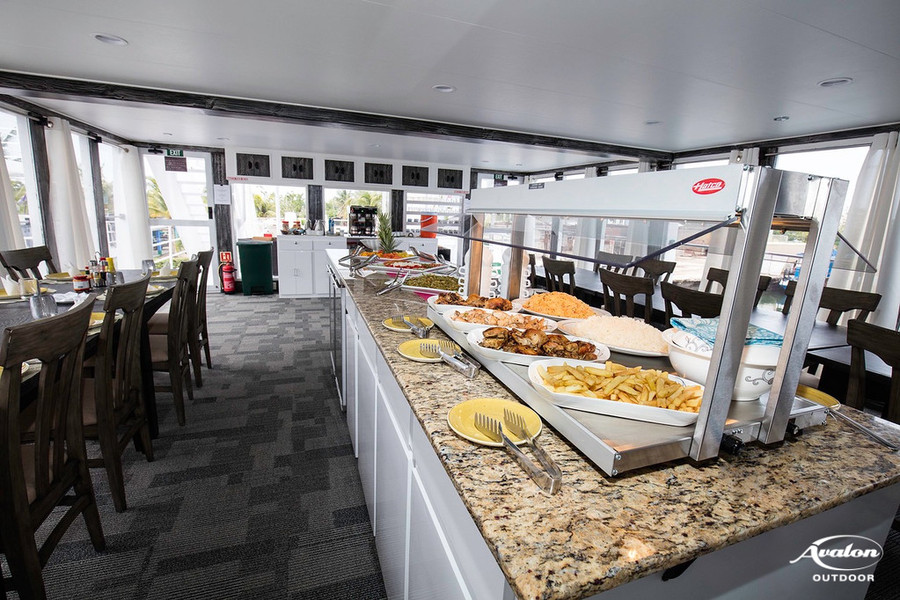 Jardines Avalon II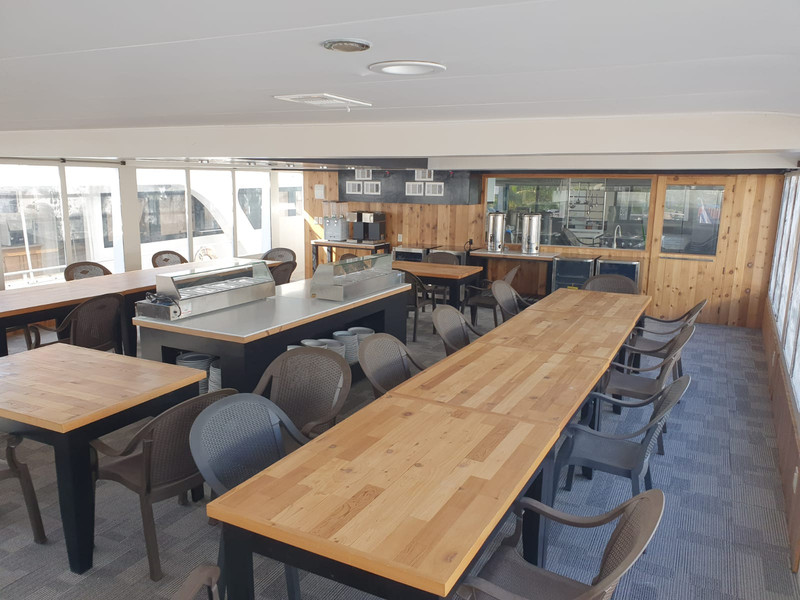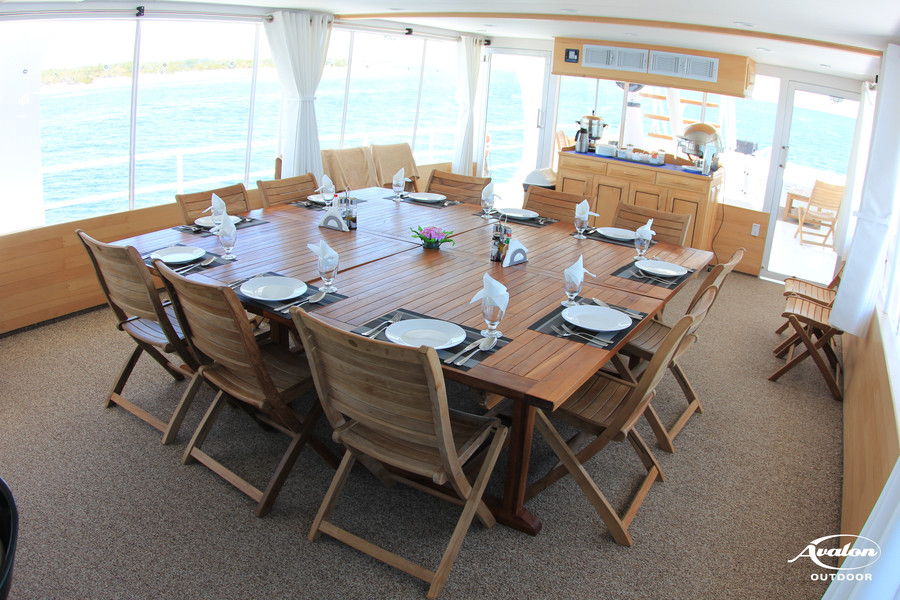 Other Information

---
Boat Specifications
Jardines Avalon I
Length: 110 feet
Width: 23 feet
Top Speed: 20 knots
Cruising Speed: 10 knots
Passengers: 20
Number of cabins: 10
Bathrooms: 10
Diving Skiffs: 2


Jardines Avalon II
Length: 136 feet
Width: 25 feet
Top Speed: 20 knots
Cruising Speed: 12 knots
Passengers: 24
Number of cabins: 12
Bathrooms: 12
Diving Skiffs: 3


Jardines Avalon III
Length: 160 feet
Width: 28 feet
Top Speed: 20 knots
Cruising Speed: 12 knots
Passengers: 30
Number of cabins: 15
Bathrooms: 15
Diving Skiffs: 3


Jardines Avalon IV
Length: 190 feet
Width: 42 feet
Top Speed: 20 knots
Cruising Speed: 12 knots
Passengers: 40
Number of cabins: 20
Bathrooms: 24


Jardines Avalon IV
Length: 131 feet
Top Speed: 15 knots
Cruising Speed: 12 knots
Passengers: 20
Number of cabins: 10
Bathrooms: 10
Tenders: 2 mt x 12 mt - 2 Jamaha 150 each
PRACTICAL INFORMATION
Time Zone: UTC-4 or UTC-5
Local Currency: Cuban Convertible Pesos
Language Spoken: English & Spanish
Electricity: 220 volts
Payment onboard: Cash (USD)
Underwater Gallery

---