Destination: Bahamas
Hammerhead and Tiger Shark Experience, the Ultimate Bahamas Experience, Dolphin and Tiger Shark Combo, Tiger Beach Experience (7-14 Nights) | From $450++/night

---
Bahamas Master Liveaboard Quick Pitch
Originally based in Panama, this 35m steel vessel becomes part of the Master Liveaboards fleet in 2018 as the Bahamas Master.
Dive Overview
The Bahamas is the third largest barrier reef area in the world and covers a vast 470.000km2 of sparkling Atlantic Ocean. Existing of 700 islands and cays; one can easily imagine the variety of dive sites: wrecks, cave, blue holes and, obviously, sharks!
[See: Bahamas Dive Travel Guide and Tiger Beach Travel Guide]
Accommodations
Types of Cabins, Amenities and Photos

---
Bahamas Master Cabin Overview
The Bahamas Master has 8 well-designed cabins and can comfortably welcome 16 divers aboard. Guests can choose between four cabin types; with two Premium cabins on the forward main deck, with double beds plus private en-suite bathroom. On the main deck there are two Classic twin cabins and two Classic Single cabins, each with en-suite and also four standard cabins sharing two bathrooms with heated showers. All cabins have panoramic windows, so there is plenty of daylight and ocean view for all.
General Facilities

---
Bahamas Master Boat Features
Indoor Lounge
Plasma Screen
Library & Music
Outdoor Dining Area
Personal Item Storage
Camera Station
Indoor charging station
Power outlets 110 volt. US plug, adapters available free of charge
Outdoor Shaded Area: Upper Deck
Sundeck (un-shaded): Upper Deck
Loungers
Laundry service
Bar
Bahamas Master Dive Facilities
Personal Storage: Under bench
Equipment Rinse Tanks: 1
Camera Rinse Tanks: 1
Camera Table: Yes
Deck Towel: Supplied
Deck Heads: 2
Fresh Water Showers: 2
Tenders: 3
Food & Drinks Aboard Bahamas Master
Full Board: 3 meals plus snacks
Fresh Coffee: Free
Black & Herbal Teas: Free
Carbonated Soft Drinks: Free
Fruit Juices: Free
Beer: $2 USD
Wines: Prices Vary
Bahamas Master Deck Plan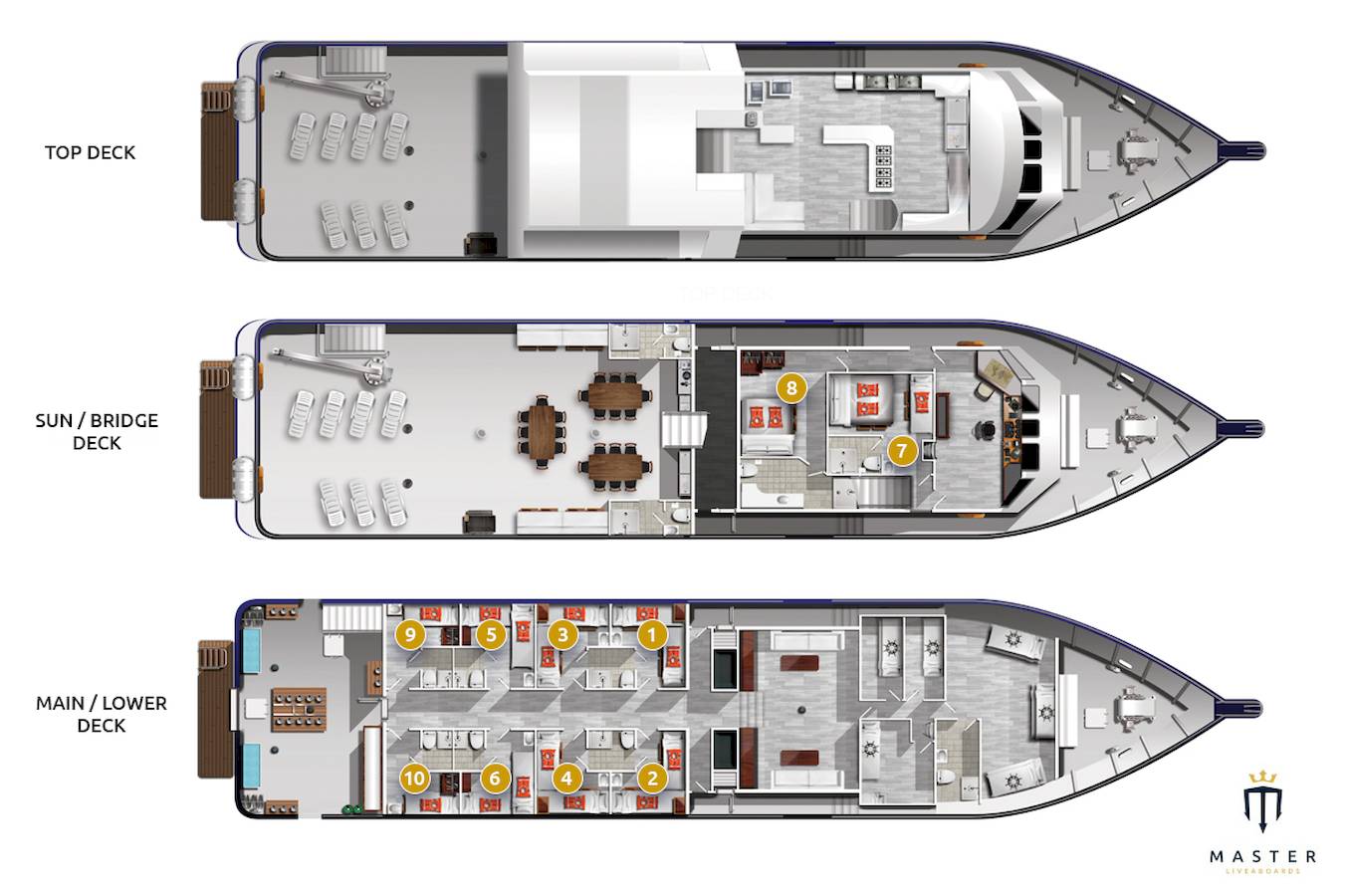 Schedule, Rates & Availability
Bahamas Master Schedule & Rates

---
Prices are in USD, per person and do not include park and port fees.
[See also: Inclusions & Exclusions]
INCLUSIONS
Full-board meal plan (all meals)
Drinking water, tea, coffe
Snacks between meals and after dives
Diving and dive guides
Land excursions
Cabin Towels
Complimentary Toiletries
Deck Towels
VAT
EXCLUSIONS
Full dive equipment rental
Nitrox
Carbonated and alcoholic beverages
Master Liveaboards merchandise
Mandatory: Marine Park & Port Fees
Airport & local hotel transfers to/from the boat
Important Notes
Optional extras, Marine Park, Port fees and taxes payable on board the Bahamas Master are priced in USD. Bahamas Master accept payment in USD, EUR, GBP, and AUD. They accept Visa Master card & Maestro for payments on board and crew tips, but there is a 3% fee on credit card payments.


RATES & AVAILABILITY
For more information on other departure dates, rates, and on availability email us at info@bluewaterdivetravel.com or call us at +1-310-915-6677 and we will gladly help you plan your dream dive vacation!
Dive Information & Itineraries

---
Itinerary Overview
On a typical day we offer up to 4 day dives, however, the 4th day dive may be substituted for a night dive when the boat is anchored within a lagoon. A 7-night itinerary provides for between 18-20 dives, whilst during our 10-night itineraries, up to 30 dives will be possible. The diving day aboard the Bahamas Master is scheduled as follows:
Light Breakfast followed by a briefing and Dive 1
Full Breakfast, relaxation period, briefing and Dive 2
Lunch, relaxation period, briefing and Dive 3
Snack relaxation period, briefing and Dive 4, where possible
Dinner
On some itineraries, such as Tiger Beach itineraries, there is an open platform policy where guests can jump in the water and watch the action as the mood takes them. Guests may also take the opportunity to visit the islands and walk upon the pristine beaches.
Dive Overview
Dive sites vary between specific shark diving spots on sandy bottoms and 'regular' reef diving. Currents are not the norm in the Bahamas but it is recommended scuba divers have experience beyond beginner level to ensure maximum enjoyment, especially with the nature of the wildlife in the area. The climate of the Bahamas is a tropical savannah climate, with temperatures averaging between 25 and 32C (77-90F) all year round, with a light cooling down in the evening. Water temperatures range from 22°C in January and 28°C (72-84°F) in August. Most guests are comfortable diving in a 3mm or 5mm full wetsuit.
Other Information

---
Boat Specifications
Length: 35 metres
Breadth: 7.3 metres
Draft: 3 meters
Construction Material: Steel
Engines: 2x Detroit 16V71 1300hp
Cruising Speed: 10 knots
Maximum guests: 16
Number of cabins: 8
Number of bathrooms: 8
Tenders: 3
Compressors: 2x MAKO Type K14
Generators: 3 Units
Water Storage: 12000 gallon
Practical Information
Time Zone: UTC-4
Local Currency: Bahamian Dollar (BSD)
Language Spoken: English
Electricity: 110/60Hz
Payment Onboard: International credit cards
Underwater Gallery

---
Photos provided by Robert Wilpernig