Barceló Maya grand resort - Riviera Maya
Carretera Federal Chetumal Pto Pto Juarez Km 266.3 77750 Riviera Maya Mexico | From $170++ ppn
---
BARCELÓ MAYA grand resort Quick Pitch
The Barceló Maya Grand Resort is a 6-hotel resort, located on the beautiful beaches of the Mexican Caribbean. The luxurious hotels boast premium services and accommodations for their guests. Their all-inclusive program offers guests 24-hour snacks and beverages, as well as access to three of the hotel's restaurants. Guests can also enjoy the various sports facilities and swimming pools. At the Barceló Maya Grand Resort, guests can also enjoy the facilities of the following Barceló resorts: the Barceló Maya Caribe, Barceló Maya Colonial, Barceló Maya Riviera (adults only), Barceló Maya Beach, Barceló Maya Palace, and Barceló Maya Tropical.
BARCELÓ MAYA grand resort Quick Stat
No of Rooms: 350-424
Dive Center: On-site
Amenities: multiple pools, multiple restaurants, sports facilities, theatre, nightclub, spa, and many more!
WiFi: Yes, free
Nearest International Airport: Cancun International Aiport (CUN)
Airport shuttle: Yes
How to get there
Travel to the Yucatan is easy from the United States and major international hubs. Flying to Cancun (CUN) is easy thanks to all the visiting tourists. The Cancun International Airport is the main gate of entrance to Riviera Maya, and it is served by all major international airlines with direct or non-stop service from many places around the world.
From the airport, there are several transportation services like shuttles and taxis providing convenient and safe airport transfers to any location in the Riviera Maya. If guests wish to avoid the hassle of waiting for the vehicle to fill up and having to visit other people's hotels, they can also book their own private shuttle that will take them directly to the resort.
Dive Overview
Easy to reach, the Yucatan is a very popular vacation destination. The region is in the Mexican state of Quintana Roo and is also known as the Riviera Maya. Described as the 100-mile long Tourist Corridor, Riviera Maya extends 24 miles from Punta Brava, south of Puerto Morelos to the fishing village of Punta Allen inside the Biosphere Reserve of Sian Ka'an. The further south one travels, the land becomes less developed and more ancestral Mayan. Riviera Maya offers wonderful beaches, turquoise waters and fine white sand, archeological sites, picturesque little towns, recreation centers, freshwater lagoons, underwater caves, cenotes, and ecological tours. Unique diving opportunities abound, whether as a dedicated dive trip or as an add-on to a tropical vacation package.
[Read More: Riviera Maya Dive Travel Guide]
Check out this amazing video from the Barceló Maya Grand Resort!
Accommodations
Types of Rooms, Amenities and Photos
---
BARCELÓ MAYA grand resort Overview
The Barceló Maya Beach is one of the six hotels that make up the Barceló Maya Grand Resort. The hotel offers guests four accommodations options: the Superior Room, Family Room, Junior Suite Ocean Front Premium Level, and the Suite Ocean Front Premium Level.
The Superior Room offers guests 39m² of spacious accommodations with a beautiful view of the hotel's gardens. Bright colors and comfortable furniture decorate the room, ensuring a magnificent stay at the hotel. It can accommodate up to 4 people comfortably. The room also comes with a tv, free Wi-Fi, a balcony/terrace, an en-suite bathroom, a safe, an iron, a minibar, and a hairdryer.
The Family Rooms are perfect for those who need the extra space and privacy and can accommodate up to 5 people comfortably. The 117m² room offers a beautiful view of the tropical gardens and contains a king-sized bed and a living room with 2 sofas. Guests can also make use of the tv, free Wi-Fi, en-suite bathroom, minibar, and safe.

The Junior Suite Ocean Front Premium Level Rooms are located in the exclusive location of the Premium area which ensures spectacular views and includes a terrace or balcony with a hot tub. Measuring 55m², the suite also comes with complimentary gifts including sparkling wine. Guests can also make use of the tv, free Wi-Fi, en-suite bathroom, various bathroom amenities including a bathrobe and slippers, a minibar, and a safe. The room can accommodate up to 5 people,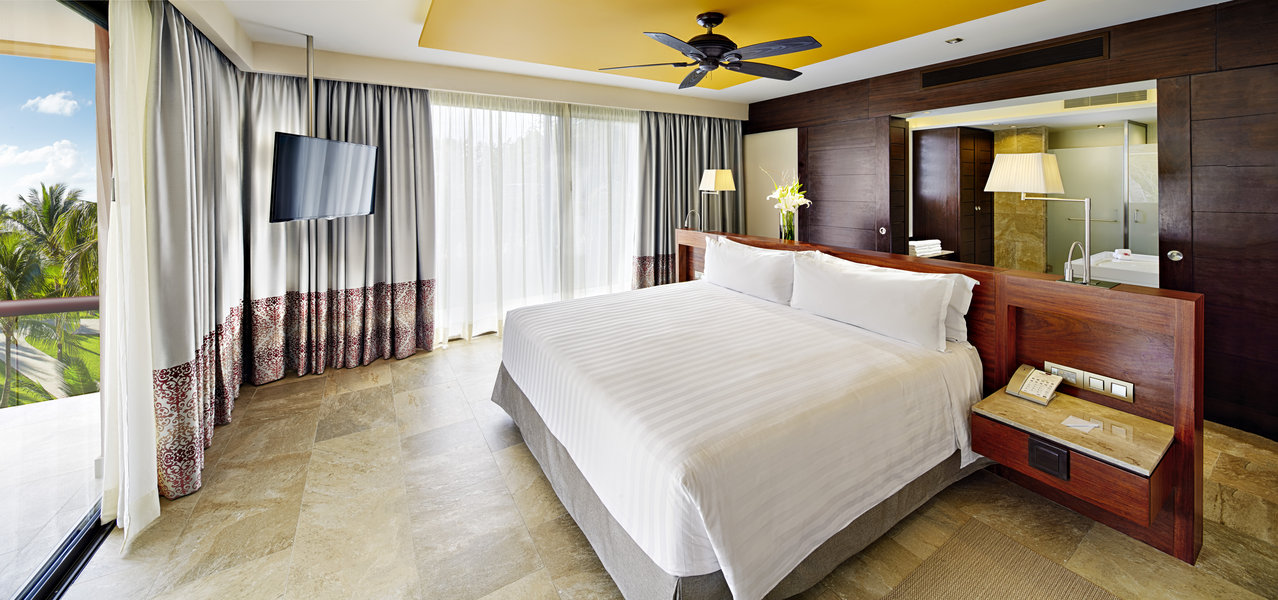 The Suite Ocean Front Premium Level can accommodate up to 4 people in the 133m² accommodation decorated with elegant furniture ensuring comfort and privacy. The suite also comes with a terrace with a hot tub. Guests staying in the room can also avail of the exclusive Premium Level services, such as access facilities and benefits of the Barceló Maya Palace hotel. The suite also comes with a selection of complimentary amenities such as sparkling wine and petit fours. Guests can also make use of the free Wi-Fi, 2 fully-equipped bathrooms, various bathroom amenities including bathrobes and slippers, a minibar, safe, sofa, and room service (free of charge.)
Feel free to contact us for more information on the accommodations at the Barceló Maya Beach or any of the other hotels in the Barceló Maya Grand Resort.
Resort Facilities
---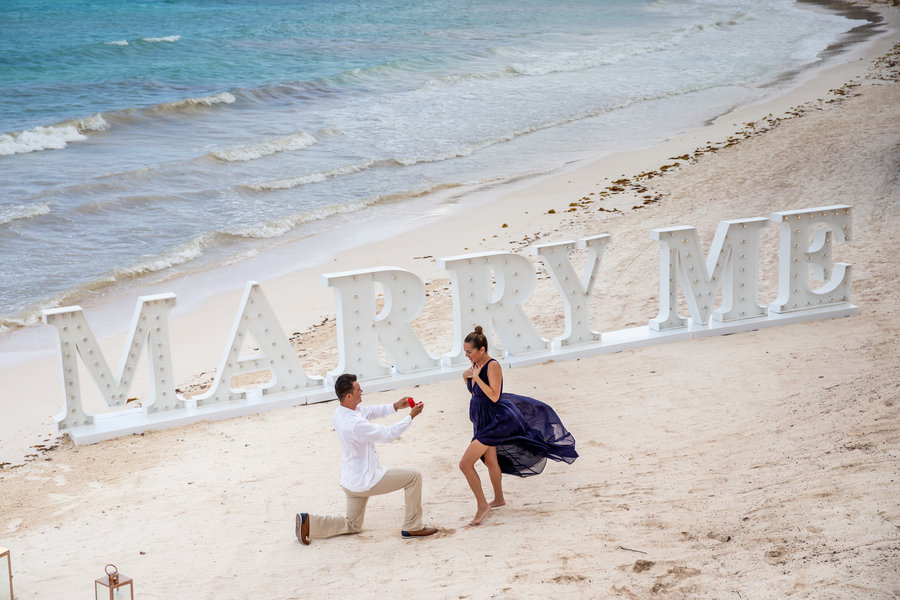 BARCELÓ MAYA Grand Resort Features
Multiple swimming pools (for both kids and adults) including various water parks
U-Spa Wellness & Fitness Centre
Bary Kids Club
Various restaurants
Bars
Nightclubs
Bowling center
Water activities
Convention center
Theatre
BARCELÓ MAYA Grand resort FOOD & DRINKS
Barceló Maya Grand Resort offers its guests a varied selection of rich cuisine at its various restaurants. Here, guests can enjoy the fantastic grill restaurants, buffet restaurants, and specialty restaurants. There are also exotic and refreshing beverages available at any of the hotel bars which are a part of the Barceló All Inclusive program.
Here are just some of the restaurants available:
The Beach Buffet Restaurant is open for Breakfast from 7:00 AM to 10:30 AM, from 12:30 PM to 3:00 PM for Lunch, from 6:30 PM to 10:00 PM for Dinner. Here, guests can enjoy the various international cuisine paired with the stylish decor of the restaurant. The dress code is casual.
The México Lindo Restaurant serves mouth-water flavors and aromas native to the country's dishes. Here, guests can experience the recipes and flavors of Mexico. The restaurant is open from 6:00 PM to 10:00 PM. Guests must make a reservation before dining, and a formal dress code is implemented.
The Rancho Grande Restaurant is open from 10:30 AM to 6:30 AM. This fantastic grill restaurant is located in the swimming pool area and caters to the guest's every appetite, from a delicious sandwich to a casual buffet.
The Beach Lobby Bar is open from 9:00 AM to midnight and offers guests a variety of beverages for quenching their thirst. The bar is air-conditioned and contains a terrace area for smokers.
Package & Rates
Barceló Maya Grand Resort Rates
---
Barceló Maya grand resort packages
Barceló Maya Grand Resort offers guests various accommodation packages. Contact us for pricing and other information. You can also call us at +1-310-915-6677.
Dive Information & Itineraries
---
dive overview
Scuba diving in Mexico's Yucatan peninsula is best known for cenotes diving, but also offers reef scuba dives, a bull shark dive, American crocodiles at Chinchorro Banks, plus whale shark and sailfish snorkeling off Isla Mujeres. It provides scuba divers the largest underwater options with dive sites so different from each other, a large variety of marine life, and some really unique dives that you cannot find elsewhere. There are a lot of scuba diving sites for complete beginners and very many for experienced divers. For more advanced divers, it is also a great destination to upgrade your diving skills and learn about cavern or cave diving in locations where some of the best divers in the world have been trained!
Dive Center Information
---
DRESSEL DIVERS OVERVIEW
Dressel Divers is the company chosen by the Barceló Hotel Group to run diving activities on the premise of its luxury hotels in Mexico, to ensure that this service has the same quality as the hotels. Dressel Divers have a dive center directly on the beach of premises of the resort.
DIVE CENTER FEATURES
Dressel Divers has rental equipment that feels like it's every diver's own! The dive equipment is of premium quality, regularly maintained, and replaced with new and innovative products over time. A wide variety of gear is offered so that persons of all statures and ages will find something that suits them.
The dive centers include state of the art equipment rooms staffed by employees who wash, disinfect and store client's rental equipment. They also include a place to store personal dive equipment. Our cylinders, filling stations, and compressors are operated and maintained by well-trained qualified staff in strict compliance with the generally accepted industry standards and all instructions specific to the brands used.
The boats are exclusively designed and built for Dressel Divers under the strict supervision of Javier Ibran, a lifelong diver and the company's founding President. Dive boats are tailored to provide ample space for equipment and clients, as well as an easy entry and exit into the water for divers.
Cylinders are provided onboard the boats, the majority of which are catamarans or trimarans (to limit movement due to waves and therefore seasickness).
Boats, furthermore, are equipped with a sunroof, fresh drinking water, a radio, a GPS device, oxygen, spare diving equipment, and everything else deemed mandatory by the United States Coast Guard. The engines, all top brands, are subject to ongoing monitoring and servicing by in-house mechanics. Boat captains, moreover, all have First Aid medical training. Last but not least, with very few exceptions all boats have double engines.
Almost all the staff obtained their professional diving qualifications with our own PADI Career Development Center. They are therefore trained within our own philosophy and in harmony with the objectives of Dressel Divers. They will give you not only a great dive but also a very safe one!
Other Information
---
Practical Information
Electricity: 110V
Time zone: UTC-5
Languages: Spanish & English
Accept Credit Cards?: Yes, Visa & American Express
Underwater Gallery
---
Coming Soon!