Calipso Galapagos Liveaboard, Ecuador
Galapagos Islands (7 Nights) | From $614++/night

---
calipso Galapagos Quick Pitch
The Calipso Galapagos is a beautifully constructed and modern dive liveaboard yacht in the Galapagos, offering exciting itineraries to the best dive spots in the Galapagos including Darwin and Wolf Islands.
Why You'll like the Calipso
The largest Galapagos liveaboard, at 35.4 m (116 ft)
The only Galapagos liveaboard with wi-fi
Spacious cabins with large panoramic windows
Excellent amenities including a sundeck with jacuzzi, a spacious dive deck with camera charging area, and a huge dedicated rinse tank
Nitrox available
Location
You will need to fly from the mainland of Ecuador to San Cristobal, Galapagos (airport code SCY) on the morning of your departure.
Dive Overview
With 592 species of fish, 32 species of sharks, 4 species of turtles, 7 species of dolphins plus penguins, mola molas, orcas, mantas, and the sole marine iguana on the planet, only in Galapagos can you dive with such a sheer abundance of species and so many sharks. Darwin and Wolf have the largest biomass of sharks in the world, 17.5 tons of sharks per hectare (2.47 acres). Only in Galapagos can you dive with pregnant Whale sharks this big. Add massive schools of pre-historic-looking Hammerheads, the largest Galapagos sharks anywhere, and, sorry everywhere else, only Galapagos truly is the sharkiest place on the planet. And yes, the best dive sites in Galapagos are only accessible from a liveaboard.
[See: Galapagos Dive Travel Guide]
Accommodations
Types of Cabins, Amenities and Photos

---

Calipso Cabin Overview
Calipso has 6 double cabins on the upper deck and 2 double cabins on the main deck. All of the double cabins are convertible to one bed. Double cabins have panoramic windows, as well as a window in the bathroom. Cabins have climate control, TV, hairdryer, closet, and an ensuite bathroom.
General Facilities

---

Calipso Boat Features
Sun deck with a Jacuzzi
Spacious salon with a large flat screen TV for briefings and movies
Spacious dining area
Satellite Wi-Fi
Calipso Dive Facilities
Brand new dive deck
Nitrox
Camera Table w/ Air
Camera Charging Stations
Bi-level rinse tanks
Individual dive stations
Hot fresh water showers
Dive deck head
Equipment Rental
2 ribbed Zodiacs (pangas)
2 dive guides (1 per 8 divers)
Private guides available
Food & Drinks Aboard calipso
Calipso provides a light snack prior to your first dive, then a full breakfast after the dive. Breakfast, lunch, and dinner are served buffet style for all you can eat. They serve international and Ecuadorian dishes prepared with fresh local produce and seafood. There is a snack and hot beverage after each dive. Fruits, candies, and snacks are available all day. A variety of teas, coffee and fresh juice is available all day, and the salon bar has a wide variety of wines, beers and spirits available for purchase.
calipso liveaboard Deck Plan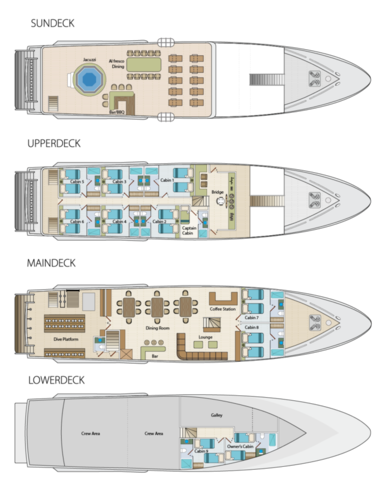 Schedule, Rates & availability
Calipso Schedule & Rates

---
Prices are in USD, per person and do not include park and port fees.
[See also: Inclusions & Exclusions]
INCLUSIONS
Accommodation onboard for length of cruise
All meals, snacks & beverages (alcohol extra)
Weights, weight belts & tanks
Dive Alert, SMB, Nautilus Lifeline, Safety Noisemaker
Bilingual Park certified dive guide
Airport transfers in San Cristobal for official flight
Exclusions
Flights to Galapagos
National Park Entrance Fee: $100 pp
Transit Control Card (TCT): $20 pp
Recompression Chamber Fee: $35 pp
Nitrox: $150
Equipment Rental: $250 full kit, $100 computer
Dive Insurance
Travel-Health Insurance
Meal on final full day in town
Personal Expenses
12% Sales Tax (VAT); credit card fee
RATES & AVAILABILITY
For more information on other departure dates, rates, and on availability email us at info@bluewaterdivetravel.com or call us at +1-310-915-6677 and we will gladly help you plan your dream dive vacation!
Dive Information & Itineraries

---
Sample itinerary
Thursday: Arrival
AM: This morning, you will fly from the mainland of Ecuador to San Cristobal, Galapagos. Our guides will be there to greet you and escort you to the yacht.
PM: After getting settled in, we will have lunch and briefings followed by a check dive at Isla Lobos. Lobo is Spanish for wolf and sea lion is lobo del mar in Spanish. Expect to see sea lions. We sail to Marchena overnight.
Friday: Punta Carrion and Seymour
AM: Punta Carrion is located on the island of Santa Cruz. Sometimes we get lucky and see mola molas here. It's a good first dive to acclimatize to Galapagos diving.
PM: Seymour is an island known for having great dives. Sightings include mobulas, white tip reef sharks, Galapagos sharks, sometimes Hammerheads and many fish species.
Saturday: Wolf
AM: Wolf is one of the reasons Galapagos is on most divers' bucketlist. Scientists have designated Wolf and Darwin (together as they are so close together) as the sharkiest place on earth because they have the largest biomass of sharks on the planet, 17.5 tons of sharks per hectare (2.47 acres). Only divers visit Wolf. There is no chumming in Galapagos. This is where sharks come naturally. There are no land visits. Wolf is located 115 miles north of the central islands.
PM: Sightings include huge schools of Hammerhead sharks, Galapagos sharks,Whale sharks (in season), Silky sharks, Eagle Rays, Sea Lions, Fur Seals, Mantas, Turtles, Jacks, Trumpetfish, Butterfly fish, Morish Idols, Moray Eels and Dolphins. Some sites at Wolf are covered in coral and all of the tropical fish species that live on coral reefs. Dive sites include Shark Bay, The Landslide, La Banana and Islote La Ventana. On the island itself, there are hundreds of thousands of seabirds including all 3 types of boobies in Galapagos – Red footed, blue footed and Nazca. There are frigates, pelicans, lava gulls and red billed tropicbirds.
Sunday: Darwin
Darwin's Arch is an icon, the symbol of diving the Galapagos. It is located 229 km / 142 miles north of the central islands. In addition to Wolf, this is where we find massive schools of Hammerheads. Huge, pregnant Whale sharks pass through Darwin each year for reasons unknown.
Darwin is the warmest dive site in Galapagos due to the tropical Panama current. You spend a lot of the dive stationary, on a platform that drops into the blue where Hammerheads swim against the current. It's like being on the side of a Hammerhead highway watching traffic pass. You leave the platform to swim out into the blue when a Whale shark is spotted. That sometimes means swimming through the Hammerheads, a truly magnificent experience you will carry with you forever.
Monday: Darwin-Wolf
AM: We have 2 more dives at Darwin in the morning.
PM: We have 1-2 more dives at Wolf in the afternoon. There is an optional night dive at the Anchorage site. Anchorage has a sandy bottom where you may see garden eels and the red-lipped batfish.
Tuesday: Isabela-Fernandina
There are 2 different itineraries for the western sites due to seasonal visibility.
Jan-June AM: Cabo Marshall / July-Dec AM: Cabo Douglas
Jan-June PM: Cabo Marshall / July-Dec PM:Punta Vicente Roca
Wednesday: Cousins-Santa Cruz
AM: Cousins Rock. Cousins is a small rock, the remains of an eroded crater sticking up out of the sea. On the eastern side, the rock cascades down in a series of recessed ledges strewn with black coral, which is bright green under the water. Taking cover in the coral, you may find Seahorses, Frogfish, Octopus, Turtles and the elusive Longnose Hawkfish. It's not unusual to spot pelagics from Cousins including Mantas, Eagle rays, Mobulas and Hammerhead. Sea lions are fur seals are also at Cousins.
PM: We disembark head for a reserve in the Santa Cruz Highlands to see the iconic Galapagos Tortoise in its natural habitat.
After the Highlands, we descend into the largest town in Galapagos, Puerto Ayora. You may opt to visit the Charles Darwin Research Center in the Galapagos National Park or wander about town.
Our farewell dinner will be at a restaurant in Puerto Ayora. We then return to Calipso and sail to San Cristobal overnight.
Thursday: Departure
You will disembark and are free to visit the Interpretation Center or wander around port before to the airport for your departure.
Diving conditions
High season is June - December when the polar Humboldt current brings its abundance of nutrients to Galapagos. This is when the massive, pregnant Whale Sharks migrate through Darwin and Wolf and are traditionally most abundant in August, September and October, thinning out after mid-November. Currents can be strong, seas choppy and visibility diminished at this time of year. Air temperatures are cooler and the sky is often cloudy, so jackets or sweatshirts are needed.
Low season is January - May when seas are calmer, water temperatures are warmer and visibility is better. No Whale sharks, but all other sharks and marine life are still present. February and March are the warmest months of the year. You won't need a jacket and will appreciate the AC inside Calipso. Traditionally, late February to mid-April, Hammerhead populations are diminished as they migrate away before returning in huge numbers in May. Some call this Manta season. Visibility is better at this time of year at the sites where Mantas are common.
You'll get sharks year round. If you want to see the most sharks, dive during high season. If you want some sharks, more Mantas, warmer water and better visibility, dive during low season.
Diving in the Galapagos is advanced due to strong currents, varying visibility and cold water. Water temperatures can range from 56 F (13 C) to 80F (27 C) depending on the season and the dive site. We dive in 7mm wetsuits.
All divers must be certified as open water scuba divers by an internationally recognized certification organization. We recommend a minimum of 50 logged dives if you are traveling between December and May and 100 logged dives if you are traveling between June and November.
Other Information

---
Boat Specifications
Build: 1991
Rebuilt: 2018-2019
Length: 35.4 m / 116 ft
Beam: 7.3 m / 24 ft
Hull: Naval Steel
Engines: 2 Cummins NTA855-M, 400 hp, 1800 rpm
Generators: 2 Cummins 6B-CP, 99 kw, 60 hz
Compressor: Bauer Verticus model VAC20-E3, 5000 PSI
Cruising Speed: 11 knots
Fresh Water: 5,000 gallons / 20,000 litres
Fuel Capacity: 7,200 gallons / 29,000 litres
Superstructure: Naval Steel, aluminum and fiberglass
Maximum guests: 16
Number of cabins: 8
Number of crews: 11
Practical Information
Time Zone: UTC-6
Local Currency: USD (US Dollar)
Language Spoken: Spanish & English
Electricity: 110 & 220 V
Payment Onboard: Cash & credit cards. All onboard purchases are subject to the 12% Ecuador sales tax (VAT). When using a credit card onboard, there is an additional 4% processing fee.
Underwater Gallery

---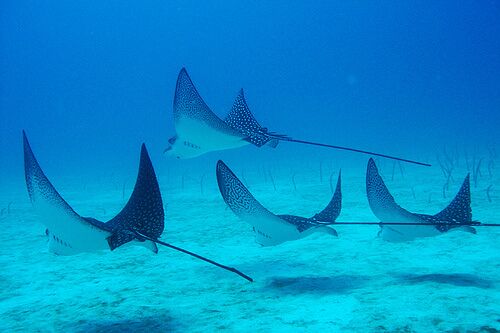 Hammerheads & eagle rays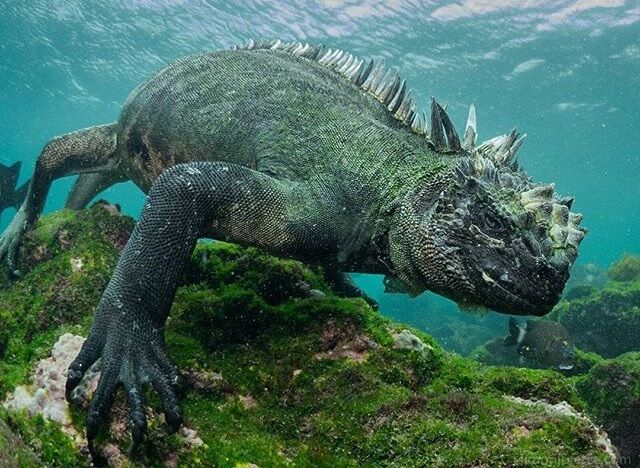 Turtle & marine iguana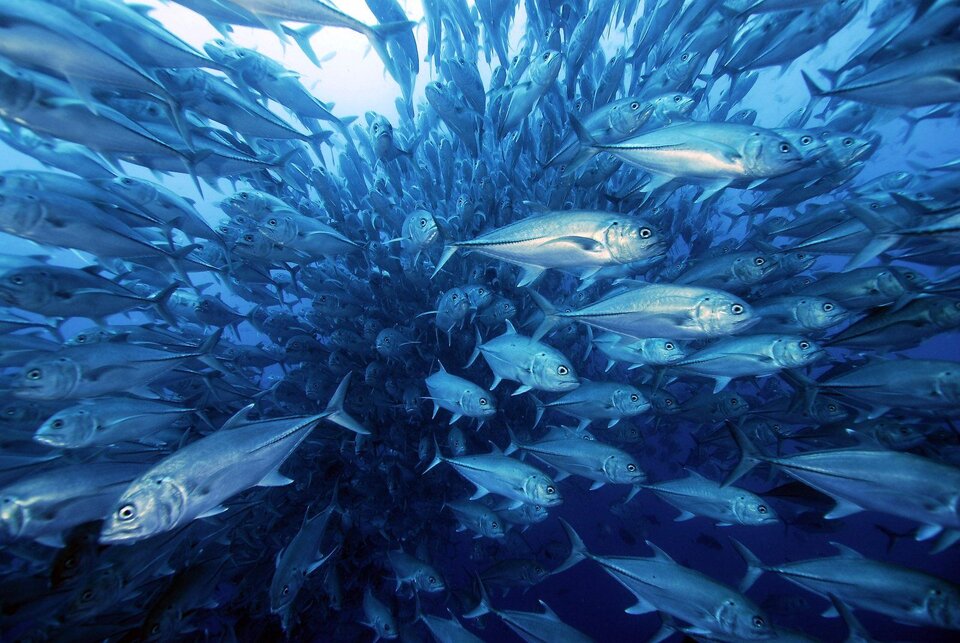 Penguins & jacks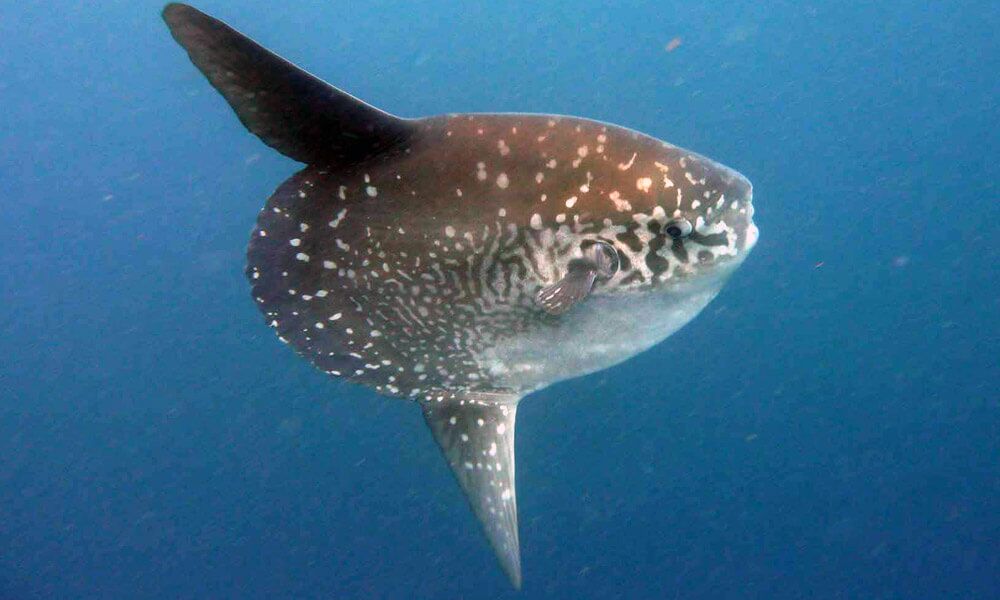 Giant manta & mola mola