CUSTOM GROUP TRIP TO MEXICO - CROCODILES & CENOTES
Join Bluewater Travel's Mark Strickland on a truly unique and custom trip to the Caribbean coast of Mexico for up-close encounters with crocodiles, diving the best Yucatan cenotes, and diving the pristine reefs of Xcalak.
Why Join this trip?
25% off rental photo gear from Bluewater Photo
Get up close and personal with American salties
Dive the best cenotes of the Yucatan
Timed for best water temps and visibility
TRIP OVERVIEW
This is a small group trip (max 6 guests) to the Caribbean coast of Mexico for a rare and unforgettable experience. We'll start by diving the protected reefs of Xcalak, a remote dive area known for a great diversity of dive sites and frequented by manatees. We'll then spend 3 days out at Banco Chinchorro, the best place in the world to get up close and personal with American saltwater crocodiles. We'll finish the trip doing two days of diving five of the best cenotes in Yucatan.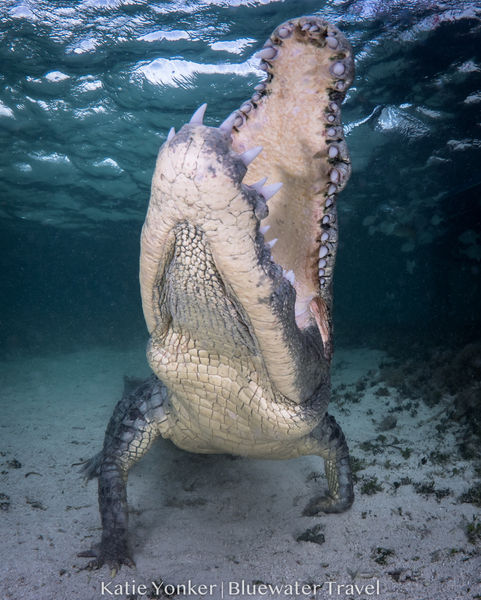 INCLUSIONS
3 nights accommodations at the Flying Cloud Hotel (though we'll only be sleeping here a total of 3 nights, you will have your room for 5 nights in order to leave unnecessary belongings while in Chinchorro).

2 nights hammock accommodations in the fisherman's hut at Chinchorro

3 nights accommodations at Hotel Hacienda Paradise in Playa del Carmen

Generator rental in Chinchorro to charge camera batteries and appliances (no electricity available at fishermen's hut)
Meals as follows: Daily breakfast and lunch in Xcalak and Playa del Carmen. All meals in Chinchorro.

3 days of crocodile encounters in Chinchorro Banks

Dives as follows: 3 dives in Xcalak. 3 days of 1-tank dives plus crocodile encounters in Chinchorro. 5 total cenote dives in Playa del Carmen.

Tanks, weights, and weight belts
Stop to visit ruins
Taxes
Exclusions
Meals not mentioned above, as well as drinks.
For all Playa del Carmen Hotels: Ambiental Sanitation Tax of 20.00 Pesos per night per room to be paid in cash at the front desk upon arrival

Muyil Ruins entrance fee

Cenote entrance fees

Cenote camera fees
Gratuity
Travel Insurance: click here to learn more about our preferred plan
Day 1: Arrive at Cancun airport no later than 10:00 am. Transfer to Xcalak. Visit ruins on the way.
Day 2: 3 local dives at Xcalak
Day 3: Boat transfer to Chinchorro. Crocodile encounter day 1
Day 4: Crocodile encounter day 2
Day 5: Crocodile encounter day 3. Return and overnight in Xcalak.
Day 6: Transfer from Xcalak to Playa Del Carmen
Day 7: Morning breakfast followed by 3 dives in 3 different cenotes.
Day 8: Morning breakfast followed by 2 dives in 2 different cenotes.
Day 9: Transfer to Cancun airport for flight departures.




DETAILED TRIP ITINERARY

Day 1 (August 14): Guests will need to arrive at Cancun Airport (code: CUN) no later than 10:00am. We'll begin the 5-hour drive to Xcalak, stopping on the way to visit the lovely Muyil ruins.
Day 2 (August 15): Breakfast at the hotel followed by 2 local dives at Xcalak. Return for lunch, followed by 1 afternoon dive.
Day 3 (August 16): After breakfast, set off for Chinchorro, making a stop along the way to dive and hunt for lionfish. After a day in the water observing and photographing the crocodiles in their natural environment, we finish at 5 or 6 pm and cook dinner before an early bedtime. We sleep in hammocks in the fisherman's hut which gives you a truly unique experience of seeing the artisanal fisherman at work in one of the world's most remote and pristine environments. All meals included.
Day 4 (August 17): Morning dive at one of the stunning reef or wreck sites on this enormous atoll, followed by more time in the water with the crocodiles. All meals included.
Day 5 (August 18): Morning dive at one of the stunning reef or wreck sites on this enormous atoll, followed by more time in the water with the crocodiles. We'll pack up at about 2 pm and leave at 3 pm to return to Xcalak after a well-deserved lunch. Breakfast and lunch included.
Day 6 (August 19): Morning breakfast followed by transfer from Xcalak to Playa del Carmen. Free evening.
Day 7 (August 20): After breakfast, we'll set off for 3 dives in 3 different cenotes. Boxed lunch included.
Day 8 (August 21): After breakfast, we'll set off for 2 dives in 2 different cenotes. Boxed lunch included.
Day 9 (August 22): Transfer to Cancun airport departing at 9:00 am, arriving at Cancun airport at approximately 10:00 am.
DIVING XCALAK & CHINCHORRO
What you will find in Xcalak is a remarkably pristine, vibrant reef system with a number of unique dive sites that are worth a visit in their own right. There are deep and shallow walls, huge tongue and groove formations, "pozas" (blue holes), swim-throughs, pinnacles, and much more. Some of the highlights here are large schools of tarpon that congregate year-round, manatees, and expansive coral gardens. We will place a special emphasis on diving sites where manatees are more common.
Banco Chinchorro, the western hemisphere's largest coral atoll has earned a reputation as one of the last unspoiled dive destinations this side of the world, and certainly in the Caribbean. It benefits from being both remote, inaccessible, and with access requiring special permits from the Mexican Federal Government. You will find a large variety of coral species, including black coral at unusually shallow depths and many other species of soft coral, all kind of tropical fish, rays, eels, conch, and giant sponges. And being an offshore reef, a large animal encounter is always around the corner!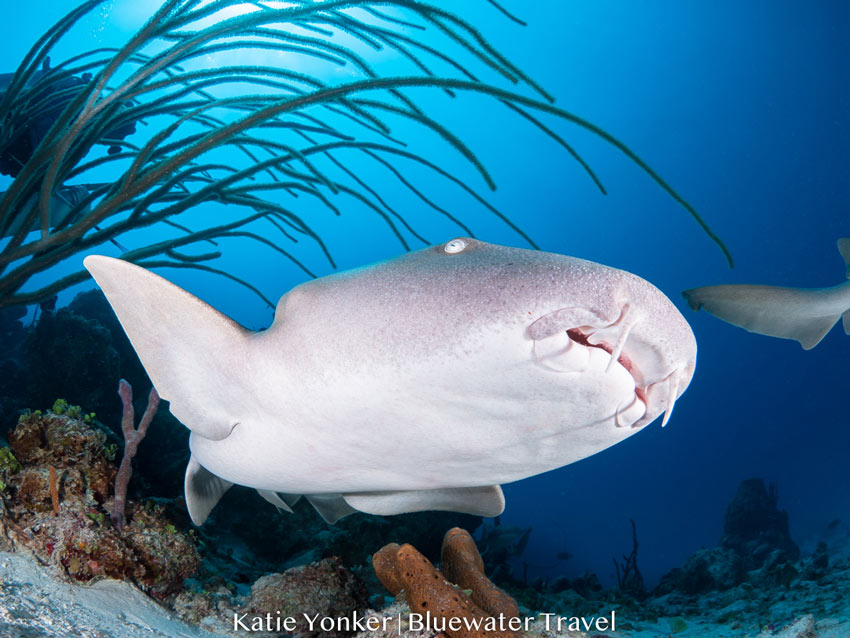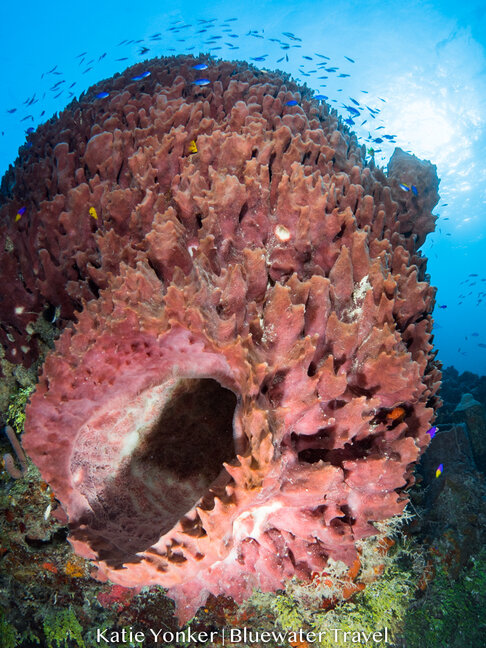 CHINCHORRO CROCODILE ENCOUNTERS
This trip is planned during the peak time to view crocodiles at Chinchorro. These crocodile encounters are skin diving activities conducted in very shallow waters around a fishermen's hut. This is one of the most amazing experiences ever. In peak season, we average 3-4 hours per day in the water with one or often several Crocodylus Acutus, up close and very personal!
The operator has rigid safety protocols with a trained crocodile 'handler' in the water and two spotters on a deck immediately above us to stay aware of the location of all the animals at any given time. There is a maximum of two people in the water with the handler at any given time. It is all done in shallow water (around 1-1.5m) around an artisanal fisherman's hut situated in the beautiful Banco Chinchorro Biosphere Reserve. There is a 96% 'show' rate for a given day during peak season, and the photography opportunities should be incredible!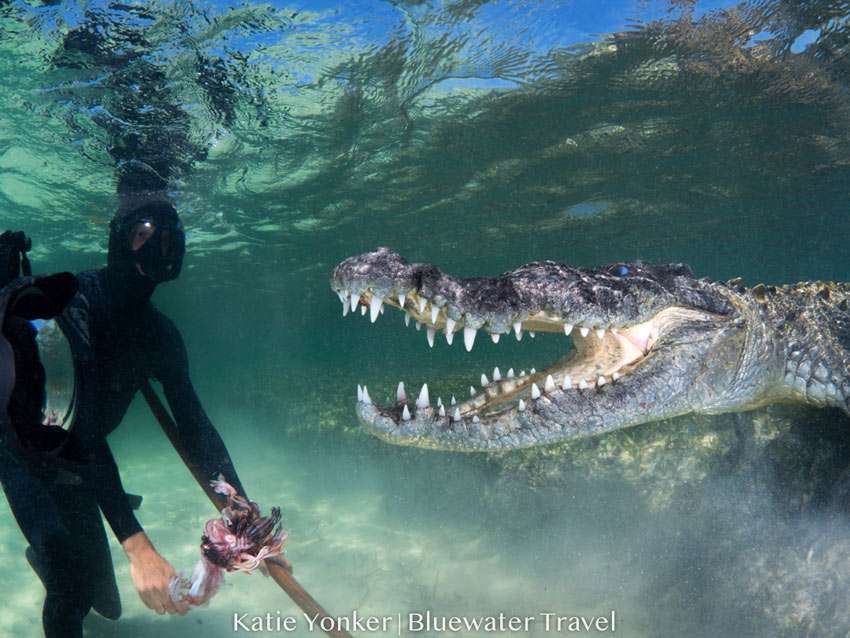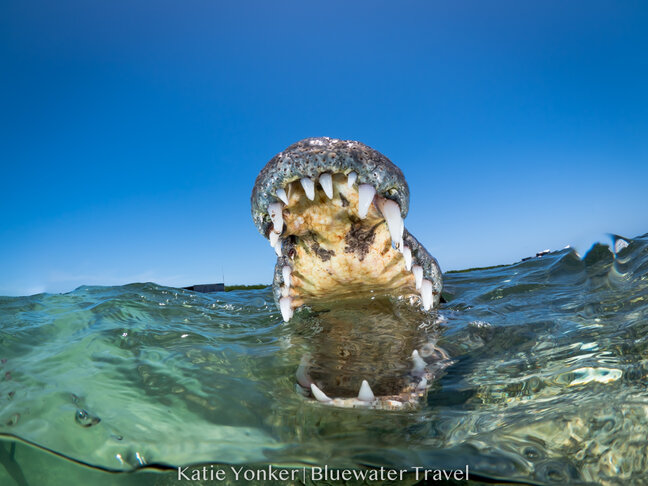 CENOTE DIVING
Deep in the jungle, divers can enter an extensive flooded cave system through openings called cenotes. Cenote diving is a unique experience - divers won't see colorful reef fish or coral, but the cenotes have a different sort of beauty. The water is crystal clear and divers are treated to stunning light effects, rooms full of intricate cave decorations, marine fossils, and even (occasionally) a glimpse of the elusive cave blind fish.
Our trip is planned to visit the best cenotes in the Yucatan! Here are a few of the cenotes we'll likely be diving.
Dos Ojos - Dos Ojos is known for its beautifully decorated system of huge columns and stalactites. Be ready for some exciting surprises on this dive. Remember to look occasionally towards the entrance for great backlit effects. With shallow dives, crystal clear visibility and great decoration, Dos Ojos is spectacular.
Angelita - This cenote is not only atypical but a once in a lifetime dive in all aspects. After walking about 5 minutes through the jungle, you reach this picturesque circular-shaped cenote which does nothing more than go straight down to 60 meters. Descending through clear freshwater, you will sink right into a mystical hydrogen sulfate layer at 30 meters that looks like a huge cloud with trunks and branches reaching through it. Underneath the cloud the saltwater begins. It is dark here, giving the diver the feeling of being in a forest at night. Some huge stalactites hanging from the edge of the cenote, reminding us of times when the water level was much lower.
The Pit - You'll descend through a shallow halocline towards the hydrogen sulfide cloud. Tree branches eerily protrude from the cloud, and what seems to be the cavern floor becomes visible. But The Pit continues deep below the cloud and narrows into darkness. Continue your dive above the cloud exploring the cavernous overhang of the cenote before coming up to the sloping ceiling where you'll not only find stalactites of all shapes and sizes but also enjoy the laser beams of sunlight penetrating the gash from below.
Aktun Ha (aka Car Wash) - This cenote has freshwater fish and lush vegetation including picturesque lily pads. Sometimes a little crocodile, as well as freshwater turtles, can be seen.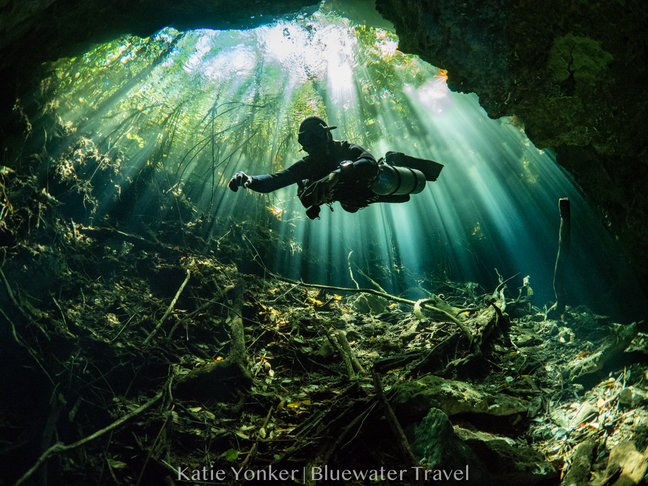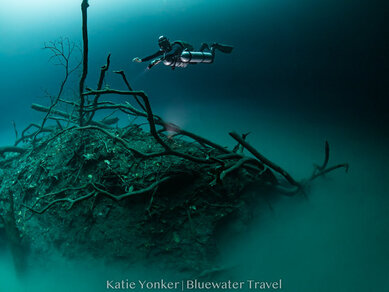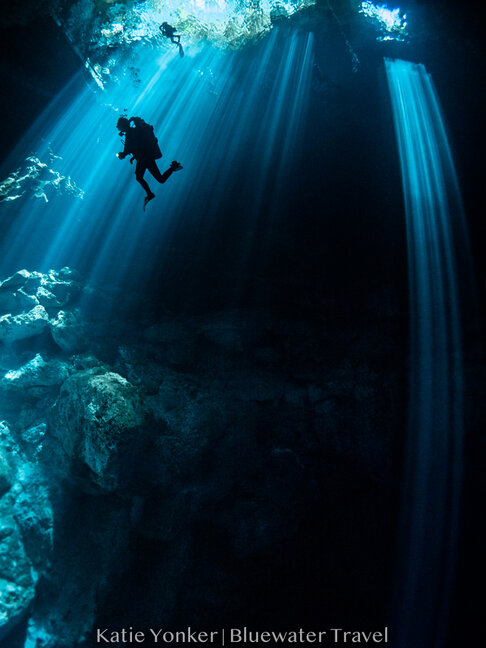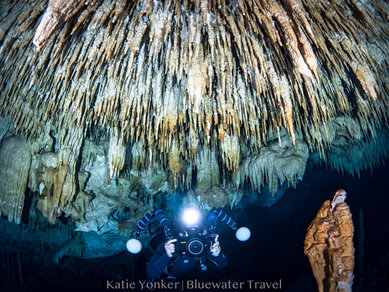 ABOUT THE TRIP LEADER
Mark Strickland's life-long interest in the sea has included over 10,000 dives and careers as a lifeguard, boat captain, and scuba instructor. His passion for underwater photography has led him to many top dive locales, including Virgin Islands, Australia, and Thailand, where he spent 17 years as Cruise Director on a series of liveaboards. Mark now resides in Ventura county, California.
An avid marine naturalist, Mark has discovered several nudibranch species. He is the co-author and principal photographer for Lonely Planet's award-winning book, "Diving and Snorkeling Thailand", and his work appears in many magazines, books and displays around the world. Currently, Mark leads several dive trips each year to his favorite destinations, while working on a career-spanning large-format pictorial book.
Payment Schedule
First payment - 20% deposit due upon booking
Second payment - 30% due on December 1, 2020
Final payment - 50% due on May 14, 2021
Got Questions? Ready to Book?
Call us today at 310-915-6677 email us at trips@bluewaterdivetravel.com
Or stop by our office at 3961 Sepulveda Blvd, Suite 206 Culver City, CA 90230
And let us book your dream vacation!
Photo Gallery

---
PHOTOS
Watch this video to know what to expect during the crocodile encounters.