Destination: Indonesia
Maluku Resort and Spa Jl. Raya Waitatiri, Suli Salahutu, Ambon | Full board + 3 dives from $175++/ppn

---
Dive Into Ambon Quick Pitch
Dive into Ambon Dive Center is based at Ambon's best boutique hotel, Maluku Resort & Spa. They have sea-side pool, Ambon's only spa, and the dive resort is also equipped with dedicated camera room, wet and dry equipment store rooms, as well as a fully stocked bar.
Quick Information
No of Rooms: 20
Dive Center: On site
Amenities: AC, pool, restaurant, spa, camera room, Nitrox
WiFi: Yes, free
Nearest International Airport: Pattimura International Airport
Airport Shuttle: Yes, surcharge
How to Get There
With Ambon in remote East Indonesia, the logistics for getting there are surprisingly simple. Dive Into Ambon can assist with arranging transfers and transit hotels if needed. Transfers between the Resort and Ambon airport takes approximately 40 mins.
Dive Overview
Ambon has many color reef dives full of crinoids, large barrel sponges, large sea fans and table corals - especially as you get outside of Ambon Bay. Some sites will have many fish, fusiliers, bumphead parrotfish, and napolean wrasse. Inside the bay, you have spectacular muck sites, with critters such as rhinopias, numerous species of shrimps and crabs, wonderpus, ghost pipefish, seahorses and many frogfish.
Accommodations
Types of Rooms, Amenities and Photos

---
Dive Into Ambon Accommodation Overview
Maluku resort features 4 cottages, 2 studios, and 14 comfortable standard rooms. All rooms have Air-conditioning, hot water, private bathroom, Cable TV, free WI-Fi, and 220v pin outlets.
Cottages
Set in the garden, with views of the Baguala Bay and the pool, these wonderful self-contained cottages are perfect for your stay.
Split level, with their own balcony, living room, bedroom and 'Bali' styled bathroom. These rooms can accommodate three people max.
Seaview studios
The Sea View Studio Suites are directly facing the sea. With a bedroom, a large living room and private bathroom. Max 4 guests.
standard deluxe rooms
The Standard Deluxe Rooms offer simple yet comfortable accommodation. The rooms all have views to the sea, with private bathroom and air-conditioning. Max 2 guests per room.
Resort Facilities

---
Dive Into Ambon Resort Features
Pool
Restaurant
Spa
Room service
Laundry service
Dive center
Dive Into Ambon Resort Activities
Diving and land tours available.
Package & Rates
Dive Into Ambon @ Maluku Resort & Spa Resort Rates

---
2020 Dive & Accommodation Package
Prices quoted per person in USD and based on double occupancy. Full board accommodation with breakfast, lunch, morning & afternoon snack, family Style buffet dinner, room tea, coffee and water, day boat dive excursion inc. 3 guided dives with air tanks & weights, 4:1 dive guide ratio max (onboard tea, coffee, water, cookies & towels). Package price is INCLUSIVE of government tax & service. Valid through June 2020.
| | | | |
| --- | --- | --- | --- |
| Package | Standard | Studio & Cottage | Availability |
| 3D/2 Nights – 1 days diving (3 dives) | $306.25 | $344.21 | |
| 4D/3 Nights – 2 days diving (6 dives) | $543.74 | $600.68 | |
| 5D/4 Nights – 3 days diving (9 dives) | $781.23 | $857.15 | |
| 6D/5 Nights – 4 days diving (12 dives) | $1,018.72 | $1,113.62 | |
| 7D/6 Nights – 5 days diving (15 dives) | $1,256.21 | $1,370.09 | |
| 8D/7 Nights – 6 days diving (18 dives) | $1,493.69 | $1,626.55 | |
Can't Find the Information You Need?
Can't find the information you need? Drop us an email at bookings@bluewaterdivetravel.com or call us today at 310-915-6677 and let us help you plan your dream dive vacation!
Dive Information

---
Diving in Ambon
Ambon Island, nestled in the Maluku Archipelago, is fast being recognized as one of the premier critter (muck) diving locations in the world. Ambon Bay has an amazing variety of rare of wonderful creatures and very uncrowded sites. Lesser known is the south side of Ambon, which features great and colourful walls, caves, swim through, exceptionally healthy reef life, with large fish and more small critters. Ambon Bay, where the muck diving is, has an incredible array of rare critters, including Ambon Scorpionfish, Rhinopias, Mimic and Wonderpus Octopus, Flamboyant Cuttlefish, many many Nudibranchs, Frogfish, Harlequin Shrimp, Coleman Shrimp and much much more. Dive Into Ambon offers diving to both muck and coral sites, giving you a unique opportunity to dive macro and wide angle.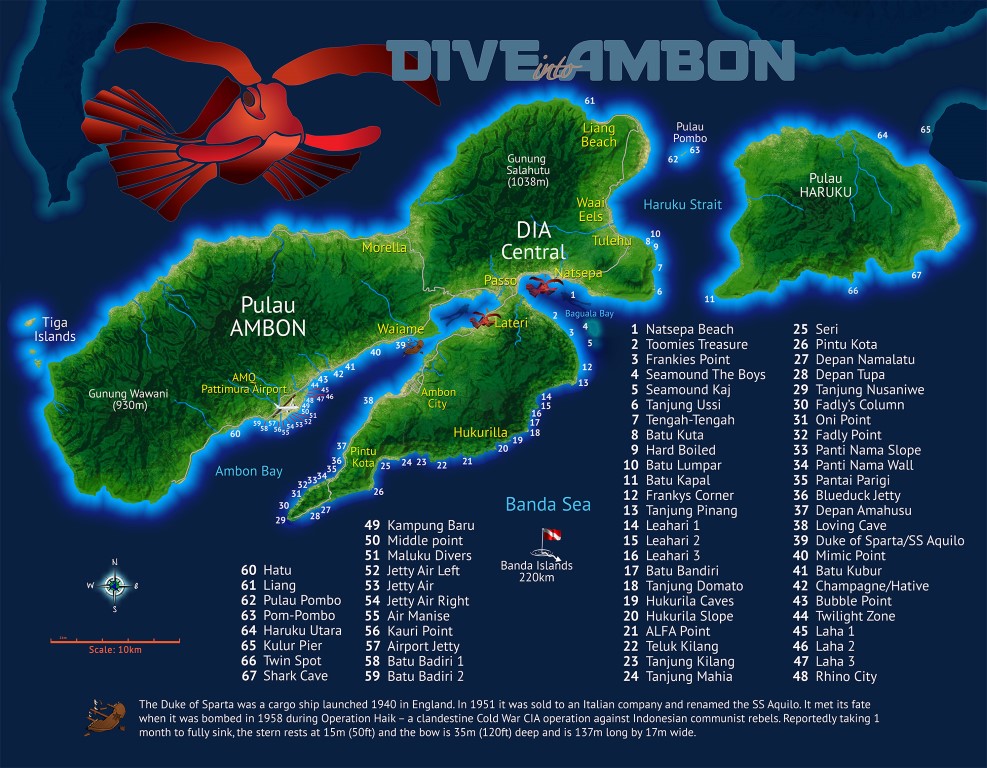 Diving with Dive Into Ambon
DIA offers day trips to over 60 dive sites around Ambon.
Our day begins at the dive center at 8 AM, for departure at 8:15. From here the boats head out for a day of 3 brilliant boat dives, with lunch either on the boat or near beach, returning to DIA central between 3:30-4:30 in the afternoon.
Dive Center Information

---
Dive into Ambon Dive Center Overview
Dive Into Ambon is perfectly placed to take advantage of both types of diving. Dive Into Ambon dive both sides from their wonderful central location on Baguala Bay, based at Ambon's best boutique Hotel, Maluku Resort & Spa. On their big covered boats, equipped with hot water, charging stations, WiFi, toilets, sun deck and much more, they take you to some of the most incredible dive sites in Indonesia, all at an unparalleled level of comfort.
Dive Center Facilities & Services
Dedicated camera room with universal sockets, 220V
Aqualung rental equipment and emergency repairs
Many critter & fish ID books in several languages
Photos & video tips
Large flat screen to show your great U/W images of the day
Other Information

---
Practical Information
Electricity: 220 Volts
Time zone: UTC+9
Languages: Indonesian & English
Accept Credit Cards?: Yes (Amex is not accepted)
Underwater Gallery

---