Bluewater's 2024 Dumaguete photo workshop
Join Bluewater Photo in June - July 2024 for some amazing muck diving and an up-close look at Apo Island's coral reefs!
June 29 – July 9, 2024 (10 Nights)
Trip Leader: Nirupam Nigam
Deluxe Suite:
$4,385 per person, double occupancy
$5,790 per person for single occupancy
Premium Suite:
$4,616 per person, double occupancy
$6,252 per person for single occupancy
Premium Pool Suite:
$5,078 per person, double occupancy
$7,176 per person for single occupancy

Non-divers save $1,091 from the above rates and includes a Spa Package (with a free choice of 6 different massages each 90min long + 30 min Executive Back Massage) and two Apo Island snorkeling trips.
Optional Extras:
Whale shark snorkel trip. Group trip to Oslob to snorkel with whale sharks. Trip costs $195 based on a minimum group of 8 and it includes snorkeling gear and guide, van transfer, Oslob marine park fees, snacks and drinks, and two snorkel sessions with whale sharks.
Optional Add Ons:
Upgrade to 9 days of unlimited diving (up to 5 dives per day) for $345
Why Join This Trip?
Opportunities to photograph rare critter action

Amazing muck diving and an up-close look at Apo Island's coral reefs!

Stunning night dives

25% off rental photo gear from

Bluewater Photo

Leaders who care about their guests' experiences
inclusions
10 nights accommodation

Private transfers from Dumaguete airport/ferry terminal to Atmosphere.

10 days of full board meal package (a la carte & buffet breakfast with fresh juices, tea & locally brewed coffee, 2-course lunch and a 3-course dinner)

Including 1 Beach BBQ night.

Free Wi-Fi, filtered drinking water throughout the resort, fresh fruit, tea & coffee in rooms.

27 guided boat/shore package with 2 Apo Island trips (includes tanks, weights, dive guide services, boat rides and all daytime marine park + UW camera fees)

3 dives out of that package can be used as a mandarin or night dive

Complimentary Nitrox fills for Nitrox certified divers.

Complimentary check-out dive on arrival day (guided daytime dive with shore entry/exit, incl. tanks, weights, dive guide services and sanctuary fees)

Complimentary marine life presentations (standard schedule, twice a week).

Complimentary snorkeling on Atmosphere House Reef (incl. snorkeling gear and marine sanctuary fees)

Includes all government taxes (excl. airport fees)
Read about out previous Dumaguete Photo Workshops here:
Dumaguete 2023 Trip Report by Mark Strickland
To get a little insight as to what the waters around the Atmosphere Resort are like, see our Guide to diving Dumaguete.
TRIP TYPE
This trip is a PHOTOGRAPHY WORKSHOP. It will be led by one of our photo instructors and will include daily underwater photography tutorials, in-water photography support, and one-to-one advice and guidance as required.
What to expect from our Photo Workshops
Daily photo workshops

- Your photo instructor will schedule seminars each day on topics including, but not limited to, equipment type and selection, the concept of underwater photography, lighting and composition techniques, and post-processing. They will also include additional topics relevant to the location and your experience.

In-water support

- Where possible, each dive group will spend time underwater with the photo instructor, receiving in-water support and guidance on their shooting techniques. Participants can also request in-water assistance during the workshop and the photo instructor will do his or her best to accommodate all requests.

Consecutive days of practice & review

- Each day you will have the opportunity to practice the techniques and skills learned in the previous day's tutorials. If you are new to underwater photography you will likely see a vast improvement in just a few days.

Daily photo image reviews

- You are strongly encouraged to bring your laptop, a thumb drive, edit your photos, and submit your shots for review from both the instructor and your peers. These are fun and interactive sessions encouraging you to improve throughout the trip.

Quality time with fellow photographers

- Both new and experienced photographers from past workshops have expressed the advantages of joining a trip with like-minded divers with a passion for underwater photography.

Suitable for everyone

- New and experienced photographers are welcome on all our trips. Gain the necessary skills to start shooting great photos, increase your confidence in finding the best underwater shots, or hone specific skills. We also encourage non-photographers to join, as many of them really enjoy the daily photo reviews, learning about underwater photography, and some have even returned to a photo workshop with an underwater camera setup!
Enjoy free, unlimited access to a wealth of knowledge and advice from your photo instructor.
DIVE OVERVIEW
Atmosphere's state-of-the-art dive center offers accommodating and knowledgeable staff, ensuring relaxing dive experiences. Atmosphere offers easy access to Dauin's excellent muck diving and the pristine coral reefs of Apo Island teeming with larger marine life.
At Atmosphere, you can take full advantage of some of the world's best scuba diving. The world-renowned Apo Island with its walls, stunning coral and schooling fish is a short boat ride away. Some of the world's rarest critters compete for the underwater photographer's attention along the Dauin coastline near Dumaguete in the Philippines, where Atmosphere is situated. The area is often frequented by underwater photographers in search of exquisitely rare shots.
The night dives at Atmosphere are stunning, as are the mandarin fish dives at dusk and the fluoro dives where you can see the underwater worlds in a completely new light.
The instructors and guides are highly trained and know how to get you the "fantastic" dives. They offer small group diving and the guests requests are accommodated within safety limits. They also offer flexible dive options.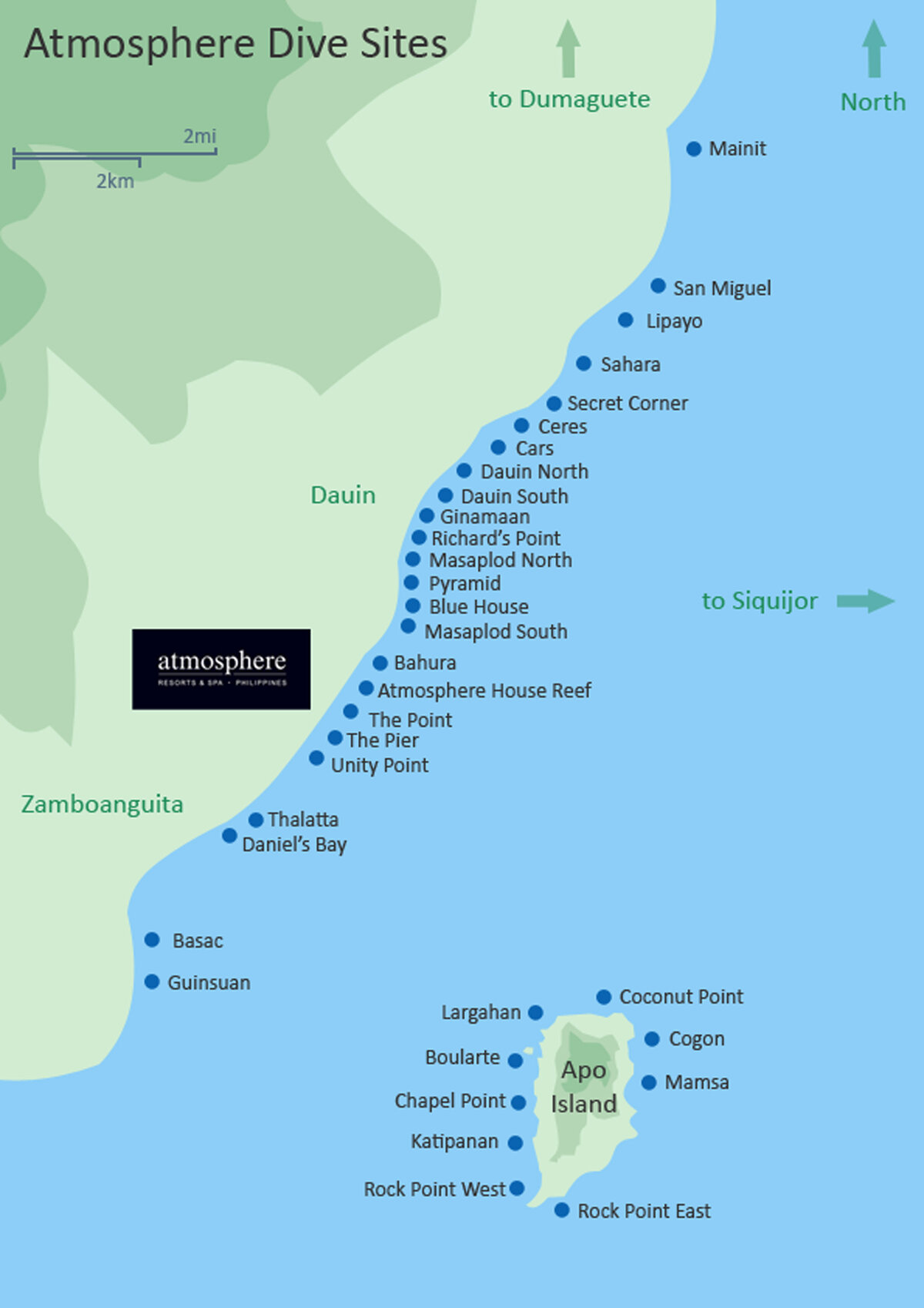 Bluewater owner, Scott Gietler, says: 'July is a great time to visit Dumaguete. I've done Dumaguete twice in July and weather has been very nice - calm and not windy. You get some rain but only a brief shower which freshens the air.'
About ATMOSPHERE RESORT & SPA
Atmosphere Resort & Spa in Dauin, Dumaguete, is one of the best luxury dive resorts in the Philippines, offering excellent diving, impeccable service as you would expect from a 5-star hotel, luxurious and comfortable rooms and a wide array of amenities to please the discerning diver and traveler.
Deluxe Suite Room & Premium Suite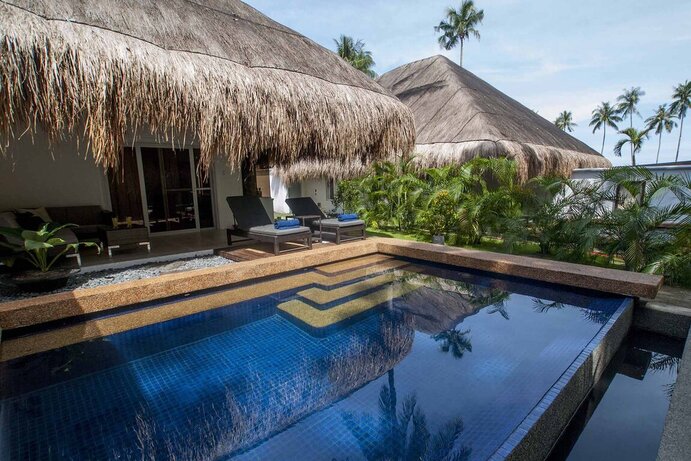 Premium Pool Suite
Restaurant & Private Tree House Dinner
Family Pools & Pool Bar
The Sanctuary Spa at Atmosphere
The Sanctuary Spa is synonymous with Wellness. Our award-winning spa promotes physical and mental relaxation with a tranquil tropical setting and variety of treatments such as a dozen massages, Watsu's, facials, body treatments, healing baths, foot and hand treatments, children's spa services etc.
Click here to read Atmosphere Resort's Sanctuary Spa Menu
Read the reviews of the Atmosphere Resort & Spa here.
ABOUT THE TRIP LEADER
Nirupam Nigam is a dedicated underwater photographer and fisheries scientist. While growing up in Los Angeles he fell in love with the ocean and pursued underwater photography in Southern California's Channel Islands. He received degrees in Aquatic and Fisheries Science and General Biology, as well as a minor in Arctic Studies, at the University of Washington. He spent some time as a fisheries observer on fishing vessels in the Bering Sea and North Pacific, collecting data for NOAA. When he is not at sea, he is traveling with his wife and taking photos.
As the Editor-in-Chief of the Underwater Photography Guide and the Chief Marketing Officer at Bluewater Photo & Video, Nirupam is one of the world's few full-time underwater photography editors. You can get in touch with him at nirupam@uwphotographyguide.com or through his website www.photosfromthesea.com. Read more about Nirupam here.
how to Get there
Trip attendees should fly in and out of Dumaguete through Dumaguete Airport (airport code DGT). Flights may arrive any time on June 29. Return flights should be made at any time on the last day of the trip (July 9). Airport transfers are included and travel time is about 30 minutes each way.
PAYMENT SCHEDULE
Deposit: $1000
Payment 2: $1,000 due May 1, 2023
Payment 3: $1,000 due Oct 1, 2023
Payment 3: Balance due Feb 15, 2024
Photo Gallery

---