Destination: Mexico
Guadalupe Island (5 Nights) | From $559/night

---
Horizon Charters Quick Pitch
Horizon Charters are the first vessel and crew to discover great white sharks and pioneer shark cage diving at Guadalupe Island in 2000. The MV Horizon is the perfect vessel for all your diving needs. Whether you are joining for the first time, or chartering the dive boat for the week as a return guest, they have the experience, the dive crews, and the equipment to make your next dive vacation a success.
Why You'll Like MV Horizon
US-flagged and Coast Guard Certified
All-inclusive price, no added taxes/fees
Lowest all inclusive price guarantee
Vessel boarding and departures from San Diego (no bus rides)
Shark diving for everyone. Value, safety, excitement!
Multiple camera tables
3 full and varied meals a day plus beer and wine included.
Nitrox available
Location
The shark expedition aboard the MV Horizon leaves directly from San Diego's H & M Landing.
Dive Overview
Scuba diving with the friendly Horizon crew gets you up close and personal with the oceans wildlife, staffed by a professional and supportive dive crew. A cage diving dive trip to Guadalupe Island is an experience not to be missed by big animal lovers and underwater photographers.
[See: Guadalupe Dive Travel Guide]
Accommodations
Types of Cabins, Amenities and Photos

---
Horizon Charters Accommodation Overview
MV Horizon has 8 carpeted and air-conditioned cabins and 12 dorm bunks to accommodate up to 30 people.
General Facilities

---
Horizon Charters Boat Features
2 restrooms with hot water showers
1 hot water deck shower
Clothes dryer
Entertainment center in salon
E-mail and satellite telephone communications available
Soda fountain and ice makers
Meals, fountain drinks, coffee, tea and snacks included on all trips
Spacious sundeck
Horizon Charters Dive Facilities
Multiple camera tables inside and out
Battery charging stations
Large freshwater rinse barrels
Continuous dive deck and camera handling service
2 Bauer compressors with 4400 cu. ft. air storage system
DNaX Nitrox available
Air and Nitrox fills to 3500psi
Tanks, weights, and belts provided
1-3 inflatable chase boats for emergency assistance
Underwater diver recall system
Refrigerated and live-well game storage on select trips
Food & Drinks Aboard MV Horizon
Catering to every diet and taste the Chef prepares meals to remember. You'll be enjoying 3 full and varied meals a day, with all the snacks you can eat, and beer and wine included. Depending on your diet, they are very flexible and will cater to whatever your requirements are including vegetarian options. Put simply, the food on this trip is as memorable as everything else and you will not go hungry.
Schedule & Rates
Horizon Charters Schedule & Rates

---
2021 Schedule & Rates
All rates are in USD and are per diver. For more information regarding availability, please contact us.
| | | | |
| --- | --- | --- | --- |
| Dates | Duration | Rate | Availability |
| Guadalupe Great White Shark Diving | 5 Days | $3,696 | |
INCLUSIONS
Fees and taxes included in the price
Chef-prepared meals
Beer and wine
Unlimited air fills
Wetsuits, hoods and gloves
Weights and weight belts
Bedsheets, blankets and pillows
exCLUSIONS
Gratuities
Mask and snorkel
Trip insurance
Towel
A $255 island park fee not included.
Other Dates & Availability
For more information on other departure dates that are not listed above and on availability email us at info@bluewaterdivetravel.com or call us at +1-310-915-6677 and we will gladly help you plan your dream dive vacation!
Dive Information & Destinations

---
Guadalupe Great White Shark Diving
Shark cage diving, it really is as thrilling as it looks! You have always wanted to experience the world's top white shark cage diving destination at Guadalupe Island, and now you can – for less than you imagined. Face off with great white sharks on America's Shark Boat, the MV Horizon.
Shark cage diving for everyone
5 Day shark diving charters
San Diego to Guadalupe Island
All permits, fees, and taxes included in the price
US Flagged vessel with all US crew
Chef prepared meals, beer and wine included
Lowest price guarantee
Guadalupe cage diving since 2000
Sample Itinerary - great white shark diving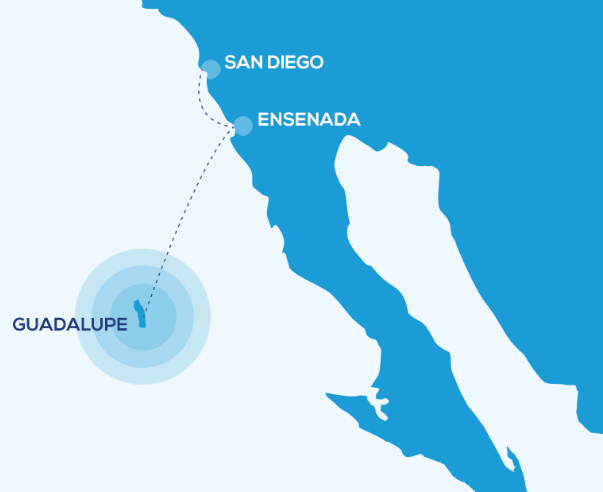 Boarding Night - Welcome aboard America's Shark Boat! Your Guadalupe Island shark diving adventure starts right here. Our helpful crew members will show you to your accommodations in San Diego and get you settled into your cage diving home away from home for the next few days. Ship orientation and departure tonight. Guadalupe Island and great white sharks here we come!
Day 1 - After leaving San Diego Bay we enter Mexican waters while passing Islas Coronados. We are now officially on our way to Guadalupe Island for the best cage diving with great white sharks in the world. Today is a day of travel and relaxation while the crew prepares for the next few days of shark diving. This is your chance to get your sea legs and get prepared for tomorrow and your first cage dives with the white sharks of Guadalupe!
Day 2 - Welcome to the "Island of the Great White Sharks," Guadalupe Island! Our shark cages are deployed by 7:00am each morning with shark encounters to follow for the entire day. You may take a break at lunch, depending on the mornings viewing activity, and we will stop sharking at last light from the mountains each day when the sharks start their nightly seal hunt at depth. Plus, dinner is calling in the galley. Oh, and one last thing, when you go to sleep tonight know that just a few feet away from your bunk, white sharks are prowling below you, sleep tight!
Day 3 - Main day shark diving for everyone. By now you are a newly minted Horizon Charters Shark Diver, congratulations we knew you could do it! We open the shark diving pool at first light and with a small group of shark divers aboard, usually half of the divers are in and half are out of the water on 1-hour rotations that will last another full day today. Epic shark dinner tonight, as we always celebrate our shark divers on Day 3!
Day 4 - On Day 4 we depart shortly after lunch for San Diego. This is your last chance to say goodby to our great white shark friends, and for your last cage diving moments at the island. Be sure to have your cameras ready as we pass the famous Shark Fin Rock on the way back. Adios Isla Guadalupe!
Day 5 - We travel north to San Diego, California for a 3:30 to 5:00pm arrival in port. We will arrange your shuttle to the airport or your local accommodations.
Other Information

---
Boat Specifications
MV Horizon is 80 feet long with a beam of 25 feet, wide and stable platform for diving
3250 gallons of diesel fuel with 1500 nautical mile cruising range
10-knot efficiency cruising speed
700 gallon freshwater storage
1100 gallon per day freshwater making system
120v electrical system
120v outlets in cabins and salon
Twin John Deere 6125AFM 400hp main engines
Two John Deere 4045 – 50 kw generators
Electronic Equipment
GPS – (2) Furuno
Radar – (2) 48 Mile Furuno
Simrad 36 mile Radar/plotter
Single Sideband Radio (2)- Furuno & ICOM
Depth Sounder – (2) Furuno
VHF Radio – (2) ICOM
Weather Fax
Satellite Telephone (2) – KVH & Iridium
Practical Information
Time Zone: UTC-6
Local Currency: MXN (Mexican Peso)
Language Spoken: Spanish & English
Electricity: 120 V
Underwater Gallery

---