Lembeh & Bali Underwater Photo Workshop 2024
Come with us in September 2024 to experience two of the most popular diving destinations in Indonesia - Lembeh & Bali. Explore vibrant, diverse, and unique underwater ecosystems as you discover a huge variety of macro critters. Plus, we're throwing in FREE daily photo workshops!
September 9 - 21, 2024
Trip Leader: Erik Lukas
Beachfront Bungalow/Standard Villa (no ocean view): $3,347 per person
Beachfront Bungalow/Ocean View Villa: $3,505 per person
Seaview Bungalow/Ocean View Villa: $3,942 per person
Seaview Bungalow/Bungalow w. Private Pool: $4,039 per person
Single supplement $800, Non-divers pay $1,700 less
Click here to compare room types:
NAD Lembeh Options | Alam Batu Options

Why Join This Trip?
Enjoy FREE daily underwater photography workshops led by expert photographer Erik Lukas
Incredible biodiversity across two of Indonesia's top diving destinations
Up to 4 dives per day, with FREE nitrox
12-nights full-board accommodation in beautiful resorts perfectly catered to divers

25% off rental photo gear from

Bluewater Photo

Inclusions:
7 nights accommodation in a double occupancy bungalow at NAD Lembeh (Sept 9 - Sept 16)
5 nights accommodation in a double occupancy villa at Alam Batu (Sept 16 - Sept 21)
Full board meals
Snacks, water, coffee, tea, chocolate drink, and espresso
Free daily photo workshops and tutorials
4 boat dives/day
Option for fourth dive to be night, dusk, or blackwater dive at NAD Lembeh (no additional supplement)
Tanks and weights
Free Nitrox for nitrox-certified divers
Round-trip airport transfers (between 7:30am - 4:00pm)
EXCLUSIONS:
International airfare
Domestic flight between Manado and Bali
Transfers outside specified time frame
Soft drinks, beer, and spirits
Crew gratuities
Blackwater/night dives at Alam Batu ($30 supplement)
Travel Insurance: click here to learn more about our preferred plan
ITINERARY:
Sep 9: Arrive at Manado Airport, transfer and check-in to your room at NAD Lembeh
Sep 10: Photography workshop introduction and diving
Sep 11: Photography workshop and diving
Sep 12: Photography workshop and diving
Sep 13: Photography workshop and diving
Sep 14: Photography workshop and diving
Sep 15: Photography workshop with morning dives only, afternoon free to dry equipment
Sep 16: Check-out from NAD Lembeh, transfer to Manado Airport, fly from Manado to Bali Denpasar, transfer and check-in to your room at Alam Batu
Sep 17: Photography workshop and diving
Sep 18: Photography workshop and diving
Sep 19: Photography workshop and diving
Sep 20: Photography workshop round-up with morning dives only, afternoon free to dry equipment
Sep 21: Check-out and departure day from Alam Batu, transfer and fly out from Bali Denpasar
TRIP TYPE
This trip is a PHOTOGRAPHY WORKSHOP. It will be led by one of our photo instructors and will include daily underwater photography tutorials, in-water photography support, and one-to-one advice and guidance as required.
What to expect from our Photo Workshops
Daily photo workshops

- Your photo instructor will schedule seminars each day on topics including, but not limited to, equipment type and selection, the concept of underwater photography, lighting and composition techniques, and post-processing. They will also include topics relevant to the location and your experience such as the use of snoots & diopters, single vs multi-point light sources, plus daily macro-specific assignments to practice your skills.

In-water support

- Where possible, each dive group will spend time underwater with the photo instructor, receiving in-water support and guidance on their shooting techniques. Participants can also request in-water assistance during the workshop and the photo instructor will do his or her best to accommodate all requests.

Consecutive days of practice & review

- Each day you will have the opportunity to practice the techniques and skills learned in the previous day's tutorials. If you are new to underwater photography you will likely see a vast improvement in just a few days.

Daily photo image reviews

- You are strongly encouraged to bring your laptop, a thumb drive, edit your photos, and submit your shots for review from both the instructor and your peers. These are fun and interactive sessions encouraging you to improve throughout the trip.

Quality time with fellow photographers

- Both new and experienced photographers from past workshops have expressed the advantages of joining a trip with like-minded divers with a passion for underwater photography.

Suitable for everyone

- New and experienced photographers are welcome on all our trips. Gain the necessary skills to start shooting great photos, increase your confidence in finding the best underwater shots, or hone specific skills. We also encourage non-photographers to join, as many of them really enjoy the daily photo reviews, learning about underwater photography, and some have even returned to a photo workshop with an underwater camera setup!
Enjoy free, unlimited access to a wealth of knowledge and advice from your photo instructor.
Diving in Lembeh Strait
Lembeh Strait is, without a doubt, the muck-diving capital of the world. Underwater photographers flock here from all over the world to see a myriad of critters, frogfish, pipefish, nudibranchs, sea horses, juvenile fish, and other exotic animals. Don't expect large reefscapes in Lembeh, but very scenic reefs live around nearby islands if you want to extend your trip to get in some reef diving, too.
Learn more about Lembeh Strait Diving
To get a little insight as to what the workshop is like, read about our previous 2022 Lembeh Underwater Photo Workshop
DIVING IN AMED, BALI
Scuba diving in Bali offers incredible diversity, add to that the perfectly warm waters with amazing visibility and you've found the perfect dive location. Divers can spot plethora of animals, including reef sharks, turtles, parrotfish, seahorses, nudibranchs, octopuses, moray eels, sea snakes, the list goes on.
You will also have the opportunity to discover the USAT Liberty Wreck which lies a short swim from the shore and is home to a variety of fish species, including barracudas, jackfish, and surgeonfish.
Learn more about Diving in Bali
ABOUT NAD LEMBEH
Situated on the well-loved Lembeh Strait, this muck diving paradise is alluring to divers worldwide. NAD Lembeh offers knowledgeable dive staff with trained eyes and passion for diving and little critters, comfortable rooms, and excellent photography amenities. NAD prides themselves for having the largest. and some would say the most experienced, dive team in Lembeh today.
NAD LEMBEH FACILITIES
Open-air restaurant
Sunbeds
Small pool
Jacuzzi
Big and spacious camera room
Business center
Free public WiFi
Laundry services
Return airport transfers
Multilingual staff
Non-smoking rooms
Open air bar
Find out more and read the reviews of the NAD-Lembeh Resort here.
ABOUT ALAM BATU RESORT - BALI
Alam Batu is a beautiful and comfortable dive resort in North East Bali. The resort fits perfectly into the landscape, some of the bungalows are near the seashore and others are located in a higher area. The resort consists of 11 generously sized bungalows, 1 single bungalow and 3 villas.
ALAM BATU RESORT FACILITIES
Beachfront
Pool
Restaurant
Bar/Lounge
Spa
Air Conditioning
Free WiFi
Free Parking
Airport Transportation
Free Breakfast
Laundry Service
Room Service
Find out more and read the reviews of the Alam Batu Resort here.
ABOUT THE TRIP LEADER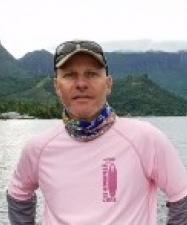 Erik Lukas is an active diver and photographer based in Los Angeles, CA. He is a volunteer scuba diver at the Aquarium of the Pacific in Long Beach, CA. You can expect to find Erik diving many of the amazing Pacific Ocean sites of Southern California, camera in hand, at any chance he can get.
See more of Erik's photography at http://www.seeundersea.com or on Instagram @seeundersea. Email Erik at erik@bluewaterdivetravel.com.
"I am passionate about underwater photography in general and have a special love for macro subjects. For me the things that are hardest to spot hold the most interest. Documenting the commensal and symbiotic relationships is for me the most interesting…the smaller and more bizarre the better. I also have a passion for sharing my knowledge with others. My goal with all of my workshops is to ensure each guest leaves with a group of images that they are proud to share."
FLIGHTS
Arrival Into Manado (MDC) - Sept 9
Scoot Airlines flights are operating flights direct from Singapore Changi Airport. Baggage collection at Manado Airport as been remarkably swift. Guests should arrive in Manado on Sept 9.
Visa on Arrival costs IDR 500,000 and needs to be paid for in cash. Immigration will accept the following currencies: IDR, USD, SGD, AUD and EURO (notes must be clean and not creased). There is also an ATM inside the airport terminal for cash IDR withdrawals.
Upon exiting the airport, the NAD Lembeh team will be ready to greet you and, with the new toll road open, the transfer to NAD Lembeh's private jetty is now only 60 minutes!
Domestic Flight Between Manado and Bali - Sept 16.
Closer to departure we will recommend a domestic flight route between MDC and DPS on September 16.
Departure from Bali (DPS) - Sept 21.
Book flights departing Bali (DPS) after lunchtime on September 21.
PAYMENT SCHEDULE
$1000 deposit to confirm spots
Balance due July 1, 2024
Photo Gallery

---