Destination: Thailand
Similan Islands, Koh Bon, Koh Tachai, and Richelieu Rock (4 Nights) | From $179++/night

---
manta queen 6 Quick Pitch
Twenty-five meters long and five meters wide, the Manta Queen 6 comfortably accommodates its guests as they explore Thailand's premier dive destinations.
Dive Overview
The Thai islands and the Andaman Sea are known for widely varied underwater terrain, friendly fish, and diverse marine life, with warm water throughout the year. Marine life includes soft and hard corals, fields of anemones, nudibranchs, harlequin shrimp, cuttlefish and seahorses, plus regular sightings of mantas, zebra sharks, and the legendary whale sharks.
[See: Thailand Dive Travel Guide]
Accommodations
Types of Cabins, Amenities and Photos

---
Manta Queen 6 Accommodation Overview
The Manta Queen can accommodate up to 14 guests in their comfortable shared cabins. The cabins are fully airconditioned and equipped with twin beds.
The cabins & en-suite bathroom
General Facilities

---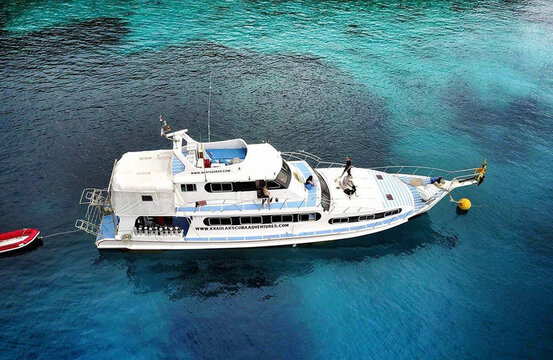 manta queen 6 Boat Features
Sun deck
Salon and Entertainment System
Dive Room
Dinghy
Food & Drinks Aboard manta queen 6
All meals aboard the Manta Queen 6 are freshly prepared by the on-board chef and served buffet-style. The Manta Queen 6 team prides itself in being able to offer the best tasting Thai food compared to the whole Manta fleet. A variety of Western dishes are also available to guests as well as vegetarian and vegan options, and the boat does not use Monosodium Glutamate. Snacks and fruits are also served between dives.
Manta queen 6 Liveaboard Deck Plan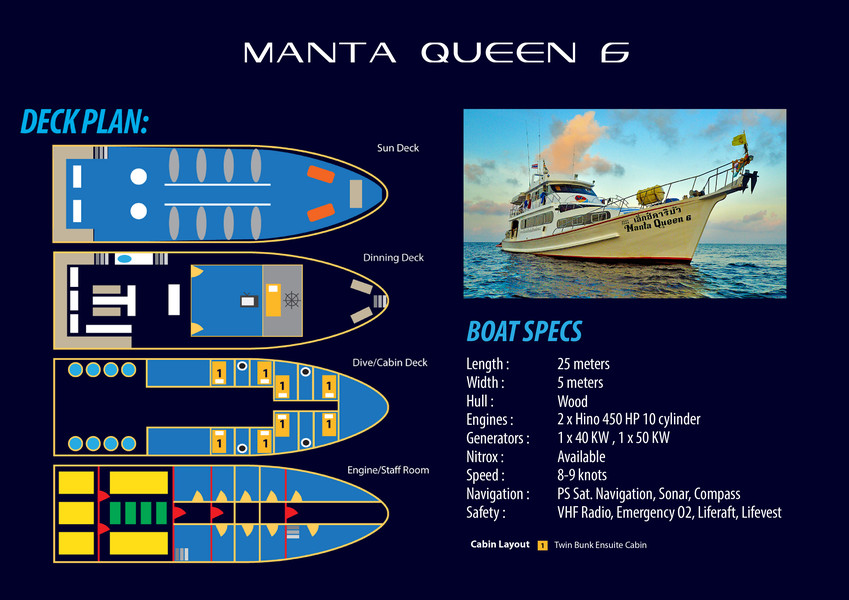 Schedule & Rates
Actual rates are based in THB. The starting price indicated above may vary based on the current exchange rate.

---
The Manta Queen offers 4-night trips to the Similan Islands, Koh Bon, Koh Tachai and Richelieu Rock for 22,900฿. VAT (7%) and Marine Park Fees (1800 ฿) are not yet included.
Inclusions
All meals, fruits and snacks
Drinking water, tea and coffee
Experienced multilingual dive leaders
Free Wifi* Hot-Spot access
Torch for night dives
Towels
Exclusions
Prescriptive diving mask 200 THB per day
Long 3 mm wetsuit 200 THB per day
Diving Insurance 250 THB per day
15 liter scuba diving cyliner
EAN (Nitrox) 32% per fill 150 THB
Soft drinks onboard 40 THB
Beer onboard 70 THB
Scheduled group transfer from Phuket to Khao Lak return ticket on day of departure and arrival 600 THB
Other Dates & Availability
For more information on other departure dates that are not listed above and on availability email us at info@bluewaterdivetravel.com or call us at +1-310-915-6677 and we will gladly help you plan your dream dive vacation!
Dive Information & Destinations

---
The Similan Islands, Koh Bon, Koh Tachai and Richelieu Rock are some of Thailand's best dive destinations. The following is a sample itinerary aboard Manta Queen 6.
Departure Night
04:00 Check in start
06:15 Departure to the pier
06:45 General boat briefing
07:15 Cabin allocation
07:40 Light on-board dinner
08:20 Equipment set up and courses introduction
Day One
07:00 Wake up call
07:30 Safety Briefing
07:50 dive briefing #1 "Similan Islands"
09:30 Breakfast
11:05 Dive briefing #2 "Similan Islands"
12:45 Lunch
02:20 Dive briefing #3 "Similan Islands"
04:00 Snacks
06:00 Dive briefing #4 "Night Dive – Koh Bon or Similan Islands"
07:40 Dinner
Day Two
06:00 Wake up call
06:30 Dive briefing #5 "Similan Islands - Koh Bon"
08:10 Breakfast
09:40 Dive briefing #6 "Koh Bon"
11:20 Lunch
01:00 Dive briefing #7 "Koh Bon - Tachai Pinnacle"
02:40 Snacks
04:15 Dive briefing #8 "Tachai Pinnacle"
05:55 Dinner
Day Three
06:00 Wake up call
06:30 Dive briefing #9 "Surin Islands"
08:00 Breakfast
09:50 Dive briefing #10 "Richelieu Rock"
11:30Lunch
01:30 Dive briefing #11 "Richelieu Rock"
03:10 Snacks
04:45 Dive briefing #12 "Richelieu Rock"
06:25 Dinner
Day Four
06:00 Wake up call
06:30 Dive briefing #13 "Koh Bon"
08:00 Breakfast
09:30 Dive briefing #14 "Boonsung wreck"
11:15 Departure briefing, Pictures, Bill payments, Logbooks
12:00 Lunch
01:35 Dive briefing #15 "Boonsung wreck - T13"
03:00 Snacks / Room clearing
04:35 Transfer to the check out lounge
05:15 Transfer To Your Hotel
You will arrive back to your Phuket hotels approximately between 6 to 7 pm.
Other Information

---
Boat Specifications
Length: 25 Meters
Beam: 5 Meters
Engines: 2 x Hino 450 HP 10 cylinder
Generators: 1 x 40 KW, 1 x 50 KW
Speed: 8-9 knots
Navigation: PS Sat. Navigation, Sonar, Compass
Safety: VHF Radio, Emergency 02, Lifecraft, Lifevest
Crewmembers: 6 boat crew and 4 dive staff
Guests: Maximum of 14
Practical Information
Time Zone: UTC+7
Local Currency: THB (Thai Baht)
Electricity: 220 volts
Language Spoken: Thai & English
Underwater Gallery

---
Coming Soon!