Destination: Maldives
The Best of the Maldives, Hanifaru & North, Pelagic Magic, & Sharktastic (7 nights) | From $180/night

---
IMPORTANT NOTE:

Emperor Atoll is not currently operational. Please email us for details and alternative options.
MV Emperor Atoll Quick Pitch
Divers love Emperor Atoll because, with a maximum of 12 guests, the two guides can make sure you get the most from your trip. A comfortable boat, Emperor Atoll measures 26 meters and offers 6 twin/double ensuite cabins.
Why You'll Like It
Good value for money
Only 12 guests per trip accompanied by 2 dive guides
FREE Nitrox & rebreather-friendly
Same sex cabin share guaranteed
Dive Overview
Boasting warm waters with rich marine life, coral reefs visited by schools of fish and playful dolphins, mantas and whale sharks, the Maldives is one of the most diverse scuba diving destinations in the world. Amazing channel dives draw animals from the deep, which will leave you spellbound. Mountainous pinnacles rise from 35m and taper to 8m, which make them ideal for those slower, more relaxing dives.
Accommodations
Types of Cabins, Amenities and Photos

---
Accommodation overview
Emperor Atoll offers 6 ensuite cabins for up to 12 divers. All the cabins are similar to one another and are equipped with individually controlled air conditioning. They are or located on the same deck (lower deck).
Deck Plan

---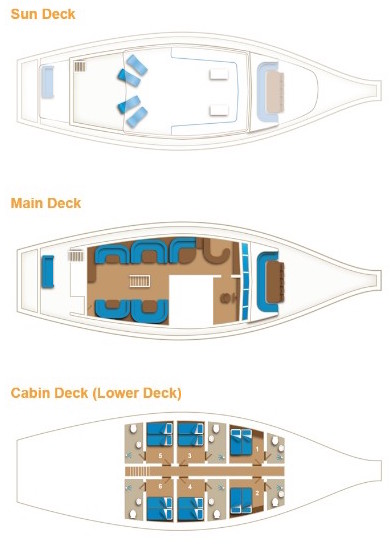 General Facilities

---
MV Emperor Atoll Liveaboard Facilities
Boat Facilities: On the main deck is a large saloon with four separate seating and table areas as well as a 38" LCD flat screen TV with multi-system home theatre surround sound. For underwater video and photography enthusiasts, there are plenty of recharging points/edit playback facilities. WiFi is available when in range of a signal, charged per week. Our DVD and book library includes an interesting selection of marine life material.
From the aft deck, steps lead to the large, partially shaded sun deck with comfortable sun loungers. On the aft deck is a large swim platform with ladder giving easy access to the water. There are fresh water showers and camera wash tanks.
Dive Facilities: Dive sites are reached directly from the boat or by an accompanying dhoni. A highly professional Cruise Director/fully qualified dive instructor plans and guides the diving programme to ensure you visit the very best dive sites with full dive briefings.
Schedule, Rates & Availability
The actual rates are based in EUR. The starting price indicated above may vary based on the current exchange rate.

---
IMPORTANT NOTE:

Emperor Atoll is not currently operational. Please email us for details and alternative options.
Dive Information & Itineraries

---
BEST OF MALDIVES
This is the Best of the Maldives - and it delivers exactly that. This is where you dive the best and most famous dive sites of the Maldives in a week of wonderful liveaboard diving across Male and Ari atolls. For this itinerary, you should be comfortable with drift dives. Currents can be strong. All your diving is made from dhonis or zodiacs to give precise entry and exits points. Experienced divers can dive in a buddy pair unguided.
Rasdhoo Atoll: Hammerhead Dive, Beautiful Reef with Pelagics
North Ari Atoll: Grey Reef Sharks, Maaya Thila Night Dive, Multiple Manta Cleaning Stations
South Ari Atoll: Whale Sharks, Beautiful Pinnacles
South Male Atoll: Grey Reef Sharks, Eagle Rays, Other Pelagics, Beautiful Macro Wreck.
Vaavu Atoll: Action packed night dive with Nurse Sharks and others.
North Male Atoll: Beautiful Pinnacles.
DEEP SOUTH & SOUTHERN SHARKS (FEBRUARY & MARCH)
7 day trips - Laamu to Addu / Addu to Laamu
February and March are the best times to sail to the southerly Maldivian atolls and dive into the shark action in these out-of-the-way southern dive sites between Huvadhoo and Addu (Seenu) Atolls. Spend a week away from the madding crowds and dive Foammulah and Huvadhoo on the lookout for the Indian Ocean's larger residents; tiger sharks, silver tips, grey reef sharks, whale sharks and many, many more.
From Male we take you to Laamu (Kadhdhoo) or Addu (Gan) by domestic flight to join your liveaboard, and then it's off on our adventure. Laamu is an oval shaped southern atoll, which has some of the top dive sites in the world such as Guraidhoo and Gan. In Foammulah you can expect to meet tiger and silver tip sharks. At Huvadhoo, one of the deepest lagoons in the Maldives, the currents are ideal for even more shark sightings including, hopefully, whale sharks and silkies, hammerheads, tiger and grey sharks spotted most of the time. There are swift channel dives with several kandus; Vilingilli, Nilandhoo, Mareehaa and Kondeey. Addu Atoll hosts the WWII wreck, HMS British Loyalty, as well as popular majestic Manta Cleaning stations with more relaxing sites to either start or end the trip with too.
This itinerary suits experienced divers (100+ dives) looking for 'away from it all and different diving' with quite a focus on drift diving.
HANIFARU & NORTH (JULY - OCTOBER)
This itinerary runs around the New Moon phase when tidal ranges are greater resulting in a greater flow of plankton into the world famous Hanifaru Bay, where the massive majestic mantas venture in for a feeding frenzy between July and October each year.
We sail from Male to the northern atolls of Lhaviyani and Baa (Hanifaru Bay) and back taking in the renowned sites of Kuredu Express, Kuredu Caves.
As well as mantas, you can get close to turtles, grey reef sharks and whitetip reef sharks. One of the big attractions is the chance to encounter mantas feeding and cleaning.
Thanks to the currents that sweep plankton into the shallow lagoons, mantas follow in vast numbers to feed. Although diving is not permitted in the UNESCO World Heritage site of Hanifaru Bay, we are allowed to go in and snorkel with these gentle giants in the lagoon. After a manta has had its feed it needs to get cleaned, so we will take you to known manta cleaning stations in both North Male, Lhaviyani and Baa Atoll. So hopefully these will give you sightings all week long. Of course, sightings can't be guaranteed but diving at this time means your chances are high.
PELAGIC MAGIC (APRIL - JULY)
On this route we take you on a manta and whale shark journey to the North & South Ari Atolls having crossed over from Male. Exact dive sites will vary depending on diver experience levels, local conditions and where the best sightings have been.
Pelagic Magic gets you face to face with the famous whale sharks of Ari Atoll. As this itinerary devotes more time here, you are certain to get your whaleshark fix at Maamagili. Iconic dive follows iconic dive as you sail from Male through North Ari and then onto South Ari; your log book will fill with shark and manta sightings as well as outstanding reef dives. Then grab your snorkel and splash in to float only feet away from graceful whale sharks. Pelagics of all shapes and sizes await.
With around 17 dives, as well as opportunities to snorkel with the whale sharks, this is an action packed week. The pelagic sightings start right from the beginning. Manta Point (otherwise known as Lankan Finolhu) is a cleaning station with reliable manta sightings. Just settle down and watch the manta swoop in. Hafsa Thila and Maya Thila are yet more iconic dive site where sharks are plentiful. Look out for baby white tips under the large table corals. But it is at night that Maya Thila really comes alive. Reef sharks and marble morays hunt dinner out as morays slink between the coral blocks.
As you reach South Ari keep a look out for the whale sharks. Maamagili is the place to find whale sharks at this time as they follow the seasonal currents. Manta chase plankton trails too into the nearby lagoons. Between your pelagic encounters, the reef dives will not disappoint. Discover the lush corals and schooling fish at the likes of Reethi Thila and Kuda Rah.
This is a great itinerary for everyone. No matter what your experience level this is a Maldives itinerary you can enjoy. There can be some drift diving so some experience of diving in currents in advisable. Don't forget to take your reef hook to make shark watching all the easier. As so many of the best whaleshark encounters are snorkelling, everyone can feel the thrill of seeing these graceful creatures in their natural environment. Pelagic Magic runs when the pelagics sightings are at their optimum in North and South Ari. Don't delay - discover the biggest inhabitants of the Maldives for yourself.
SHARKTASTIC (JANUARY - APRIL)
In this period the clean ocean water flows in from the eastern side of the Maldives. That means currents running from Sumatra, Indonesia to the Maldives bring with them not just fantastic visibility up to 40m but also a variety of pelagic surprises coming to the reef for a quick feed.
The Channel dives of the eastern coast of the Maldives are the main order of the day. These Kandus, as they are known in the local language (Dhivehi), attract grey reef sharks, dog tooth tuna and eagle rays as standard but look out into the blue and you never know what surprises await. The outer walls and corners of the channels in Vaavu and Meemu have the added bonus of beautiful overhangs draping in the blues, yellows and pinks of the majestic soft coral.
After the adrenaline pumping channel dives of eastern Maldives we cross over to South Ari Atoll to look for the whale sharks and mantas at Maamagili and Rangali Madivaru (Dhivehi for Manta Place) among other great sites such as Kudarah Thila and Kudimaa Wreck known for its potential leaf fish and frog fish.
This itinerary is not for beginners. Most dives will involve going to depth and currents can be strong. We recommend you have 30 logged dives to join this trip and require that you are Deep Diver/Advanced Open Water or equivalent.
SOUTH CENTRAL ATOLLS (JANUARY - MARCH)
January to March is the time to join us as this is when the current in the Kandus is largely incoming from the east. There's a good variety of diving from thrilling channel dives to more relaxed diving inside the atolls on Thilas or Giris.
The best thing? There are few other boats as we visit atolls that have very few resorts and lots of uninhabited islands so liveaboard competition is low.
Hammerheads are often found in Thaa as well as whale sharks who visit our boat at night attracted by the krill, which, in turn, are attracted by the lights. When the currents are running well, the channel dives here are outstanding. Abundant with schooling snappers, jacks, barracuda, white tips and greys, grouper, Napoleon wrasse, turtles, eagle rays and more.
You will either join your liveaboard in Male or Laamu (Kadhdhoo), and then it's off on our adventure.
This itinerary has a lot of drift diving so it's best suited to more advanced divers. With visibility being really good in the southern atolls, this is ideal for photographers and videographers looking for larger Pelagic action.
[Read More: Diving in the Maldives]
Other Information

---
BOAT SPECIFICATIONS
Type: Wooden hull
Year built: 1988 (Refit every 2 years)
Dry dock: 2014
Length: 26m
Beam: 7m
Engine: 210 HP Yanmar
Generators: Yes
Desalination: Yes
Navigation and Communication: GPS, Fish finder, Echo sounder, VHF/CB radio
Compressor/Tanks: 2 x Bauer K14 (640lt per minute @ 230 bar) / 12 lt aluminium
Maximum guests: 12
Number of cabins: 6
PRACTICAL INFORMATION
Time Zone: UTC+5
Local Currency: MVR (Maldivian rufiyaa)
Payment onboard: cash (Euros, Sterling and US dollars), Visa and Mastercard
Electricity: 220 volts
Language Spoken: Dhivehi & English
Underwater Gallery

---