Destination: Indonesia
Wakatobi (7 Nights) | From $335++/night

---
The Pelagian liveaboard is run by the same people behind Wakatobi Dive Resort and is the only liveaboard boat in Indonesia that offers scuba diving trips around Wakatobi from mid-March to December. She is a very luxurious and spacious yacht, with more space per guest than any dive yacht of its kind. She accommodates up to 10 divers in 5 beautifully decorated and spacious cabins.
Dive Overview
Pelagian gives you exclusive access to remote and untouched sites where you will have the luxury of being the only divers for miles around, able to enjoy your dive in secluded peace and relaxation. Venturing into remote and seldom-visited corners of the Tukang Besi archipelago, guests enjoy cruises of discovery and adventure to distant reefs, verdant island lagoons and fecund muck diving sites.
Learn more: Scuba Diving in Wakatobi: Dive Travel Guide
Cabin information
Pelagian Liveaboard Cabin Information and Photos

---
The Pelagian offers 4 kinds of beautifully decorated and spacious cabins for up to 10 divers - Master Stateroom, Superlux Cabin, Deluxe Cabin, and Standard Cabin. Each cabin is equipped with an en-suite bathroom, separately controlled air-conditioning and plenty of storage space.
Master Stateroom
One of the largest cabins available on a dive boat, the beautiful master suite is located at the center of the boat on the main deck level. The suite contains a queen-sized spring-matress bed, a spacious lounge complete with a love seat and chair and a bathroom with a separate shower, a long vanity and a toilet. There is also a separate beauty room in the front of the cabin that can also be used as a work space. This beautiful and spacious suite offers all the comforts of home while aboard the Pelagian.


Superlux Cabin
Offering a fresh and spa-like environment, the Superlux Cabin features a walk-around, queen-size bed and separate daybed. Bedside tables and large drawers under the bed offer guests ample space to store their belongings. Adjustable reading lights hang from the headboards for convenient night-reading. The cabins have several portholes that allow for ample daylight to enter, and the bathroom features a glass shower area and a big vanity. The two Superlux cabins are located past the salon and down a flight of stairs.


Deluxe Cabin
Located at the stern of the yacht, the Deluxe Cabin is perfect for dive buddies looking for spacious room arrangements. The efficient layout features two beds (one wide enough for two people, the other accommodates one person) and built-in drawers. A small loveseat provides a great space to maintain your dive log or catch up on some work. The cabin's bathroom has been newly remodeled.
Standard Cabin



The Standard Cabin is the best choice for divers who don't mind less spacious accommodations. Featuring two single beds arranged opposite each other, the cabin contains port holes by the waterline for a nice view of the ocean. There is built-in storage below the one elevated bed that provides storage for personal items. The Standard Cabin's bathroom has also been recently remodeled.
General Facilities

---
Pelagian Boat Features
Comfortable & well-equipped salon
Chef's freshly prepared cookies and snacks available 24 hrs
Aft deck for breakfast, lunch and dive briefings.
Well-equipped and spacious camera room
Camera workshop and charging facilities
Email for convenient guest use (not broadband)
All ensuite cabins
Large flat-panel TV and DVD player in the salon
Book and digital music library
Hot showers and fresh, dry towels on dive deck
All indoor areas air-conditioned
Shaded seating area on upper deck
Hot and cold running water throughout
3 Bauer K-14 compressors
Nitrox Technologies ® NO2 system
Standard 2-prong || 220v/50Hz electrical outlets, with universal sockets in camera room
Ample supply of 110-volt adapters in the photo room
Radar, GPS navigation system, depth sounder, VHF radio, autopilot, ARPA. AIS
Sat-Com communications, life rafts, beacons and a complete inventory of safety equipment
Food & Drinks Aboard Pelagian
The day's culinary adventure begins with breakfast, prepared to your order and usually served on the aft deck. When you return to Pelagian between dives, a welcoming selection of hot drinks and the chef's freshly prepared snacks will be awaiting you. Pelagian's chef creates daily à la carte menus for lunch and dinner, a tasty selection comprising Indonesian specialties along with Western favorites. A selection of fine wines and spirits are available as well as soft drinks and juices.
Pelagian Liveaboard Deck Plan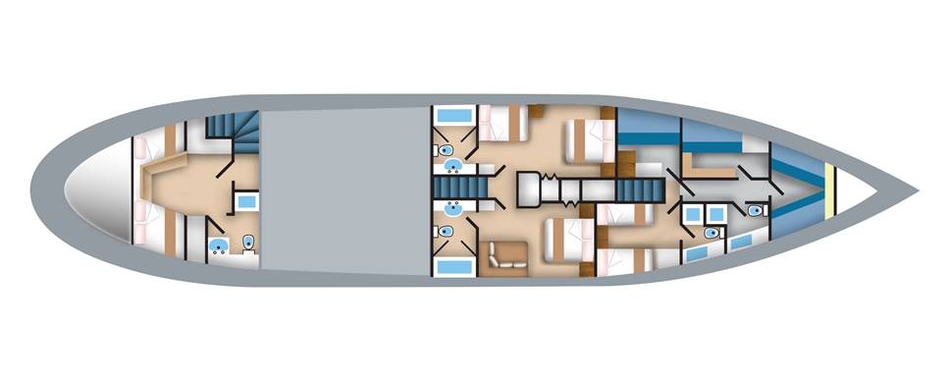 Schedule & Rates
Pelagian Liveaboard Latest Schedule & Rates

---
Pelagian Yacht Rates 2023/24
All pricing is per person per night in US Dollars.
| | | | |
| --- | --- | --- | --- |
| Cabin Type | Twin Share | Single Occupancy | Additional Adult |
| Master suite | $695 | $1,115 | n/a |
| Superlux cabin | $560 | $920 | $385 |
| Deluxe cabin | $430 | $750 | n/a |
| Standard cabin | $380 | $640 | n/a |
Activity Packages
All pricing is per person per day in US Dollars.
Activity

Rate

Unlimited Diving:

4 x 70-minute guided dives from twin-engine tenders on world-class protected reefs

$220

Light Diving:

2 x 70-minute guided dives from twin-engine tenders on world-class protected reefs

$170

Unlimited Snorkeling:

4 x 70-minute guided snorkels from twin-engine tenders on world-class protected reefs

$165

Light Snorkeling:

2 x 70-minute guided snorkels from twin-engine tenders on world-class protected reefs

$125
Yacht Price Inclusions
Delicious and varied gourmet meals (breakfast, lunch and dinner) with care to cater to special diets
VIP greeting & assistance upon your arrival in Bali
Your chosen accommodation on Pelagian
In-room amenities such as towels and hairdryer
24 hours tea/coffee/hot chocolate/drinking water, and daily snacks
Aromatherapy bath products in all cabins
Optional Village Tour on last day
Activity Package Inclusions
Nitrox (only for certified nitrox divers)
Tanks, weights & weight belt
Snacks, drinks and towels provided on the boats
Full porterage for dive / snorkel gear / cameras
Dive/ Snorkel valet for rinsing and drying gear
A substantial contribution to the award-winning conservation program
Other Dates & Availability
For more information on other departure dates that are not listed above and on availability email us at info@bluewaterdivetravel.com or call us at +1-310-915-6677 and we will gladly help you plan your dream dive vacation!
Dive Information & Itineraries

---
Diving with the Pelagian
The Pelagian's two custom-made 18ft rigid hull inflatable (RIB) dive tenders are equipped with double 50HP four-stroke (i.e. quiet) outboard engines, tank racks and secure stainless steel ladders. These tenders are comfortable and very easy to enter and exit. Diving is always conducted from the tenders as they allow us to transport divers directly to the dive sites more accurately than would be possible from the main ship.
Tanks are quickly filled using whips from the Pelagian so there's no need to take the gear off the tenders until the end of the cruise.
The friendly, camera-aware crew is always ready to lend a hand.
The Dive Experience Managers and crew handle all logistics of equipment and cameras, and provide full in-water support. Additional technical diving support can be arranged via the concierge, in advance of your trip.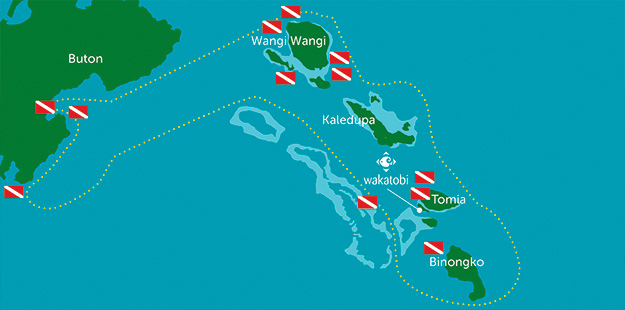 sample Itinerary
Departure:

Wakatobi Resort

Return:

Wakatobi Resort

Length of the Trip:

7 Days 6 Nights

Guests meet at Denpasar domestic terminal at 10 am and depart for Wakatobi Resort, Sulawesi, an hour later. Arrival and boarding of the vessel is at 1 pm. The first dive of the trip is at 2pm, Table Coral City or Dunia Baru, with a second dive happening somewhere in the vicinity.

Pelagian's sorties will show you a different kind of diving to that seen at Wakatobi resort, with muck diving par excellence. If you've dived sites around Wakatobi Dive Resort before, you'll definitely want to expand your dive adventures to the reef systems beyond the island of Tomia.

New marine life discoveries lay waiting for you and your camera. Exotic and rare marine life can be found on all dives, but if you love muck diving, sites such as Cheeky Beach and Asphalt Pier are sure to create excitement. If you like sheer cliffs and caves, Tanjung Batutoro offers something for both wide-angle and macro photographers.

This trip spans across different sections of Wakatobi (and nearby Buton). All eastern and southern islands from Pulau Runduma to Pulau Moromaho, the Big Reef, and Pasarwajo Bay at Dongkala are included in the itinerary. Dive sites include but are not limited to Blade, Pastel, Roma (night dive), Ndaa, Karang, Koromaha, Binongko, and Mermaid's. Diving at Waitii Ridge is also a possibility.

The last day starts with two morning dives at the house reef, Zoo. In the afternoon diver can have a village visit, evening resort visit and beach dinner with resort guests before returning to the Pelagian for the last night.

Marine Life:

Indonesia is one of the most diverse

diving destinations on the planet, making it

one of our top 5 underwater photography destinations

! Wakatobi, in particular, is home to many small to mid-size marine species, pelagic fish, turtles, and others. There are over 5000 known species of ancient sea sponges, a host of which can be found in Wakatobi, and if you're patient, you'll eventually find a Hawksbill turtle feasting on one of them. It's also where you'll find amazingly colorful coral reefs, as well as the tiny creatures among those corals, such as soft coral crabs, which look almost fluorescent. And if it's macro life you're looking for--there's frogfish,

Halimeda ghost pipefish, lobsters, juvenile cuttlefish, and octopus can also be found. Plus Wakatobi is one of the best places in the world to find Pygmy seahorses. There are also moray eels, raibow reef fish, schooling pelagics, sharks and rays aplenty, and so much more!
Other Information

---
Boat Specifications
Year built: 1965
Length: 36 meters
Beam: 7.2 meters
Top speed: 13 knots
Cruising speed: 11 knots
Engines: 2 x Yanmar 500 HP (2011)
Max guests: 10 (can take 12 if requested)
Number of cabins: 5
Number of bathrooms: 7
Tenders: 2
Water capacity: 12000 liters
Fuel capacity: 40000 liters
Freshwater maker: yes
Practical Information
Time Zone: UTC+8
Local Currency: IDR (Indonesian Rupiah)
Electricity: 220V
Language Spoken: English, German, Spanish, Indonesian, and Italian
Underwater Gallery

---