Destination: Egypt & Sudan
Reefs & Wrecks, Top Red Sea, Central & North Sudan, and Extreme South Sudan (7 & 11Nights) | From $243++/night

---
Red Sea blue force 3 Quick Pitch
The Red Sea Blue Force 3 offers guests an experience of elegance, comfort and functionality as they explore the Red Sea, one of the best dive destinations in the world. With its sister boat, the Red Sea Blue Force 2, and more than 20 years of experience in the Red Sea, the "Blue Force Experience" will help guests discover the incredible reef systems and breath-taking shipwrecks alongside the many routes offered in the Red Sea.
Why You'll Like RED SEA BLUE FORCE 3
Premium-quality service
Routes designed to show guests the wonders of the Red Sea
2 wide solariums
Spacious commons areas with TV
Location
The Red Sea Blue Force 3 operates from Hurghada or Port Galeb.
Check out this amazing video from Red Sea Blue Force 3!
Dive Overview
Thousands of species of fish in beautiful crystal clear water with coral gardens, historical shipwrecks, breath-taking soft corals, and pinnacles. There are over one thousand species of fish in the Red Sea, 20 percent of which can be found nowhere else in the world.
[See: Red Sea Dive Travel Guide]
Accommodations
Types of Cabins, Amenities and Photos

---
RED SEA BLUE FORCE 3 Accommodation Overview
The Red Sea Blue Force 3 offers guests 10 double cabins to choose from. All cabins come complete with a bath with a private shower and are fully air-conditioned. The cabins are fitted with either 1 double bed and 1 single bed or 1 double bed and 2 single beds. There are 4 cabins each on the lower and upper decks, while the main deck contains 2 cabins.
General Facilities

---
RED SEA BLUE FORCE 3 Boat Features
2 wide solariums
Bar
Dining room on main deck
Salon with TV
3 compressors, 2 membranes NITROX system
2 dive tenders
RED SEA BLUE FORCE 3 Liveaboard deck plan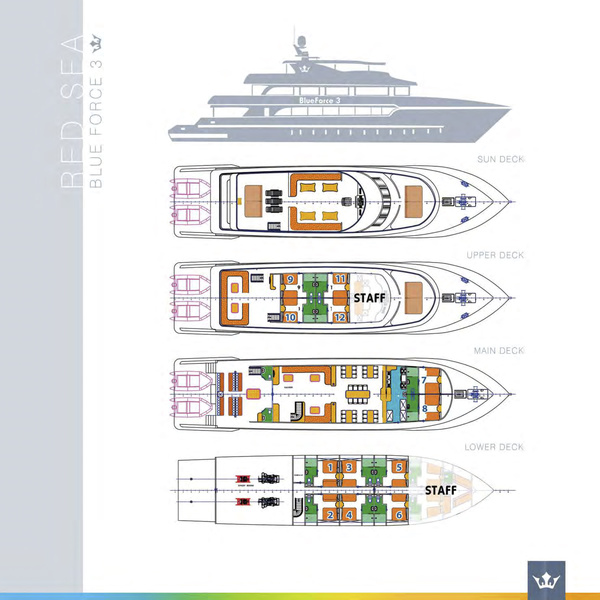 Schedule, Rates & Availability
Red Sea Blue Force 3 Schedule & Rates

---
RATES & AVAILABILITY
For information on departure dates, rates, and availability email us at info@bluewaterdivetravel.com or call us at +1-310-915-6677 and we will gladly help you plan your dream dive vacation!
Dive Information & Destinations

---
Dive Overview
Wrecks, abundant reef fish life, multiple macro critters, dolphins and awesome coral gardens.
Water temperature: 74 - 82F, 23 - 28C.
A 3-5mm wetsuit is recommended for summer and 7mm in the winter
Itinerary Overview
The Red Sea Blue Force 2 offers guests a wide of array of itineraries to choose from when exploring the Red Sea.
"Wrecks & Reefs" - The "Wrecks & Reefs" Route is one of the most complete and varied itineraries in the Red Sea, ideal for those exploring the Red Sea for the first time. The diversity of diving spots to be explored includes diving among amazing shoals in Ras Mohammed, perusing the majestic reefs in Small Crack & Panorama Reef, and so much more. This route also includes dives at one of the best shipwrecks to dive in the world, the SS Thistlegorm wreck. Embarking and disembarking take place in Hurghada.
"Top Red Sea" - The "Top Red Sea" Route also includes diving sites such as Thistlegorm and Ras Mohammed. This route aims to hit all of the world-famous dive sites in the Red Sea in one week. Guests will be able to experience the majestic Red Sea filled with pelagic fish and spectacular wrecks. Embarking and disembarking take place in Hurghada.
"Brothers, Daedalus & Elphinstone" - The "BDE" Route is perfect for diving who are looking to experience a little more challenging dives. The majority of the dives are along the impressive reef walls of the three big reefs in the Red Sea. These dive sites are well-known for their sightings of pelagic fish. Divers can encounter white tip sharks, gray sharks, white tip sharks, hammerheads, thresher sharks, and much more. Embarking and disembarking take place in Port Ghaleb.
"Zabargad, Rocky, St. Johns" - The "Zabargad, Rocky, St. Johns" Route contains less-known dive sites which make the route unique, giving divers a remote diving experience still filled with biodiversity and rarity. Divers can expect to visit Zabargad Island and dive its mysterious wreck, dive the sunken Habilis, and many other interesting dive sites. Embarking and disembarking take place in Port Ghaleb.
The Red Sea Blue Force 3 also offers itineraries to the Sudanese Red Sea.
Central & North Sudan - This classic route is the best-known route in Sudan, including dive sites such as the "Umbria" wreck and renowned reefs such as Sanganeb or Sha'ab Rumi. Divers can expect to encounter spectacular coral gardens and schools of barracuda, jackfish and much more. The itinerary also includes diving in the northern reefs such as Angarosh, Merlo, and the rest of the Blue Belt wreck.
Central & South Sudan - Depending on the sea conditions, the cruise might decide to swap the itinerary with the southern part of Port Sudan instead of the north. This usually happens after March. Dives will occur in the southern reefs such as Shaab Ambar, Pinnacolo and Shaab Jumna. Guests can expect to encounter amazing coral reefs as well as white tip reef sharks, hammerheads, and others.
Sudan Extreme South - This itinerary extends the safari to 10 days and 11 nights, allowing guests to dive the best sites of the Central & South Route, and visit the wreck of Umbria and the reefs of the Suakin Archipelago. Here, guests can encounter grey reef sharks, white tips, hammerheads, and maybe even tiger sharks and whale sharks.
Sample Itinerary - Red sea
Charters are from Saturday to Saturday
Saturday: Hurghada
Welcomed by our team at Hurghada Airport, guests will receive assistance and be transferred to the port of embarkation in Hurghada or Port Ghaleb. Guests will then embark on board Red Sea Blue Force 2 from 8 pm onwards. There will be welcome cocktails, then the distribution of cabins.
Sunday to Friday: Diving Safari "Selected Route"
Guests will dive on the chosen route. There will be 6 diving days. On Friday afternoon, the vessel will arrive at the port. Guests can enjoy dinner and the night onboard.
Saturday: Hurghada
Breakfast. Guests will then disembark in Hurghada or Port Ghaleb (in the case of guests staying over one week onboard, they will receive accommodation on the boat and a free afternoon at the corresponding port.) Clients will transfer to Hurghada by road and stay at a 5-star hotel and accommodation (lunch not included.) They can have leisure time to enjoy the local atmosphere and do some shopping. They will have dinner and spend the night at the hotel.
Saturday: Hurghada
Breakfast. Guests will then transfer to the airport. Check-out formalities will be assisted by the Blue Force Staff.
[See: Red Sea Dive Travel Guide]
SAMPLE ITINERARY - sudan
Day 1: Port Sudan
Upon arrival, guests will go through immigration and baggage claim. They will then transfer to Port Sudan. On board, they will be given a welcome cocktail and a presentation of Red Sea Blue Force 3 and its crew. Cabins will be distributed, and the cruise will begin.
Intermediate Days (according to the duration of the cruise): "Central & North," "Central & South," or "Extreme South"
Guests can enjoy the diving cruise with full board and 3-4 dives per day. They will dive the dive sites according to the itinerary chosen
Last Day: Port Sudan
Guests will disembark in Port Sudan and transfer to the airport.
Other Information

---
Boat Specifications
Length: 42 meters
Beam: 8.7 meters
Cruise speed: 12 knots
Fuel: 26 ton
Engines: 2 x 850 HP Caterpillar
Water: 18 tons plus 2 desalination units
Generators: 2 x Perkins 120 KW, 1 x Caterpillar 80 KW
Navigation: 2 36/48n.m Radar, 2 Ecosounder, GPS 2 LCD colour, 1 Chartplotter
Communications: 3 Radiotelephone HF, SSB, DSC, satellite phone
Security: fire alarm, fire-extinguishing system, defibrillator
Dive tenders: 2 Zodiac 40 HP Yamaha engines
Passengers: 26
Number of cabins: 12
Electricity: 24/220V
Practical Information
Time Zone: GMT+2
Local Currency: EGP (Egyptian Pound)
Languages Spoken: Arabic, English
Electricity: 220V
Payment Onboard: Cash
Underwater Gallery

---
Coming Soon!