Scuba club Cozumel, Mexico
Av R. Melgar Prol. S. Km 1.5 Cozumel, Q. Roo, Mexico 77600 | Full-board + 2 dives from $118++/ppn

---
Scuba Club Cozumel is a diver-focused seafront resort offering various all-inclusive scuba diving and accommodation packages, for divers of all levels. The resort is also conveniently located within 3 minutes of walking distance to Dolphinaris Cozumel where you can swim with dolphins.
The resort itself features various types of accommodations, suited for single travelers and families alike. Their pool and restaurant are also located by the sea, so you can eat and relax after your dive while enjoying the view of the vast Caribbean sea.
For another great family dive destination, check out our guide to scuba diving Thailand.
Quick Information
No of Rooms: 60
Dive Center: On-site
Amenities: AC, pool, bar, restaurant, dive shop, private terraces, beach palapas, Nitrox and more
WiFi: Yes, free
Nearest International Airport: Cozumel International Airport
Airport shuttle: Yes, surcharge
How to Get There
Scuba Club Cozumel is located just past the southern end of San Miguel, the main town on the island. The location balances easy transfers from the airport, walks into town and access to the dive sites at the southern end of the island. Upon arriving at Cozumel International Airport (CZM), guests will take a shuttle van to the resort.
Dive Overview
Cozumel offers excellent reef diving and a diverse array of fish.
[Read More: Cozumel Dive Travel Guide]
Accommodations
Types of Rooms, Amenities and Photos

---
Double Room & Bathroom
Family Room & Single King Room
Scuba Club Cozumel Room Overview
60 clean, comfortable rooms feature ceiling fans, hair dryers, alarm clocks, a small refrigerator, and terraces with beautiful views. Rooms are available in single, double or triple occupancy. King size beds are available, as well as rooms with two doubles. Larger family rooms have two doubles and an additional sitting area with a twin-size bed.
Finished in tile and stucco, they are ready for wet divers. Many of the rooms on the ground floor are just a few steps away from the beach. There are drying racks for dive suits on each terrace.
A few rooms have been remodeled to accommodate the needs of handicapped divers.
Since a diving vacation should also be relaxing, rooms do not have a TV or a telephone. There is free high-speed WiFi throughout the resort allowing online access 24 hours a day from the comfort of your own room or patio.
Resort Facilities

---
Pool & Outdoor Seating
The Fat Grouper Grill Restaurant
Scuba Club Cozumel Features
Pool
Free wireless internet around the entire property
Phones for local/international calls
Fat Grouper restaurant and bar
Small library and TVs
Scuba Club Cozumel Food & Drinks
The Fat Grouper Restaurant and Bar offers indoor and outdoor dining.
All vacation packages include three hearty meals, starting with a buffet breakfast in the open-air downstairs restaurant.
Lunch is served as the dive boats return, and dinner is a sit-down affair in the upstairs dining room with a daily selection of fresh meat, poultry or seafood dishes.
Holidays and special occasions call for a Mexican fiesta with a full buffet and even a pinata on the beach.
Scuba Club Cozumel Activities
Diving
Hanging at the pool
Reading in a hammock
ATV Jungle Tour
Various Cozumel tours
Packages & Rates
Scuba Club Cozumel Resort Rates

---
2023 ROOM, MEAL & DIVING PACKAGES
All rates are per person in US Dollars, including breakfast and lunch daily, tanks, weights & weight belt, unlimited shore diving, private gear locker (bring a padlock). The 7-night dive package includes 5 days of 2-tank boat diving, the 5-night dive package includes 3 days of 2-tank boat diving, the 3-night dive package includes 2 days of 2-tank boat diving. Excluding all beverages, Environmental and Visitor Taxes, Mexican sales tax, airport transfers and gratuities. Rates are subject to change without notice.
Package
Occupancy
1 1/2 Special
High
Smart Season
3-31 Jan 2023
Feb - March 2023
April 1-Aug 31 2023
7 Nights
Double
960
895
820
Single
1170
1145
1020
Triple
840
785
705
5 Nights
Double
685
665
640
Single
825
815
790
Triple
590
565
550
3 Nights
Double
435
405
380
Single
510
515
485
Triple
370
360
335
Can't find the information you need?
Drop us an email at bookings@bluewaterdivetravel.com or call us at +1-310-915-6677 and we will gladly help you plan your dream dive vacation!
Dive Information

---
Dive Overview
The diving in Cozumel is comprised primarily of drift dives along beautiful coral reefs. Two-tank morning dives are standard, generally starting with a deeper reef in the Palancar region of the Marine Park. Here divers will descend to 60-120 feet to drift along massive walls, explore swim throughs and channels and take in all the colorful soft coral formations.
Diving in Cozumel The second dive is typically on a shallower reef closer to the resort with depth in the 30-60 range, where ambient light mixes with coral heads and gardens of sponges, gorgonians and great fish life. Beach dives present underwater photographers with the time to search for critters with their macro lens. Visibility range is typically 100ft+ year-round and water temperature is between 75- 85F. The weather is tropical with little seasonal variation.
Divers will find eagle rays in the winter months, reef sharks in the summer months and turtles and nurse sharks year round.
Cozumel is home to the Splendid Toadfish, which can be found under ledges. Grunts, parrotfish, black grouper, angelfish, tangs, moray eels, lobsters and much other marine life can be found on the reefs in Cozumel. There are also juvenile drum fish, seahorses, anemone fish, colorful nudibranchs, arrow crabs and many other small critters.
Cozumel Photo / Video resources:
Editing your underwater photos
Paralenz dive camera
Best underwater video cameras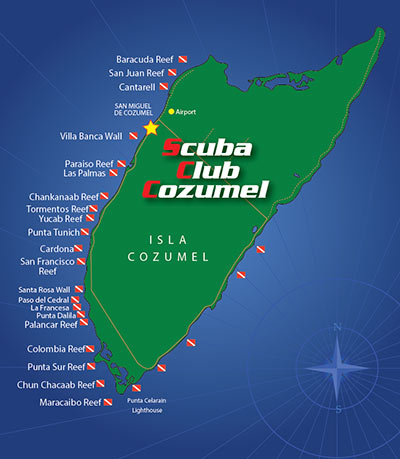 Dive Center Information

---
Scuba Club Cozumel Dive Center Overview
Scuba Cozumel is located in-house and is a 5-star training facility with full-service dive operation, including rental gear, repair shop and classroom for dive instruction. Divers are assigned to a boat and divemaster on their first day and will keep that combination throughout their stay, allowing the crew to learn not only everyone's name, but their style and preferences for the dive day.
Dive Center Features
The resort features two sets of personal dive gear lockers (bring a lock), one right next to the shop and one right next to the beach dive entrance, making it easy to carry personal gear to the boats or hop in the water for a beach dive. Each of these areas has an outdoor shower and large rinse tanks for gear.
Scuba Cozumel's custom-built dive boats accommodate from 10 to 20 divers, with freshwater rinse tanks for camera gear.
Divemasters are assigned no more than 6 divers and will have their group jump in the water separately to ensure that each small group has the reef to themselves.
A standard dive package includes morning two-tank boat dives with unlimited afternoon shore diving, along with optional afternoon or night boat dives.
Other Information

---
Practical Information
Electricity: 110 and 120 Volts
Time zone: UTC-6
Languages: Spanish and English
Local Currency: MXN (Mexican Peso)
Accept credit card?: Yes, Master Card & Visa
Underwater Gallery

---
Coming soon!