3 Sea of Cortez Underwater Photo Workshops 2019
Join us for exciting macro life, sea lions, sperm whales, and whale sharks on the incredible Rocio Del Mar. Underwater photography workshops provided at no additional cost!
July 27 - August 3, 2019
Led by Bryan Chu
August 3 - 10, 2019
Led by Mark Strickland
August 10 - 17, 2019
Led by Mark Hatter

7 Nights for only $2,695
The Hotel CostaBaja Resort & Spa - $2,087 pp
La Concha Beach Resort - $1,803 pp
Hotel Catedral La Paz - $1,670 pp
Why Join This Trip?
25% off rental photo gear from

Bluewater Photo

The top liveaboard (Rocio Del Mar) sailing in the Sea of Cortez

Daily photo workshops

Dive in an area Jacques Cousteat called the Aquarium of the World

Awesome big animals like whale sharks, sea lions, dolphins, sperm whales and much more

Easiest liveaboard in the US - fly or drive to Phoenix, AZ
Trip Overview
We will jump in the water with sperm whales, pilot whales and dolphins as much as possible. Maximum of 20 divers on the trip, including hosts. Sail and dive in comfort on the incredible Rocio del Mar.
You can either meet the boat in Puerto Penasco, Mexico or pay a shuttle fee of $125 per person for roundtrip transportation from/to Phoenix, Arizona. If you want to come to Puerto Penasco on your own, there is secured parking available in Puerto Penasco for $5 per day right next to where the boat is docked. Prices include three meals per day, snacks, beverages including soft drinks, juice, domestic beer and wine.
To learn more about what you can expect from this Sea of Cortez trip check out this trip report and see how our 2016 trip to the Sea of Cortez went. You can also read the reviews on diving Sea of Cortez here.
Dive Overview
The Sea of Cortez is home to sea lions, whale sharks, manta and mobula rays, dolphins, huge schools of fish and some fascinating macro life. It is one of the easiest "big animal" destinations to reach and enjoy. La Paz, Cabo, Loreto, and the northern Sea of Cortez all have excellent diving.
See more underwater photos here
Diving Conditions
After careful research, we have decided that this period of time is the best time for the Northern Sea of Cortez. Good visibility, not too much wind, warm air and warm water - a 3mm wetsuit is all that is needed, at the most! Water temps will be 82-85 F.
Inclusions
Three meals per day & snacks,
Beverages including soft drinks, juice, domestic beer & wine
One full day of whale shark snorkeling, & several dives with a friendly sea lion colony
Tanks, weights & weight belts
Exclusions
Transfers from Phoenix airport ($125 roundtrip)
Park fees ($28)
Hyperbaric Chamber Fee ($15)
Nitrox ($120)
Fuel Surcharge ($100), if applicable (none currently)
Gratuity
About the Rocio Del Mar
Rocio Del Mar offers 10 comfortable guest staterooms on two decks. All have private bathrooms with hot shower stalls, western style toilets, lavatories, and above height window. Each cabin is carpeted and air-conditioned. There are room length windows with privacy curtains and convenient gear and clothes storage drawers beneath the beds.



Daily Photo Workshops
Workshops will be given daily on topics such as wide-angle underwater photography, ambient light shots, snorkeling with large animals, strobe exposure and positions, avoiding backscatter and composition. Help underwater is also given.
Check out this page for more information on what to expect from our photography workshops as well as some testimonials!
About the Trip Leaders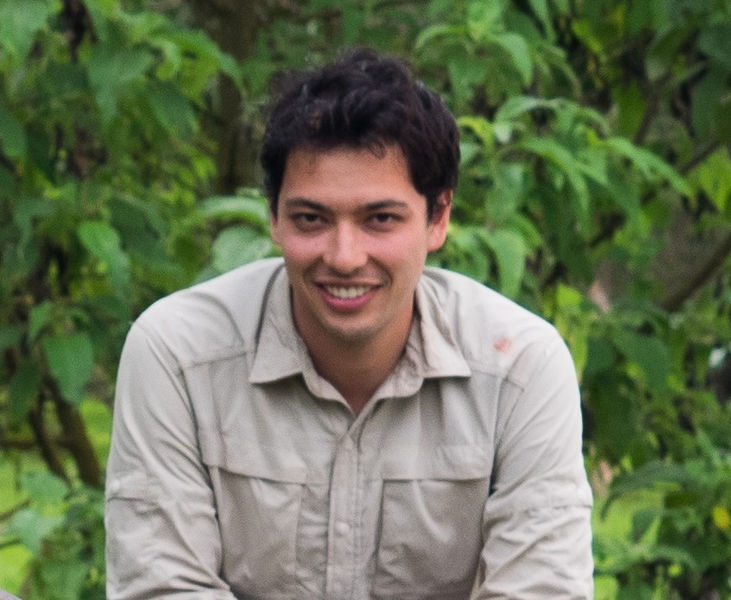 Bryan is an editor and writer for the Underwater Photography Guide. He loves any activity that takes him out into nature, and is especially fond of multi-day hiking trips, road trips to National Parks, and diving. Any kind of diving. He discovered the joy of underwater photography on a Bluewater trip to the Sea of Cortez and has been hooked ever since. He recently finished a 1-year "radical sabbatical" with his partner Lisa (both of them quit their jobs), which included over 120 dives, mostly in Indonesia and the Philippines. His very favourite underwater experiences include swimming with humpbacks in Moorea, being smashed against the rocks next to marine iguanas in the Galapagos, marvelling at the riotously colourful reefs of Komodo, freezing his hands off under the ice in Greenland, and exploring the never-ending wonders of muck diving in Tulamben and Anilao (where he was a Bluewater photo workshop, co-trip leader).
You can find see his underwater photos on Instagram at @bryandchu and check out his articles on the Underwater Photography Guide (Dancing with Sea Dragons / Greenland Ice Diving / Moorea Humpbacks). Learn more about Bryan Chu here.
Mark Strickland's life-long interest in the sea has included over 10,000 dives and careers as a lifeguard, boat captain, and scuba instructor. His passion for underwater photography has led him to many top dive locales, including the Virgin Islands, Australia, and Thailand, where he spent 17 years as Cruise Director on a series of liveaboards. Mark now resides in Ventura County, California. Currently, Mark leads several dive trips each year to his favorite destinations, while working on a career-spanning large-format pictorial book. Learn more about Mark Strickland here.
Mark Hatter is an accomplished photojournalist who has had nearly one hundred feature articles with many hundreds of images published in more than two dozen fly fishing and diving publications over the last two decades. His most recent destination features have appeared in Alert Diver and Diver (UK) magazines. Mark has traveled the world in pursuit of new underwater photography challenges, including cold water destinations such as British Columbia and even in Antarctica in January 2018. Learn more about Mark Hatter here
FLIGHT INFORMATION
Trip attendees will fly in and out of Phoenix, Arizona, which is the closest international airport. You should fly in on Saturday morning and arrive before 11am. A shuttle will arrive for pick-up at the airport at 12pm. The shuttle ride is approximately 4 hours to the boat and costs $125 roundtrip (paid directly to shuttle driver).
Disembarkation is Saturday at 7:00am. For return flights, book anytime after 3pm.
PAYMENT SCHEDULE
7/27 to 8/3 trip: second payment 1/1/19, final payment 4/1/19
8/3 to 8/10 trip: second payment 1/1/19, final payment 5/1/19
WEBINAR ABOUT SEA OF CORTEZ & ROCIO DEL MAR
WANT TO EXTEND YOUR TRIP?
We can help with that! See more of Mexico before or after your workshop with Bluewater in the Sea of Cortez. Flying all that way merits a multi-destination vacation! La Paz is an amazing destination nearby that offers a range of additional unique experiences. Here are some examples of packages we can add on to your workshop reservation:
7 NIGHTS AT THE 5 STAR COSTA BAJA RESORT & SPA
Price: $2,087 per person based upon double occupancy.
The Hotel CostaBaja Resort & Spa is the first and only luxury hotel & spa in the city of La Paz. This boutique hotel offers a selection of ocean, mountain and marina views. North of the hotel is Espiritu Santo Island, where you will find the greatest marine life in the world and the best sport fishing within Baja Sur.
7 nights in a king or twin room
Full buffet breakfasts
5 days of 3 tank dives
Lunches & drinks on the boat
National park permit fees
Roundtrip Cabo transfers
Free WiFi: Yes
Swimming Pool: Yes
7 NIGHTS AT THE 3 STAR LA CONCHA BEACH RESORT
Price: $1,803 per person based upon double occupancy.
A beach resort offering a peaceful and mellow atmosphere on the Sea of Cortez. Over a hundred sea view rooms are featured in La Concha Beach Resort. Located in front of the ocean and with full view to the beach and pool, the accommodations include from essential details to luxury amenities.
7 nights in a king or twin sea view room
Full American breakfasts
5 days of 3 tank dives
Lunches & drinks on the boat
National park permit fees
Roundtrip Cabo transfers
Free WiFi: Yes
Swimming Pool: Yes
7 NIGHTS AT THE 4 STAR HOTEL CATEDRAL
Price: $1,670 per person based upon double occupancy.
Hotel Catedral La Paz is a new concept of accommodation to suit the needs of today's travelers. It is part of the historic center of the city, surrounded by major attractions next to Our Cathedral Lady of La Paz. With its sophisticated contemporary modernist architecture, Hotel Catedral La Paz it focuses on every detail to offer its guests an excellent service and quality, both in the rooms and its gourmet restaurant.
7 nights in a king or twin sea view room
Full breakfasts
5 days of 3 tank dives
Lunches & drinks on the boat
National park permit fees
Roundtrip Cabo transfers
Free WiFi: Yes
Swimming Pool: Yes
Photo Gallery

---
Sea of Cortez Underwater Photos from Previous Trip