Socorro December 2019 Underwater Photo Workshop
Join us on this 8-night Socorro trip on Nautilus Under Sea for giant mantas, sharks, dolphins and more! Join this trip for amazing liveaboard diving in the beautiful Socorro Islands.
December 8 - 16, 2019
Led by Erik Lukas

8 Nights for:
Triple Stateroom - $2,895 * / Double Stateroom - $3,195 *
Superior Suite - $3,695 * / Premium Suite - $4,295 *
*Prices do not include 5% Mexican VAT & $65 port fee. Port fee is payable onboard.
Why Join This Trip?
25% off rental photo gear from Bluewater Photo
Amazing boat, staff, food, and crew!
Four guided dives per day (conditions permitting)
Timed to offer the best opportunity to see hammerhead & silky sharks, whale sharks, dolphins, large schools of fish besides THE GIANT MANTAS
Great support from Bluewater Travel if flight/weather issues occur
Repeat customer and photo gear discounts, and other benefits
Trip Overview
Socorro Island is part of the Revillagigedos, a group of small islands off the coast of Baja California, Mexico. Dive sites include Socorro, San Benedicto & Roca Partida but may change due to ocean conditions.
You can see mantas in many places around the world, but nowhere else boasts a population of giant mantas that literally seek out interaction with divers and snorkellers. The behavior these giant mantas exhibit is almost inexplicable.
These gentle giants with a wingspan up to 20 feet consistently approach divers for intimate eye-to-eye encounters. If you are able to be calm and still in the water, you are almost sure to experience what we call "manta love."
Your journey will include four dives per day (subject to weather and unforeseeable circumstances)—each an opportunity to encounter resident pods of playful dolphins. You may also see up to 10 varieties of shark: schooling scalloped hammerheads, solitary giant hammerheads, Galápagos, whitetip reef, silver-tip, silky, tiger and oceanic whitetips.
The list also includes whale sharks and dusky sharks and on occasion even a thresher shark.
November and December boast the warmest water temps of the year in the low 80's. On most days, we enjoy visibility of 70 to 100 feet. When the current picks up, the ash from these volcanic isles can rise, reducing the visibility to 30 feet.
For the wide-angle experience that is big-animal diving, this isn't ideal. But, we're still cruising one of the most pristine underwater environments—so we then choose dives where we're closer to the reefs and marine life such as eels, octopuses and Socorro lobsters.
Trip boards at 8:00 pm on Dec 8, 2019 and disembarks at 8:30 am on Dec 16, 2019. Here's the sample itinerary:
Day 1 - Enjoy hospitality suite at the Tesoro Los Cabos. Boarding begins at 8:00 PM.
Day 2 - At Sea. Evening arrival at San Benedicto Island.
Day 3 - Diving Day! San Benedicto is home to the friendliest giant mantas in the world! 4 dives.
Day 4 - Dive at Socorro Island. Night snorkel with Silky Sharks. 3 dives + Snorkeling with silky sharks under floodlights
Day 5 - Dive at Socorro Island. 4 dives
Day 6 - Dive at Roca Partida. 4 dives
Day 7 - Dive at Roca Partida.
Day 8 - Voyage home. Making our way back to Los Cabos.
Day 9 - Disembarkation at 8:30 AM.
See how our 2018 trip to Socorro went. You can also read the reviews on diving Socorro here.
Inclusions
Transfers from and/to the boat
Non-alcoholic drinks
Tanks and weights
3 to 4 dives per day
Full-board meals
Exclusions
Prices do not include 5% Mexican VAT, departure tax & a possible fuel surcharge
Single supplement. For same gender roommate, please book a shared stateroom or suite
Submersible dives
Rebreather service available at an extra cost
Dive equipment rental
Park fee at $65 per person per trip
ABOUT NAUTILUS UNDER SEA
The Under Sea is a classic and beautiful small ship catering to small groups of only 18 divers. Many divers know her from her previous life as the Undersea Hunter of Cocos Island fame, but with massive upgrades including lengthening by 20 feet, a new superstructure, an enclosed dive deck and a host of other improvements, it is hard to recognize the original ship.
The special feature of this ship is the intimate group size combined with Nautilus spaciousness and luxury.
Check out this page to see more details on the Nautilus Under Sea.
DAILY PHOTO WORKSHOPS
Workshops will be given daily on topics such as wide-angle underwater photography, ambient light shots, snorkeling with large animals, strobe exposure, and positions, avoiding backscatter and composition. Help underwater is also given.
Check out this page for more information on what to expect from our photography workshops as well as some testimonials!
ABOUT THE TRIP LEADER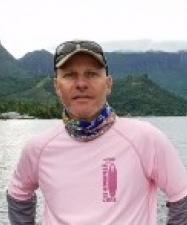 Erik Lukas is an active diver and photographer based in Los Angeles, CA. He is a volunteer scuba diver at the Aquarium of the Pacific in Long Beach, CA. You can expect to find Erik diving many of the amazing Pacific Ocean sites of Southern California, camera in hand, at any chance he can get.
See more of Erik's photography at http://www.seeundersea.com or on Instagram @seeundersea.
"I am passionate about underwater photography in general and have a special love for macro subjects. For me the things that are hardest to spot hold the most interest. Documenting the commensal and symbiotic relationships is for me the most interesting…the smaller and more bizarre the better. I also have a passion for sharing my knowledge with others. My goal with all of my workshops is to ensure each guest leaves with a group of images that they are proud to share."
WANT TO EXTEND YOUR TRIP?
We can help with that! See more of Mexico before or after your workshop with Bluewater in Socorro. Flying all that way merits a multi-destination vacation! La Paz is an amazing destination nearby that offers a range of additional unique experiences. Here are some examples of packages we can add on to your workshop reservation:
7 NIGHTS AT THE 5 STAR COSTA BAJA RESORT & SPA
Price: $2,087 per person based upon double occupancy.
The Hotel CostaBaja Resort & Spa is the first and only luxury hotel & spa in the city of La Paz. This boutique hotel offers a selection of ocean, mountain and marina views. North of the hotel is Espiritu Santo Island, where you will find the greatest marine life in the world and the best sport fishing within Baja Sur.
7 nights in a king or twin room
Full buffet breakfasts
5 days of 3 tank dives
Lunches & drinks on the boat
National park permit fees
Roundtrip Cabo transfers
Free WiFi: Yes
Swimming Pool: Yes
7 NIGHTS AT THE 3 STAR LA CONCHA BEACH RESORT
Price: $1,803 per person based upon double occupancy.
A beach resort offering a peaceful and mellow atmosphere on the Sea of Cortez. Over a hundred sea view rooms are featured in La Concha Beach Resort. Located in front of the ocean and with full view to the beach and pool, the accommodations include from essential details to luxury amenities.
7 nights in a king or twin sea view room
Full American breakfasts
5 days of 3 tank dives
Lunches & drinks on the boat
National park permit fees
Roundtrip Cabo transfers
Free WiFi: Yes
Swimming Pool: Yes
7 NIGHTS AT THE 4 STAR HOTEL CATEDRAL
Price: $1,670 per person based upon double occupancy.
Hotel Catedral La Paz is a new concept of accommodation to suit the needs of today's travelers. It is part of the historic center of the city, surrounded by major attractions next to Our Cathedral Lady of La Paz. With its sophisticated contemporary modernist architecture, Hotel Catedral La Paz it focuses on every detail to offer its guests an excellent service and quality, both in the rooms and its gourmet restaurant.
7 nights in a king or twin sea view room
Full breakfasts
5 days of 3 tank dives
Lunches & drinks on the boat
National park permit fees
Roundtrip Cabo transfers
Free WiFi: Yes
Swimming Pool: Yes
Hotel Catedral La Paz
Flight Information
Trip attendees should fly in and out of San José Del Cabo, Mexico (airport code SJD). We recommend divers fly in a day earlier and spend the night in Cabo to get over jet lag and any flight or baggage delays. Recommended hotels include the Tropicana Inn, Hotel El Ganzo, or El Encanto Inn & Suites.
Return flights should be made anytime on the last day of the trip. We recommend that you book your return flights for 10:00 AM or later.
Socorro Video on the Nautilus Under Sea
To learn more about what you can expect from this Socorro trip aboard the Nautilus Under Sea, check out this video:
Payment Schedule
$800 deposit to confirm your spot.
Got Questions? Ready to Book?
Call us today at 310-915-6677 email us at info@bluewaterdivetravel.com
Or stop by our office at 3961 Sepulveda Blvd, Suite 206 Culver City, CA 90230
And let us book your dream vacation!
Photo Gallery

---