Destination: Galapagos
Darwin And Wolf Islands, Cabo Douglas, Punta Vicente Rocas (7 Nights) | From $870++/night

---
The M/V Tiburon Explorer is a spacious and luxurious liveaboard yacht in the Galapagos offering 7-night itineraries to exploring the top diving spots in the area, including Wolf and Darwin islands.
Dive Overview
The Galapagos Islands are an epic destination for divers in search of big animals like hammerheads and other sharks, mantas, turtles and sea lions. There's also prolific schooling fish and endemic species like marine iguanas, giant tortoises, flightless cormorants and penguins, all in an isolated and unique environment.
[See: Galapagos Dive Travel Guide]
Accommodations
Types of Cabins, Amenities and Photos

---
M/V tiburon Explorer Cabin Details
Large and spacious, the elegant M/V Tiburon Explorer features 9 air-conditioned staterooms (maximum passenger occupancy of 16) located on the main and lower decks; all with private bathrooms and ocean views. All nine cabins are outfitted with twin beds that can convert to queen beds, allowing for singles or couples in each cabin.
General Facilities

---
M/V TIBURON EXPLORER Boat Features
Outdoor lounge area
Partially covered sun deck
Jacuzzi
Ample seating
Indoor lounge area with dining, bar and entertainment area
M/V TIBURON EXPLORER Dive Facilities
Large dive deck with a bathroom
Large camera table with charging station
Individual storage area
Rinse bins for cameras and another for gear
Diving operations are conducted from two large pangas (tenders), easily boarded from the dive deck
M/V TIBURON EXPLORER Deck Plan
Schedule, Rates & Availability
M/V Tiburon Explorer Schedule & Rates

---
Prices are in USD, per person and do not include Galapagos National Park Fee, Chamber Support Fee, Tourist card, and fuel surcharge. Guaranteed Single Occupancy is billed an additional 80% of the retail stateroom price.
[See also: Inclusions & Exclusions]
Inclusions
7 nights/8 days aboard the vessel
Up to 4 dives daily (weather permitting)
3 meals daily, except for last evening's meal
Between-dive snacks
Towels, linens, etc.
Use of tanks, weights, and weight belts
All air fills
Transfers within Galapagos Islands for the same day arrivals & departures.
Local alcohol and non-alcoholic beverages (premium alcoholic beverages available for an additional charge)
Fuel tax included
Exclusions
Mandatory:

Galapagos National Park Fee ($100 in cash), Chamber Support Fee ($35), Tourist card ($20 in cash)

Airfare to Galapagos Islands before/after cruise (available at additional cost)

Land options before/after cruise

(available at additional cost)
Last evening dinner
Rental, instruction, nitrox and retail charges
Crew gratuities
Trip cancellation & dive accident insurance
Premium alcoholic beverages
RATES & AVAILABILITY
For more information on other departure dates, rates, and on availability email us at info@bluewaterdivetravel.com or call us at +1-310-915-6677 and we will gladly help you plan your dream dive vacation!
Dive Information & Itineraries

---
Liveaboard Diving in the Galapagos Islands
Your Galapagos Liveaboard diving adventures will encompass everything from sharks to nudibranchs, and more. The islands are best known for amazing shark diving around Wolf and Darwin Islands. These small and remote islands are best reached by liveaboard vessels for divers. Your diving experience here will generally include Galapagos sharks, silky sharks and lots of schooling hammerheads being cleaned by king angelfish. Seeing marine turtles, schools of tuna, eagle rays, and sea lions is very common and seeing a whale shark is very possible from June through November. All the islands you travel to are amazing sites for underwater photography.
Macro photographers will have their fill of seahorses, barnacle blennies, coral hawkfish, and many others. An abundance of rays are at many of the dive sites (including spotted rays, marble rays, golden rays, and stingrays) along with sea lions, sea turtles, schools of grunts and snappers. The variety of life in these water is unlike any other place, with thick schools of the native brown stripped salema, snappers, groupers, Chevron barracuda and huge sea turtles. There are also many unique things to view on land. Consider adding on some time to your trip to experience the land animals as well. And of course, a trip to the Galapagos would not be complete without taking time to watch their most famous inhabitants - the giant tortoise!
The weather in the Galapagos has water temperatures ranging from 65 -75 degrees F from December through May and 60 – 70 (F) June through November. Water temperatures are at the higher end of the scale in both Darwin and Wolf. Air temperatures range from 75 (F) or higher in the rainy season (December-May) to the mid 60's (F) during the dry season (June – November), with nearly constant sea breezes.
Currents can range from 1 to 5 knots at the sites we visit, and visibility is generally between 30 and 80 feet. Most divers are comfortable with a 7mm wetsuit June – November with a hooded vest and gloves and a minimum 5 mm wetsuit December - May. Gloves and hood are strongly recommended.
Your Galapagos liveaboard dives will be done from the pangas with an easy backward roll into the water. After you dive, your tank will be lifted back into the panga and you will board via its stern ladders or with assistance from the side.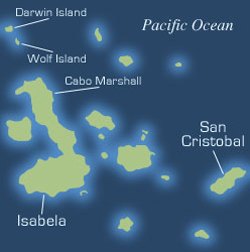 Sample Itinerary
Saturday: Baltra (1 Check Out Dive at Punta Carrion) - Guests fly to the Galapagos Islands from Mainland Ecuador, arriving in the late morning. Dive guides meet the guests at the airport between 11:30 am and 12 pm and escort them to the Tiburon Explorer. Guests board the vessel, have lunch and listen to briefings. After the briefings, guests do a check out dive at Punta Carrion. After dinner, the vessel departs to the next scheduled destination.

Sunday: Balta North (2 Dives) - 6:30 and 9:30 dives. Sightings include rays and schools of fish. In the afternoon, a North Seymour land visit is scheduled. Guests walk the path around North Seymour Island to see the large colonies of Blue Footed Boobies and Frigate Birds. Sighting of Sea Lions and Marine Iguanas are also common. Afterward, the vessel departs for Wolf Island (long transit).

Monday: Wolf Island (4 Dives) - 6:30, 10:30, 2:00 and 4:30 dives, along with a possible night dive. On these dives, sightings often include hammerheads, whale sharks (in season), eagle rays, sea lions, Galapagos sharks, and silky sharks.

Tuesday: Darwin Island (4 Dives) - 6:30, 10:30, 2:00 and 4:30 dives. Sightings often include hammerheads, whale sharks (in season) eagle rays, Galapagos sharks and silky sharks. After the dives, the vessel departs to Wolf Island.

Wednesday: Wolf Island (3-4 Dives) - 6:30, 10:30, 2:00 and 4:30 dives. Sightings often include hammerheads, whale sharks (in season), eagle rays, Galapagos sharks and silky sharks.
 Then, we move on to Cabo Douglas (12 hours).

Thursday: Cabo Douglas (1-2 Dives) - Sightings include marine iguanas. Afterward, we move on to Punta Vicente Roca for 1-2 more dives. Sightings here often include mola mola, turtles and macro life. Then, we move on to Cousins Rock (10 hours).

Friday: Cousins Rock (2 Dives) - 6:30 and 9:30 dives. These are great macro dives, with an excellent chance of seeing sea horses, sea lions, and eagle rays. Lunch will be served while transiting to Santa Cruz (3 hours). Afterward, we travel by bus to the Santa Cruz Highlands to visit the giant tortoises in their natural habitat. Following this is a transit to the town of Puerto Ayora. Guests have dinner on their own in Puerto Ayora, and return to the Tiburon Explorer at 8:30 pm.

Saturday: Baltra
 -

Depart the vessel by 9 am. Transfer to the airport.



[See: Galapagos Dive Travel Guide]
Other Information

---
Boat Specifications
Length: 125ft (38 meters)
Beam: 24.6 ft (7.5 meters)
Maximum Speed: 12 knots
Maximum guests: 16
Number of cabins: 9
Number of crews: 9 crew and 2 guides
Safety Equipment: Life rafts (2), life rings/strobes, life vests/strobes, emergency position locator, flares, oxygen, and first aid equipment
Air Systems: 2 electric Bauer compressors with nitrox membrane, producing 32% nitrox
Tenders: Rigid hull inflatables (2), used for passenger transport and diver pickup
Practical Information
Time Zone: UTC-6
Local Currency: USD (US Dollar)
Language Spoken: English & Spanish
Electricity: 120 V
Payment Onboard: Cash, Visa or MasterCard. Credit cards are subject to the 14% VAT plus 5% in bank fees.
UNDERWATER GALLERY

---