Destination: Indonesia
Baturinggit, Kubu, Karangasem Regency, Bali 80853 | Room + breakfast only + 2 dives from $80++/ppn

---
Two Fish Divers' Resort Nusa Lembongan Quick Pitch
Two Fish Resort Nusa Lembongan, Bali can be found near the traditional village of Jungutbatu, only a two-minute walk from the sandy beach where our dive boats leave from. Fast becoming one of Bali's most popular attractions, Lembongan Island is a paradise that is a world away from the hustle and bustle of Bali. There are no hawkers, no traffic, and the magnificent scenery is the perfect place to put your feet up and relax. They only cater for a maximum of 16 divers so personal attention is guaranteed.
Quick Information
No of Rooms: 10
Dive Center: On-site
Amenities: Pool, free beverages, AC, and more!
WiFi: Yes, free
Nearest International Airport: Ngurah Rai International Airport
Airport shuttle: Yes, surcharge
How to Get There
Lembongan Island is a part of a subdistrict of Klungkung regency. From Bali airport, it takes 30-40 minutes in a taxi to the beach in Sanur, from Sanur to Nusa Lembongan the boat ride is 30 minutes. The fast boat company; Rocky Fast Cruise, include an airport pick up and drop off if the transfer is direct.
Boat times: Sanur to Nusa Lembongan: 10 am, 12 noon, 2 pm, 5:30 pm. Latest airport arrival time for the last boat is 4 pm. Arrivals after this time need to spend one night in Sanur and transfer to the island the following day. Nusa Lembongan to Sanur: 9 am, 11 am, 1 pm, 4:30 pm.
Dive Overview
The diving in the area is known for the year-round Manta Rays and seasonal sightings of Mola-Mola. The reefs are very healthy, the water clear and the currents exhilarating at times. Nusa Lembongan is suitable for all levels of diver.
Accommodations
Types of Rooms, Amenities and Photos

---
Two Fish Divers' Resort Nusa Lembongan Room Overview
There are two twin rooms & eight double rooms. All rooms are with fan or AC, have an anti-mosquito device, plug extension cable and an umbrella. All bathrooms have a hot water shower. All rooms have bean bags on the balcony.
Resort Facilities

---
Two Fish Divers' Resort Nusa Lembongan Features
Board basis: B&B with the accommodation, lunch is included on diving days, plus unlimited drinking water, tea & coffee. The restaurant can cater for specific dietary requirements with prior notice.
Swimming Pool: Yes
Café: Yes
Relaxing areas: Yes
Reception: Open from 7am-7pm
Wi-Fi: Free in all areas of the resort
Two Fish Divers' Resort Nusa Lembongan Food & Drinks
The restaurant serves breakfast & lunch, all day coffee, tea and cold drinks, and has a tv area if you want to watch a film. Every week we offer a Balinese buffet dinner that is prepared by a local restaurant. There are plenty of relaxing areas where you can drink fresh juices & cold beer from the pool-cafe.
Two Fish Divers' Resort Nusa Lembongan Activities
The main area is called Jungut Batu village and this is where you can find most of the hotels, restaurants, convenience stores and this is where Two Fish Divers is located. There is no taxi service on the island but most hotels and the further away restaurants do provide a pickup/drop service. Motorbikes and bicycles are widely available on the island and are a great way to get around. Most of the islands scenic areas can be covered in an afternoons scooter ride. The cliff faces of devil's tear, the local seaweed farms, the overview of Jungut Batu village from panorama point and the local village on the island of Nusa Ceninagin can all be reached within 20 – 40 minutes of the Two Fish dive center.
If you wanted to take a day out from diving, then Bali is just a short 25-minute boat ride, making it easy to pop over for a day trip for some 'real world conveniences' in the 'big city'.
Packages & Rates

---
RATES & AVAILABILITY
For information on packages, rates, and availability, drop us an email at
bookings@bluewaterdivetravel.com
or call us at 310-915-6677 and we will gladly help you plan your dream dive vacation!
Dive Information

---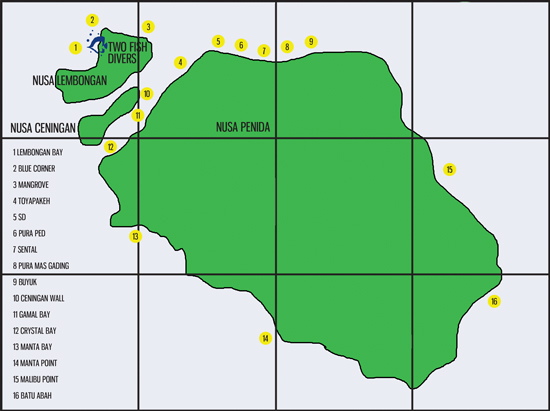 Nusa Lembongan Diving Highlights
Nusa Lembongan is an island about 30mins off the south-east of Bali, and so is really easy to get to. It is part of a group of three islands that offer some great diving, the other two islands being Nusa Penida and Nusa Ceningan.
Manta Rays! With Manta rays inhabiting the waters around the islands of Nusa Penida all year round, divers have a high chance to dive with these large graceful creatures. The two manta dive sites offer diver the chance to witness manta rays feeding or being cleaned by common reef fish.
Mola-mola! During the season between the months of July to October, Mola Ramsayi (Oceanic Sunfish) are quite a common sight. Typically found between 18 – 30 meters, these strange creatures come up from the deeper waters with the cold currents (18 – 24 degrees) to be cleaned at the dive sites around Nusa Penida and Nusa Lembongan.
A tropical island dive resort, located only minutes walk from the beach, where our custom built dive boats are waiting, loaded and ready to bring you the local dive sites which are only 10 – 45 minutes away.
With a coral coverage of 74% at 10 meters deep, the long stretching fringing reefs that run along the full north coast of Nusa Penida and Nusa Lembongan, provide plenty of colorful hard and soft corals to see for all levels of divers.
A large majority of the dive sites in the area are drift dives. This means we check to see which way the current is going and we just gently go with the flow.
Dive Center Information

---
Two Fish Divers' Resort Nusa Lembongan Dive Center Overview
The Nusa Lembongan dive shop is a purpose-built building and is the center of Two Fish Divers' dive operation. Check your equipment, plan your dives and review what you saw that day with the library of fish-books. It's only a two-minute walk to the sandy beach where our dive boats are waiting with all your dive gear already set-up for you. Relax with a well-earned drink at the end of the day in our poolside café bar, and enjoy the regular bbq's run by the dive center.
Dive Center Features
Dive boats: Two fiberglass speedboats, one for 8 pax, one for 12 pax. All boats have oxygen, first aid, marine radio and lifejackets, and all carry drinking water, tea & coffee and snacks for surface intervals.
Distance to dive sites: 10-45 minutes
Capacity: 30 divers
Towels provided: Yes
Equipment hire: 30 sets of Aqua Lung rental equipment. Dive Rite sidemount sets x 2
Nitrox: Available at an extra charge, usually 29-30%. Not available for all dive sites
15L tanks: Available at an extra charge on request
DIN regulator compatible tanks: Yes
House Reef: No
PADI rating: 5* IDC Resort
Classroom: Yes
Dive Pool: Yes
Courses offered: All PADI levels up to IDC, PADI specialties
Other Information

---
Practical Information
Electricity: 220 Volts
Time zone: UTC+8
Languages: English & Indonesian
Local Currency: IDR (Indonesian Rupiah)
Accept credit card?: Yes, Visa & Master Card
Underwater Gallery

---