Destination: Bahamas
The Exumas (7 nights) | From $314++/night

---
Aqua Cat Cruises Quick Pitch
The new 102 ft scuba diving liveaboard catamaran, Aqua Cat, offers luxury accommodations, a spacious main salon and an extremely smooth ride. Her ability to cruise at a speed of 14-knots will get you to dive sites quickly while her 35-ft beam will ensure a smooth ride.
Dive Overview
With an emphasis on dive adventures, the Aqua Cat offers exquisite underwater excursions, seeking out the best sites and accommodating the needs of every diver. The warm waters host Aqua Cat's shark, drift, wall, reef, and blue hole dives.
[See: Bahamas Dive Travel Guide]
Check Out This Great Video from Aqua Cat!
Accommodations
Types of Cabins, Amenities and Photos

---
Aqua Cat Cruises Accommodation Details
The eleven passenger cabins are some of the largest of any liveaboard in the world. Some of the cabins can accommodate a 3rd or 4th passenger, so she can carry from 22 to 30 passengers.
Aqua Cat Cruises Cabin Details
Cabins 1 &2 – 109 square feet of cabin space. Two twin beds with two pulldowns to accommodate up to 4 guests.
Cabins 3 & 4 – 109 square feet of cabin space. Two twin beds with one pull down to accommodate up to 3 guests. This is great for a family or friends that would like to reduce their costs.
Cabins 5-8 –

109 square feet of cabin space. These can be configured as either two twins or one king.
Cabins 9 & 10 – 135 square feet of cabin space. These have one queen and one twin and can accommodate up to 3 guests.
Cabin 11 – 63 square feet of cabin space. This cabin has twin bunk beds. This cabin has a skylight instead of windows.
Cabin Amenities
Private bathroom with shower
Hair dryer
Oversized berths (80″ long)
Individually controlled air-conditioners
Carpeted floors
General Facilities

---
The bar (LEFT) and sun deck (RIGHT)
Aqua Cat Cruises Boat Features
Leisure Deck
Shaded diving deck
Camera Station
Daily housekeeping
Onboard kayaks
Audio & video entertainment
Library
Air Conditioned saloon
Aircon Cabins
Sun Deck
Indoor Saloon
Non-Diver (Snorkeler) Friendly
Warm Water Showers
Photography Station
Outdoor Dining
Separate rinse for u/w camera
Camera room with table and charging point
Custom built for diving
Charging stations
Aqua Cat Cruises Deck Plan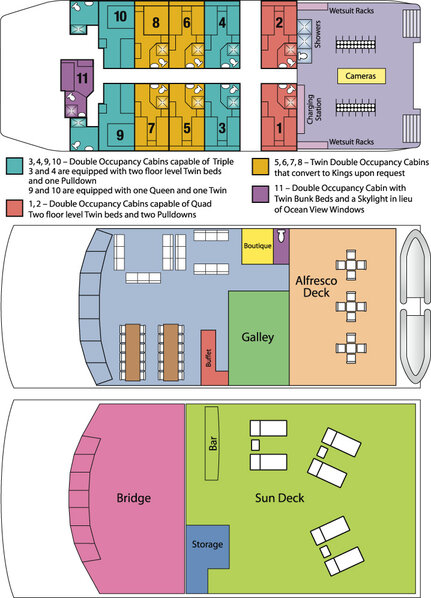 Aqua Cat Cruises Dive Facilities
DIN Adaptors
Nitrox available
Rinse hosts
Dive deck
Tenders for diving
Sidemount Diving
Dive courses
Dive equipment rental
Schedule, Rates & Availability
Aqua Cat Cruises Schedule & Rates

---
Prices are in USD, per person and do not include port & park fees.
[See also: Inclusions & Exclusions]
Inclusions
Accommodations
All meals & snacks (except dinner Friday night)
All beverages (soda, rum drinks, vodka, beer & wine)
All shore excursions
All scuba diving including tanks & weight belts
Transfers on Saturday to & from the airport
Exclusions
Dive & snorkel gear (available for rent)
Mandatory: Port & park fee
Crew gratuity (15% recommended)
Dinner Friday night
Airfare to Nassau
Nitrox ($150 for the trip)
RATES & AVAILABILITY
For more information on other departure dates, rates, and on availability email us at info@bluewaterdivetravel.com or call us at +1-310-915-6677 and we will gladly help you plan your dream dive vacation!
Dive Information & Itineraries

---
Itinerary Overview
You will have a great time exploring the 365 mostly uninhabited islands of the Exumas with their many beautiful beaches. In addition to the incredible scuba diving and snorkeling, you can beach comb, kayak, explore the islands, or take advantage of all the great photo opportunities like feeding the iguanas on Allan's Cay. While in Nassau and Paradise Island, you can enjoy shopping, casinos, and nightlife.
Dive Overview
The variety of dive sites in the Exuma Cays is truly unique and offer opportunities not available elsewhere and they can on be reached on a dive liveaboard. Each week we offer a great variety of diving including thrilling shark feeding dives, walls that begin as shallow as 40" and slope over the edge where large pelagics are frequently seen, exhilarating high speed drift dives through the cuts of the cays, blue holes which are banked by patch reefs with huge schools of fish as well as other wonderful sites. Scuba divers can enjoy up to 26 dives per week and will leave with a log book full of new memories and wonderful sightings. Many of our dive sites are in the Exumas Land & Sea Park which is protected so the marine life is both large and plentiful. This is truly the best of the Bahamas- diving the Exuma Cays with Aqua Cat Cruises!
Dive Sites
The Aqua Cat has moored over 250 sites throughout the Bahamas for all boaters to enjoy while preserving the reefs from anchor damage. They maintain these moorings and add more each year! Learn a little bit about some of the dives sites.
Lost Blue Hole – The rim of this large blue hole lies in 40′ of water surrounded by coral heads, stingrays and many schools of fish. There is a lobster filled crevice at 80′. In the sand surrounding the hole, divers will find many small fish such as banded jawfish, Seminole gobies and tobacco fish. There are usually 1 or 2 nurse sharks here and during the late spring/early summer, a large school of blacknose sharks inhabits the bottom of the 200′ hole. This site is normally visited on the way to or from the Exumas. This is the location of the Caribbean's first lionfish sighting.
Periwinkle Reef – This is a shallow patch reef that is teaming with fish. The local Nassau operators feed fish here, so sergeant majors and angelfish will approach scuba divers looking for a handout.
Amberjack Reef – A 50′ patch reef that has a prolific fish life. You will see reef sharks and up to 10 large grouper. This dive also has many interesting small critters such as pirate blennies and garden eels. Back on the hang bar scuba divers will be surrounded by a school of 100+ horse-eye jacks that hang out underneath the Aqua Cat.
Austin Smith Wreck – A 90′ Bahamian Defense Force Cutter that sank in 1995 while being towed to San Salvador to be sunk there as a dive site. Their misfortune was our gain. This intact wreck lies in 60′ of water.
Cathedral – This site is part of the Dog Rocks Reef. This reef starts at 35′ and slopes off to 50′ before dropping straight down into the Exuma Sound. The Cathedral is a large swim-thru where the light filters down from above reflecting off the thousands of silversides that occupy the swim-thru. This swim thru has many grouper and jacks that come to feed on the silversides. This is one of the crews' favorite dives. If you like to identify fish, you will marvel at the large variety of fish. The wall has large stands of black coral and orange elephant ear and tube sponges. Pelagic, eagle rays and sharks are frequently seen off the wall.
Jeep Reef – This is one of the prettiest reefs you will ever see. The strong current that sweeps through
this cut keeps the reef's corals very healthy. This dive can only be done at slack tide because of the strong currents. It is in the middle of the Exumas Land & Sea Park, so you will find a very healthy population of fish. This dive site gets its name from a coral encrusted jeep that sits near the mooring.
Pillar Wall – One of many excellent wall dives. It starts at 30′ and slopes to 50′ before dropping 5,000′ to the bottom. There are many caves and crevices. There is a large colony of yellow-head jawfish in the rubble inside the reef.
The Washing Machine – The strong incoming tide of up to 6 mph takes scuba divers thru a narrow cut where water drops off a ledge and then makes a sharp bend to the left. This causes the water to swirl like the water in a washing machine. This swirling water will toss scuba divers head over heels. Scuba divers who wish to avoid being tossed around can stay to the right where you will have a smooth fast trip through the cut. After passing through the cut you will then glide over a large patch reef. Enjoy the ride!
Whale Tail Wall – A great wall just south of Wax Cut. Large parrotfish roam the sand inside the reef while sharks & eagle rays are frequently seen off the wall. We have had some very unusual sightings here like a Caribbean torpedo, one of only 4 sighting of this very rare ray.
Hole in the Wall – The walls in Southwest Eleuthera are some of the most abrupt & beautiful anywhere, literally going straight down. At this site, there is a hole just inside the edge of the wall that drops 15′ with a swim-thru that heads west before popping out of the wall.
Jake's Hole – This tidal blue hole lies in 20′ of water. The highlight of this dive is the vibrant corals surrounding the hole. Because it is very tidal, scuba divers aren't permitted to enter the hole.
Monolith – Large mounds of coral rise out of the sand at the edge of the wall. They start at 100′ and rise to 55′. There is a colony of Garden Eels in the sand next to the mounds.
SAMPLE ITINERARY
Itineraries are weather dependent and tailored to best diving available each trip.
Saturday: 6:00pm board. Check in, dinner, unpack, orientation and safety briefing.
Sunday: Depart before first light; offering 4 daytime dives and 1 night dive today.
Monday through Wednesday: 4 daytime dives and 1 night dive per day/night in the Exuma Cays and/or Eleuthera. Shore excursions are offered daily.
Thursday: 4 daytime dives Captain's Dinner with photo and video presentations; awards presented during dessert.
Friday: 2 daytime dives.
Return to Nassau 2:00-5:00pm depending on weather and travel distance.
6:00pm Farewell Cocktail Party.
Port night in Nassau! Dinner on your own. The evening is yours to enjoy in Nassau.
Saturday: Disembark vessel by 9:00am.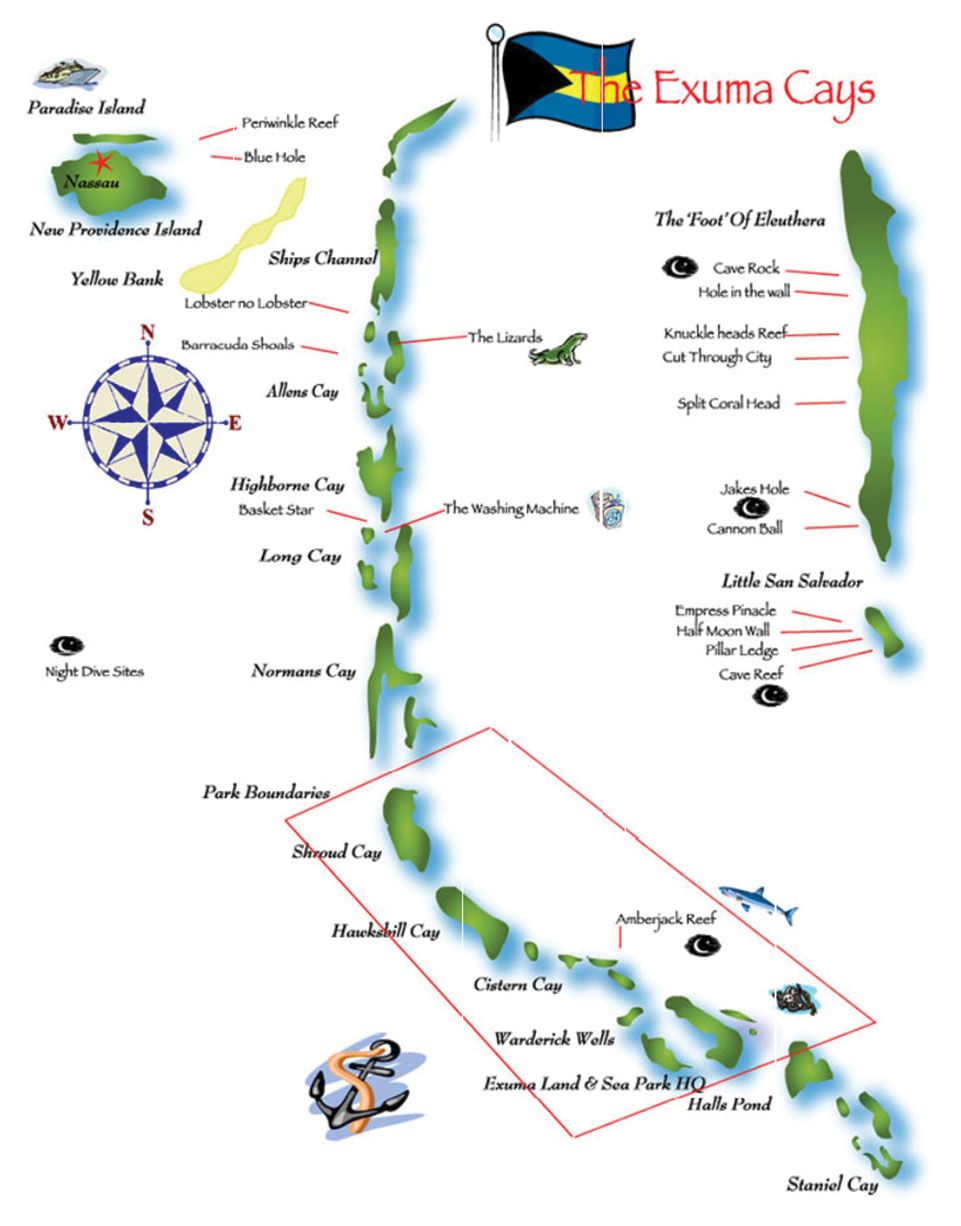 [See: Bahamas Dive Travel Guide]
Other Information

---
Boat Specifications
Year built: 2001
Year renovated: 2015
Length: 102ft
Beam: 35 ft
Speed: 14 knots
Engines: 2 Caterpillar 3406E
Max guests: 30
Number of cabins: 11
Number of bathrooms: 13
Number of crews: 14
Tenders: 28' jet drive launch & 2 12' inflatables with 15hp
Water capacity: 800 gals
Fuel capacity: 7000 gal
Freshwater maker: 4800 gal/day
Practical Information
Time Zone: UTC - 05:00
Payment Methods: Mastercard, Visa, Discover, personal check, money order and wire transfer
Local Currency: BSD (Bahamian dollar)
Language Spoken: English, French, and Portuguese.
Electricity: 120 volts/ 15 amps
Underwater Gallery

---