Destination: Costa Rica
Cocos Island (10-12 Nights) | From $530++/night

---
Important Note: The Argo Liveaboard is currently not taking bookings due to a long term charter during 2023 and possibly into 2024. Contact us for some great alternatives or more information.
Argo Quick Pitch
The Argo is designed as a blend of work ship and luxury 130-foot yacht. Extended, multi-task cruises are her specialty and of course she is mothership to the remarkable DeepSee submersible.
Location
Departs from Puntarenas, Costa Rica, just 3 hours from San Jose.
Dive Overview
Cocos Islands marine life is diverse and plentiful, and this is the place to go for big animal sightings. Famous for its sharks, Cocos is home to large schools of hammerheads.
[See: Costa Rica Dive Travel Guide & Cocos Island Dive Travel Guide]
Check Out This Great Video!
Accommodations
Types of Cabins, Amenities and Photos

---
Argo Accommodation Overview
The Argo accommodates 18 passengers in 9 staterooms. There is a satellite telephone for international calls, a satellite connection to send and receive e-mails and a flat-screen TV with DVD player. Each cabin includes: Shelves, drawers and hanging hooks, a desk and chair, a luxury, private bathroom with granite counters equipped with 110-volt outlets suitable for your electronic equipment. Each room has its own thermostat to control the air-conditioning and is carpeted throughout with a circular porthole.
Cabin 1 has two twin size beds. Each cabin on Argo is a distinctly themed room, with hand-painted artwork by Carlos Hiller - cabin 1 has a Hammerhead theme.



Cabin 4 has a sailfish theme and has

two twin size beds.
.
Cabin 6 is a double Cabin with a turtle theme. It has one queen size bed and optional upper twin-size bed.
General Facilities

---
Argo Boat Features
Original, undersea themed artwork throughout
Ample deck space for any chore imaginable
Comfortable and stylish lounge, dining area and sun deck
Argo Dive Facilities
Dive gear
Nitrox
Rebreathers
Two dive tenders
Knowledgeable and passionate dive staff
Food & Drinks Aboard Argo
The menu aboard offers a delicious combination of American and local cuisine. Meals are varied and well balanced, and we also offer delicious snacks between dives. Food is abundant with plenty of fresh tropical fruit and salads and is served buffet style. Please let us know of any special dietary needs or requests, but try to be lenient, as storage and preparation space is limited.
Soft drinks: Free, Bottle of wine: $15 - $35.
Hard liquor is not available on board but guests are welcome to bring their own, which should be purchased prior to boarding.
Argo Liveaboard Deck Plan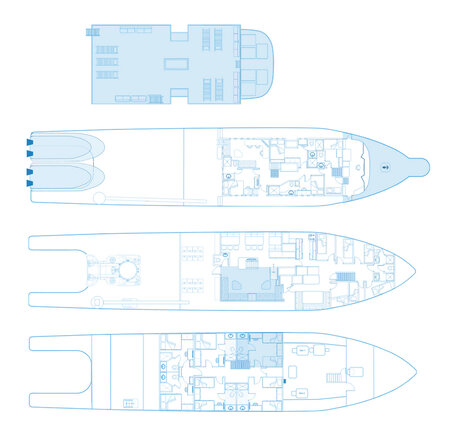 Schedule, Rates & Availability
Argo Schedule & Rates

---
Prices are in USD, per person and do not include national park fees.
[See also: Inclusions & Exclusions]
Important Note: The Argo Liveaboard is currently not taking bookings due to a long term charter during 2023 and possibly into 2024. Contact us for some great alternatives or more information.
Inclusions
Ground transportation San Jose - Puntarenas and return
11-day / 10-night cruise with all meals, including beer
Dive-master service; Seven full days of action-packed diving with three dives per day (incl. nitrox fills, tanks and weights)
Exclusions
Mandatory: National Park Fee $490 per person ($70 per day, on a 10-night trip there are 7 diving days spent at the Cocos Island Marine Conservation Area)
The cost of DeepSee Submarine dives
Possible fuel surcharge (US$200 per person)
RATES & AVAILABILITY
For more information on other departure dates, rates, and on availability email us at info@bluewaterdivetravel.com or call us at +1-310-915-6677 and we will gladly help you plan your dream dive vacation!
Dive Information & Destinations

---
Cocos Island Overview
Located in the Eastern Tropical Pacific, 300 miles southwest of Cabo Blanco, Costa Rica, lies the renowned Cocos Island Marine Park. A rugged yet incredibly verdant island, this World Heritage Site is the spectacularly beautiful crown jewel of Costa Rica's many National Parks. In 1994, after several return visits to the island, Jacques Cousteau pronounced Cocos, "The most beautiful island in the world."
Thanks to the breathtaking marine life in its waters, Cocos Island was named one of the ten best scuba diving spots in the world by PADI (Professional Association of Diving Instructors) and a "must do" according to diving experts.
Among Cocos Island's many attributes is a startling degree of biodiversity. This island's world-renowned waters explode with life including innumerable white tip reef sharks, schooling hammerheads, dolphins, mantas and marbled rays, giant moray eels, sailfish, and of course the occasional whale shark. Other common encounters are large schools of jacks and tuna, silky sharks, silver tips, marlin, Creole fish, green turtles and octopus.
Cocos Island is also home to at least 27 endemic fish species including the exotic rosy-lipped batfish. The terrestrial life at Cocos also exhibits a high number of endemic species. The island is home to 70 of the 235 identified vascular plant species in the world, some 25 species of moss, 27 species of liverwort and 85 species of fungus.
There are upwards of 87 bird species, including the famous Cocos Island cuckoo, finch and flycatcher. There are 362 species of insects, of which 64 are endemic. Two native reptiles are found only on the Island.
Beneath the waterfalls and in the rivers, are freshwater fish that mystify scientists by their very existence. Because of its remote location and abundance of fresh water, Cocos has, throughout history, been a favorite re-supply station for pirates, whalers and sailors.
Early visitors left pigs on the island as a self-perpetuating source of fresh meat. To this day feral pigs and deer abound, much to the detriment of the island's indigenous ground-nesting birds. These animals, introduced by man, are also responsible for hastening soil erosion with their digging, which undermines and degrades the native vegetation.
If you have extra time before or after your liveaboard trip to Cocos, be sure to consider an extension on the mainland of Costa Rica. Read about Costa Rica's Best Diving Sites if you'd want to add more diving, and contact us for information on what kind of land tours we can book for your to explore the history and wildlife of Costa Rica.
Dive Trip Information
Dive Experience for Cocos Island
Cocos Island presents the same diving challenges as any other Pacific, Indian or Red Sea diving location. Cocos, however, is not recommended for inexperienced divers because it is an open ocean destination that requires advanced open water diving skills.
Please note, the minimum required level of certification to dive at Cocos is Open Water and we strongly recommend having at least the Specialties of Deep & Night Diver. We also recommend having a minimum of 25 hours of diving experience.
Most dives are at depths deeper than 60 feet / 18 meters. At Cocos, currents and visibility can be entirely different in just a few hours.
Please note, the dive guide will always be the final authority as to whether a passenger can do any specific dive.
Dive Conditions
Most of the action is at 60-90 feet /18-27 meters, and most dives are between 60-130 feet / 18-40 meters. The safety limit is set at 130 feet / 40 meters and a dive computer is necessary. Visibility averages 60-100ft/18-30m.
Water Temperature
Average temperature is 79 F to 84 F (26 C to 29 C), although it can be a few degrees lower under the occasional thermocline.
Certification
All divers must bring proof of certification by a national certifying agency. The certification must allow the diver to dive to the recreational dive limit of 130 feet (40 meters).
The Dive Master will request to see your certification before you are allowed to dive. If you are certified for Nitrox and rebreathers as well, then remember to also bring those certifications.
Nitrox
To increase safety and bottom time while maintaining safe non-decompression dives the use of Nitrox is recommended. The vessel offers full onboard TDI training in Nitrox, with Nitrox computers rental. Nitrox fills are free for Nitrox certified divers.
The Crossings
When all passengers are boarded, the vessel will take 32-36 hours to reach Cocos Island. Crossings are normally calm, but to prevent motion sickness we advise you to take the necessary precautions. At the conclusion of your trip, we will return to Puntarenas where a bus will be waiting to return you to your San Jose hotel.
Gear to Bring With You
You will need the following gear: 3-5 mm (1/8" to 3/16") wetsuit, mask, fins, snorkel, regulator with visible pressure gauge, a mandatory dive computer, buoyancy compensator, depth gauge, dive gloves, weight belt (without weights), dive light, and dive watch. It is recommended that you mark each piece of gear with waterproof paint or tape. We suggest you put all or most of the above items in a carry-on bag. There is ample storage space for your diving equipment, including your own personal locker.
Equipment Provided Onboard
We provide you with weights for your weight belt: 2, 3, 4, and 6 lbs. (1, 1.5, 2 and 3 kilos). We also provide you with air or Nitrox tanks -- 80 cubic ft. aluminum (12 liters). Please note, the tanks are standard yoke (INT), not DIN. Please notify in advance if you need an adaptor.
Rental Equipment Onboard
You can rent a complete line of ScubaPro dive gear: BCD, regulator, wetsuit, mask, fins, snorkel, and Aladin Nitrox dive computers. There is a limited supply of 15 Liter steel tanks. If you would like to rent one, make sure to reserve it well ahead of time.
sample itinerary
Day 1 - Upon arrival in San Jose, Costa Rica, you will need to take a taxi to your hotel. There are plenty of taxies available, even big cars for those of you who carry a lot of gear, or we can arrange an airport transfer. The same evening, the Undersea Hunter Group representative will fax you to confirm your pick up time, the next day. Evening at your leisure.
Day 2 - You will be picked up before noon at your hotel and transferred by bus to Puntarenas, a seaport village where the ARGO boards its passengers. That afternoon, you will begin the cruise to Cocos Island.
Day 3 - All day of travel. There will be ample time to arrange dive and camera gear. The cruise gives you an opportunity to get acquainted with the other divers.
Day 4 to 9 - Spent diving the pinnacles around the perimeter of Cocos Island. Divers usually average three dives per day at depths of 60-100' (18-30 meters) or more for up to 21 dives during the trip. Water temperature of approximately 78-82F (27-30C).
Day 10 - Make the last 3 dives before the cruise back to Costa Rica and reality!
Day 11 - All day to discuss the diving and to compare your adventures.
Day 12 - Arrival in Puntarenas. Immediately after breakfast you will be transported back to San Jose. Upon arrival in San Jose we recommend that you spend an additional hotel night prior to departing the country
Other Information

---
Boat Specifications
Length: 129 ft / 39 m
Beam: 26 ft / 8 m
Draft: 12.5 ft / 3.8 m
Displacement: 205 tons
Construction: Steel
Bow Thruster: 360 bow thruster ( Perkins T6 240 HP )
Engines: CAT D398TA; 634 kW (850 hp) @ 1225 rpm
Bow Thruster: 360 bow thruster ( Perkins T6 160 HP )
Hydraulic Power Pak: GM 12-71 ( 350HP )
Cruising Speed: 10 knots
Maximum Speed: 11 knots
Range: 4000 Nautical Miles
Endurance: 20 days
Tenders: Dive support: 3 x Privateer 24 ft. (with twin 115 HP outboards)
Generators: 2 CAT 3304 PCNA (75kw and 65kw) 208 VAC, 3 Phase generators 1 portable generator 5kw
Fuel Tank: 15.000 gallons US
Water Tank: 11.000 gallons US
Safety: Two 25-person life rafts. Complete boat, crew and passenger safety gear. Firefighting system throughout the vessel. Extensive first aid kit. 20 personal diver locator systems.
Scuba Compressors: LP 280 Nitrox Membrane System 2 Bauer HP Compressors H13-E3
Scuba Tanks: 30 tanks 80 cu.ft. Aluminum 100 cu.ft. Steel tanks (Advanced Reservations Required)
Technical Diving: Full oxygen, nitrox and rebreather service, passengers must bring their own rebreathers.
Practical Information
Time Zone: UTC-6
Local Currency: CRC (Costa Rican colón)
Language Spoken: English & Spanish
Electricity: 110 & 220 V
Payment Onboard: Cash, VISA, Mastercard, AMEX
Underwater Gallery

---