Destination: Philippines
Bohol, Cebu, Malapascua, Tubbatha, Apo Reef & Wrecks of Coron (5 - 9 Nights) | From $500++/night

---
Azores Liveaboard Quick Pitch
Atlantis Azores is a 107-foot luxury dive liveaboard yacht services Tubbataha via Puerto Princesa, Bohol (Balicasag, Alona Beach, Cabilao, Sumilon and more) from Atlantis's beautiful Dumaguete resort as well as Anilao, Apo Reef and Coron from their world-famous Puerto Galera resort.
Find out why Atlantis Dive Resorts & Liveaboards are our Preferred Partner in the Philippines.
Why You'll Like Atlantis Azores
8 spacious cabins for up to 16 divers
Up to 5 dives daily (including 1-night dive)
Rebreather & technical diving can be pre-arranged
Custom-built for diving
Nitrox available
Locations
Coron, Apo Reef, and Anilao Charters: These charters go in and out of Atlantis Puerto Galera. Travel to Atlantis Puerto Galera from Manila is a 3 -3 1⁄2 hour van and boat transfer. The departure time is 7 pm.
Tubbataha Charters: A 60-minute domestic flight from Manila to Puerto Princesa; it's a 15-minute air-conditioned van ride from the airport to the pier. The departure time is 7 pm.
Bohol and Cebu-Malapascua Charters: Travel to Atlantis Dumaguete is usually a 1-1⁄4 hour domestic flight from Manila. Charters operate in and out of Atlantis Dumaguete, which is 15km from Dumaguete airport; about a 30-minute drive. Departure time for both charters is usually early the following morning.
Dive Overview
The newest itinerary from January through early March takes in the wrecks of Coron with stops in Anilao and Apo Reef along the way. The Tubbataha seasons runs from mid-March through early June – explore kilometers in this pristine protected UNESCO World Heritage site located 100 miles offshore. Dumaguete is the base for the months of June through December and the Visayas Safari is a unique opportunity to take in multiple beautiful islands in one week – something that would take several weeks to do any other way. Special Malapascua "Thresher Shark Trip" also available, departing from the Dumaguete resort.
Required documents for diving permits:
Bohol/Malapascua-Cebu Charters: Copies of guests dive certifications have required a minimum of 60 days before embarkation. Tubbataha Charters: Copies of guests passports have required a minimum of 60 days before embarkation.
[See: Cebu & Bohol Dive Travel Guide, Malapascua Dive Travel Guide, & Tubbataha Dive Travel Guide]
Check Out This Awesome Video!
Accommodations
Types of Cabins, Amenities and Photos

---
Atlantis Azores Cabin Details
The Azores liveaboard has seven deluxe staterooms with double and single bunk-style berths, ensuite lavatory, private head and shower, hairdryer and shower gel. All situated below deck. The Owner's suite is located on the upper deck with double and single bunk-style berths. The suite is larger and has a desk, large picture windows, and extensive storage space.
General Facilities

---
Dining Area (LEFT) & Jacuzzi (RIGHT)
Sundeck (LEFT) & Dive Deck (RIGHT)
Atlantis Azores Boat Features
Restaurant with excellent meals and snacks & drinks available throughout the day
Complimentary servings of beer, wine and local rum included in the rates
Flat-screen TV and library of movies and books
Board games and cards
Land excursions throughout the trip
Sundeck with chaises lounges, wet bar, and hot tub
ATLANTIS AZORES DECK PLAN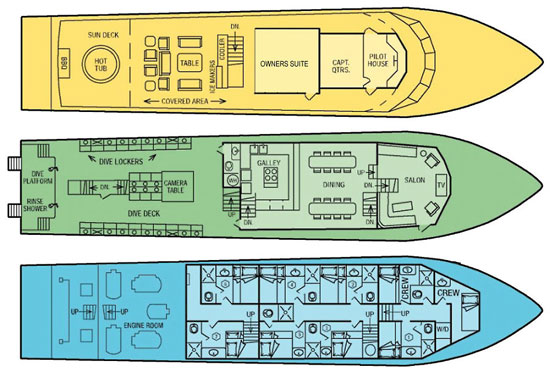 Atlantis Azores Dive Facilities
Spacious dive deck
A roomy three-tier camera table with charging stations
Individual dive gear storage
Warm freshwater showers on the dive deck
Two zodiac tender boats
Up to 5 dives a day (including 1-night dive)
PADI courses available upon request
Nitrox available
Technical diving and Rebreather diving is possible if pre-arranged.
SCHEDULE, RATES & AVAILABILITY
Atlantis Azores Schedule & Rates

---
Prices are in USD, per person and include taxes. National park fees are not included. Please contact us for the latest availability in 2020-2022.
[See also: Inclusions & Exclusions]
Inclusions
All meals
Water, tea, coffee, juices, snacks between meals and after dives, local beer & wine, local soft drink
All diving (tanks, weight, boat, and guide)
Wi-Fi
Exclusions
Transfers
Nitrox
National Park Fees
RATES & AVAILABILITY
For more information on rates and availability email us at info@bluewaterdivetravel.com or call us at +1-310-915-6677 and we will gladly help you plan your dream dive vacation!
Dive Information & Itineraries

---
Tubbataha Reef Overview
Tubbataha is located in the Sulu Sea, at the center of the Coral Triangle between Indonesia, Malaysia and the Philippines. Rarely visited due to its location and its status as a marine preserve, Tubbataha is made up of two reefs, simply referred to as the North and South Reefs. The North and South Reefs both enclose a sandy lagoon. On the southern tip is an islet with a lighthouse. This is used as a rookery for birds and is frequented by turtles. Tubbataha Reefs Natural Park is home to no less than 573 species of fish, 373 species of corals, 11 species of sharks, 12 species of dolphins and whales, nestling hawksbill and green sea turtles. Here's the typical itinerary:
Day 1: NORTHERN TIP OF NORTH ATOLL
Day 2: SOUTHERN END OF NORTH ATOLL
Day 3: NORTHERN TIP OF SOUTH ATOLL
Day 4: SOUTHERN END OF SOUTH ATOLL
Day 5: SOUTHEAST OF NORTH ATOLL
Day 6: JESSIE BEAZLEY REEF
Watch this awesome video to learn more about Tubbataha
Bohol Overview
The Visayas is one of the three main island groups in the Philippines. Enjoy six fabulous days diving from the Atlantis Azores around one of the most beautiful and bio-diverse regions in Asia. Easy cruises each evening will take you from one great dive site to another. With quick transfers directly from our beautiful Dumaguete resort, consider a combo trip with Atlantis Dumaguete for multiple weeks, first-class dive vacation at a very reasonable investment. Ask your dive travel representative about our combo vacation or location discounts. Here's the typical itinerary:
DAY 1 & 2: MOALBOAL – PESCADOR ISLAND
DAY 3: OSLOB AND SUMILON ISLAND
DAY 4: BALICASAG ISLAND
DAY 5: BALICASAG ISLAND AND/OR PANGLAO ISLAND OR LAND TOUR
DAY 6: HALF A DAY DIVING IN EITHER APO ISLAND OR SIQUIJOR
DAY 7: DISEMBARKATION 8 AM
Malapascua Cebu Overview
The exciting Malapascua – Cebu charter offers some of the best diving in the Philippines, including Sumilon Island, Pescador Island & Malapascua's Gato Island, home of a sea crate protected breeding sanctuary. This charter includes another Malapascua favorite, Monad Shoal, known for frequent sightings of thresher sharks as well as manta rays. In addition to these pelagic species, the Malapascua area offers a wide variety of critter diving not to mention abundant reefs and wall diving. Leaving Malapascua, we head to Calanggaman Island, one of the Philippines' most beautiful islands. Next, we head to Bohol for again a wide variety of reef, wall & critter diving as well as some land tour opportunities for those so inclined. As a Grand Finale, we finish the itinerary on the dramatic walls of Balicasag, one of our favorite dives. Here's the typical itinerary:
DAY 1: OSLOB AND SUMILON
DAY 2: MOALBOAL
DAY 3: PESCADOR ISLAND
DAY 4 & 5: GATO ISLAND, MONAD SHOAL & MALAPASCUA
DAY 6: MONAD SHOAL & CALANGGAMAN ISLAND
DAY 7: BALICASAG
DAY 8: PANGLAO
DAY 9: HALF A DAY DIVING IN EITHER APO ISLAND/ SIQUIJOR
DAY 10: DISEMBARKATION 8 AM
Apo Reef & Wrecks of Coron Overview
Atlantis Azores liveaboard latest exciting itinerary is to the sunken World War II wrecks of Coron Bay via Apo Reef. A typical charter may start with a day exploring the macro life of Anilao (home to over 300 species of nudibranch) or diving the world-famous Verde Island Drop Off, then it's off to Apo Reef – referred to by many as a "mini-Tubbataha" – for one of two days you will spend exploring this 34-mile long reef system. Twenty four Japanese ships were sunk in Coron Bay on September 24, 1944, by the US Navy. You will have an opportunity to dive the best of these during our time there, taking in both the unique history of the area and the amazing amount of fish and coral life that now cover the wrecks. Here's the typical itinerary:
DAY 1 & 2 – Apo Reef
DAY 3 & 4 – Coron Wrecks
DAY 5 – Nanshin Maru & Dimipac Island
DAY 6 – Kyokuszan Maru
Other Information

---
Boat Specifications
Year Built: 1989
Year Refit: 2012/2015
Builder: Seacraft Shipyard, Amelia, Louisiana
Construction: Aluminum Monohull
Length: 107 feet
Beam: 18 feet
Draft: 7 feet, 1 inch
Cruising Speed: 7 – 8 knots
State Rooms: 8
Passengers: 16
Crew: (6+)
Range: 2,500 nautical miles
Tenders: 2 zodiac tender boats
Practical Information
Time Zone: UTC +08:00
Local currency: Philippines Peso (Php)
Payment: Cash or credit cards (VISA, MASTERCARD or AMERICAN EXPRESS are accepted)
Electricity: 110v. Transformers and a charging station are available. Sockets are flat two-pin (American style). A battery charging station for 220V also available.
Underwater Gallery

---