The Bellafonte, Bonaire
E.E.G Boulevard 10, Kralendijk, Bonaire | 1 guided dive from $59/pp

---
The Bellafonte Hotel Quick Pitch
The Bellafonte is a luxury Caribbean hotel with a prime oceanfront location, stunning views, and a relaxed atmosphere. The hotel has private fully-equipped 1 or 2 bedroom homes with a 5-star full-service experience. With the largest private dock on the island, the guests have direct access to a world-class Bonaire underwater marine park either diving or snorkeling.
Quick Information
Dive Center: On-site tank exchange from VIP Diving, tank rinsing station, and dive locker.
Amenities: AC, pool, onsite yoga & paddleboarding, fully equipped kitchen, daily housekeeping, turndown, shuttle and grocery service, dive locker, and on-site dive tank exchange
WiFi: Yes, free
Nearest International Airport: Bonaire International Airport (also known as the Flamingo International Airport)
Airport shuttle: Yes, an additional charge
How to Get There
The Bellafonte luxury hotel is located at the most convenient location and just a few minutes drive away from the main airport. There are often direct flights from Newark, Atlanta, and Houston, Texas. These flights depend on demand so they may not be offered in the low season.
Dive Overview
Bellafonte offers everything a diver wishes for. They have an on-site dive tank exchange from VIP Diving, the possibility to rinse tanks and a dive locker. Scuba divers can choose between various diving packages including packages with unlimited air/nitrox and weights.
Accommodations
Types of Rooms, Amenities and Photos

---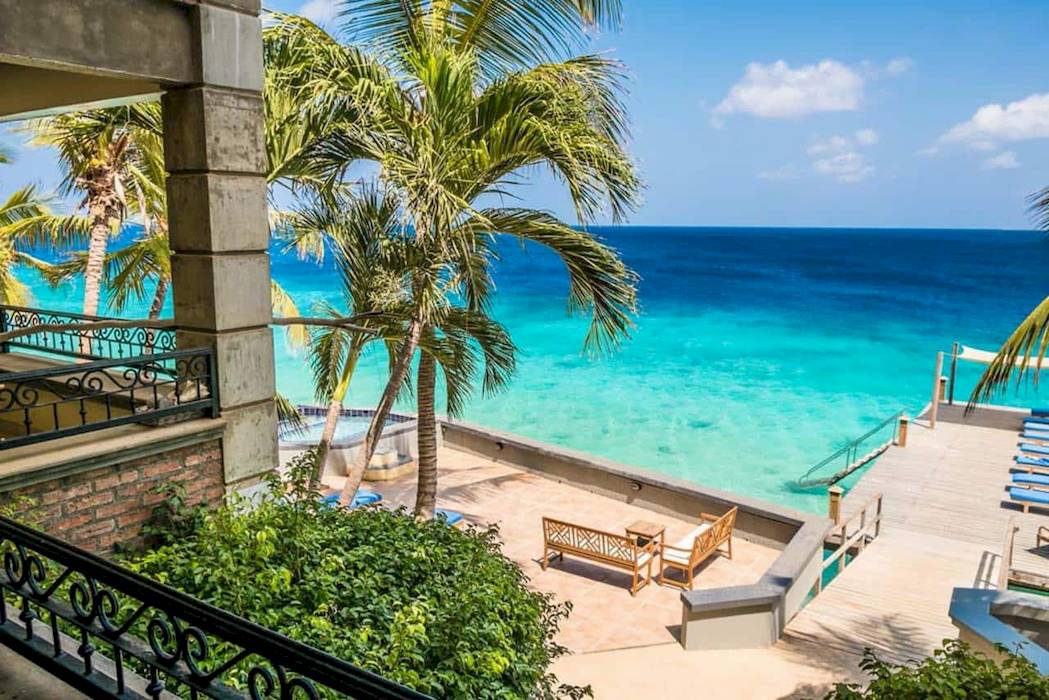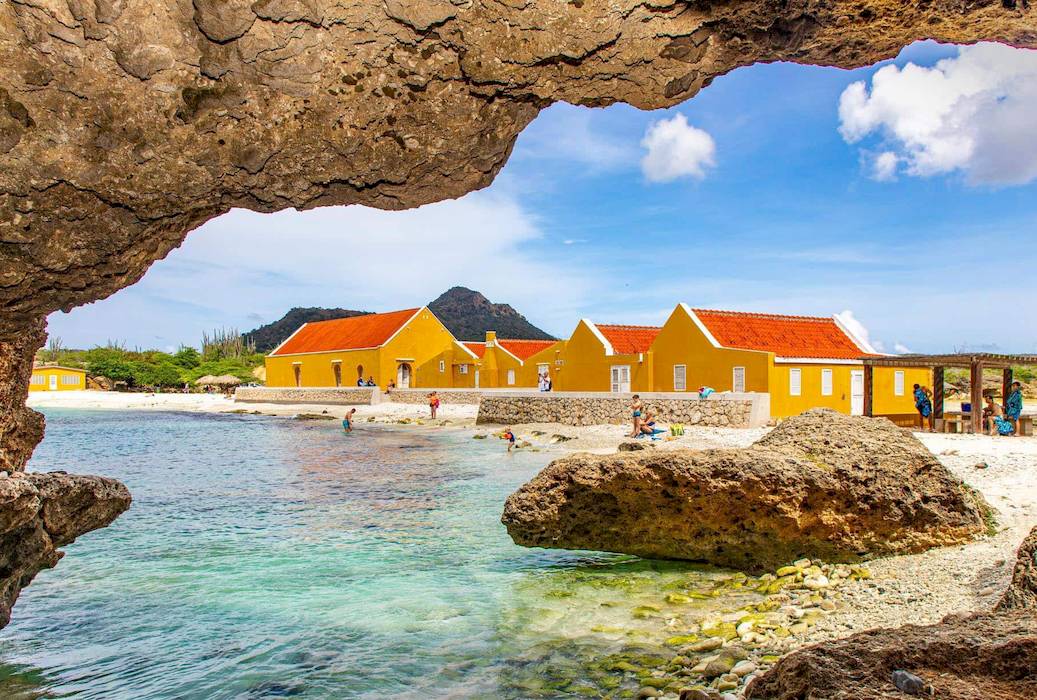 The Bellafonte Luxury Hotel Room Overview
With a full-service hotel experience, these luxury apartments are conveniently located with bars and restaurants within walking distance and just a short drive from local shops.

All apartments are air-conditioned, have king-size beds and are accessible by stairs or elevator. Ground floor suites have direct access to the pool, sundeck and pier. Complimentary daily housekeeping service, amenities, linens, and toiletries are all included.
STANDARD STUDIO
Garden view rooms offering generous layouts private balcony, bathroom, and kitchenette with refrigerator and microwave.
Features: Maximum 2 persons, size 33 m2, King size bed or 2 twins and rollaway bed available.
DELUXE STUDIO
These spacious studios have a side ocean view and a fully equipped kitchen with a stove and oven. Furnished with an eye for detail and comfort; ideal for longer stays.
Features: Maximum 2 persons, size 33 m2, King size bed or 2 twins and rollaway bed available.
Junior suite
Suites with the comforts of home, including one bedroom, fully equipped kitchen, living room and private balcony with beautiful views overlooking the Caribbean Sea.
Features: Maximum 2 persons, size 50 m2, King size bed and rollaway bed available.
senior suite
True home away-home-from-home suites offering a large kitchen and dining area. Both the bedroom and spacious living room have breathtaking Caribbean Sea views and direct access to your large private oceanfront balcony or terrace.
Features: Maximum 2 persons, size 103 m2, King size bed, and rollaway bed available.
Two-bedroom Suite
The Grand Suite provides two bedrooms, located at the opposite end of the unit for maximum privacy, each with its own bathroom. Enjoy spectacular oceanfront views from the master bedroom and balcony or terrace. These suites are perfect for families or couples vacationing together.
Features: Maximum 4 persons, size 121 m2, King size bed or two twins, rollaway bed available.
penthouse
Located on the top floor, the luxurious penthouses offer the ultimate privacy. With their secluded wraparound balcony, they provide one of the best panoramic views on the entire island. The accommodation consists of two large bedrooms each with its own spacious bathroom and private balcony. Expansive open-plan living and dining areas flow into a well-appointed modern kitchen and breakfast area.
Features: Maximum 4 persons, size 121 m2, King size bed or two twins, rollaway bed available.
hotel Facilities

---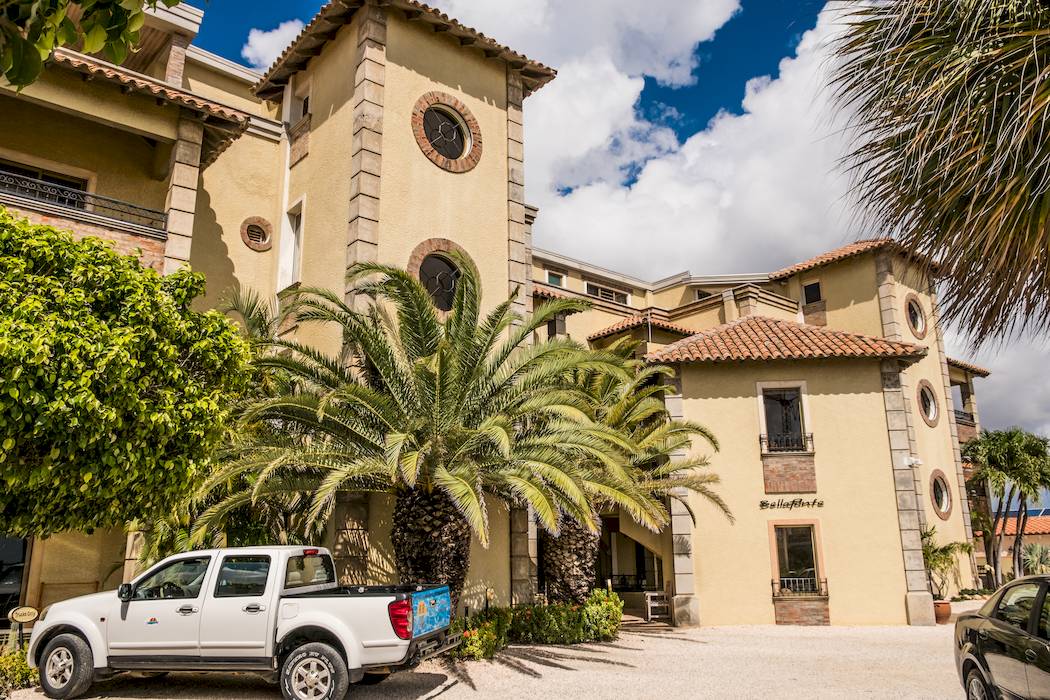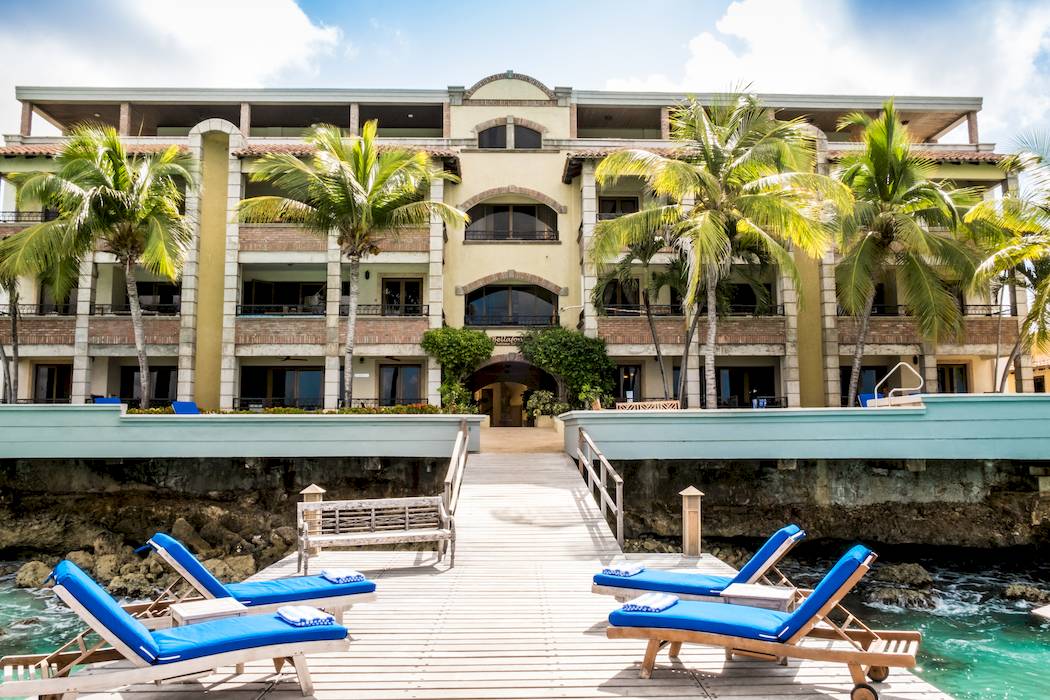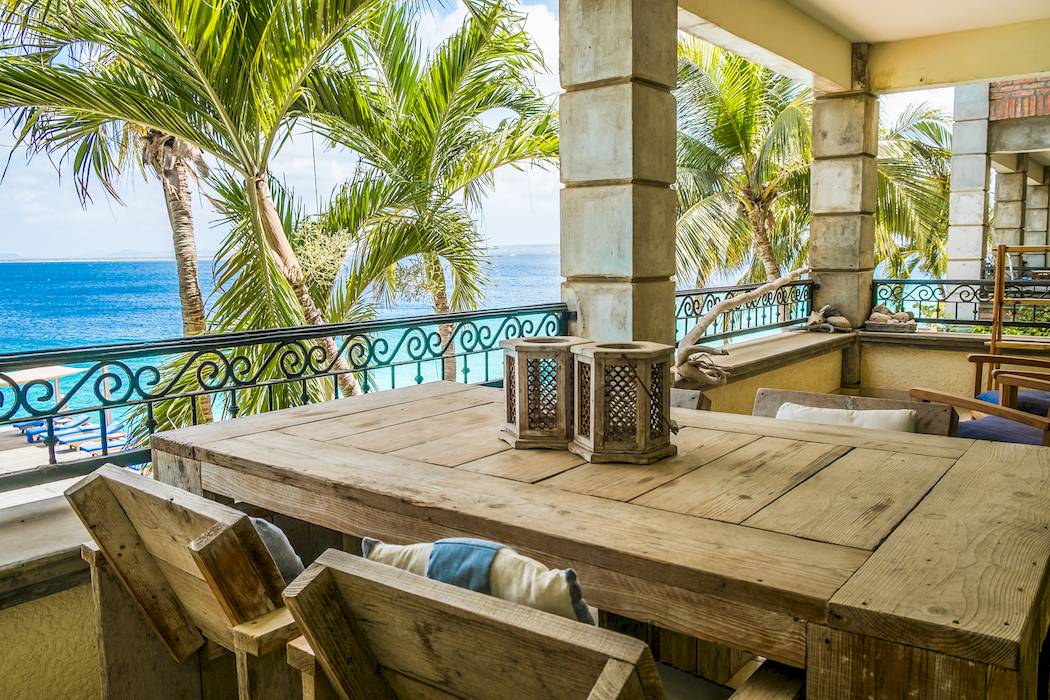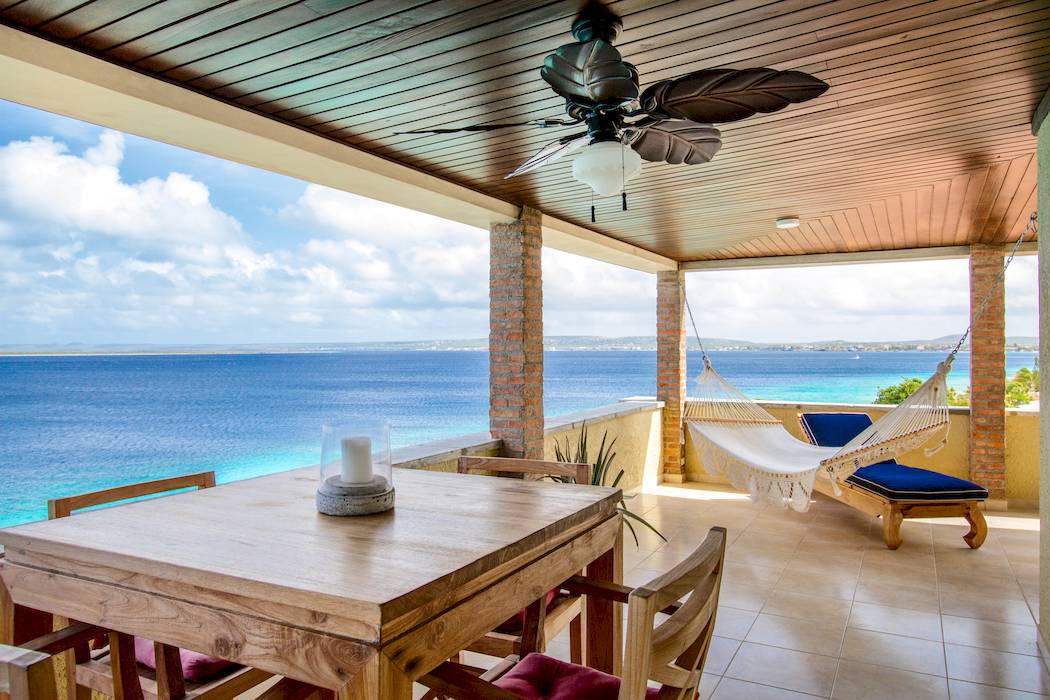 The Bellafonte Hotel Features
Pool
Complimentary afternoon drinks
Grocery & On-site restaurant service
Fully equipped kitchens
On-site tank exchange & dive locker
The Bellafonte Hotel Food & Drinks
Breakfast, lunch, and dinner are served right next door at "The Beach" restaurant. If requested, the food can be also delivered to your home.
The Bellafonte Hotel Activities
Yoga
Paddleboarding
Snorkeling with complimentary snorkel sets
Fitness center
Diving
packages & Rates
Bellafonte Hotel Accommodation & Diving Packages & Rates

---
RATES & AVAILABILITY
For rates and availability drop us an email at bookings@bluewaterdivetravel.com or call us at 310-915-6677 and we will gladly help you plan your dream dive vacation!
Dive Information

---
Diving in Bonaire
Bonaire has a strong diving infrastructure and is one of the top shore diving destinations in the world, which is why it is often referred to as the shore diving capital of the world. The reef is only a short swim from shore and in pristine condition due to many decades of protection. While scuba diving around Bonaire, divers can encounter various marine life like turtles, angelfish, barracudas, crabs and also explore some exciting wrecks.
[Read More: Bonaire Dive Travel Guide]
Dive Center Information

---

VIP Diving Dive Center Overview
VIP Diving is a unique dive center with incredible attention to detail and service, providing top-notch equipment and visiting the best dive sites. Additionally, VIP Diving pays attention to making a positive impact on sustainability in Bonaire by using green energy, supporting local initiatives for nature conservation, and much more!
Other Information

---
Practical Information
Currency: USD
Electricity: 127V /50Hertz, some appliances may overheat
Visa: None needed for many countries, check the list here. You can stay for 3 months.
Language: English, Dutch, and Papiamentu
Safety: Bonaire is fairly safe, but do not leave valuables unattended in your car or room.
Underwater Photos

---
Coming Soon!