Blue Horizon LIveaboard, Red Sea
From the Strait of Tiran in the north all the way down to St. Johns in the deep south (7 Nights) | From $143++/night

---
Blue Horizon Liveaboard Quick Pitch
The Blue Horizon liveaboard, also known as the Red Sea Master, graciously accommodates 26 divers across 13 cabins on three decks. M/Y Blue Horizon takes Red Sea liveaboard luxury to a whole new level and is truly deserving of the title 'Best Liveaboard' in the 2016 and 2015 Sport Diver awards, as well as 'Liveaboard of the Year' awarded by DIVER magazine in their recent industry awards.
Check out our 2019 trip report and photos: Red Sea Dive Adventure on the Blue Horizon to learn what it's like explore the Red Sea aboard this beautiful boat!
Location
Blue Horizon departs from Port Ghalib.
Dive Overview
There is something suitable for all divers, from novice through to highly experienced, with a range of wildlife that is often underrated by those who have never been.
[See: Red Sea Dive Travel Guide]
Accommodations
Types of Cabins, Amenities and Photos

---
Blue Horizon Cabin Overview
Blue Horizon offers 4 classic twin cabins, 5 classic lower-deck double cabins, and 4 premium mid-deck double cabins. King suite upgrades are available and all cabins benefit from air conditioning, ensuite facilities, mini-refrigerators, and personal entertainment systems.
General Facilities

---
Jacuzzi (LEFT) & Dive Deck (RIGHT)
Blue Horizon Boat Features
Generous sundeck on the fly bridge
Separate bar and sky lounge with state of the art entertainment system
Jacuzzi
Plenty of room for guests who prefer to relax and unwind in the shade
Blue Horizon Dive Facilities
Dive deck
Nitrox membrane
Equipment Rinse Tank
Camera Rinse Tank
Camera Table
Deck Towel
2 Deck Heads
2 Fresh Water Showers
2 Tenders
Scuba equipment rental: Aqualung
Booster pump
Technical blending pane
12l Aluminium Tank
15l Aluminium/Steel Tank
Weights
DIN and INT
Tech Diving Friendly
Re-breather Friendly
Re-breather Rental
Surface Marker Buoys
Food & Drinks Aboard Blue Horizon
Full board includes 3 meals a day plus snacks. Fresh coffee, carbonated soft drinks, fruit juices and black & herbal teas are available for free. Alcoholic beverages are also available; prices vary.
Blue Horizon Liveaboard Deck Plan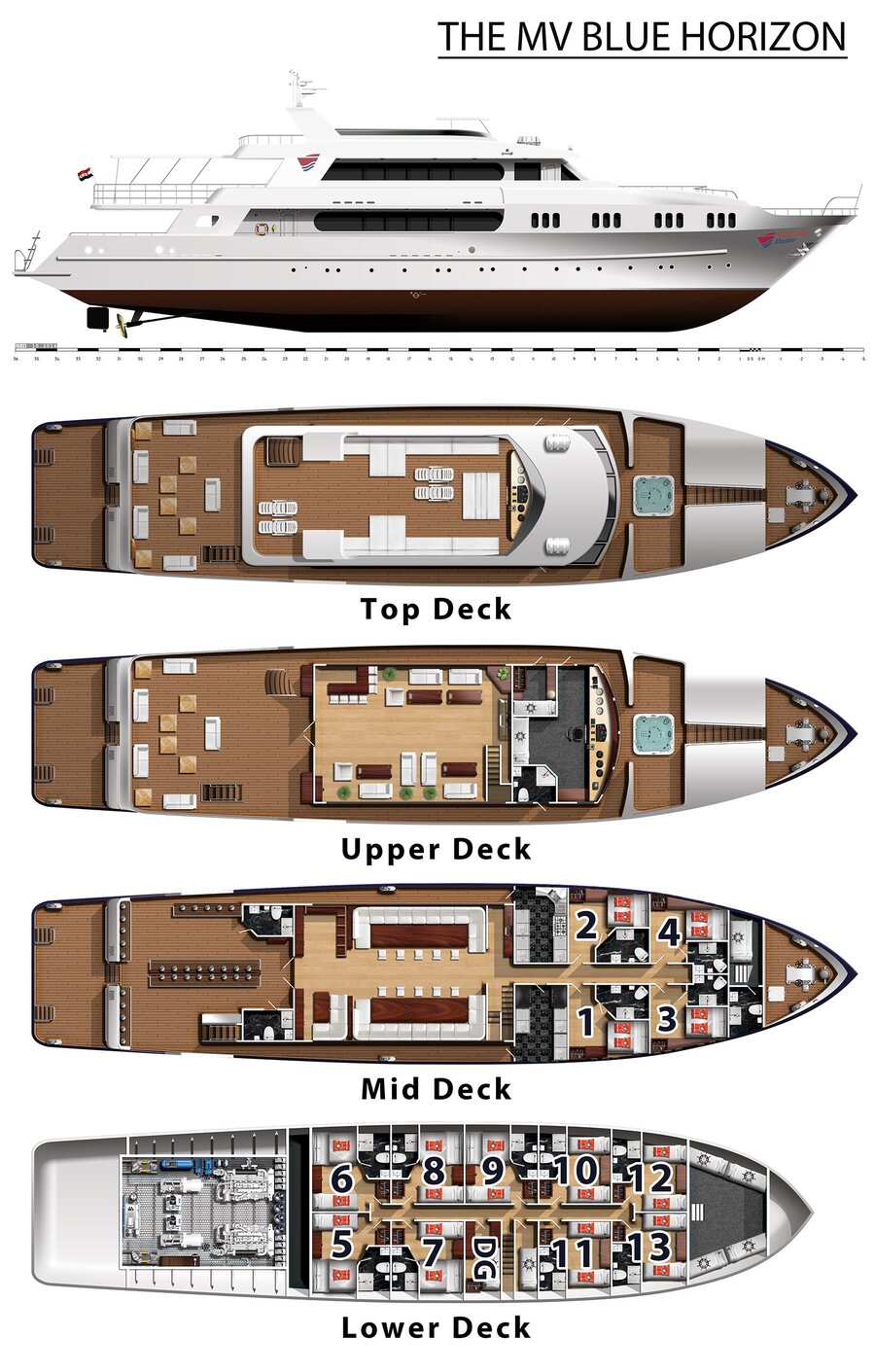 Schedule, Rates & Availability
Red Sea Schedule & Rates

---
Prices are in USD, per person and include taxes. Safari service fees are not included.
[See also: Inclusions & Exclusions]
Inclusions
7 nights full board accommodation in a Classic cabin
Tea/coffee/water/soft drinks
Snacks
6 days diving
12L cylinder with air fills
Weights
Exclusions
Mandatory: Safari service fees
Cabin upgrade
Nitrox
Courses
Alcoholic drinks
RATES & AVAILABILITY
For more information on other departure dates, rates, and on availability email us at info@bluewaterdivetravel.com or call us at +1-310-915-6677 and we will gladly help you plan your dream dive vacation!
Dive Information & Itineraries

---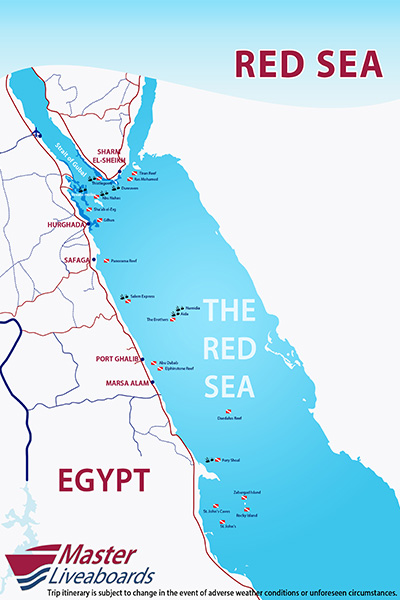 Red Sea Diving Itinerary
On a typical day they offer up to 4 day dives, however the 4th day dive may be substituted for a night dive when the boat is anchored by a reef. A 7-night itinerary provides for between 18-20 dives, whilst during our 10-night itineraries, up to 30 dives will be possible.
The diving day aboard the Red Sea Master is scheduled as follows:- Light Breakfast followed by a briefing and Dive 1. Full Breakfast, relaxation period, briefing and Dive 2. Lunch, relaxation period, briefing and Dive 3. Snack relaxation period, briefing and Dive 4, where possible. Dinner.
Dive sites vary, with something for everyone on most itineraries. Currents are the norm in many spots so on several itineraries it is recommended that divers have experience beyond beginner level to ensure maximum enjoyment.
Egypt has hot and dry summers and fairly moderate, cool winters; the air temperature can easily touch 40+C (104+F) in summer, while winter is a more comfortable 18-23C (64-73F) with occasional rain and cool nights. Water temperatures vary from 20C in December up to 29C (68F to 84F) in August. Recommended are a 3 or 5mm full wetsuit (summer) and a 5 or 7mm full wetsuit (winter) with a hood/vest in case you feel cold.
BEST OF BROTHERS
With the majority of the week spent at the legendary Brother Islands, this thrilling itinerary with spectacular drop offs gives divers the chance to really get to know this world famous marine park!
Common sightings: Large fish and pelagics
Reefs: Deep drop-offs and exposed plateaus
Wrecks: Two at Brothers, options in the Safaga area
Night dives: Normally two during the week but not guaranteed
Experience required: Moderate
Amount of traveling: Maximum of two overnight journeys
BEST OF WRECKS
The classic itinerary taking in iconic wrecks and stunning reefs across the northern Red Sea!
Common sightings: Lots and lots of metal!
Reefs: As few as possible
Wrecks: A huge selection of the best the Red Sea has to offer
Night dives: Three or four during the week but not guaranteed
Experience required: Moderate
Amount of traveling: Maximum of two overnight journeys
DEEP SOUTH BORDERLANDS
This reef based itinerary is perfect for those who have dived the Red Sea many times before and are looking for something a little different. Zodiac diving is minimal, making this an ideal itinerary for those who prefer diving direct from the liveaboard. Please note that due to the nature of this itinerary, there will be some long sailings between dive sites, which can result in 3 longer dives rather than 4 slightly shorter dives.
Common sightings: Great chance of whitetip reef sharks and bumphead parrotfish!
Reefs: Off the beaten track unique reef systems
Wrecks: Minimal
Night dives: Several during the week but not guaranteed
Experience required: Suitable for all divers
Amount of traveling: Several overnight sailings
DAEDALUS & FURY SHOAL
This itinerary combines the spectacular drop-offs and big pelagics of Daedalus with the stunning reefs and coral gardens of Fury Shoal. This is a great opportunity to dive some of the most famous sites in the Red Sea.
Common sightings: Large fish and plentiful marine life
Reefs: Deep drop-offs, stunning coral gardens and exposed plateaus
Wrecks: Limited - two small wrecks in Fury Shoal
Night dives: Normally two or three during the week but not guaranteed
Experience required: Moderate
Amount of traveling: One or two overnight sailings
NORTH & BROTHERS
Taking in the classic North and the legendary Brother Islands, this thrilling itinerary of spectacular drop offs, famous wrecks and stunning reefs gives divers the chance to enjoy the best of the North and the Brothers marine park!
Common sightings: Large fish and pelagic predators, wrecks and pretty reefs!
Reefs: Deep drop-offs, exposed plateaus and shallow gardens
Wrecks: SS. Thistlegorm, two at Brothers, other options in the North
Night dives: Normally three or four during the week but not guaranteed
Experience required: Moderate
Amount of traveling: Maximum of two overnight journeys
NORTHERN WRECKS & REEFS
This classic itinerary allows you to take in iconic wrecks and stunning reefs across the northern Red Sea!
Common sightings: Dolphins and turtles, lovely reefs and famous wrecks
Reefs: Mainly shallow with some drop-offs
Wrecks: Many - normally 25-50% of dives
Night dives: Almost every night but not guaranteed
Experience required: Suitable for all divers
Amount of traveling: Short distances between dive sites
PROJECT SHARK: SIMPLY THE BEST
The aim of 'Project Shark' is to highlight the global issues facing sharks, with a Red Sea focus, as well as enjoying some of the most spectacular reefs that the Red Sea has to offer. Taking in the world-famous marine parks at Brothers and Daedalus, this thrilling itinerary of spectacular drop offs is perfect for divers keen to glimpse some big animals at these remote off-shore reefs.
Common sightings: Large fish and pelagics
Reefs: Deep drop-offs and exposed plateaus
Wrecks: None
Night dives: Normally one or two during the week but not guaranteed
Experience required: Moderate
Amount of traveling: Several overnight sailings
SIMPLY THE BEST
Taking in the world-famous marine parks at Brothers and Daedalus, this thrilling itinerary of spectacular drop offs is perfect for divers keen to glimpse some big animals at these remote off-shore reefs.
Common sightings: Large fish and pelagics
Reefs: Deep drop-offs and exposed plateaus
Wrecks: Limited - Aida and Numidia at Brothers
Night dives: Normally one or two during the week but not guaranteed
Experience required: Moderate
Amount of traveling: Several overnight sailings
STRAIT OF TIRAN & NORTH
The Strait of Tiran and North cruise allows you to take in what northern Red Sea has to offer as well as the pristine coral reefs of Tiran. The Tiran dive area is found in the entrance to the Gulf of Aqaba and is made up of four main reefs that form the top of an underwater bridge. These reefs, named after British cartographers (Jackson, Woodhouse, Thomas, Gordon), are world famous for their extraordinary diversity of corals and strong south western currents make them home to many large pelagic fish.
Common sightings: Dolphins and turtles, lovely reefs. Maybe something big in Tiran!
Reefs: A mixture of shallow reefs and drop-offs
Wrecks: Limited, but will include SS. Thistlegorm
Night dives: Most nights but not guaranteed
Experience required: Suitable for all divers
Amount of traveling: Short distances between dive sites
DAEDALUS & ST JOHNS
This itinerary combines the spectacular drop-offs and big pelagics at Daedalus with the stunning variety of St Johns. This is an amazing opportunity to dive some of the most stunning reefs in the Red Sea.
Common sightings: Large fish and plentiful marine life
Reefs: Deep drop-offs, stunning reef systems and exposed plateaus
Wrecks: Limited - two small wrecks in Fury Shoal
Night dives: Normally two or three during the week but not guaranteed
Experience required: Moderate
Amount of traveling: Normally three overnight sailings
DEEP SOUTH
This itinerary focuses on the stunning reefs of St. Johns and Fury Shoal. On this safari, divers will have the opportunity to explore a variety of truly unique dive sites home to some very interesting and unusual reef formations.
Common sightings: Large fish and plentiful marine life
Reefs: Deep drop-offs and stunning reef systems
Wrecks: Limited - two small wrecks in Fury Shoal
Night dives: Normally three or four during the week but not guaranteed
Experience required: Suitable for all divers
Amount of traveling: Normally two overnight sailings
ROCKY, ZABARGAD & ST. JOHNS
Taking in the world-famous marine parks of Rocky and Zabargad, as well as focusing on the stunning reefs of St Johns and Fury Shoal, this itinerary offers divers the chance to dive a wide range of dive sites, allowing them to get away from the crowds.
QUALIFICATION NEEDED: You must be a PADI Open Water diver or equivalent and have logged a minimum of 30 dives to join this safari. Please note that night diving and snorkeling is prohibited in the marine park where you will normally spend 2 days of the trip depending on the route. To get the most out of these superb dive sites, many dives will be from a RIB.
Common sightings: A variety of marine life, stunning reef life
Reefs: Deep drop-offs, stunning coral gardens and exposed plateaus
Wrecks: Limited - possibility to dive "The Russian Wreck" at Zabargad Island
Night dives: Normally either two to three during the week but not guaranteed
Experience required: Moderate
Amount of traveling: Several overnight sailings needed
PROJECT SHARK: DAEDALUS & ST JOHNS
The route and time of year of this itinerary have been specifically chosen to increase your chance of diving with sharks. There will also be optional evening seminars to help you learn more about sharks in the Red Sea.
Common sightings: Large fish, pelagic predators and plentiful reef fish
Reefs: Deep drop-offs, exposed plateaus and stunning reef systems
Wrecks: Limited - two small wrecks in Fury Shoal
Night dives: Normally two or three during the week but not guaranteed
Experience required: Moderate
Amount of traveling: Normally three overnight sailings
BROTHERS & ELPHINSTONE
Featuring two of the finest dive sites in the Red Sea, this thrilling itinerary of spectacular drop offs gives divers the chance to spend time exploring both the Brother Islands and Elphinstone Reef.
Common sightings: Large fish and pelagics
Reefs: Deep drop-offs and exposed plateaus
Wrecks: Limited - Aida and Numidia at Brothers
Night dives: Normally two during the week but not guaranteed
Experience required: Moderate
Amount of traveling: Maximum of two overnight journeys
ROCKY & THE SS MAIDAN WITH TEKSTREME DIVING
Technical diving is fast becoming a popular extreme sport with divers looking to go that bit deeper, for that bit longer and see that little bit more in a safe way. Join blue o two with Tekstreme and travel along stunning walls, through deep wrecks and into silent canyons that are teeming with marine life; that's the incredible journey and adventure offered to you with Tekstreme. Begun in 1997 as a TDI facility, Tekstreme Diving has grown substantially over the years and is now one of the only active BSAC technical training facilities in Egypt. In 2011 it was awarded the PADI TecRec Centre rating and in 2012 became a representative for the ever growing technical services offered by SSI from entry level through to Instructor trainer levels. From entry level divers to expedition divers, OC or CCR, Tekstreme Diving provides a custom service for all the technical diving community with no compromises made.
DURATION: 7 nights
PORTS: Port Ghalib to Port Ghalib
QUALIFICATION NEEDED: This Tekstreme southern safari is open to all certified technical divers. On some specific dive sites, trimix qualification is required as the depth is beyond the capabilities and range of the entry level technical diver. This itinerary is designed to fulfill the needs of Extended Range and Trimix divers, using open circuit scuba or rebreather
RECOMMENDED EXPERIENCE: Completed a decompression dive in the last 6 months
Other Information

---
Boat Specifications
Built: 2006
Length: 41 metres
Breadth: 8.75 metres
Draft: 2.4m
Construction Material: Wood
Engines: 2x Cat; 764hp
Cruising Speed: 13 knots
Generators: 3x Cat
Water Storage: 8 tonnes
Tenders: 2
Compressors: 2 x 450Ltr L&W
Passengers: 26
Number of cabins: 13
Practical Information
Time Zone: GMT + 2 hrs in wintertime, GMT + 1 hr in summertime.
Local Currency: EGP (Egyptian Pound)
Language Spoken: English
Payment Onboard: Cash (EGP, Euro, USD and UK Pounds)
Underwater Gallery

---
Photos by Saeed Rashid:
Photos by Dray van Beeck: