Destination: Maldives
The Maldives (7-12 Nights) | From $270++/night

---
Blue Voyager liveaboard Quick Pitch
Originally operating in the Red Sea before being completely refitted and moving to the Maldives in 2015, Master Liveaboards and alliance partner blue o two are proud to present Blue Voyager (formerly known as Maldives Master). The boat has 13 well-designed cabins and she can comfortably welcome 26 divers aboard in spacious luxury.
Location
Most itineraries depart from Male and you will need to book your international flight to and from Male airport.
Dive Overview
It's fair to say that scuba diving in the Maldives has something for everyone, with a variety of kandus and thilas where sightings of reef sharks, manta and even whale sharks can be considered commonplace. Throw in the some of the best night diving, with hunting nurse sharks and huge rays at Mulaku Atoll, some of the most amazing corals in the Indian Ocean and impressive smaller creatures such as leaf fish and ghost pipefish and you have the perfect mix!
Learn more on Diving in the Maldives
Accommodations
Types of Cabins, Amenities and Photos

---
Blue Voyager Cabin Overview
Blue Voyager liveaboard can welcome up to 26 guests on board in her three spacious double suites and ten twin cabins.
Double cabin (LEFT) & Twin Share cabin (RIGHT)
Lower deck: 8 Classic Twin Share cabins
Mid deck: 1 Classic Double cabin
Upper deck: 2 Premium Twin Share cabins and 2 Premium Double cabins
General Facilities

---
Blue Voyager Boat Features
Generous outdoor dining area
Bar
Sky lounge
Jacuzzi
Three sundecks with comfortable seating and loungers
Shaded lounge on the mid deck
Blue Voyager Dive Facilities
Nitrox membrane
Personal Storage
Equipment Rinse Tank
Camera Rinse Tank
Camera Table
Deck Towel
1 Deck Head
1 Fresh Water Shower
1 Tender
Scuba equipment rental: Aqualung
Spacious charging station
12l Aluminium Tank
15l Aluminium/Steel Tank
Weights
DIN and INT
Tech Diving Friendly
Re-breather Friendly
Re-breather Rental
Surface Marker Buoys
Food & Drinks Aboard Blue Voyager
Full board includes 3 meals a day plus snacks. Fresh coffee, carbonated soft drinks, fruit juices and free black & herbal teas are available. Alcoholic beverages are also available; prices vary.
Blue Voyager Liveaboard Deck Plan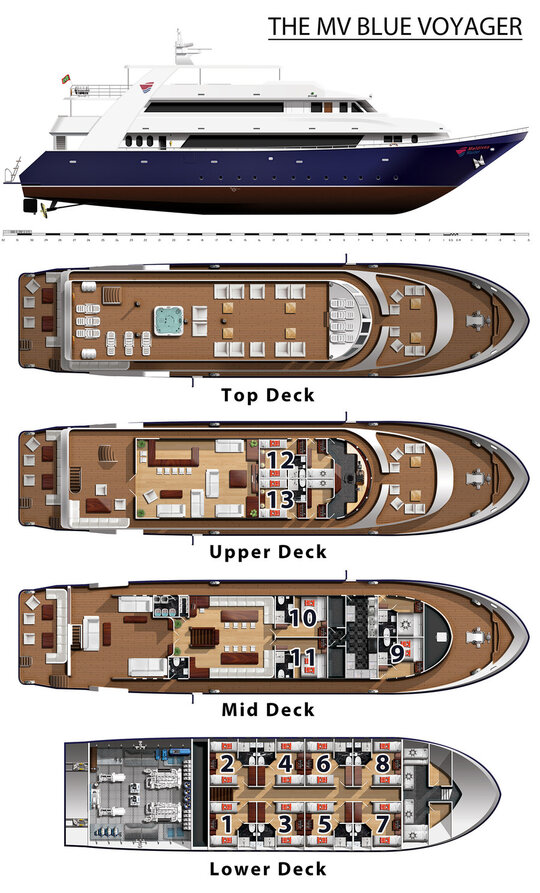 Schedule, Rates & Availability
Blue Voyager Schedule & Rates

---
The rates shown below are per person in USD. See 'Inclusions & Exclusions' for more details.
Inclusions
Full board accommodation
All meals, water, tea, coffee
All diving on 12lt cylinder with weights and air fills
Green tax (GBP bookings only)
Exclusions
Obligatory: Green tax (USD bookings)
Rental equipment
Nitrox
Courses
Alcoholic drinks


Rates & Availability
For more information on rates and availability email us at info@bluewaterdivetravel.com or call us at +1-310-915-6677 and we will gladly help you plan your dream dive vacation!
Dive Information & Itineraries

---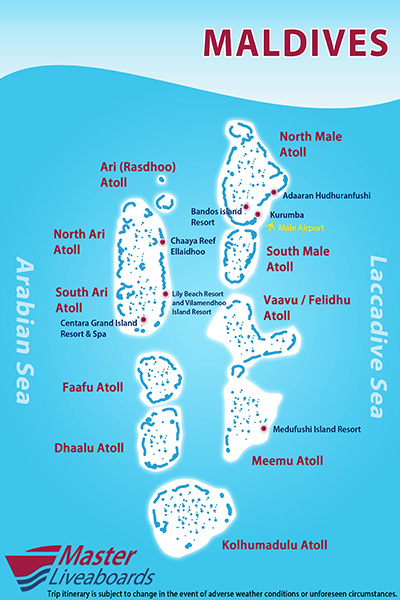 Maldives Diving Itinerary
On a typical day they offer up to 4-day dives, however the 4th day dive may be substituted for a night dive when the boat is anchored within an atoll. A 7-night itinerary provides for between 18-20 dives, whilst during our 10-night itineraries, up to 30 dives will be possible.
The diving day aboard the Master Master is scheduled as follows: Light Breakfast followed by a briefing and Dive 1. Full Breakfast, relaxation period, briefing, and Dive 2. Lunch, relaxation period, briefing, and Dive 3. Snack relaxation period, briefing, and Dive 4, where possible. Dinner. Guests may also take the opportunity to visit the islands and walk upon the pristine beaches.
Dive sites vary, with something for everyone on most itineraries. Currents are the norm in many spots in the Maldives so it is recommended that divers have experience beyond beginner level to ensure maximum enjoyment.
Submerged pinnacles, or thilas, in clear blue water offer the chance for larger pelagics, while there are relaxing drift dives along the outer walls of the atoll for those who love to see coral-covered vistas.
The Maldives enjoy a warm, tropical climate all year round. The driest season, with lots of sunshine, lasts from January to March.
Wet season is from approximately mid-May to November. Year round temperatures do not vary much; around 23C (73F) at night and 31C (88F) during the day. Not surprisingly, water temperatures in the Maldives are also fairly constant over the year; 26-29C (78-84F), except in the far south where it can drop to 24C (75F). Most guests are comfortable in a 3mm or 5mm full wetsuit.
Other Information

---
Boat Specifications
Year Built: 2001
Year Renovated: 2015
Length: 37 metres
Breadth: 8 metres
Draft: 2.4m
Construction Material: Steel
Engines: 2x Cat; 764hp
Maximum guests: 26
Number of cabins: 13
Cruising Speed: 13 knots
Generators: 2 Units
Water Storage: 6 tonnes
Tenders: 2
Practical Information
Time Zone: UTC-4
Local Currency: MVR (Maldivian Rufiyaa)
Language Spoken: English
Underwater Gallery

---