Destination: Maldives
Calyx, Ghazee Magu Miskiymagu 18014 Fuvahmulah City, Maldives | From $240++/night

---
calyx grand Quick Pitch
The perfect combination of charm, peace and quiet, the Calyx Grand is a cozy hotel located on Fuvahmulah. Their attentive and watchful staff ensure that the two-floor hotel will seem like home. The hotel is located near the central area of Fuvahmulah, allowing guests easy access to the restaurants and markets nearby.
Quick Information
No of Rooms: 10
Dive Center: Off-site
Amenities: Reception, dining area, delightful terrace
WiFi: Yes, free
Nearest International Airport: Malé (Velana) International Airport (MLE) or the Gan International Airport (GAN)
Airport Shuttle: Yes, surcharge
How to Get There
Guests may reach Fuvahmulah in two ways. First, guests can take an international flight to the Velana International Airport, also known as the Malé International Airport; and fom there, take a domestic flight to Fuvahmulah City. The other option for guests coming from the Gan International Airport is to take speed boat to Fuvahmulah.
Dive Overview
With clear blue water, white sand beaches, and great visibility, the Maldives is an idyllic scuba diving paradise. The island of Fuvahmulah is famous for its tiger shark, with almost a 100% possibility of seeing one during a dive. This unique island reef is also home to other varieties of shark such as the thresher shark, oceanic Manta, and turtles.
[Read More: Maldives Dive Travel Guide]
Accommodations
Types of Rooms, Amenities and Photos

---
superior king room with jacuzzi
Designed with a parquet floor, this spacious and comfy room is the perfect place to celebrate an anniversary or holiday with your partner. Equipped with both a shower booth and a jacuzzi, the en-suite bathroom is sure to offer guests a relaxing stay. The room is fully air-conditioned, complete with cable TV and an electric kettle. There is also free wifi.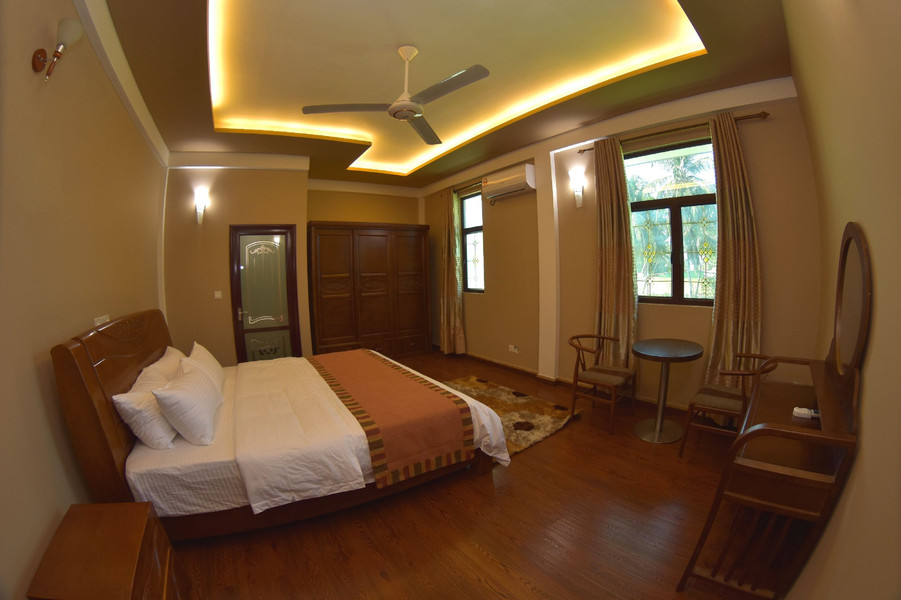 DELUXE DOUBLE ROOM
Each Deluxe Double Room has been designed in a contemporary style to ensure each guest's comfort. The attached toilet is complete with all the facilities one would need. The room is also fully air-conditioned and provides free wifi.

twin ROOM
The Calyx Grand's Twin Room accommodates two people in adjacent twin beds. The rooms offer a serene environment, overlooking the courtyard. Complete with a fully functioning ensuite bathroom and a living space, guests can truly have a relaxing time. The room is also completely air-conditioned and provides free wifi. Cable TV and an electric kettle are also provided.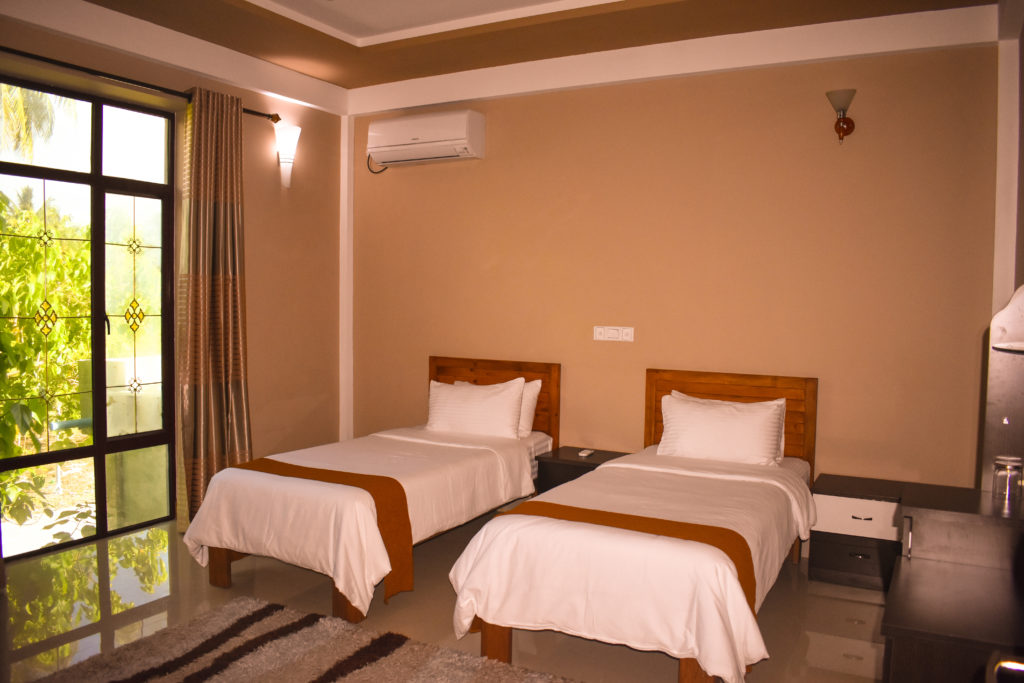 Resort Facilities

---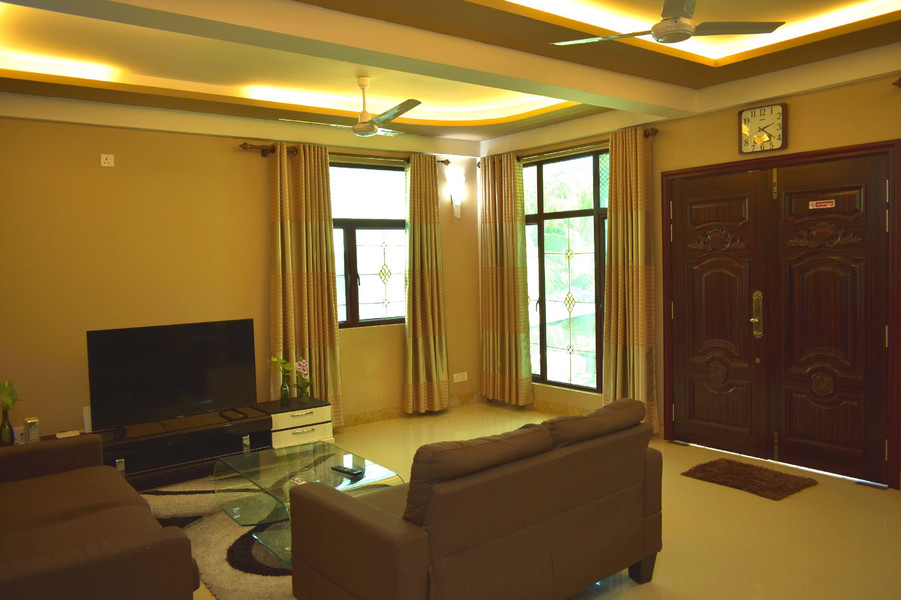 calyx grand Features
Comfortable lounge
Splendid terrace
Reception area
Restaurant
BBQ Facilities
WiFi in all rooms
calyx grand Food & Drinks
The Calyx Grand offers guests breakfast, Beach BBQ, and Beach Dinner. Two types of breakfast are typically served, Continental and Maldivian Breakfast. The Beach BBQ offers guests a spectacular view of the sunset as you enjoy the varieties of local Maldivian dishes. The lavish BBQ is set up by the staff, and guests are provided a personal chef and server. The Beach Dinner is served at Maaneyre Beach or Thoodu Beach. A romantic private dinner option is also available.
calyx grand Activities
Tiger Shark Diving
Snorkeling
Fun bath at Thoodu Beach
Nature park
Historical site visits
Packages & Rates
Calyx Grand Rates

---
RATES & AVAILABILITY
For information regarding rates, availability, and packages drop us an email at bookings@bluewaterdivetravel.com or call us at +1-310-915-6677 and we will gladly help you plan your dream dive vacation!
Dive Information

---
Diving in the Maldives
The colorful Northern Maldives represent amazing diving spots, tranquility and memorable impressions away from typical locations. Haa Alifu Atoll and Haa Dhaalu Atoll, in the far north of the Maldives, are about 280 km from Male and reachable in only 40 minutes by plane.
Reefs with manta rays and reef sharks, but also stingrays, guitar rays, leopard sharks and a variety of critters typical for Indonesia invite you to unforgettable dives. Not only the underwater photographers will appreciate the big, colorful fields of soft corals in the north of the Maldives, but all divers will.
Crystalline turquoise waters, pure white sand, swaying palms, cobalt blue sky … add to all this the colorful and laidback atmosphere of Maldives.
Get jaw-droppingly close to manta rays, sharks, dolphins, turtles, eel, and whirlwinds of Indian Ocean fish.
The quantity and diversity of marine life at Haa Dhaalu is the star attraction of every guest's Maldives vacation. Diving here is very much about the pelagics, principally sharks, and if you have an innate fear of them then this is the perfect opportunity for 'in at the deep end' therapy. This is one of the only places in the world we know where you are guaranteed close encounters with burly and reclusive sharks, along with droves of the more common grey reef and black-tip reef shark.
Fuvahmulah Island is best known for its tiger shark diving. Guests are almost guaranteed to encounter a tiger shark in the beautiful reefs that surround the island. Aside from tiger sharks, thresher sharks are also commonly seen in the area, with oceanic Manta and turtles making appearances as well.
Dive Center Information

---

calyx grand Dive Center Overview
The Calyx Grand's dive center offers all guests could possibly need to enjoy their encounters with the tiger sharks and the Maldivian waters. Their guesthouse is located in the heart of Fuvahmulah City.
Other Information

---
Practical Information
Electricity: 230 volts & 50Hz
Time zone: UTC+5
Languages: Dhievi & English
Accept Credit Cards?: Yes
Underwater Gallery

---