Destination: Maldives
Maldives (7-10 Nights) | From $214++/night

---
Carpe Diem Quick Pitch
The Carpe Diem offers the best in comfort for the ideal dive safari. Guests are treated to hospitable treatment and get the opportunity to experience some of the world's best diving.
Location
Based in Male. Guests are greeted at the Male International Airport.
Dive Overview
The Maldives dive sites feature healthy reefs, soft corals, mantas, whale sharks, schooling gray reef sharks, hawksbill turtles, and much more.
[See: Maldives Dive Travel Guide]
Accommodations
Types of Cabins, Amenities and Photos

---
Carpe Diem Accommodation Overview
The Carpe Diem has 10 comfortable cabins of different standards divided over 3 decks. The different cabin types are suite (1), deluxe (1), double (2), and standard (6). All cabins have individually controlled AC, safety deposit boxes, and their own private bathroom with a toilet and hot water shower. The electricity voltage on board is of 220V and the plugs are of 3 pins UK type.
Maindeck Double (LEFT) & Standard Twin (RIGHT) Cabins
Deluxe Cabin (LEFT) & Suite (RIGHT)
Carpe Diem Cabin Details
MAINDECK DOUBLE CABIN
The Carpe Diem has two double cabins, SEA and SAND located on the main deck, which are a little smaller than the deluxe cabin on the upper deck and standard cabins on the lower deck. They have queen size double beds and window view. Further amenities TV plus DVD/MP3 players.
STANDARD
A total of 6 standard cabins, SALSA, SCUBA, SURF, SMILE, SNORKEL and SKI are located on the cabin deck below the main deck. 4 of these standard cabins are very spacious having a queen double bed and bunk bed. The 2 other standard cabins each have a twin bed and bunk bed and can only take twin sharing occupancy. All standard cabins have portholes.
SUITE
The very spacious suite, the SUN cabin, with over 20 m2 in size is located at the upper deck. The suite has a king size bed, a wide flat screen TV plus DVD/MP3 player and an ample closet plus storage space. The 5 windows give a beautiful view of the sea.
DELUXE CABIN
Opposite the suite on the upper deck is another big cabin, the STAR cabin, with a queen size double bed, flat screen TV plus DVD/MP3 player and 3 windows overlooking Maldives blue waters.
General Facilities

---
Lounge & Dining Area
Sun Deck & Dhoni
Carpe Diem Boat Features
Briefing area
Lounge area, with a coffee/tea table
Outdoor sitting area in the shade with comfortable cushions
Another open-air sitting area at the back of the boat
In-house library
Open air dining and bar area
Partially shaded sun deck
Carpe Diem Dive Facilities
Spacious diving dhonis
Nitrox membrane systems providing 32%,
Hot & fresh water showers
Camera rinsing tank
Up to 3 dives a day
Dive equipment rentals
Food & Drinks Aboard Carpe Diem
All-inclusive semi-buffet style meals. Coffee/tea and drinking water are offered 24 hours a day.
Carpe Diem Liveaboard Deck Plan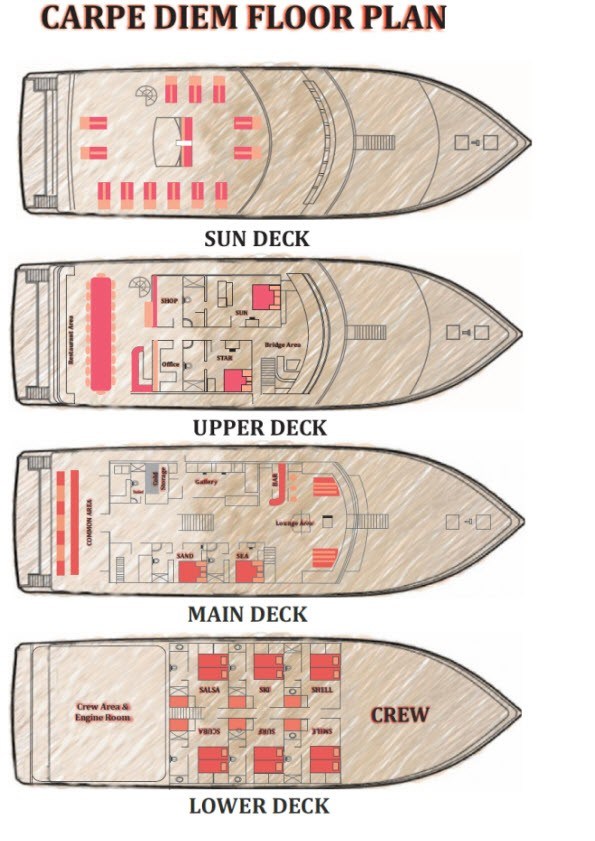 SCHEDULE, RATES & AVAILABILITY
Carpe Diem Schedule & Rates

---
Prices are in USD, per person and include 12% GST. Green Tax (USD 6 per night) is not included.
[See also: Inclusions & Exclusions]
Inclusions
7 nights or 10 nights aboard the vessel
3 meals daily, plus between-dive snacks
Drinking water, coffee (instant) and tea
3 dives daily (except for on day of arrival and day before departure) including one or two night dives
Free nitrox to nitrox qualified divers
Use of tanks, weights and belts
Airport transfers on the days of embarkation/disembarkation
GST 12%
Exclusions
Rental, instruction, nitrox and retail charges
Green tax of 6 USD p/p per night
Special trips marked with a star in the schedule will have an additional fuel surcharge and/or a domestic flight
Crew gratuities
Trip cancellation and dive insurance
12% tax on on-board purchases
WiFI at $15/week/person or $20 for 10 days/person + tax
15L tanks
RATES & AVAILABILITY
For more information on rates and availability email us at info@bluewaterdivetravel.com or call us at +1-310-915-6677 and we will gladly help you plan your dream dive vacation!
Dive Information & Destinations

---
Itinerary Overview
The Carpe Diem offers various itineraries. Each itinerary visits a combination of popular and new dive sites and attempts to give guests the chance to encounter everything from big pelagics like mantas, sharks, and whale sharks to shrimps, colorful nudibranchs, ghost pipefishes, and everything in between. The Carpe Diem will have 7 and 10-night cruises. The cruises normally leave every Saturday unless in the event of 10-day cruises departure days might change.
Other Information

---
Boat Specifications
Built: 2008
Port of Registration: Male' / Republic of Maldives
Length: 35m
Width: 10m
Maximum guests: 20
Number of Cabins: 10
Number of Bathrooms: 13
Number of Crew: 10 + 3 on the diving dhoni
Engine: Doosan Daewood Diesel Engine 650 Hp
Fuel Tank Capacity: 7,000 liters
Navigation: GPS, Sounder
Communication: VHF Radio, Internet, GSM
Generators: 2 x Doosan Daewood Marine Soundproof, 50 Hz, 380V, 45KW
Fresh Water capacity: 5,000 Litres
Water Maker: 16000 liters/day (2 x Osmotic Treatment Plants – Wasco Atlantic 400)
Safety equipment: Smoke detectors, fire extinguishers, life jackets, emergency alarm
HP Compressors: 2 x MCH 16 Coltri Sub (530 L/min, 18CFM), Bauer M320
Nitrox Gen: Coltri Sub LP320, Nuvair Membrane
Practical Information
Time Zone: UTC+5
Local Currency: MVR (Maldivian rufiyaa)
Payment onboard: cash (USD or EUROs) or credit card (Visa, Master and American Express)
Electricity: 220 volts
Language Spoken: Dhivehi & English
Underwater Gallery

---