Destination: Maldives
The Maldives (7-11 Nights) | From $266++/night

---
Carpe Novo Quick Pitch
This new modern vessel is an upgraded sistership of the Carpe Diem and Carpe Vita. The Carpe Novo is bigger than the Carpe Diem and even slightly bigger than the Carpe Vita, catering for a maximum of 21 people in 11 cabins divided over 3 decks thus providing more space. The Carpe Novo provides standard 3 dives a day on her dedicated scuba diving trips.
Dive Overview
With clear blue water, white sand beaches, and great visibility, the Maldives is an idyllic paradise. Take a trip to the Maldives and you may see manta rays, whale sharks, reef sharks, and much more.
[See: Maldives Dive Travel Guide]
Accommodations
Types of Cabins, Amenities and Photos

---
Carpe Novo Cabin Overview
The Carpe Novo has 12 comfortable cabins of different standards divided over 3 decks. The different cabin types are junior suite (4), single suites (2), and standard (6). All cabins have individually controlled AC, safety deposit boxes, and TV screens connected to a central media system and their own private bathrooms. The electricity voltage on board is of 220V and the plugs are of a multinational type
General Facilities

---
Carpe Novo Boat Features
Indoor salon that includes a lounge and TV area
Large flat screen TV, DVD/MP3 player, sound system, sitting/library area including tables and refrigerators
Outdoor shaded sitting area complete with comfortable cushioned benches
Galley equipped with spacious commercial refrigerators/freezers
Common restroom
Dive equipment rental/storage area
Swim platform aft (with two fresh water showers)
Specialized camera table in the outdoor area
Power charging station at the entrance
Fully equipped main bar
Restaurant
Food & Drinks Aboard Carpe Novo
In the restaurant, you will be served buffet-style meals prepared by a fine dining chef. The main bar offers you a wide variety of spirits, wines, liquors, cocktails and beer.
Carpe Novo Liveaboard Deck Plan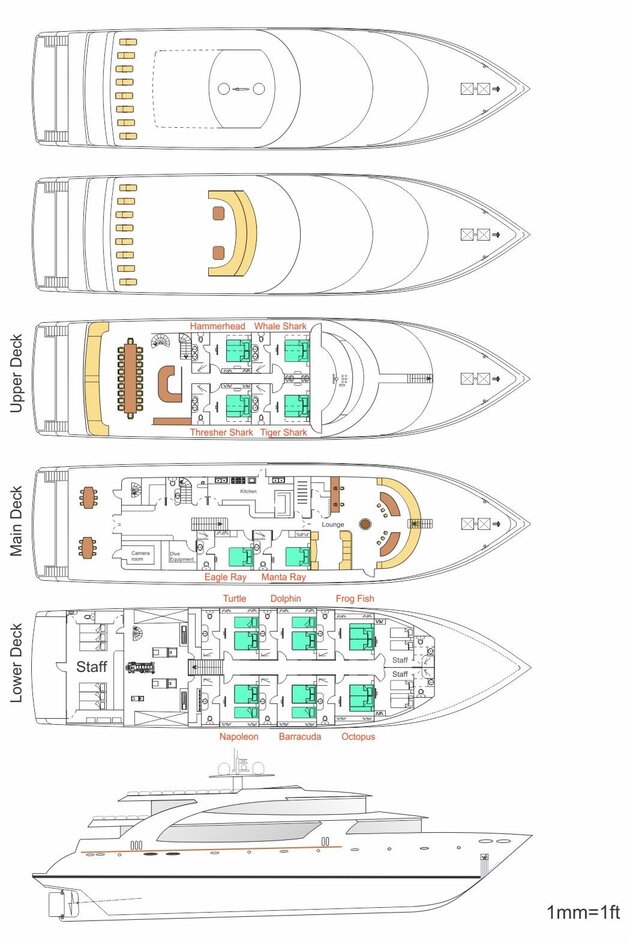 SCHEDULE, RATES & AVAILABILITY
Carpe Novo Schedule & Rates

---
Prices are in USD, per person and include 12% GST. Government Green Tax (USD 6 per night) is not included.
[See also: Inclusions & Exclusions]
Inclusions
7 nights/8 days or 10 nights/11 days aboard vessel
3 meals daily, plus snacks
Up to 3 dives daily (weather and itinerary permitting)
Free nitrox to nitrox qualified divers
Use of tanks(11.5L/80CF or 13.5L/100CF) with DIN & YOKE compatibilities
Air fills, weights and belts
Airport transfers on the days of embarkation/ disembarkation
Maldivian GST (General Service Tax) 12%
Exclusions
Rental, instruction and retail charges
Alcoholic beverages, soft drinks, fresh juices
Dive accident insurance (required)
Trip cancellation & dive insurance (recommended)
Government Green Tax: US$6 per person per night
Fuel Surcharge: dependent on itinerary, please inquire for current applicability
Crew gratuities, dive instruction, dive gear rental (other than standard tanks, weights and weight belts), and retail sales
Hanifaru Snorkeling Permit (if applicable): US$20 per person
Additional charge for Government Services Tax may apply; please inquire for current applicability
12% tax on on-board purchases
WiFI at $15/week/person or $20 for 10 days/person + tax
15L tanks


RATES & AVAILABILITY
For more information on rates and availability email us at info@bluewaterdivetravel.com or call us at +1-310-915-6677 and we will gladly help you plan your dream dive vacation!
Dive Information & Itineraries

---
Itinerary Overview
The Carpe Novo offers 11/10-night, 7-night, and specialty itineraries which change depending on the season. Each offers a unique dive itinerary based on the seasons, and current and pelagic migration patterns. Days aboard Carpe Novo generally involve a cold breakfast from 6:00 am followed by a first morning dive, Full breakfast, second morning dive, lunch around 12:00 pm, one or two afternoon dives (depending on the vessel and itinerary) and dinner at 6:30 or 7:00 pm. On the day or days when night dives are offered, dinner is typically around 8:00 pm.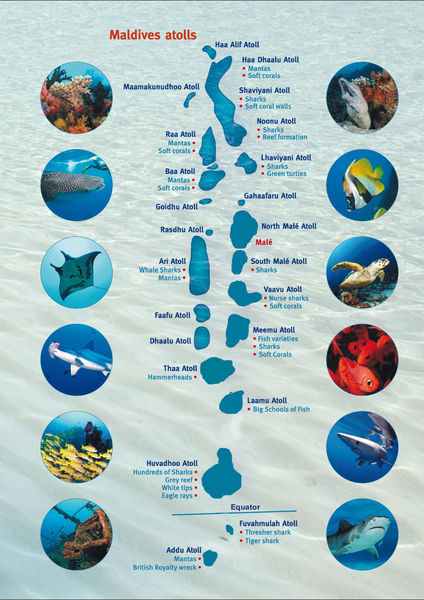 10/11-night Itinerary – Year Round
Far North Itineraires - Possible atolls include: North Male, Lhaviyani, Shaviyani, Haa Dhaalu, Noonu, Raa, Baa, Rasdhoo, Ari, Vaavu and South Male.
This unique routing starts and ends in Male, making domestic flights unnecessary. The 11-night itinerary will typically go as far north as Haa Dhaalu while on the 10-night itinerary; the most northern atoll visited will be Raa. Carpe Vita & Carpe Novo have visited many of these sites and therefore know them well, there will also be some exciting exploration of new sites during these trips as well. These trips are designed to take guests away from other boat traffic. This will mean we will likely be the only boat on most of the dive sites the further north we go. The North is characterized by beautiful reef formations and an abundance of fish life. These trips will have some great shark life as well as manta cleaning station sites and an exciting site with friendly green turtles. By visiting Ari atoll and Vaavu atoll at the end of the itinerary, guests will still have a chance to see whale sharks and take part in the 'famous' manta and nurse shark night dives – however, more boat traffic should be expected here. Please note that due to the additional distance covered, there will be an additional fuel surcharge.
Central/Southern Itineraries - Possible atolls include: North Male, South Male, South Ari, Meemu, Thaa, Vaavu and South Male.
Starting and ending in Male, this route is great for those who want exhilarating channel diving without the extended travel and domestic flight required for our deep south trips. This 10-night itinerary will WOW guests from the beginning with a visit to South Ari in hopes of encountering whale sharks and mantas. The further south this itinerary takes you, the bigger variety of sharks can be expected. You'll find channel diving at Meemu, Thaa and Vaavu – with currents that typically bring in the sharks. The diving at these atolls can be challenging but the reward for experienced divers is great. Sharks are not the only attraction on this itinerary; these southern atolls are also known for fish life and beautiful soft corals. You might even catch a glimpse of a hammerhead at Thaa Atoll!
7-night Itinerary – Year Round
Central/Southern Itineraries - Possible atolls include: North Male, Ari, Vaavu and South Male
Maldives 7-night trips, starting and ending in Male, are concentrated on Ari Atoll with an extension to the South. As on the Far north itinerary, this 7-night adventure includes visits to Ari and Vaavu atolls where guests will have an opportunity see whale sharks and take part in the 'famous' manta and nurse shark night dives – however, more boat traffic should be expected here.
Vaavu is also known for channel diving and the chance to see lots of sharks. These dives are for experienced divers who enjoy currents, which, of course, bring the pelagic activity!
7-night One-Way Itineraries
One-way trips between Male and Baa, Ari and Laamu are also offered during this season. These itineraries offer the opportunity to spend more time with whale sharks and mantas in less crowded situations.
(These require a domestic flight for around $165pp for Baa and Ari and around $209 for Laamu.)
10/11-night Specialty Itineraries
Deep South Shark Itineraries
The Carpe Vita & Carpe Novo offer special routings to the Deep South where guests will get away from the crowd and find something quite different from the normal Ari Atoll routings. This is of special interest to repeat clients who have already experienced our regular central/northern/southern itineraries. These routings will take place during peak high season (February/March/April) when the currents are at their strongest and visibility at its best. This is the perfect itinerary on which to enjoy the abundance of sharks the Maldives has to offer. Because these routes involve a lot of traveling, there will be a fuel surcharge and there will be the necessity for a domestic flight, either at the beginning of the trip or at the end.
Itinerary:
Male to Addu or Addu to Male (10/11-night) Possible atolls include: South Male, South Ari (on the 11-night trip), Vaavu, Meemu, Thaa, Laamu, Huvadhoo, Fuvahmulah and Addu.
The unique 10-night trip starts in Male and endings all the way past the equator in Addu or starts in Addu and ends in Male. On the 11-night trips South Ari atoll will be added. Guests will require a domestic flight back from Gan to Male for the trips ending in Addu or from Male to Gan for trips starting in Addu. The routing is suitable for experienced divers only due to the currents and number of channel dives involved. The routing is focused on seeing lots of sharks including possible thresher and tiger sharks, hammerheads, whale sharks and mantas plus the possibility of seeing the rare Mola molas (sunfish).
NOTE: Due to governmental restrictions, when visiting Hanifaru Bay, the manta activity may be limited to snorkeling and there may be a small 'entry' fee.
Other Information

---
Boat Specifications
Registry: Republic of the Maldives
Boatmaker/Owner: Carpe Diem Maldives Pvt. Ltd.
Built: 2016
Length: 43m (140 feet)
Beam: 11m (36 feet)
Draft: 3m (9 feet)
Superstructure: Wood
Hull & Decking: Wood
Cruise Speed: 12 knots
Main Engines: Doosan Daewood Marine Diesel, HP 800
Generators: 2 Zenith Isuzu 65 KW Marine Gen-set, 1 Zenith Isuzu 25 KW Marine Gen-set
Fresh Water: 1 Wasco Desalinator 700ltrs/hr, 15 tons/day, 1 Wasco Desalinator 900ltrs/hr, 18 tons/day
Maximum guests: 22
Number of cabins: 12
Number of bathrooms: 15
Number of crew: 10 + 3 diving dhoni
Practical Information
Time Zone: UTC+5
Local Currency: MVR (Maldivian rufiyaa)
Language Spoken: English
Electricity: 220-240V
Payment Onboard: Visa, Mastercard, American Express or cash (US dollars or euros)
Underwater Gallery

---