Destination: Ecuador
Galapagos Islands (4 - 6 Nights) | From $743++/night

---
catamaran treasure Quick Pitch
Explore the breathtaking Galapagos with the Catamaran Treasure, a stable and wide motor catamaran oferring the comfort of a floating hotel. Each of the three itineraries offered give a unique impression of the Galapagos. Managed by Oniric Safari Cruises, you can expect high-quality accommodations and itineraries that cater to all different budgets and travel preferences.
Location
Depending on the selected itinerary, guests will arrive at the Balta or San Cristobal Airport. Afterwhich, they will be transferred to the vessel, where the Galapagos National Park entrance fee will be collected and the guests' luggage inspected.
Dive Overview
Divers visit the Galapagos for the unique marine life, which is a blend of warm water and cold water creatures. The Galapagos offers some of the best sites for sighting large pelagics like whale sharks, schools of hammerhead sharks, Galapagos sharks, silky sharks, bullhead sharks and mola molas. Other popular marine life is sea lions, penguins, mantas, eagle rays, eels, turtles, marine iguanas, pelagic fish and other massive fish schools.
[See: Galapagos Dive Travel Guide]
Check Out This Great Video!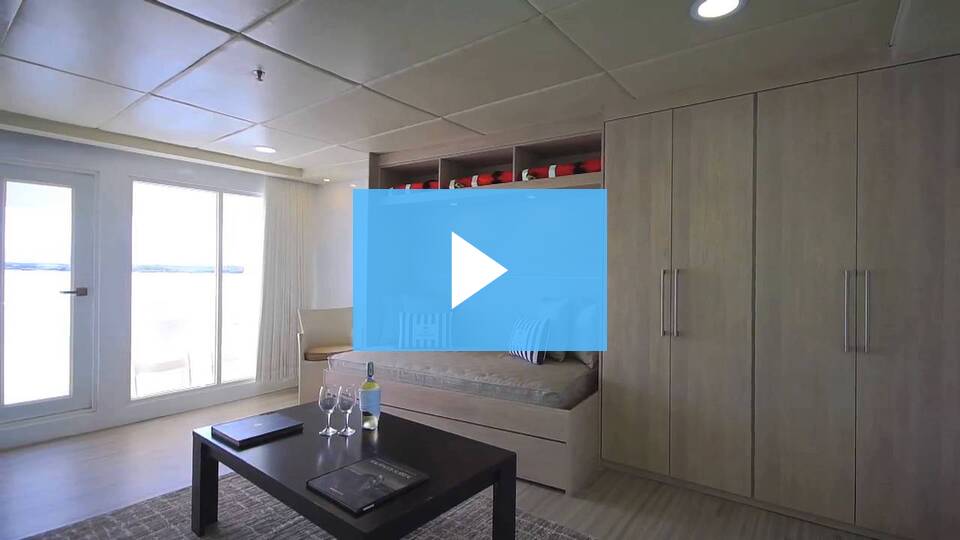 Galapagos is one of the best shark diving destinations in the world. Check out the full list here...
Accommodations
Types of Cabins, Amenities and Photos

---
CATAMARAN TREASURE Accommodation Details
The Catamaran Treasure offers the following accommodations types: Balcony Stateroom, Master Suite - Double and Master Suite - Triple. The Balcony Stateroom is located on the Main Deck with 4 of the Master Suites, while the rest are located on the Upper Deck. The Balcony Stateroom is outfitted with a queen bed and a single, while the Master Suites have either twin beds or double beds. Two of the upper deck cabins have a double bed and a single bed. All accommodations are fully air-conditioned and feature a private balcony with a sea view.

General Facilities

---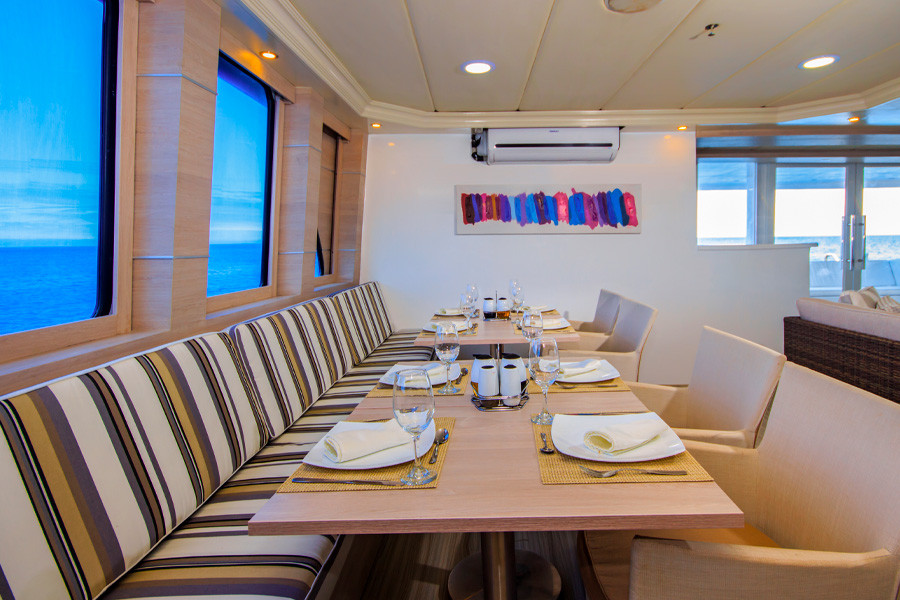 CATAMARAN treasure BOAT FEATURES
Solarium area

Shaded relaxing area

Hot tub

Al Fresco dining area

Shaded terrace & barbecue area
Air-conditioned lounge with living room
Dining Room
Bar
FOOD & DRINKS ABOARD catamaran treasure
All meals are prepared by the onboard cook and served buffet style. Guests will get to experience a combination of international and Ecuadorian dishes. Water, coffee, and tea are served all day, while soft drinks and alcoholic drinks can be bought onboard.
catamaran treasure Liveaboard Deck Plan


Schedule, Rates & Availability
Catamaran Treasure Schedule & Rates 2023

---
Prices are in USD, per person, port and park fees are not included. Charter bookings can accommodate a maximum of 16 pax. Prices valid until 31st Dec, 2023.
[See also: Inclusions & Exclusions and Full Rates by Cabin Type]
Itinerary
Standard Rates 2023
High-Season Rates 2023
Balcony Stateroom
Master Suite - Double
Master Suite - Triple
Charter
Balcony Stateroom
Master Suite - Double
Master Suite - Triple
Charter
6-night Cruise
USD 5,575
USD 6,950
USD 6,395
USD 89,200
USD 6,395
USD 7,995
USD 7,350
USD 102,320
4-night Cruise
USD 3,825
USD 4,775
USD 4,395
USD 61,200
USD 4,425
USD 5,550

USD 5,095

USD 70,800
Inclusions
Lodging on board in a cabin with private facilities.
Three meals per full-day; unlimited water, coffee and tea.
All excursions as mentioned in the itinerary with one English speaking certified dive guide per 8 guests.
Airport-yacht-airport transfers (only guaranteed if passengers arrive at the scheduled meeting point, date and time).
12L Tanks for air, Weights, Belts, Scuba safety equipment (Personal Marine rescue GPS), Towels.
EXCLUSIONS
Roundtrip flight to Galapagos Islands.
Galapagos National Park entrance fee (USD 100 pp).
Transit Control Card (USD 20 pp).
Full dive equipment rental (BCD, regulator, mask, fins, 7mm wetsuits, hoods, gloves, boots, torch).
Nitrox (USD 150 pp).
Soft and alcoholic drinks.
Travel insurance (Medical coverage, Trip cancellation & Dive Accident insurance) and other items of personal nature.
RATES & AVAILABILITY
For more information on other departure dates, rates, and on availability email us at info@bluewaterdivetravel.com or call us at +1-310-915-6677 and we will gladly help you plan your dream dive vacation!
Dive Information & Destinations

---
Galapagos Dive Overview
June - November: The water is cooler, 60-75F, 16-24C; Whale Shark sightings are greater
December - May: The water is warmer, clearer 70-86F, 21-30C; Larger schools of Hammerhead Sharks, Manta Rays and Eagle Rays
All dives from tenders. Up to 20 dives are offered during the week.
5 - 7mm wetsuit recommended
ITINERARY A / 5D – 4N
DAY 1 - FRIDAY
AM - Flight to Baltra Airport (GPS)
Upon arrival at Baltra Airport, you will pass through an airport inspection point to insure that no foreign plants or animals are introduced to the islands, as well as to pay the park entrance fee of $100 (unless it has been prepaid).
A guide will meet you, help you collect your luggage, and escort you on a short bus ride to the harbor.
PM - Chato Reserve (Santa Cruz)
On your first excursion, you will disembark at the Itabaca Channel and be driven to the highlands of Santa Cruz island, where you will visit an area populated by Galapagos giant tortoises. Because these magnificent reptiles don't stop their migration patterns at the official limits of the National Park, dozens of them also roam the island's agricultural properties and humid forests, enjoying muddy baths, devouring fallen fruits, and carrying birds on their backs. After sharing the company of these modern-day dinosaurs in their natural habitat, you will return on board for dinner, entertainment, and relaxation.
DAY 2 - SATURDAY
AM - Sullivan Bay (Santiago)
Santiago, also called James Island, is located in the western-central part of the Galapagos archipelago. It is the fourth largest island in the archipelago (following Isabela, Fernandina and Santa Cruz). Along with some of the large western volcanoes of Isabela and Fernandina, Santiago is also volcanically active, with many young flows and cones to be seen, particularly along the southern, western, and eastern coasts. These can even be seen from the summit of Darwin Volcano and from space. A number of large eruptions have been reported over the last 2 centuries. Santiago actually consists of two coalesced volcanoes: a typical shield volcano on the northwest end and a low, linear fissure volcano on the southeast end.
PM - Bartolome
Bartolome Island is situated across Sullivan Bay. It has an altitude of 114 meters, from where we can observe one of the most beautiful sceneries of the Galapagos Islands such as: Volcanic cones, lunar-like craters, lava fields, and the famous Toba formed pinnacle eroded by the sea. There is very little vegetation on this island.
It has two breathtaking beaches where marine turtles exist and at the base of the pinnacle, as well as a very small colony of Galapagos penguins.
DAY 3 - SUNDAY
AM - North Seymour
Seymour is an uplifted (as opposed to volcanic) island and therefore is generally flat and strewn with boulders. There are good nesting sites here for a large population of magnificent frigate birds. Blue-footed boobies perform their courtship dance in the more open areas and swallow-tailed gulls perch on the cliff edges. Despite the tremendous surf that can pound the outer shore, sea lions haul out onto the beach and can be found bodysurfing. Do watch your step as the boobies don't worry much about where they nest, and you might just step on one. The trees are dotted with male frigate birds trying to attract the attention of the ladies by inflating their bright red skin flaps. They sometimes fly in the air to call more attention to themselves. There's a circular path that takes you through the island to a beautiful, rocky shore where the waves crash a silvery-blue.
PM - South Plaza
This afternoon's excursion will be on the South Plaza Islet. While landing there, a barking Galapagos sea lion bull may block the jetty for a loud welcome to his beach and rookery. Overall, this islet breaths a unique Jurassic ambiance, with its psychedelic reddish flora and giant Opuntia cacti covering the landscape and providing food and shelter for thousands of endemic marine and Barrington iguanas. During this visit, you will also have the opportunity to swim over a reef of boulders that attracts an amazing variety of marine life, such as sea turtles, reef sharks, stingrays, and sea lions.
DAY 4 - MONDAY
AM - Pitt Islet and Pitt Point (San Cristóbal)
The wind-sculpted cliffs of Pitt Point were the first sight of land when Charles Darwin arrived in the Galapagos aboard the HMS Beagle on September 15, 1835.
Today you will disembark to that very same small green sand beach, where you will first be greeted by a group of barking sea lions. Behind this dreamy beach, crossing some thorny bushes, begins a trail that will take you to the top of the cliff through a ravine. While you ascend, marvel at the landscapes of this geological wonder, where its possible to find three species of boobies breeding and playing: blue-footed, red-footed and Nazca. Two species of frigate birds can be found as well (Great and Magnificent)
Do not miss the chance to snorkel or kayak around these far-away, dreamlike shores.
PM - Witch Hill (San Cristobal)
Witch Hill (Cerro Brujo in Spanish) is the remains of a tuff cone, and its primary attraction is a coral sand beach that opens into a tranquil bay. Snorkeling here leads to a rich habitat for marine iguanas, stingrays, white-tipped sharks, eagle rays, turtles, morays, garden eels, and many kinds of reef fishes.
Behind the sand dunes of the beach, there is a dry dark lava flow with salty ponds, which serve as a refreshment spot for iguanas, as well as a strategic place to observe coastal and migratory birds, including pelicans, blue-footed boobies, and swallow-tailed gulls.
DAY 5 - TUESDAY
AM – Interpretation Center (San Cristobal)
The Galapagos National Park Visitor Center lies close to the port town of Puerto Baquerizo Moreno. The center explains a series of natural circumstances such as the volcanic origins of the islands, their remoteness from the continent, its ocean currents, its special climate, the arrival of different species, and their establishment, among others.
Transfer to San Cristobal airport
ITINERARY B / 5D – 4N
DAY 1 - TUESDAY
AM - Flight to San Cristobal Airport (SCY)
Upon arrival at San Cristobal Airport, travelers pass through an airport inspection point to insure that no foreign plants or animals are introduced to the islands, as well as to pay the park entrance fee of $100 (unless it has been prepaid). A guide will meet you, help you collect your luggage, and escort you on a short bus ride to the harbor.
PM - Colorado Hill (San Cristobal)
Colorado Hill Tortoises Protection and Growing Center, located at 40 minutes approximately by bus to the south east of the island. This center was built to improve the status of the population of the island tortoises. The center includes a large corral, a Visitors center, breeding center and an interpretative trail. Along this trail is possible to see different species of native and endemic plants as well birds as the San Cristobal Mockingbird, Yellow Warblers, and many species of finches and the Galapagos flycatcher.
DAY 2 - WEDNESDAY
AM - Gardner Bay (Española)
Located on the north-eastern coast of Hood, Gardner Bay provides an excellent beach for relaxing, swimming, snorkeling, kayaking, and the opportunity to observe sea lions. Here we can also observe sharks in the crystal clear ocean waters.
PM - Suarez Point (Española)
This rocky land spot sustains one of the most impressive and varied colonies of sea birds in the Galapagos. Along its southern shore, high cliffs rise up from the sea affording the visitor spectacular views of soaring birds and of the blow whole where water spouts up to 50-75 feet into the air according to the intensity of the surf.
DAY 3 - THURSDAY
AM - Post Office Bay - Baroness lookout (Floreana)
Historically, this site is the location of a wooden barrel that was placed in the 18th century by the crew of a whaling ship. The letters found inside the barrel would be picked up and delivered by sailors returning home. There was no postage fee, and, surprisingly, this mailbox and its honor system are still in use today. Although the letters are no longer important messages from sailors to their loved ones, thousands of them are left by tourists nowadays and many of them still make it to their destination. Apart from being the Post Office Barrel, this site was the landing area for some of the first colonists. It is said that Baroness Eloisa von Wagner loved this place and spent several hours watching the horizon. Within walking distance (30 m) are the ruins of what is known as her house.
PM - Cormorant Point - Champion Islet (Floreana)
This site offers probably the best Flamingo lagoon in the Galapagos; it is also one of the largest in the islands. It's situated between two tuff lava cones that give the area a special atmosphere. There are various species of shorebirds to observe besides flamingos; the most frequent are common stilts, white-checked pintail ducks and other migratory birds. It is very interesting to see the two distinct beaches: "The Green Beach" (due to its high percentage of olivine crystals in the sand) and the "Flour Sand Beach" which is made up of coral.
DAY 4 - FRIDAY
AM - Santa Fe
Located in the southeastern part of the Galapagos, this island was formed from an uplift instead than a volcanic origin, this is why is mostly flat. There are some theories which assure this could be the oldest island in the Archipelago. Santa Fe is the home of a number of endemic species like the Galapagos Hawk, Galapagos snake, Galapagos mockingbird, rice rats and one of the two species of lands Iguanas of the islands. After disembarkation in the beautiful and clear waters you will be in contact with one of the many sea lion colonies. Along the trail many salt bushes can be seen as well giant Prickly pear cactus, gigantism is a characteristic of oceanic islands.
AM - El Chato (Santa Cruz)
Santa Cruz also offers excellent opportunities for viewing wild tortoises, both roaming through pastures in the agricultural zone and in the Tortoise Reserve, which is accessible from Santa Rosa or Salasaca. Several farms serve food and allow visitors to explore their grounds in search of tortoises.
Descending through the agricultural zone into the Transition Zone where the Tortoise Reserve is located, the introduced vegetation of the farmlands is replaced by native vegetation. The pond at El Chato is surrounded by forest where short-eared owls, Darwin's finches, Vermilion Flycatchers, Yellow Warblers, Galapagos Rails, and Paint-billed Crakes can be seen. As the visitor walks into the forests overgrown with lichens, ferns, and other epiphytes, it is time to listen carefully for the sound of heavy footsteps and the sound of shrubs being slowly crushed as the tortoises make their way through the brush.
DAY 5 - SATURDAY
AM - Twin Craters (Santa Cruz)
The Twin Craters are found on either side of the road leading to Puerto Ayora. These impressive formations are not really volcanic craters and were formed by magma domes, which hardened on the outside while the lava continued flowing inside, leaving huge and empty magma chambers that eventually collapsed, leaving two large holes. The craters lie within a lush scalesia cloud forest, a high-altitude plant species that are endemic to the Galapagos. This area is also home to the carpenter finch, which uses tools to search for food. There may also be opportunities to see the vermillion flycatcher, a small red-breasted bird.
Transfer out to Baltra Airport (GPS)
Assisted by the naturalist guide and some crewmembers, the dinghy will bring you and your luggage to Baltra Airport, where we will take the shuttle back to the airport.
Itinerary C / 7D – 6N
DAY 1 – SATURDAY
AM - Flight to Baltra Airport (GPS)
Upon arrival at Baltra Airport, you will pass through an airport inspection point to insure that no foreign plants or animals are introduced to the islands, as well as to pay the park entrance fee of $100 (unless it has been prepaid). A guide will meet you, help you collect your luggage, and escort you on a short bus ride to the harbor.
PM - Fausto Llerena breeding centre (Santa Cruz)
Although the great majority of Galapagos visitors come here to observe and appreciate natural wonders, it is also interesting to learn how the protection and conservation of the islands are carried out. The main attractions are the National Park information center, the Van Staelen Exhibition Hall, the Breeding and Rearing Center for young tor toises, and adult Galapagos tor toises in captivity.
DAY 2 – SUNDAY
AM - Eden Islet
El Edén is a paradisiacal tuff cone islet, just off the west coast of Santa Cruz (between Whale Bay and Dragon Hill).
This morning we will disembark to the appropriately named Eden Islet. On its coast you will observe land iguanas and sea lions soaking up the sun, as well as seabirds feeding in the nearby mangrove forests. It is a perfect location for swimming activities, as the clear and calm waters will allow you to snorkel along tropical fish, rays, and two species of sharks. Alternatively, a kayak ride would be a memorable experience.
PM - Dragon Hill (Santa Cruz)
The visitor site at Dragon Hill has been open for visits on 1993. This site is located in nor thwestern Santa Cruz Island and consists of a trail that lead to a hyper-saline lagoon behind the beach, frequented by flamingos, pintail ducks and other species of birds. This site has been re populated with land iguanas from Seymour, Isabela and Santa Cruz islands. There is a short walk to the Hill, which offers a beautiful view of the bay.
DAY 3 – MONDAY
AM - Tintoreras (Isabela)
A delightful place to be reached by a nice zodiac ride. "Tintoreras" are small islands in front of Puerto Villamil coast. There is Heron lava on the lookout on mangrove branch, and Galapagos Penguin and sea lion often pop out on shore. White-tipped reef sharks are fairly common in the archipelago. Their name in Spanish is Tintorera, thus the name of this site as they are always found here resting in the shallow waters.
PM - Wetlands and Wall of Tears (Isabela)
Isabela Island is the largest and one of the youngest islands in the Galapagos archipelago. We land in Puer to Villamil, which has the second smallest population in Galapagos with approximately 3.000 inhabitants. First we will visit the Flamingos Lagoon; this place is the largest coastal lagoon found in Galapagos and is one of the main reproductive sites for the greater Flamingos. Afterwards we will follow a trail to the "The Wall of Tears"; from 1946 to 1959 Isabela was designated a penal colony by the Ecuadorian government. Prisoners were obligated to build a wall with enormous blocks of lava. Due to the arduous labour and harsh conditions in which the prisoners lived, this site is known as "El Muro de las Lagrimas". There are a number of interesting sites along this route, such as the cerro Orchilla, El Estero, Poza Escondida, Playa del Amor and Pozas Verdes.
DAY 4 – TUESDAY
AM - Moreno Point (Isabela)
Punta Moreno is located on the nor th coast of Isabela Island between the volcano Sierra Negra and Cerro Azul volcano. The trail runs along a lava flow Pahohoe (solidified lava in the form of corrugated or an accordion) into a complex of coastal lagoons, its main attraction are several species of birds which can be found around this lakes and mangroves
PM - Tagus Cove (Isabela)
Tagus Cove, a tour along the cliffs in a zodiac will give the visitors a good chance to see the Galapagos penguin, the flightless cormorant and other sea birds. From the landing dock it is about a 30 minute hike along the trail up to the top of the cliff from where you can view Darwin Lake, an uplifted ultra-saline lake saltier than the sea. You can also see several volcanoes from this location. Look carefully at the graffiti on the surrounding cliffs of the cove, it has been written by pirates, whalers and buccaneers in past centuries.
DAY 5 - WEDNESDAY
AM - Punta Espinoza (Fernandina)
Fernandina is the third largest island in the archipelago and has a single visitor site: Punta Espinoza located at the nor theastern tip of the island. Marine iguanas conglomerate in larger groups than in any other island. They bask around in the sand, swim near the shore and sometime block the way at the landing dock. Among the unique species found here, is the Flightless Cormorant. This bird had to adjust its way of survival and perfection its skills of finding food in the ocean. Their wings, tails and feet progressively adapted for swimming. To see these birds, is to witness evolution happening right in front of you.
PM - Vicente Roca Point (Isabela)
Whilst having lunch we will cross the Bolivar Channel for the last time to Vicente Roca Point, just at the mouth of Isabela's seahorse-shape. While entering a dark cave below a spectacular arch, roaring echoes of the waves will accompany you. Just around the corner the collapsed amphitheatre of Volcan Ecuador offers another impressive view. The calmer waters of the coves are well-protected against the ocean swell and are a fairly cold, but great place for snorkelling amongst various species of shark, penguins, puffer fish and even seahorses!
DAY 6 – THURSDAY
AM - Egas Port (Santiago)
Puerto Egas is a black beach is located at the west side of Santiago Island. Volcanic tuff deposits have favored the formation of this special black sand beach and this is the main attraction of the Island. This site is called Puer to Egas, because there was an attempt of company of Hector Egas, to star t the exploitation of salt, which failed because the price of salt on the continent was very cheap, and did not justify its exploitation in Galapagos. The project was abandoned and they left their infrastructure.
PM - Rabida
Rábida Island is unique because the red color of the rocks and sand. The volcanic material in this island is very porous and external factors as rain, salt water and sea breeze have acted as an oxidizing agent. A shor t walk along a trail lead us to a coastal lagoon behind the beach permits the observation of land birds as nches, doves, yellow warblers and mocking birds. At the lagoon there is a colony of flamingos.
DAY 7 – FRIDAY
AM - Las Bachas (Santa Cruz)
These two small beaches are found to the West of Tur tle Cove. Their sand is made of decomposed coral, which makes it white and soft, making it a favorite nesting site for sea tur tles. Behind one of the beaches there is a small brackish water lagoon, where occasionally is possible to observe flamingos and other coastal birds, such as black-necked stilts and whimbrels. The other beach is longer, but it has two old barges that were abandoned during the Second World War, when the USA used Baltra Island as a strategically point to protect the Panama Channel.
Transfer out to Baltra Airport (GPS)
Transfer to Baltra Airpor t (GPS) for your flight back to Guayaquil or Quito.
[See: Galapagos Dive Travel Guide]
Other Information

---
Boat Specifications
Year built: 2009 (Remodeled in 2017)
Length: 31m / 101ft
Beam: 11.20m / 36.75ft
Cruising Speed: 9 knots (ca. 16,5 km/h)
Maximum Speed: 11 knots (ca. 20 km/h)
Passengers: 16 + 1 Guide
Number of cabins: 9
Zodiacs: 2
Practical Information
Time Zone: UTC-6
Local Currency: USD (U.S. dollar)
Language Spoken: English and Spanish
Electricity: 110 and 220 volt
Payment Onboard: Cash
Underwater Gallery

---