Destination: Costa Rica
Itineraries: Cocos Island (4-10 Nights) | From $480++/night

---
Cocos island aggressor Quick Pitch
A brand new custom-built dive yacht, the Cocos Island Aggressor is scheduled for its maiden voyage on January 14, 2023. a 124-foot yacht, this vessel is built and powered for comfort, safety, and stability. The Cocos Island Aggressor is the perfect vessel for exploring Cocos Islands.
LOCATION
The Cocos Island Aggressor departs from Puntarenas, Costa Rica. An overnight stay in San Jose is usually required prior to the trip due to airline schedules. Recommended hotels are the host hotels, Holiday Inn Escazu, and Holiday Inn Express Forum in San Jose where group transfers are provided from.
Dive Overview
Cocos is a lush, green uninhabited island resting 342 miles off Costa Rica's Pacific coast. Rocky pinnacles surrounding Cocos are beacons for big animals and big action. Schooling hammerheads, countless white-tip sharks, mantas, tuna, and even whale sharks call Cocos home.
[See: Costa Rica Dive Travel Guide & Cocos Island Dive Travel Guide]
Check Out This Great Video!
Accommodations
Types of Cabins, Amenities and Photos

---
COCOS ISLAND AGGRESSOR Accommodation Details
The Cocos Island Aggressor can comfortably accommodate up to 22 passengers in a total of 10 cabins. Guests can choose between the Deluxe Stateroom, equipped with two single beds and portholes, or the Master Staterooms, with two twin beds or a queen bed, and a large picture window. All rooms come complete with air conditioning, private bathrooms and showers, and a monitor with a media plater.
cocos island aggressor Cabin Details
Deluxe Stateroom (#1, 2,3,4, & 5)
All Deluxe Staterooms have two single beds, 2 portholes, private bathrooms and showers, individual climate control, monitor with media player and hair dryer.
Master Stateroom (#8, 9, 10, & 11)
All Master Staterooms have a large picture window, private bathrooms, and showers, individual climate control, a monitor with media player, and hair dryer. Stateroom #10 has a queen bed (Couples only), #'s 8, 9 & 11 have two twins.
General Facilities

---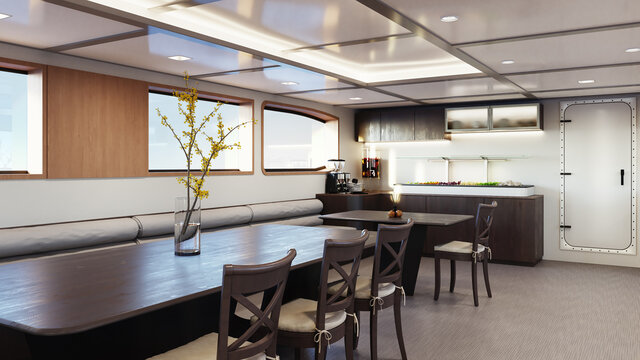 cocos island aggressor Boat Features
Spacious salon
Large sundeck
Chaise lounges
Deck chairs
Bar
Grill
Small library
Large storage space for diving equipment
Food & Drinks Aboard cocos island aggressor
The menu onboard is varied and plentiful, with a variety of American feasts, barbecues, and local cuisine. The Aggressor's selection includes fruit juices, soft drinks, iced water, iced tea, coffee, and a limited selection of local beer and wine, which are complimentary. Due to the high duty charged on liquor, we suggest you bring your special brand from the U.S/International. Due to local regulations; the bar will be closed while the boat is in port.
cocos island aggressor Liveaboard Deck Plan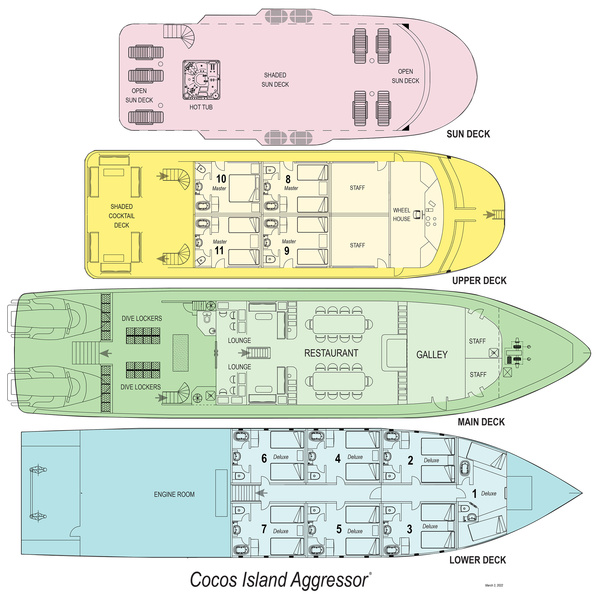 Schedule, Rates & Availability
Cocos Island Aggressor Schedule & Rates

---
Prices are in USD, per person and are based on the lowest-priced cabin (quad or double, depending on availability). Port and park fees are not included.
[See also: Inclusions & Exclusions]
Inclusions
Accommodations aboard the yacht
All meals and snacks, non-alcoholic beverages, local beer and wine
Compressed air tanks, weights & belts
Transfers from host hotels (Holiday Inn Escazu and Holiday Inn Express Forum) in San Jose to Puntarenas and transfers from Puntarenas to airport or host hotels
Exclusions
Airfare (international and domestic) and $29 airport departure tax paid at the airport
Insurance
Equipment rentals
Nitrox fills
Certification or specialty courses
Hotel stays/day rooms
Dinner on final evening
Crew gratuity
Mandatory: Park Fee (USD $490 for 10-night charters and $350 for 8-night charters) and $30 Emergency Evacuation Plan, both paid onboard.
All onboard sales/services have a 13% tax excluding park fees/evacuation program
RATES & AVAILABILITY
For more information on other departure dates, rates, and on availability email us at info@bluewaterdivetravel.com or call us at +1-310-915-6677 and we will gladly help you plan your dream dive vacation!
Dive Information & Destinations

---
Cocos Island Overview
Cocos Island is a UNESCO World Heritage Site and is located approximately 320 nautical miles off the Pacific coast of Costa Rica. Cocos Island is the largest uninhabited island in the world and the only one that receives sufficient rainfall to support a tropical rainforest. The isolated environmental conditions of the island are home to a high number of endemic fish and plants. Cocos Island is also well known as being a favorite stopping point for pirates dating back to the 1500s.
Cocos Island Dive Overview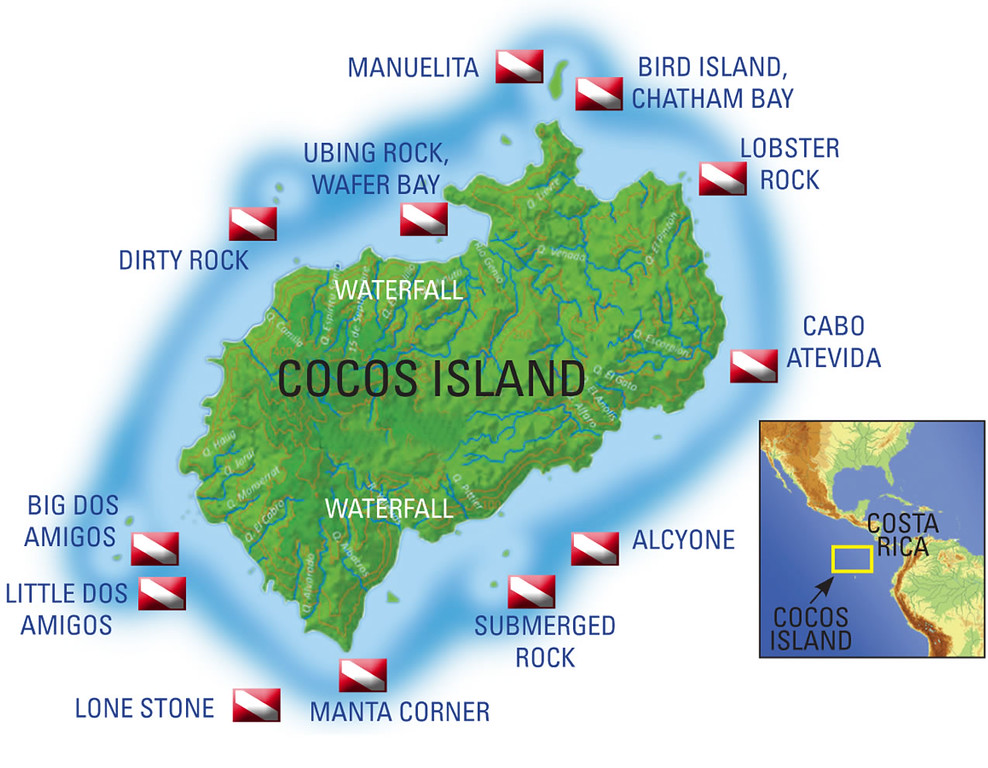 Whale Sharks, Schooling Hammerhead Sharks, White-tip Sharks, Tuna, Manta Rays, Turtles and Giant Frogfish
All dives from tenders.
Water temperature: 72 - 82F, 22 - 28C with cooler thermoclines
3 - 5 mm wetsuit recommended
No night diving is currently offered at Cocos Island.
8-night charters: up to 17 dives
10-night charters: up to 24 dives
10-Night Sample Itinerary
Day 1 Meet in front of host hotel (See last page for pick up time).
Transfer to Puntarenas for boarding and departure for Cocos Island.
Day 2 - 3 Arrive to Cocos Island, diving begins.
Day 4 - 9 Eat, Sleep & Dive.
Day 9 -10 Travel back to Puntarenas.
Day 11 Check out at 7 am and transfer to San Jose Airport or host hotels.
[See: Cocos Island Dive Travel Guide]
Other Information

---
Boat Specifications
Year built: 2022
Length: 124 ft
Beam: 28.5 ft
Cruising speed: 10 knots
Maximum guests: 22
Number of cabins: 11
Practical Information
Time Zone: UTC-6
Local Currency: CRC (Costa Rican Colon)
Language Spoken: English & Spanish
Electricity: 110-volt
Payment Onboard: Cash, Visa, MasterCard, American Express and traveler's checks
Underwater Gallery

---