Destination: Maldives
Central Atolls & South Atolls (7 Nights) | From $300++/night

---
In case of cancellation due to COVID-19, guests can opt to reschedule their holiday free of charge or receive a 100% refund from M/Y Conte Max.
Conte Max Quick Pitch
With the launch of Conte Max in 2004, the concept of a cruise combining the rejuvenating well-being of the Maldivian sea and scenery with the wellbeing of an onboard Ayurveda center was born and in terms of Maldives cruises, a totally new trend was set. Thanks to its increasingly refined cuisine, the staff that was raised with the boat, and customer service class and attention to detail, Conte Max has become one of the best known and most loved yachts in the Maldives.
Why You'll Like the Conte Max
Full board accommodation
Free Nitrox
Wi-Fi available
Re-breather friendly
One week with 17 dives included & snorkeling with guide
Massage center available
Dive Overview
The Maldives, with its amazing coral reefs and a wide variety of marine life, is one of the best dive destinations in the world. The country is ideally experienced by boat to unveil hideaway islands, local fishermen villages, colored reefs, unspoiled beaches, amazing snorkeling sites, and dive sites renowned for manta rays and whale sharks, and pelagic. Luxury Yacht Maldives offers you the chance to dive in a NATURAL PARADISE from which you would be otherwise precluded.
[See: Maldives Dive Travel Guide]
Accommodations
Types of Cabins, Amenities and Photos

---
Conte Max Cabin Overview
The Conte Max has 8 air-conditioned and large cabins, all with ensuite bathrooms. They can accommodate up to 20 guests.
1 cabin (on second deck) with one queen size bed and one single bed
4 triples with one double bed and one single bed
3 Twin bed cabins
1 Single cabin
All cabins feature independently adjustable air conditioning
Bathrooms with shower cubicles
No bunk beds
General Facilities

---
Conte Max Features
Outdoor & indoor dining areas
Indoor saloon with a bar
3G Wi-Fi connection
Massage center
Sundecks
On-board boutique offering traditional Maldivian souvenirs, gadgets and Luxury Yacht Maldives T-shirts
Conte Max Dive Facilities
Nitrox
Rebreather support
Diving dhoni
Diving equipment available for hire
Diving courses
Food & Drinks Aboard Conte Max
Meals are served at the table and the menu includes dishes from the Italian-international and Maldivian cuisine, mainly prepared with fresh fish.
Once a week a buffet of traditional Maldivian dishes is prepared.
Their bar offers a wide choice of soft drinks and spirits.
Conte Max Deck Plan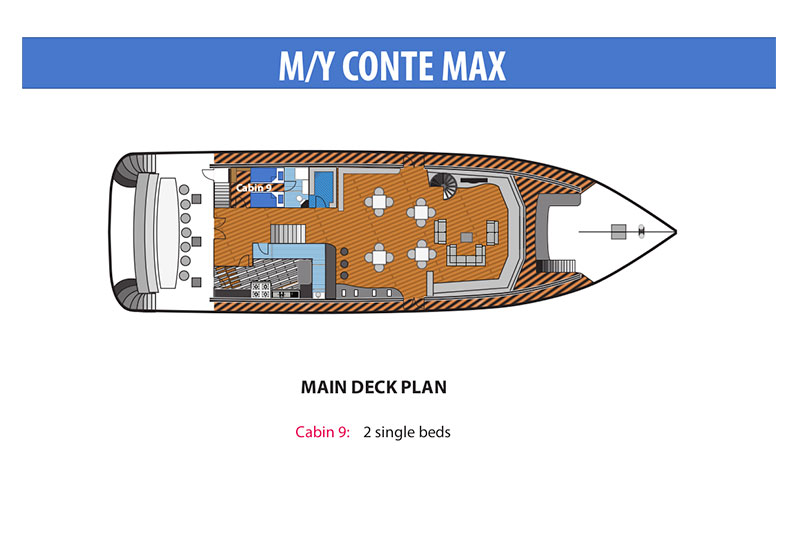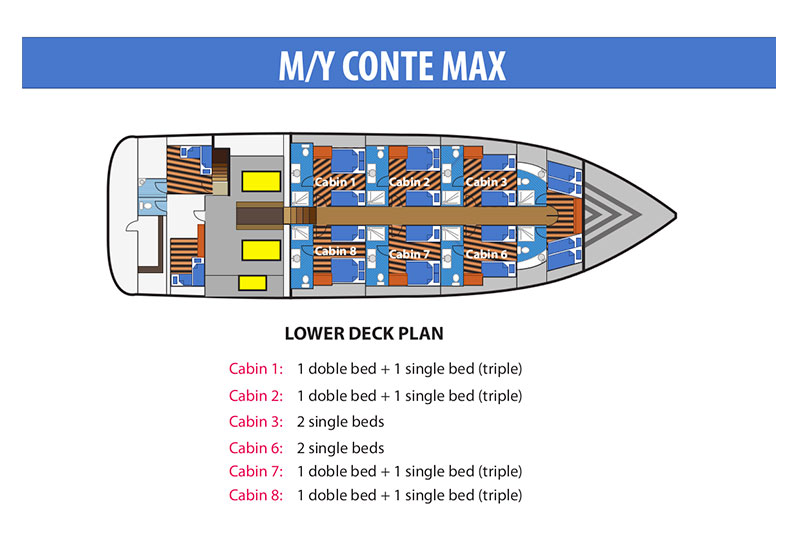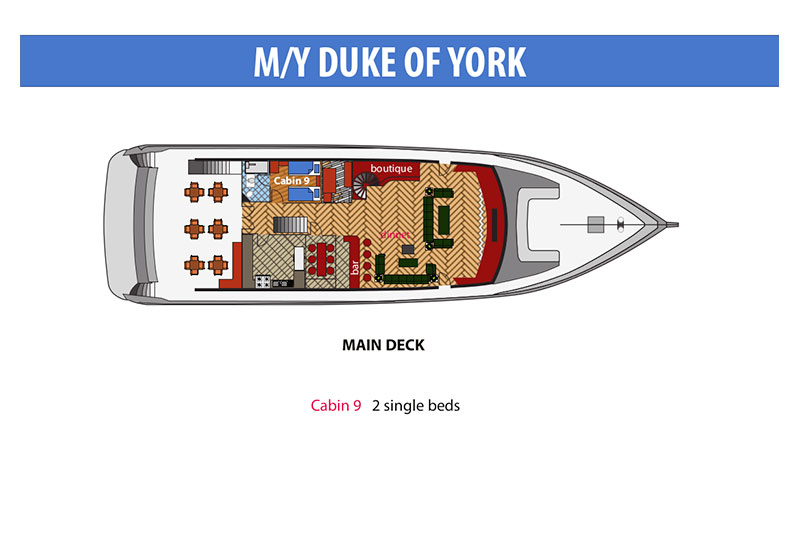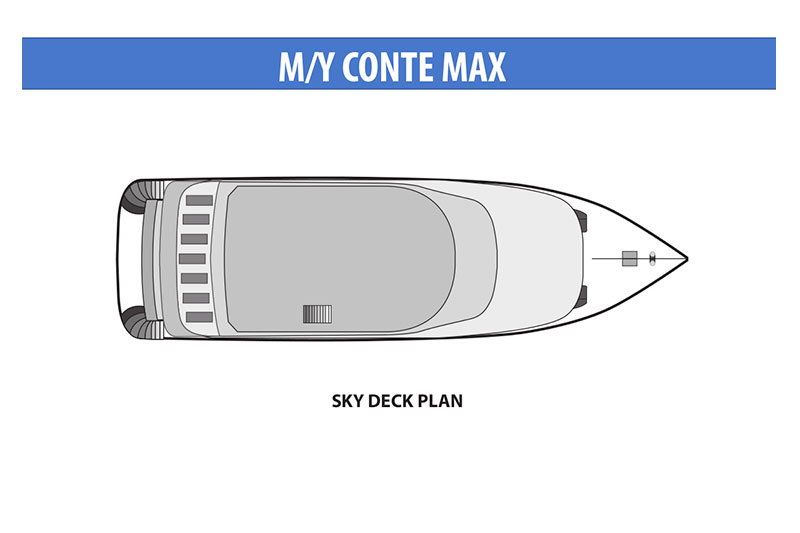 SCHEDULE, RATES & AVAILABILITY
Conte Max Schedule & Rates

---
Prices are in USD, per person and include 12% GST. Green Tax (USD 6 per day) is not included.
[See also: Inclusions & Exclusions]
Inclusions
Accommodation in twin shared cabin with en-suite bathroom
Meal Plan Full Board, 3 meals per day & afternoon snack
Unlimited drinking water, tea & American coffee & fresh fruit (bananas)
Airport transfers by Dhoni
Diving & night diving - NITROX INCLUDED
Diving Dhoni (Diving boat for divers & for all other activities)
1 Free Scuba Try in the lagoon (from 8 years old) for non-divers; equipment included
Snorkeling assisted
One or two sunset fishing during the week & Trolling fishing during navigation
Free use of the kayak
Assistance for surfing cruises
Excursions, island hopping & to Malè City (only for trips in Central Atolls)
GST Tax included at 12%
Specialized Staff assistance & 3 Instructors/ Dive Master onboard
Exclusions
Beverages alcoholic and non-alcoholic
Ayurveda & Wellness treatments
Fees for desert & touristic islands when requested.
Dinner on the Beach, weather permitting (from Usd 10 to Usd 18 p.p. to be paid on board)
Diving & snorkeling courses
Rent of diving and snorkeling equipment, to be requested at booking
Minimum tips required (Usd 8 p.p./per day), SUGGESTED: Usd 230,00
Green Tax Usd 6 p.p. per day, to be paid on board for FOC as well
GST Tax adjustment
Fuel surcharge: in case the crude oil price exceeds 0.60 Usd per liter
Domestic flights to South & North with Island Aviation
All that is not specified in the inclusions
RATES & AVAILABILITY
For more information on rates and availability email us at info@bluewaterdivetravel.com or call us at +1-310-915-6677 and we will gladly help you plan your dream dive vacation!
Dive Information & Itineraries

---
CENTRAL ATOLLS (Felidhoo and Mulaku)
A one week cruise with tours to five different atolls eastwards of the archipelago: North and South Male, Felidhoo, Vattaru, Mulaku. A wonderful cruise that you can decide to take in any period of the year, thanks to the many diving points that offer the best sights of grey reef sharks, white fin sharks or manta rays, according to the season. After leaving Hulule we will head southwards, crossing, therefore, South Male, Felidhoo, Vattaru and touching the northern part of Mulaku.
You will get the opportunity to relax on wonderful beaches and desert islands, while those who are looking for great emotions will be satisfied by the stops nearby the channels of Alimathà, Fotteyo, Rakeedhoo and Mulaku. On our way back we will visit Guraidhoo with its precious shops of local handicraft and dive the atoll of South Male.
It is also possible to visit Male city on the last day.
CENTRAL ATOLLS (South and Ari)
A cruise that will reveal six different atolls (North & South Male, Felidhoo, Vattaru, Mulaku, South Ari), departure and return from/to Hulhule airport island. Heading South straight away, sailing within the Eastern edge channels, among which Emboodhoo Kandu, Cocoa and Guraidhoo Kandu, Devana Kandu, Fotteyo, Rakeedho Corner, Vattaru and Mulaku Kandu. From here we'll cruise the inner portion of the atoll heading to the Southern edge of Ari Atoll, where we will attempt the famous whale shark watching at Maamigili ocean reef. We will then sail northwards through the atoll, without neglecting beaches, desert islands, sandbanks. After the must-see destinations - the most famous thilas, we head back to North Male. On second to last day, it will be possible to visit the Capital, Male.
CENTRAL ATOLLS (North Ari and Rasdhoo)
A one week cruise that will begin and end at Hulule/ Male airport. Navigation will start westwards, towards the island of Rasfari, which is just perfect for an overnight staying; we will then transit through the atoll of Rasdhoo (whose main island is the chief town of North Ari). Here, you will be given the opportunity to dive in search for hammerhead sharks.
Navigation will then continue towards North Ari, not far away, trying to sight the devil rays (manta rays), in some of the most renowned cleaning stations of the Maldivian archipelago. Moreover, there will be many stops on desert islands and in some of the "thilas", that attract divers from all over the world. On the second last day navigation will continue towards the atoll of South Male, where we will visit Guraidhoo - the most famous fishermen's island of the Maldives - and dive in the wonderful passes of the region, to sight sharks and big pelagic fish.
It is also possible to visit Male city on the last day.
EXTREME SOUTH (THE BEST SEVEN - Huvadhoo)
In the high season, arrival at Kadeddhoo (Huvadhoo) airport with a domestic flight from Male, then a week-long stay in Suvadiva, the second largest atoll in the world (by surface area). Internal crossing from the west to the east coast of about 3 hours, navigating among the various passes – which are all very close to each other – and enjoying the fascinating seascapes of intact coral and large schools of pelagic fish which abound in this area. As well as diving, snorkeling also offers an exciting experience to get in touch with nature, which will provide thrilling memories from the first to the last day of holiday.
Sharks (whitetips, grey reef but also zebras and tigers), barracudas and jacks will commonly accompany our dives; the barbecue on the beach will be an unforgettable experience. As well as passes, the dives will visit reefs and the various 'thilas' in all their majestic beauty, both during the day and in night-time dives or snorkeling. Departure from Kadeddhoo on another domestic flight to Male, before boarding the international flight.
EXTREME SOUTH (THE BEST SEVEN Male-Laamu-Huvadhoo)
Arrival at Kaddhoo airport on a domestic flight from Male. Two nights in Laamu Atoll, to visit the best dive sites in the area (Mabaidhoo, Funaidhoo..) and then cross onto Suvadiva atoll –second largest atoll on the planet- to spend the rest of the week around the breathtaking Eastern edge with its incredible channel dives, rich in fish in large quantity and stunning dimensions. Suvadiva atoll is definitely famous for the amount of pelagic fish, it is not rare to encounter sailfish and marlins (which please not only divers, but also fishing fans), green turtles, quite rare in the Northern atolls, and the beauty of the channels themselves, not only on the oceanic drop-offs, but also in the inner walls, where amazing encounters are always possible. The dive truly never ends! Being all dive destinations quite close to one another, sailing time is rather neglectable, and we have daily chances to land on desert islands, sandbanks and beaches. The beach barbecue night is very special as well, a poorly colonized atoll offers incredibly starry skies and being that South we can spot galaxies and stars from both Hemisphere skies.
On the last day, a visit to the island of Viligili, where the fish factory creates an amazing dive site, and
early morning departure to Male from Kadeddhoo airport.
EXTREME SOUTH (THE BEST SEVEN Male - Laamu - Huvadhoo)
Departure from the Hulule/Male airport, two-weeks sailing through South Male, Felidhoo, Vattaru, Mulaku, Thaa and Laamu to the atoll of Huvadhoo (Suvadiva), which can only be reached with favorable weather conditions (mid-winter). The destinations included in this trip will satisfy all those who wish to visit remote places far from the more commercial destinations.
Fun will be guaranteed for both snorkelers and divers (but fishing enthusiasts too), by the beautiful and extremely diversified landscapes: channels, desert islands, sandbanks, islands inhabited by friendly and spontaneous people, trail bait fishing.. all these elements will give you unforgettable memories.
On the last day departure from the national airport of Kadeddhoo to Male.
Other Information

---
Boat Specifications
Year built: 2004
Length: 33m
Beam: 10m
Draft: 3m
Hull: Wood
Engine: Yanmar 405Hp
Generators: 2 x 35kw Onan
Speed: 12 knots
Maximum guests: 16 in DBL cabin (up to 20 in TPL cabins)
Number of cabins: 8
Number of bathrooms: 8
Number of crew: 8
Diving Dhoni crew: 3
Diving guides/instructor: 3
Tenders: Diving Dhoni
Water capacity: 6 tons
Fuel capacity: 4,500 liters
Practical Information
Time Zone: UTC-4
Local Currency: MVR (Maldivian Rufiyaa)
Language: English & Italian
Electricity: 220 Volt
Payment Onboard: Cash & credit cards (Visa & MasterCard)
Underwater Gallery

---