Crystal blue Resort, Philippines
Mabini, Batangas, Philippines | Full board + 3 dives from $330++/ppn

---
Crystal Blue Resort Quick Pitch
Crystal Blue Resort, Anilao, offers spectacular diving, amazing macro photography, knowledgeable guides, incredible cuisine, and comfortable ocean-view accommodations.
Quick Information
No of Rooms: 17
Dive Center: On-site
Amenities: AC, camera room with over 20 stations, large dive locker, Jacuzzi, massages, bar and more
WiFi: Yes, free
Nearest International Airport: Ninoy Aquino International Airport
Airport shuttle: Yes, surcharge
How to Get There
Crystal Blue Resort is located in the heart of Anilao known as Bagalangit, Mabini, Batangas, Philippines. Transfer from Manila to Crystal Blue Resort is easily arranged. The land transfer from Manila to the resort will take about 2-1/2 hours. Pickup can be from either of the two Manila airports (International or Domestic).
Dive Overview
Colorful reefs and incredible macro life.
[Read More: Anilao Dive Travel Guide]
Accommodations
Crystal Blue Resort Rooms, Amenities and Photos

---
Crystal Blue Resort Accommodation Overview
The resort offers deluxe rooms, superior rooms, and a large family villa.
Family Villa
The Family Suites include two separate rooms with queen-sized beds. Air con for each room, a dining table, family area with center table and chairs, a private bath with hot and cold shower, refrigerator and is fully air-conditioned.
Superior Rooms
The Superior Rooms have their own private baths, hot and cold shower, dining table, closets, 2 queen beds with comfortable sheets, and fully air-conditioned. The balcony/lobby offers spectacular views of the property, ocean, and sunsets.
Deluxe Rooms
Featuring either one queen or two single beds with dining table, closets, private bath, air-conditioning, and balcony/grassy lobby.
Resort Facilities

---
Restaurant Lounge Area (LEFT) & Spa (RIGHT)
Crystal Blue Resort Features
Jacuzzi
Bar
Restaurants
Coffee shop
Room service
Spa
Camera room
Crystal Blue Resort Food & Drinks
The chef's specialties are seafood, continental, oriental and Filipino cuisine, prepared in a professional-grade kitchen.
The food is served buffet-style and includes two to three choices for every lunch and dinner.
Coffee, tea and free-flowing water from our fresh water filling stations are always available in the dining room.
Hot water kettles are available in the office.
Crystal Blue Resort Activities
Scuba diving
Hiking
Island hopping
Kayaking
Spa treatment
Package & Rates
Crystal Blue Resort Dive Packages & Rates

---
crystal blue resort Dive Packages
Price is per person in USD based on the occupancy indicated and your choice of air fill or Nitrox. Holiday season 10% surcharge applies Dec. 1st - January 1.
Package

Single Traveller
Air fills 21%
Nitrox 32%
Air fills 21%
Nitrox 32%

3 nights lodging

a) with 6 boat dives
$989.00
$1,014.00
$655.00
$680.00
b) with 8 dives
$1,151.00
$1,185.00
$751.00
$785.00

4 nights lodging

a) with 9 boat dives
$1,400.00
$1,438.00
$920.00
$958.00
b) with 11 boat dives
$1,563.00
$1,609.00
$1,017.00
$1,063.00

5 nights lodging

a) with 12 boat dives
$1,812.00
$1,862.00
$1,185.00
$1,235.00
b) with 14 boat dives
$1,975.00
$2,033.00
$1,282.00
$1,340.00

6 nights lodging

a) with 15 boat dives
$2,223.00
$2,286.00
$1,450.00
$1,513.00
b) with 17 boat dives
$2,386.00
$2,458.00
$1,546.00
$1,618.00

7 nights lodging

a) with 18 boat dives
$2,635.00
$2,711.00
$1,715.00
$1,791.00
b) with 20 boat dives
$2,798.00
$2,882.00
$1,812.00
$1,896.00

8 nights lodging

a) with 21 boat dives
$3,047.00
$3,135.00
$1,980.00
$2,068.00
b) with 23 boat dives
$3,209.00
$3,306.00
$2,076.00
$2,173.00

9 nights lodging

a) with 24 boat dives
$3,458.00
$3,559.00
$2,244.00
$2,345.00
b) with 26 boat dives
$3,621.00
$3,730.00
$2,341.00
$2,450.00

10 nights lodging

a) with 27 boat dives
$3,870.00
$3,983.00
$2,510.00
$2,623.00
b) with 29 boat dives
$4,033.00
$4,154.00
$2,607.00
$2,728.00

11 night lodging

a) with 30 boat dives
$4,281.00
$4,407.00
$2,775.00
$2,838.00
b) with 32 boat dives
$4,444.00
$4,579.00
$2,871.00
$2,943.00

12 nights lodging

a)with 33 boat dives
$4,693.00
$4,832.00
$3,040.00
$3,179.00
b)with 35 boat dives
$4,856.00
$5,003.00
$3,137.00
$3,284.00

13 nights lodging

a) with 36 boat dives
$5,105.00
$5,256.00
$3,305.00
$3,456.00
b) with 38 boat dives
$5,267.00
$5,427.00
$3,402.00
$3,561.00

14 nights lodging

a) with 39 boat dives
$5,516.00
$5,680.00
$3,570.00
$3,733.00
b) with 41 boat dives
$5,679.00
$5,851.00
$3,666.00
$3,838.00

15 nights lodging

a) with 42 boat dives
$5,929.00
$6,105.00
$3,835.00
$4,012.00
b) with 44 boat dives
$6,092.00
$6,276.00
$3,932.00
$3,907.00
Dive Package Inclusions
3 meals daily
Guided boat dives as indicated
Dive Package Exclusions
Alcohol and soft drinks
Massage
Dive center gratuities
Other items of a personal nature
Airfare to Manila
Manila Airport pick up $115/way/van; Batangas pier pick up $80/way/van
$36 add on dives including Night or Mandarin dive
Blackwater dive: $55/dive
Swap Day dive for BW dive - $35/dive
Health & Safety Charge
Fuel Surcharge
Can't find the information you need?
Drop us an email at bookings@bluewaterdivetravel.com or call us at +1-310-915-6677 and we will gladly help you plan your dream dive vacation!
Dive Information

---
Dive Overview
In a tropical, oceanside setting, Crystal Blue Resort finally offers a finer quality of lodging perfectly placed to experience Anilao's excellent scuba diving and underwater photography opportunities.
Crystal Blue Resort is conveniently located in front of Arthur's Rock Marine Sanctuary where scuba diving enthusiasts can have their once-in-a-lifetime underwater adventure.
You as our guest can enjoy the unparalleled beauty right under the Anilao sea.
The dive boats go out in the morning for two dives. After lunch, a single-tank afternoon dive is offered, with the option of a night dive. Most of the diving is to 70 feet or less, and dive times of 70-minutes or more per dive are common.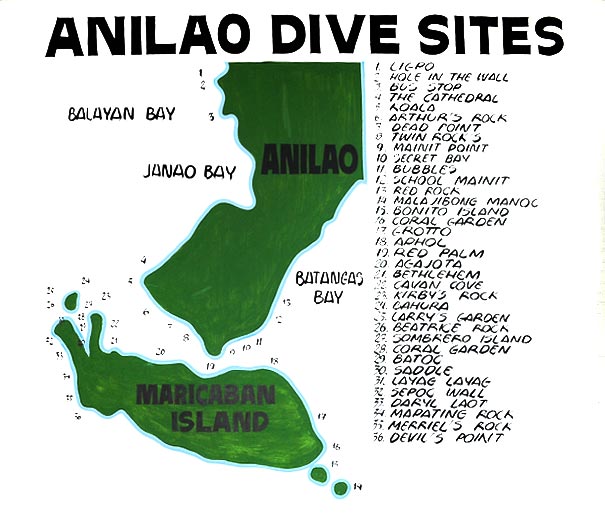 Marine Life
The reefs in Anilao are very rich - home to abundant marine life. Anilao is not a place to visit if you're looking for pelagics, but is heaven for macro photographers.
Divers can expect to find more nudibranchs than they could ever photograph in a single trip along with common sightings of blue-ringed octopus, frogfish, Ambon scorpionfish, pygmy seahorses, lionfish, hairy squat lobsters, mantis shrimp, harlequin shrimp, boxer crabs flamboyant cuttlefish and many more reef creatures.
There is a wide variety of hard and soft coral, sponges and reefs patrolled by schools of anthias.
Wide-angle photographers will find stunning, colorful reef-scapes, a wreck, batfish and even resident school of jacks.
Those who are lucky will find some of the rarer critters, including bobbit worms, hairy frogfish, wonderpus octopus, pipefish and even rhinopias.
Dive Center Information

---
Crystal Blue Resort Dive Center Overview
Diving with Crystal Blue is a pleasure. Their valet-style approach means you don't need to handle your gear - the crew will have it on the boat ready to go for each dive.
Dives are made from the traditional Filipino bangkas (double outrigger boats) that accommodate 4 divers plus a guide, driver, and crew member. All dives are conducted as guided dives at Crystal Blue and our sought-after guides are the
best in Anilao. Professionally trained to find critters, assist photographers, and coordinate dive sites throughout the day and are trained to current PADI standards.
The dive locker is large with ample space for the staff to rinse dive gear daily and hang wetsuits. It also has an outdoor hot and cold water shower as well as dedicated camera rinse tanks.
Other Information

---
Practical Information
Electricity: 220 volts
Time zone: UTC+8
Languages: Filipino & English
Underwater Gallery

---
Coming Soon!