Destination: Red Sea
Simply the Best, South & St Johns, Reefs & Wrecks, Safaga and Brothers & Elphinstone (7 Nights) From $148/night

---
Emperor Elite Quick Pitch
Custom-designed and built to a superior standard Emperor Elite is a 38-meter boat accommodating a maximum of 26 guests.
Why You'll Like Emperor Elite
Ample variety of cabin types to choose from on multiple decks
The largest cabin on the waves; 28 sq m Executive Suite
Incredible contemporary standard cabins and NEW 18 sqm Junior Suite
Dive the iconic offshore reefs of Brothers, Daedalus and Elphinstone
Often as many as 5 different species of shark
FREE Nitrox, WiFi and red wine at dinner
Location
Sailing from Hurghada and Marsa Ghalib Port.
Dive Overview
The Red Sea offers exquisite dive options as the "Egyptian Riviera," where you will find stunning wrecks and reefs in close vicinity to historic above-water heritage sites.
[See: Red Sea Dive Travel Guide]
Accommodations
Types of Cabins, Amenities and Photos

---
Emperor Elite Cabin Overview
The boat accommodates a maximum of 26 guests in a total of 13 cabins: 8 standard twin-berth cabins (lower deck), 3 premium twin cabins (choice of decks), a premium, upper deck Executive Suite, and they now also have a double Junior Suite (upper deck) with an amazing panoramic view of the Red Sea. All cabins are ensuite, boast independent air conditioning, three towels and a dive poncho per guest.
Lower Deck Cabin (LEFT) & Upper Deck Cabin (RIGHT)
General Facilities

---
Emperor Elite's Salon (LEFT) & Restaurant (RIGHT)
Emperor Elite's Sundeck (LEFT) & Dive Platform (RIGHT)
Emperor Elite Boat Features
Air-conditioned salon
Air-conditioned dining room where great food and free red wine with dinner is served
Limited free WiFi (signal permitting)
Three sundecks
Emperor Elite Dive Facilities
Dive deck with platform
All diving and safety equipment including two large RIBs with outboards
Equipped with NITROX
Can handle sidemount, rebreather & tech diving on request
Full equipment with SMB and dive computer 170 Euros per week
Food & Drinks Aboard Emperor Elite
3 meals a day (open buffet) + afternoon snacks. Tea, coffee or hot chocolate, soft drinks, as well as snacks, are available at all times in the dining area. Local beer and wine are available on board on request.
Emperor Elite Liveaboard Deck Plan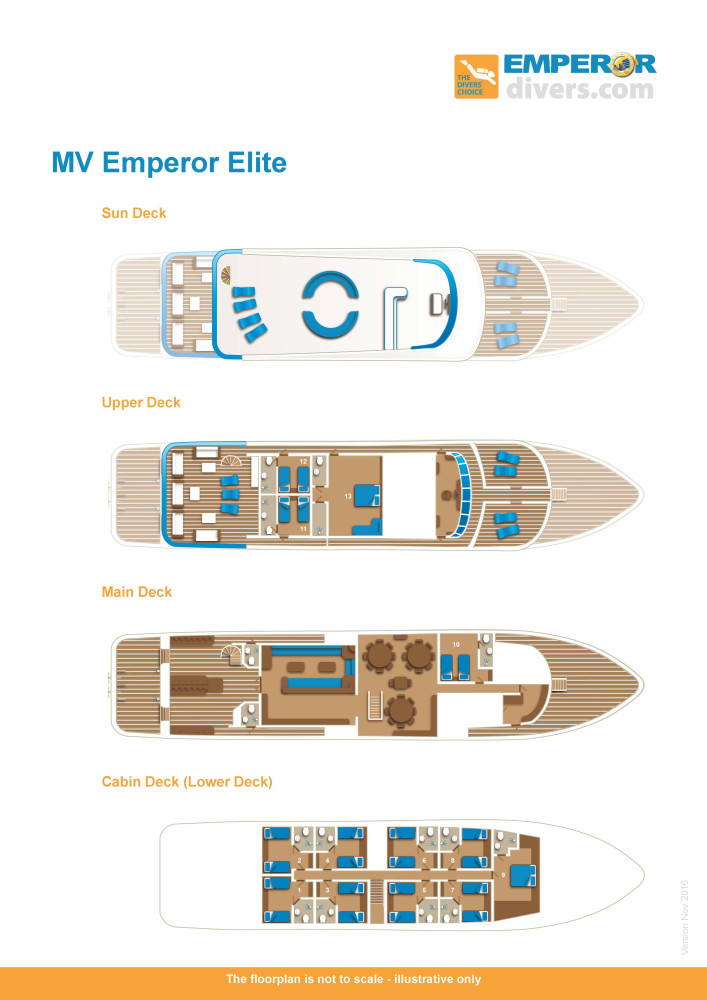 Schedule, Rates & Availability
The actual rates are based in EUR. The starting price indicated above may vary based on the current exchange rate.

---
The rates shown below are per person in USD for Standard Lower Deck Cabins. Per week supplements: €100 for Upper and Main Deck cabin. €235 per person for Junior Suite, €300 per person for Executive Suite. Single Occupancy Supplement: standard rate + 50%.
All taxes, port and park fees are included. The pricing at the time of booking may vary depending on the latest EUR/USD exchange rate.
[See also: Inclusions & Exclusions]

Inclusions
Shared cabin
7 nights on board (last night either on board or in a hotel)
6 days diving
Local transfers
Guide, 12-liter tanks, weights
Full board & soft drinks
Red wine with dinner
Environmental tax
Marine Park fees and port departure fees
Free Nitrox on all boats, subject to availability
Exclusions
Flight/visa
Diving equipment
Tanks other than 12 liters and alcohol
Rates & Availability
For more information on rates and availability email us at info@bluewaterdivetravel.com or call us at +1-310-915-6677 and we will gladly help you plan your dream dive vacation!
Dive Information & Itineraries

---
Simply the Best Itinerary - From Hurghada or Marsa Ghalib
Dive the Best Top 3 sites in this area: Big and Little Brothers, Daedalus Reef and Elphinstone.
The Brother Islands are the pinnacles of two undersea mountains rising from the depths of the abyss and are located about 60 miles offshore. Part of the Marine Park Islands National Park, these islands offer stunning wall diving, with the walls being covered in soft corals and forests of gorgonians, creating a kaleidoscope of ever-changing colors. They attract a diverse array of marine species and large pelagics. Large tuna, jacks and snappers cruise in the blue, accompanied by occasional hammerheads, silvertips, silky and oceanic whitetip sharks and mantas. Even the rare thresher shark can be found here. Sightings of the grey reef shark are almost guaranteed on the North and South Plateaux of Small Brother.
For the wreck diver, the Aida II, an Egyptian supply vessel, and the Numidia, a cargo ship, lie on the walls of the Big Brother. Both are covered in a rich growth of soft and hard corals. Marine life includes a family of Napoleon wrasse and grey reef sharks.
Daedalus Reef, also part of the Marine Park, is a large, oval reef with a lighthouse and is the furthest offshore reef in the Egyptian Red Sea. Its deep walls and drop-offs offer some of the most spectacular diving to be found. Daedalus has mountainous, pristine, hard coral formations. There is also a strong chance of spotting schooling hammerheads and grey reef sharks.
Elphinstone, with its sheer walls covered in soft corals, offers a likely encounter with oceanic whitetip sharks.
South & St. Johns Itinerary - From Marsa Ghalib Port
This trip takes you to some of the best diving the Red Sea has to offer. Here the diving is less arduous so it's a trip for those who want to see the best but have a more relaxed time while doing so. Sailing to the southernmost reefs, you'll depart from Marsa Ghalib Port and dive the sites at Fury Shoals en-route to Rocky, Zabargad and the vast reef system of St Johns.
When leaving Marsa Ghalib the route can sometimes take in a dive at Abu Dabab on the first or last day. Often spoilt for choice, your guides will pick sites that they know to be the best for the time of the year and can find excellent alternatives should the weather affect the normal route. Although the distances are long, where possible we travel overnight so, as a 21 plus route, our aim is to get as many dives in as possible at some of the most impressive reefs. Below are some of the highlights.
On the way to Fury Shoals, dive Sha'ab Sharm with its wall dives and white tip reef sharks. Oceanic white tips and silky sharks can sometimes be found in the blue and turtles often visit the south side before heading further south. At Fury Shoals, dive Sha'ab Claude with its famous swim-throughs and huge porite corals. White tip reef sharks and an anemone and clownfish settlement can be seen a little off the reef to the South. Abu Galawa Soraya has a fantastic coral garden and a wreck of a private sailing boat populated with glass fish.
Zabargad Island lies along the western margin of the Red Sea rift with walls abundant with soft coral and spectacular coral pinnacles. A 75m long, intact wreck known as the "Russian Wreck" and believed to be The Khanka, lies 24m in the western bay on the eastern side of the island provides an alternative to reef diving.
Rocky Island, just 4 NM south of Zabargad, has a fringing reef, sheer walls covered with beautiful soft corals, gorgonias, fans, sponges and black coral trees and vast drop-offs into the deep circle the island. Constant currents flow all year long attracting visitors such as; hammerheads, grey reef and white tip reef sharks, remember to look out into the blue for manta rays, turtles and dolphins.
St Johns is a vast collection of small reefs offering some of the most remote and rewarding diving in the Red Sea. This incredibly beautiful reef lies a short distance north of the Sudanese border. The reef covers a huge area and many dives would be needed to explore the numerous coral heads and islands. Habili Ali offers giant gorgonians and black corals whilst grey reef, silvertip and schools of hammerhead sharks might be found on the west side. Habili Gafaar is a mass of soft corals teaming with shoals of snappers, butterfly fish and barracudas. Mantas, grey reef and silvertip sharks can often be seen in the blue.
Gota Kebir is a massive reef, famous for its tunnels and south plateau, where jacks and barracudas can be seen and the occasional manta. The tunnels are ideal for novice cave divers.
Gota Soraya is rated as possibly one of the best wall dives in the Red Sea, with overhangs and cracks in the reef wall full of glass fish and sweepers and an abundance of corals, Grey Reef, Silvertips and Hammerhead sharks.
On the last day as we head back to port, we will try to take in a dive or two on the world famous Elphinstone Reef if weather and diver experience permits us, or we will finish in the Abu Dabab area perhaps with another dive or two closer to Port Ghalib to relax and unwind before your final night in port.
"Get Wrecked!" Itinerary - From Hurghada
The Get Wrecked cruise combines the 'best of the best' of the most famous wrecks in the northern Red Sea along with some stunning reef diving. Leaving from Hurghada, we aim to dive all the wrecks in the area including:
El Mina, an Egyptian mine sweeper lying just outside Hurghada's harbour; the Carnatic, the Chrisoula K ('tile wreck'), the Kimon M ('lentil wreck') and Giannis D at Abu Nuhas; at Gubal islands we dive the Barge, the Ulysses (sunk in 1887) and the Rosalie Moeller; next onto the Kingston (or Sarah H, sunk in 1881) lying at Shag Rock; and, of course, the Dunraven (sunk 1876) at Beacon Rock situated in the Ras Mohammed National Park, then finally the most famous wreck in the Red Sea, the Thistlegorm, which lies at Shaab Ali.
These wrecks are spectacular and make fantastic material for the underwater photographer, being smothered in corals, especially the Carnatic, which sank in 1869. The famous SS Thistlegorm and the Rosalie Moller are World War II wrecks and one of the highlights of this cruise.
The SS Thistlegorm was sunk in 1941 after being bombed by the German Luftwaffe while on a mission to deliver a cargo of ammunition and other war materials to the British troops in North Africa. The Rosalie Moeller, carrying a cargo of coal, suffered the same fate just two days later.
In between wreck dives, you will also visit the reefs of the Straits of Gubal, Gulf of Suez and those to the north of Hurghada. A variety of deep walls and hard coral gardens with an abundance of reef fish make them well worth a visit.
All wrecks are subject to divers' experience and weather conditions.
Safaga, Brothers & Elphinstone Itinerary - From Hurghada to Marsa Ghalib or Marsa Ghalib to Hurghada
The area around Safaga has some great diving, the best being the offshore reefs of Panorama Reef, Middle Reef and Abu Kafan. Some divers say this area equals the great sites of Ras Mohamed. The diving offers a combination of shallow reef dives and drop-offs, as well as the famous wreck of the Salem Express.
The Salem Express is a dramatic dive. Around 500 people perished in one of the worst marine tragedies of all times. The 100-meter ferryboat was on its way back from Mecca to Safaga after the annual Muslim pilgrimage in December 1991 when it hit the reef during a stormy night and sunk rapidly without giving the crew and passengers the chance to board the lifeboats. It is now home to a thriving underwater life, including a famous resident frogfish, blue-spotted stingrays, angel and butterfly fish. The ship itself is covered in a large quantity of hard and soft corals. It is one of the largest wrecks in the Egyptian Red Sea, roughly the same size as the Thistlegorm.
There is superb wall diving at Panorama, on the south-east of the plateau is a gorgonian and glassfish corner with the whole plateau covered in soft corals and on the south side is an anemone city.
Hal Hal (Middle Reef) is a rarely chosen dive site due to its distance from the coast, which makes it a virgin spot. The north side is a drop off going down to 80 meters and is a perfect location to spot tunas, barracudas, turtles and sharks. The southern side has colorful coral gardens along with some caves and canyons.
Abu Kafan is a 300-meter long, narrow reef offering a plateau at both north and south tips. We normally jump in the water on the north plateau and glide with the frequent strong current southwards along the impressive walls covered with soft and black coral, giant fans and gorgonians.
The Brother Islands are the pinnacles of two undersea mountains rising from the depths of the abyss and are located about 60 miles offshore. Part of the Marine Park Islands National Park, these islands offer stunning wall diving, with the walls being covered in soft corals and forests of gorgonians, creating a kaleidoscope of ever-changing colours.
They attract a diverse array of marine species and large pelagics. Large tuna, jacks and snappers cruise in the blue, accompanied by occasional hammerheads, silvertips, silky and oceanic white tip sharks and mantas. Even the rare thresher shark can be found here. Sightings of the grey reef shark are almost guaranteed on the North and South Plateaux of Small Brother.
Abu Dabab is six reefs commonly known as "Fathers Steps" or "Fathers Stepping Stones" and as the name suggests a set of fairly shallow reefs ranging from depths of 25 meters to the seafloor. In between Abu Dabab II and III at approximately 15 meters is the wreckage of a small ship sunk after a fire in 2004. The reefs themselves offer colorful coral gardens and an underwater cave system to explore. Pods of dolphins have been known to frequent the area as well as blue spotted rays, Napoleons, giant puffers, box fish, sweetlips, batfish, nudibranchs and more.
Elphinstone is approximately 30km from Port Ghalib; Elphinstone reef is 300 meters long with sheer walls richly covered in colorful pink and red soft corals and elegant red gorgonians descending to around 40 meters. Other areas of the reef have near vertical cliffs, overhangs, small caves and drop-offs of up to 100 meters. Elphinstone is known to experience some strong currents attracting many diverse species such as barracuda, angel fish, groupers, Napoleons, morays, reef sharks and great shoals of dogtooth tuna and jacks. Occasional sightings include dolphins, turtles, oceanic white tip and hammerheads sharks.
Other Information

---
Boat Specifications
Type: Wooden hull
Year built: 2006
Refurb: 2017
Dry Dock: Annually
Length: 38m
Beam: 8m
Draft: 2.3m
Engines: 2 x 764 HP Caterpillar
Generators: 3 x 84 kW Caterpillar
Navigation and Communication system: GPS/Chart plotter/DSC/Echosounder/Radar/VHF radio/Satellite phone
Freshwater capacity: 2 x Aquaset desalination system 11000 liters/day
Air compressors: 4 x 260lt/min Coltri sub plus 2 Nitrox Compressor (750 litres/min)
Tenders: 2 x Zodiac 40 HP
Maximum guests: 26
Number of cabins: 13
Number of crews: 10 crews + 2 dive guides
Practical Information
Time Zone: UTC+2
Local Currency: EGP (Egyptian Pounds)
Language Spoken: Arabic, English, Italian, German, Dutch, French and Spanish
Electricity: 220V
Payment Onboard: Euros and GBP Sterling are accepted for cash payments. Visa and MasterCard will be charged in Egyptian Pounds and converted at the daily bank rate.
Underwater Gallery

---