By bettyr | Date: 09 Nov' 2023
Whale Tales & Coral Trails: A French Polynesian Odyssey
Bluewater Travel Whale Snorkeling Adventure 2023
Words and pictures by Tim Yeo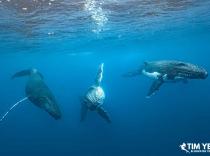 Day 1: Sep 27, 2023
Greeted by the first rays of dawn, we arrived in Tahiti. Whisked through immigration and with bags in tow, we made a perfect dash for the 8am ferry. Destination? Moorea, the heart of French Polynesia. As our rooms at the Manava Moorea Hotel beckoned, some took to lounging poolside, while others chased island adventures atop ATVs and scooters.
Day 2: Sep 28, 2023
Dive into adventure with us! Today, we plunged into the turquoise waters of Moorea for not one, but two wonderful morning dives. We saw white-tip and black-tip reef sharks on our first dive, complemented by graceful sea turtles. As if that wasn't enough, our surface interval was graced by two magnificent humpback whales frolicking in the lagoon.
Our second dive was nothing short of a turtle utopia! From green turtles to hawksbills, we counted over a dozen. Whether they were catching a nap, munching away, receiving a spa-like cleaning, or simply surfacing for a breath, these turtles were a sight to behold. While remnants of the crown of thorns' havoc on the Moorea reefs from a year ago are still visible, the marine life, particularly our shelled friends, remains as vibrant as ever.
Day 3: Sep 29
Today marked our inaugural whale-watching expedition. Merely 45 minutes post-departure, we identified two whales on the surface. One approached our boat before diving deep. After a brief wait, we dived in and were astonished to find it adjacent to us—a male singing. The resonance was palpable, echoing in our chests.
Subsequently, we observed two adult whales accompanied by a group of rough-toothed dolphins, who seemed keen on a playful interaction. We managed three drops to snorkel with them, spanning a total of about an hour in the water with these marine mammals.
Following a lunch break amidst spinner dolphins in the calm lagoon, our search for more whales resumed. Later, we encountered a particularly inquisitive humpback whale, approaching divers closely with evident curiosity. Overall, Day 3 exceeded our expectations, leaving us eager for the adventures ahead.
Day 4: Sep 30
Today's sunlit morning and gentle winds set the tone as we embarked on another whale-watching journey. Having had a remarkable experience the previous day, we were at ease. Yet, within an hour out of the lagoon, we found ourselves accompanying a serene mother and her baby humpback. Our encounter lasted a delightful 30 minutes before we pursued other whale sightings. Our morning session finished with a brief but memorable interaction with two adult whales.
With the sea as calm as a mirror, we opted for an open-sea lunch, staying vigilant for any whale activity. The afternoon gifted us more memorable moments, particularly with adult humpbacks and another mother-baby duo.
To cap off our already fulfilling day, we ventured into the lagoon for a drift snorkel, sharing waters with eagle rays, black tip reef sharks, and turtles.
Day 5: Oct 1
This morning was bustling with whale activity, although many were on the move. Still, we managed two drops in just a few hours. Our first encounter was with a spontaneous juvenile that surfaced right beneath us. While the mother and calf during our second drop were a bit more reserved and took off once we were in the water, it offered a glimpse into the protective nature of these majestic creatures.
An intriguing melody from a male humpback captured our attention via the hydrophone. Despite our efforts, he remained elusive underwater. However, news from Coconut about a tranquil mother and her animated calf spurred us on. This pair was exceptional: the mother exuded calmness while her young counterpart showcased spirited playfulness. An hour with them concluded dramatically when the mother signaled her desire for solitude with a monumental breach.
With hearts full of gratitude for the day's events, we opted for a leisurely lunch and an early return to the resort.
Day 6: Oct 2
Despite a rainy onset and tranquil seas, the morning was abound with whales. However, favorable interactions eluded us, highlighted by a brief encounter with a fleeting mother and calf.
Post-lunch, fortune favored us. Spotted halfway between Moorea and Tahiti, three animated adult whales caught our attention. Their surface activities, from spy-hopping to fin and tail slapping, intensified as we neared. Being the sole spectators in this remote locale, our engagement was unparalleled. Across five distinct drops, the interaction was electrifying. These majestic beings playfully swam by, flaunted their bellies, and circled back, seemingly as curious about us as we were about them. Undoubtedly, it was among my most memorable whale encounters in recent years.
Day 7: Oct 3
Following four splendid days immersed with humpback whales, today was more observational from the boat. We were treated to sights of whales breaching and showcasing their fin and tail slaps. Although our two jumps were brief, with fleeting glimpses of the whales, they added to the day's experiences.
Noting the whales' inclination for solitude, we took a serene cruise through the lagoon and Cook's Bay before returning to the resort.
Day 8: Oct 4
Transition day. We bid adieu to the enchanting Moorea and its humpback inhabitants, catching a flight to Rangiroa, ready for some diving adventures.
Day 9: Oct 5
Today, we embarked on two dives. A convenient pick-up from our resort led us to the dive shop where, post-briefing, we set off for the renowned Tiputa Pass. With an incoming tide offering clarity beyond 100 feet, we were greeted by vast schools of soldierfish, grunts, and barracuda. Gray reef sharks patrolled near the pass entrance while a pair of eagle rays gracefully glided by.
Taking advantage of Tiputa Pass's proximity to the dive shop, we spent our surface interval there before plunging in for our second dive. As the tide shifted outward, we ventured deeper into the reef. The day's surprise? An elusive manta ray! But, the real stars were the dolphins. Their playful antics mesmerized us as they sought our attention for pets and scratches. At one point, it felt like each diver had a personal dolphin companion. What a day!
Day 10: Oct 6
Today, we experienced two exhilarating dives in Rangiroa. The first dive, during an incoming tide, showcased an abundance of marine life and sharks near the pass entrance. The strong currents then whisked us swiftly down the pass, concluding our dive in the serene lagoon. The afternoon's slack tide set the scene for our second dive. As we leisurely swam through the pass, we caught intermittent views of a majestic Great Hammerhead patrolling its depths. The climax was our venture into a canyon, gripping onto rocks, while the awe-inspiring hammerhead made several close passes.
Day 11: Oct 7
Travel day. After savoring two days diving in the renowned Tiputa Pass of Rangiroa, we're now en route to the secluded atoll of Fakarava.
Day 12: Oct 8
On our first diving day in Fakarava, we were greeted by schools of sharks on all our dives, with the second dive revealing a breathtaking wall of them. The underwater spectacle also included Napoleon wrasse and large clusters of paddletail snappers and red snappers.
Day 13: Oct 9
Today's trio of dives started with an enchanting descent at "Roses," named for its vast expanse of coral that resembles blooming roses from above. Although sharks gracefully navigated the surroundings, the main stars here were the red snappers, paddletail snappers, and soldierfish, surrounded by the vibrant and diverse coral. Diving amidst Fakarava's flourishing hard coral reef, teeming with marine life, was truly an honor.
Day 14: Oct 10
Our final diving day in Fakarava did not disappoint. Throughout our three dives, we encountered thousands of snappers – red, paddletail, blue-striped – and soldierfish. Of course, the ever-present sharks remained the main attraction. The second dive was a particular highlight as we drifted amidst a swirling cloud of these magnificent creatures.
Day 15: Oct 11
Today we bid adieu to French Polynesia. Our last moments were spent at the picturesque Pink Beach, a mere 15-minute boat ride, offering stunning views even surpassing those from our "pension" (guest house). We walked along a sprawling sandbank, finding ourselves amidst an idyllic paradise of "motus" (little islands) encircled by many shades of blue water. Following a delightful lunch, we took a scenic 90-minute boat journey through the lagoon to the airport.
French Polynesia, thank you for an unforgettable journey filled with cherished memories. Until we meet again!