Destination: Ecuador
Galapagos Islands (7 Nights) | From $942++/night

---
Galapagos Aggressor III Quick Pitch
The Galapagos Aggressor delivers high-quality cruises with a 23 dive itinerary across the best dive sites in the archipelago.
Learn more about the Aggressor Fleet here...
Location
Galapagos Aggressor III trip starts and ends in Baltra every Thursday.
Dive Overview
Divers visit the Galapagos for the unique marine life, which is a blend of warm water and cold water creatures. The Aggressor visits the best sites for large pelagics like whale sharks, schools of hammerhead sharks, Galapagos sharks, silky sharks, bullhead sharks and mola molas. Other popular marine life is sea lions, penguins, mantas, eagle rays, eels, turtles, marine iguanas, pelagic fish and other massive fish schools.
[See: Galapagos Dive Travel Guide]
Check Out This Great Video!
Galapagos is one of the best shark diving destinations in the world. Check out the full list here...
Accommodations
Types of Cabins, Amenities and Photos

---
Galapagos Aggressor III Accommodation Details
Comfortable accommodations include four deluxe staterooms which have two twin beds and three portholes and six master staterooms with a queen bed (which can be modified to 2 twin beds) and a large window. Each cabin has a private toilet, shower, hairdryer, TV/Blue Ray DVD, stereo CD player, temperature controls and safe storage box. The Galapagos Aggressor III sleeps 16 guests in privacy and comfort.
Galapagos Aggressor III Cabin Details
(4) Master Staterooms
Each with 2 single beds side by side that can be made into a queen bed, (upon request) private head & shower, closet, port window, individual climate control, monitor with media player & hair dryer.
(4) Deluxe Staterooms
Each with 2 lower single beds (side by side) with private head & shower, individual climate control and monitor with media player & hair dryer. Staterooms #3 & #4 can be made into a queen bed.
General Facilities

---
Galapagos Aggressor III Boat Features
Spacious salon
Large sun deck with shading
Chaise lounges and deck chairs
Bar
Grill
Hot tub
Complete photo/video center
AC
En-suite bathrooms & showers
Entertainment room
Lounge area
Limited WiFi
Galapagos Aggressor III Dive Facilities
Maximum of four dives daily
Full line of Aqua Lung rental gear including regulators, BCDs, dive computers, and night lights
Diving specialty courses
Photo/video station
Nitrox is available for an additional fee
Large swim platform with two warm freshwater showers
Dive deck with personal gear lockers
Rinse tanks and three tier camera table with low pressure air hoses
Food & Drinks Aboard Galapagos Aggressor III
The menu onboard is varied and plentiful, with a variety of American feasts, barbecues and local cuisine. The Aggressor's selection includes fruit juices, soft drinks, iced water, iced tea, coffee, and a limited selection of local beer and wine, which are complimentary. Due to the high duty charged on liquor, we suggest you bring your favorite brand.
Galapagos Aggressor III Liveaboard Deck Plan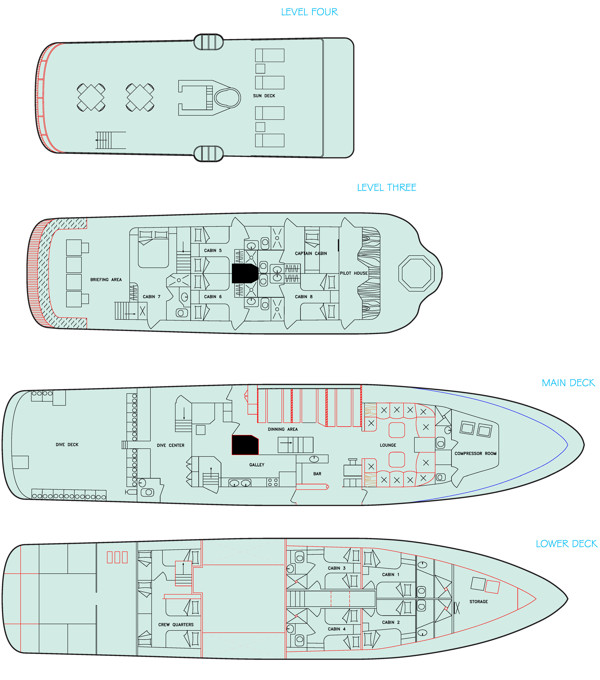 Schedule, Rates & Availability
Galapagos Aggressor III Schedule & Rates

---
Prices are in USD, per person and are based on the lowest priced cabin. Port and park fees are not included.
[See also: Inclusions & Exclusions and Full Rates by Cabin Type]
Galapagos Aggressor III Rates
| | | |
| --- | --- | --- |
| Date | Master | Deluxe |
| July 1, 2021 - January 6, 2022 | $6,795 | $6,795 |
| January 6, 2022 - January 5, 2023 | $6,995 | $6,995 |
| January 5, 2023 - January 4, 2024 | $6,995 | $6,995 |
| January 4, 2024 - January 2, 2025 | $7,150 | $7,150 |
Inclusions
Accommodations aboard the yacht
All meals and snacks, non-alcoholic beverages, local beer and wine
Diving
Compressed air tanks, weights & belts
Transfers from and to Baltra Airport
Exclusions
Airfare (international and domestic)
Insurance
Equipment rentals
Nitrox fills
Certification or specialty courses
Hotel stays/day rooms
Dinner on final evening
Crew gratuity
Mandatory: USD $100 Park fee, $20 Galapagos Visitor's Visa card
12% Ecuadorian tax on onboard services
RATES & AVAILABILITY
For more information on other departure dates, rates, and on availability email us at info@bluewaterdivetravel.com or call us at +1-310-915-6677 and we will gladly help you plan your dream dive vacation!
Dive Information & Destinations

---
Galapagos Dive Overview
June - November: The water is cooler, 60-75F, 16-24C; Whale Shark sightings are greater
December - May: The water is warmer, clearer 70-86F, 21-30C; Larger schools of Hammerhead Sharks, Manta Rays and Eagle Rays
All dives from tenders. Up to 20 dives are offered during the week.
5 - 7mm wetsuit recommended
Itinerary Overview
The weeklong trip on the Galapagos Aggressor III starts and ends in Baltra every Thursday. The Galapagos Aggressor III itinerary in compliance with the Galapagos National Park regulations which requires companies with permits to follow an exact itinerary. A maximum of four dives will be offered daily; two in the morning and two in the afternoon. In addition, one night dive and two land excursions per week will be offered. New diving areas have been added to the itinerary: Bartolome Punta, Cousins Rock and Cabo Douglas. The Galapagos itinerary is controlled by the National Park who grants approval for normal itineraries.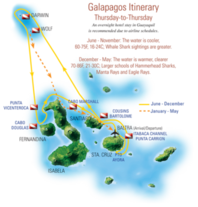 Sample Itinerary
Thu: Baltra Airport, Afternoon Greeting by Crew, Bus Transfer to the Itabaca Channel Canal and Boarding. Welcome, and Orientation Dive at Punta Carrion at Itabaca Channel.
Fri: 2 Morning dives; Punta Carrion (Santa Cruz Island) or Bartolome Punta. 1 afternoon hike to Bartolome Summit and panga ride at Pinacle Rock.
Sat: January to May: 4 Dives at Wolf; 2 morning, 2 afternoon dives.
June to December: 2 morning dives, 1 afternoon and 1 night dive.
Sun:
January to May: 2 morning dives at Darwin and 2 afternoon dives at Wolf.
June to December: 2 morning dives and 2 afternoon dives at Darwin.
Mon:
January to May: 4 dives at Cabo Marshall; 2 morning dives, 1 afternoon and 1 night dive.
June to December: 2 morning dives at Darwin; and 2 afternoon dives at Wolf.
Tue: 2 morning dives at Cabo Douglas and 2 afternoon dives at Punta Vicente Roca.
Wed: 1 morning dive at Cousins Rock. Wednesday afternoon arrive at Itabaca Channel or Puerto Ayora. After lunch guests will disembark at 1 pm to go ashore for a private bus tour to see the beautiful Highlands of Santa Cruz Island. This will include a scenic view over Santa Cruz and a Tortoise Reserve to see giant tortoises.
After the hike, guests can walk through town, shop and visit the tortoise-breeding center Fausto Llerena at the Charles Darwin Research Station. Guests will have dinner ashore at a local restaurant of their choice (only meal not included in the cruise). The GALAPAGOS AGGRESSOR will depart at 10 pm from Puerto Ayora town to Baltra.
Thu: Guests will have a full breakfast then check out and depart to the Baltra Airport.
[See: Galapagos Dive Travel Guide]
Other Information

---
Boat Specifications
Year built: 1993
Length: 100 feet (30.5 meters)
Beam: 22 feet (6.7 meters)
Speed: 10-12 knots
Engines: Twin Caterpillar 450hp
Generators: Twin Caterpillar 65 KWA
Passengers: 16
Number of cabins: 8
Number of bathrooms: 11
Crew: 9
Tenders: 2 x RIB with Yamaha 65hp
Fuel capacity: 6,000 litres
Water capacity: 7,500 litres
Watermaker: 5,000 litres per day
Practical Information
Time Zone: UTC-6
Local Currency: USD (U.S. dollar)
Language Spoken: English and Spanish
Electricity: 110 and 220 volt
Payment Onboard: Cash, traveler's checks, Visa, MasterCard, and American Express
Underwater Gallery

---