scuba diving in Komodo, Indonesia
---
Komodo diving highlights
The Komodo diving scene is world-renowned for its thrilling drift dives, huge schools of fish, healthy and colorful coral reefs, and great manta ray encounters. Some of the things that make Komodo a popular diving destination is its easy access from Bali, the ever-popular tourist hotspot for scuba divers and non-divers alike.
---
LOOKING FOR A LIVEABOARD IN INDONESIA?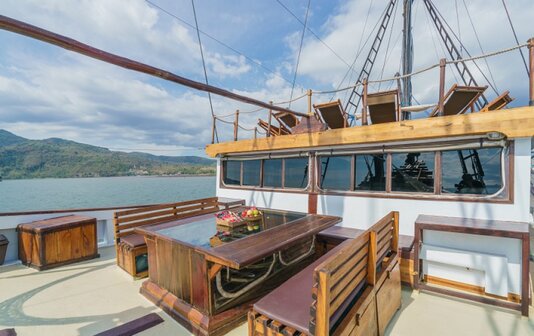 The MY Oceanic and SMY Ondina are two top choices! They have been operating for more than 20 years, pioneering many of the most reputed areas in the region. Their itineraries visit Raja Ampat, Komodo, Alor, Ambon, Cenderawasih Bay and the Banda Sea, giving you easy access to some of the best dive sites in the world. If you want to know more about these two liveaboard options, don't hesitate to contact our expert dive travel advisors at info@bluewaterdivetravel.com.
---
Intro to Komodo National Park diving
Bordered by the Sulawesi and Flores Seas on the north side and the Indian Ocean to the south, Komodo National Park is a marine protected area and a UNESCO World Heritage Site comprised of three major islands: Komodo Island, Rinca, and Padar, as well as numerous smaller islands many of which offer world-class diving.
Komodo National Park is also home to the endemic Komodo dragon, the world's largest and heaviest dinosaur-like lizard, which can reach up to 10-foot (3-meter) long and can weigh more than 300 lbs (136 kg).
As a scuba diving destination, Komodo offers two distinct dive areas: North Komodo and South Komodo. Even though they are close to one another geographically, these areas are often worlds apart in terms of conditions.
View Location on Google Map or learn the differences between North & South Komodo
komodo Diving Information
---
In the north of Komodo, the water is generally warm and sparkling blue, as you might expect in such tropical latitudes. In the south, however, upwelling currents deliver chilly, nutrient-rich waters from great depths, creating perfect conditions for plankton growth. Visibility often isn't great, but most divers agree that the trade-off is well worthwhile, as this living planktonic "soup" supports an incredibly diverse and healthy marine life community.
Despite considerable differences in temperature and visibility, underwater terrain is quite similar between north and south Komodo. Komodo diving typically consisting of drop-offs, pinnacles, fringing reefs, and shallow coral gardens. The destination also attracts many divers eager to see a Komodo Dragon, the world's largest lizard in the wild. This unique carnivore is found nowhere else in the world. Divers returning from Komodo generally have stories of mantas, lots of schooling fish, reef sharks, turtles, a cornucopia of macro subjects and some "brisk" currents. Because of the currents, diving in Komodo is generally not suitable for beginners.
Read about other great dive locations in Indonesia.
For dive destinations with similar diving to South Komodo, read our guide to diving Derawan Islands or check out our Sipadan dive guide.
Komodo Marine Life & Photography Subjects
BIG ANIMALS
Komodo Island is among the top sites in the world for diving with manta rays. Most trips will include manta ray sightings at one or more sites. Pelagics such as dogtooth tuna, giant trevally, barracudas are often seen. Napolean wrasse and bumphead parrotfish sightings are also possible. You may see a few reef sharks, but they are not especially common. Turtles are encountered at many sites.
SMALL CRITTERS
Frogfish, stargazers, spiny devilfish, leaf scorpionfish, ghost pipefish, cuttlefish, bobtail squid, garden eels, bobbit worms, and pygmy seahorses are all commonly seen. Unique critters like the "Ladybugs" are also found in Komodo.
Diving Conditions
Water Temperatures: Water temperatures are usually moderate, but can range from 66f / 19C to 86f / 30C on the same trip. The temperature changes more based on location, than on time of the year. The north side is always warm, but the south side is often colder. South Komodo tends to be warmest and clearest from Nov- Jan.
Visibility: averages 15 - 40m (49 - 131 feet)
Depth Range: 3 - 40m (10 - 131 feet)
Typical Komodo Dive
You are typically dropped off by a tender over the dive site and may need to do a negative entry if over a submerged pinnacle. The tender will do a live pickup when you surface, and an SMB (safety sausage) is absolutely mandatory. Some divers will use reef hooks, on the pinnacle dives so you can stay put and enjoy the view. Downcurrents are possible, especially on steep drop-offs, but they can usually be avoided with proper planning.
Komodo has a well-deserved reputation for strong currents, but there are many sites where the flow is minimal and diving is easy. Some reefs are also suitable for drift dives, allowing you to sail along with the current rather than fighting it. Even at places that are notorious for strong currents, problems can usually be avoided by diving at slack tide—an excellent reason to go with a reputable, experienced dive operator with plenty of local knowledge.
Overview of Komodo ISLAND dive Areas
SOUTH KOMODO
With colder waters (low 70's F/ 21C) and lower visibility (20ft - 50ft/6m-15m), why would anyone come here? South Komodo has incredibly rich marine life, such as beautiful tiny amphipods, sea apple cucumbers, sponges, colorful soft corals, frogfish, stargazers, electric rays, lots of critters, and much more. Everything here is generally larger, and there is more of it, because of the rich supply of plankton.
Top dive areas include Rinca Island's Horseshoe Bay, home of iconic sites like Cannibal rock and the Great Yellow Wall. The bay is protected from most bad weather, bathed with nutrient-rich currents, and has extremely varied underwater terrain, supporting an amazing variety and density of marine life.
Komodo dragons are found on Rinca Island at Horseshow bay, and divers will often go on land for a little while in-between dives to see the dragons. You can actually see them either from land or from the dinghy boat. Divers have even seen them swimming in the dinghies.
While South Komodo is mostly about the critters, there is a notable big animal dive site called Manta Alley, which you may have guessed, has Mantas.
NORTH KOMODO
North Komodo is warmer and clearer than the South and delivers what can be considered typical Indo-Pacific reef diving. The north has its share of big-fish sites and macro sites. Castle Rock is a favorite submerged pinnacle, full of trevally, mackerel, wide-angle and macro subjects. Even bottlenose dolphins have been known to visit the site.
Another submerged pinnacle, called Hard-To-Find reef, has many massive schools of fish, reef sharks, and turtles. On these kinds of sites, you often don't need to swim far, but simply park yourself and watch the show.
komodo Travel Information
---
How to Get THERE
Most trips depart from Bali, Labuan Bajo or Bima. If you need to fly into Bima or Labuan Bajo, you will generally transfer planes in Bali where you can arrive internationally.
How to Dive Komodo
Komodo National Park is a terrific liveaboard destination since it will be much easier to cover the whole area (North & South) in one trip. However, there are numerous dive resorts and operators available in the area.
Find a liveaboard trip to Komodo or browse our other Indonesia liveaboard trips!
Options for Combination Trips
We highly suggest combining a trip to Komodo with a Bali trip. Also, instead of doing only Komodo, you can do a "transition trip" where you start in Komodo and end in Flores (Maumere), or vice-versa. Additionally, Alor with its healthy reefs is another destination to add to the mix.
You can check out our list of Bali Dive Resorts here...
Best Time to Dive KOMODO
For best access to all sites in the park, we would visit Komodo from March to May, and again from September to November.
From mid-May to early September, southeast winds make some southern sites inaccessible, but this is the best time for the northern sites. The converse is also true; from mid-November through January most northern sites are exposed, but conditions in the south are optimal.
Topside & Non-Diving Activities
Land tours of the Komodo Islands are definitely a highlight. Komodo dragons are found on Komodo and Rinca Islands, and most trips provide opportunities to see them between dives. You can view them either from land or from the dinghy—occasionally they'll even swim out to greet you! A word of caution is in order when around the dragons, however, as they can be aggressive, and even a minor bite may cause a life-threatening infection. Follow your guide's instructions and you shouldn't have any problems.
For another unique top-side destination, check out our diving in Galapagos page.
komodo Liveaboard availability
---
The rates shown below are per person in USD. Some of the operators quote in EUR and the pricing at the time of booking may vary depending on the latest EUR/USD exchange rate.
Please contact us for the availability of the following boats: Arenui, Mutiara Laut, MSY Aurora, Panunee, Cajoma IV, Velocean, and Dragon Dive Komodo.
Not sure a liveaboard is for you? We have a huge choice of Indonesian Dive Resorts.
Other Useful Information
---
Practical Information
Currency: Indonesian Rupiah (IDR). A dollar or Euro will get you a lot of them.
Electricity: Generally is 220 volts, with 2 round pin plugs (European Standard)
Vaccines: Please check the CDC website for updated information on vaccines, health concerns, etc. It is recommended that you are up to date with Typhoid, Tetanus/Diphtheria, Hepatitis and Polio for any trip to the tropics.
Visa: Visitors from most countries can receive a 30-day visa ($25) upon arrival to Indonesia. Make sure your passport has a blank page and is valid for 6 months.
Language: Bahasa is the language of Indonesia. It is very easy to learn, and we suggest you learn hello, thank you, how are you, and what is your name before your trip.
Domestic Flights: As with all domestic Indonesian flights, be prepared for changes or delays.
Safety: A surface marker buoy is essential for diving Komodo, and as with all dive travel, evacuation insurance is highly recommended.