scuba diving in Alor, Indonesia
---
Alor diving highlights
The diving in Alor, east of Komodo and Flores, has spectacular coral reefs with great diversity, sometimes strong currents but stunning topside scenery. The macro biodiversity in Alor is also spectacular. This volcanic island is great for muck diving and has one of the largest anemone fields. Unlike Raja Ampat or paradise island Bali that are well-known dive sites in Indonesia, Alor has been less in the focus. Thus, Alor diving will charm you by being unspoiled and will surprise you by giving you equally amazing dives if not even better than the popular destinations. These are some of the reasons why Alor is on the top of our list of the best diving in Indonesia.
Interested in diving Alor? Have a look at the live availability for some of the liveaboards in Alor or contact us to help you plan your trip!
---
LOOKING FOR A LIVEABOARD IN INDONESIA?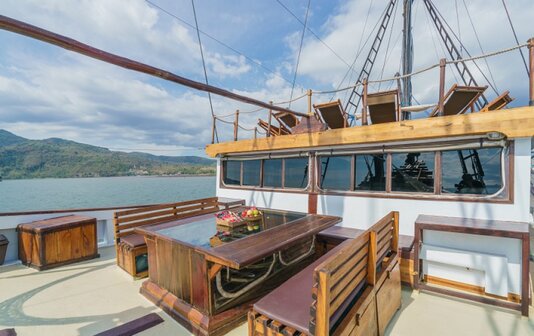 The MY Oceanic and SMY Ondina are two top choices! They have been operating for more than 20 years, pioneering many of the most reputed areas in the region. Their itineraries visit Raja Ampat, Komodo, Alor, Ambon, Cenderawasih Bay and the Banda Sea, giving you easy access to some of the best dive sites in the world. If you want to know more about these two liveaboard options, don't hesitate to contact our expert dive travel advisors at info@bluewaterdivetravel.com.
---


INTRO TO ALOR DIVING
Alor Archipelago, where Alor island is the biggest, has made a great effort to keep the reefs healthy and protect it from overfishing. The local fishermen only use sustainable fishing methods so it would not get polluted by fishing nets. Thus, the dive destination is covered with incredibly colorful healthy reefs and has an extremely diverse marine life. And the fact that it is in a remote area makes the underwater world a divers dream. The volcanic island gives you great underwater topography and is great for black sand and muck diving. Plus, it offers something for macro and big animal lovers both. You will have a chance to spot the smallest nudibranchs to seeing huge whales. Due to its strong currents, though, Alor is generally more suitable for experienced divers.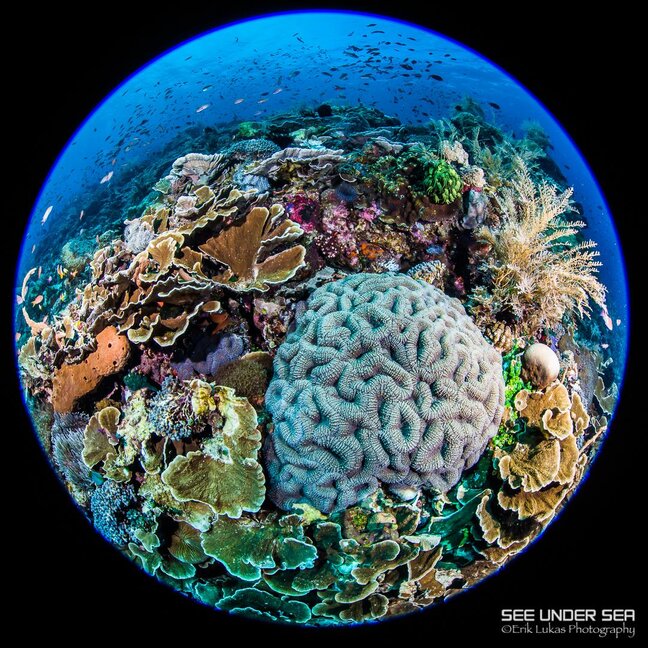 Photo: Erik Lukas.
ALOR MARINE LIFE & DIVING CONDITIONS
The main marine attractions in Alor are excellent macro life, amazing coral and benthic diversity, and schooling fish. Though Alor is great for macro, you also have a chance to see some big photo subjects like mola molas, sharks, turtles, and rays. You are also likely to spot dolphins and pilot whales from your dive boat.
List of some of the marine animals that you'll likely to see in Alor:
Rhinopias

Variety of Nudibranch

Ribbon Sweetlips

Lionfish

Scorpionfish

Shrimp

Variety of crabs

Seahorses

Black Snappers

Moray Eels

Sharks

Rays
Check out photo pro Erik Lukas's 2017 diving trip report and photos
ALOR DIVE SITES
The diving map of Alor can generally be classified into 2 main areas: Kalabahi Bay for macro photography and the Pantar Strait for wide-angle. All the dive sites in Kalabahi Bay are muck dives in black sand. The bay plunges to more than two hundred meters, which tricks whales into entering several times a year. In the Pantar Strait, the underwater landscape changes dramatically. It revolves around coral cover & fish life.
Interested in macro photography? Check out our top picks for the Best Macro Destinations in the World.
We've rounded up some of the best dive sites in Alor:
Clown Valley - Also known as the Anemone City or Anemone Valley is one of the most anemone rich dive sites in the world, where you can see them left and right. Clownfish, lobsters, and nudibranchs are often present but even sharks can come and pass by.
Babylon- Is a great site for both macro and wide-angle photography featuring a combination of soft and hard coral. The site got its name after the overhangs on the wall.
Kal's Dream - Scuba Divers can expect to see large schools of fish and big marine life. The large pinnacle attracts barracudas and you can even spot hammerheads among much other beautiful fish.
The Cathedral- One of the best dive sites due to being so rich with colorful fish and having a unique reef that is covered with kelp. The Cathedral dive site is also where you want to look for mola molas.
Pink Forest- As the name says, this muck diving site is covered with pink soft coral. It's a favorite spot for many crustaceans and an opportunity to find rare nudibranchs.
ALOR DIVING CONDITIONS
Water Temperatures: Water temperatures vary from a low 25°C (77°F ~ March-April & October-November) to 31°C (87.8°F). Thermoclines can be found at certain dive sites and the temperatures may drop to 20°C (68°F) or less.
Visibility: averages 25-30m (80-98ft). May drop to 15m (50ft) or less due to plankton blooms.
Depth Range: 5 - 40m (16-131ft)
Travel Information
---
How to Get THERE
Upon arriving internationally you can fly into Alor from Bali (via Kupang), Jakarta, and Manado (via Makassar). If you're traveling solely to Alor, it will be best internationally into Jakarta so that you can take a direct flight.
How to Dive ALOR
Alor diving is accessible through resorts and liveaboards. Most trips to Alor are combined with other dive regions.
Find a liveaboard trip to Alor! or check out some other great Indonesian liveaboards!
Options for Combination Trips
Alor diving can be combined with Flores that is home to some interesting scuba dives, notably in Maumere and Ende. Liveaboards often feature Maumere and Ende as some of the stops en-route from Komodo to a different dive region in Indonesia. Another option is to combine the trip with Komodo, a great place for manta ray encounters and home of the famous Komodo Dragon. Or combine all three to get the best out of all the islands in the area. Additionally, Alor can be combined with a liveaboard trip around the many islands in the Banda Sea.
Check out these liveaboards in Komodo, some of which also include Alor on their itinerary.
Best Time to Dive ALOR
Alor Diving is accessible all year round, but the best conditions are from March to December. Current is most prevalent in October and November. During the rest of the year, the conditions can be a bit rougher and the visibility reduced due to a higher chance of rain. If you are more interested in macro or muck diving, then there is no difference between months. If you are looking to see big animals, like mola molas, then around September would be the best time to visit.
Topside & Non-Diving Activities
Alor is a volcanic region with amazing landscapes and active volcanoes. You can even make visits to the local villages and see the playful children with their homemade goggles diving in and out of the water. Enjoy some of the beautiful pristine white sand beaches or drive around the island to discover it's amazing nature. They also have an interesting museum where you can learn about their culture and old traditions. And to get a real taste of the local life, you must visit their local market!
Liveaboard availability
---
The rates shown below are per person in USD. Some of the operators quote in EUR and the pricing at the time of booking may vary depending on the latest EUR/USD exchange rate.
Please contact us for the availability of the following boats: Arenui, Mutiara Laut, MSY Aurora, and Velocean.
Other Useful Information
---
Practical Information
Currency: Indonesian Rupiah (IDR). A dollar or Euro will get you a lot of them.
Electricity: Generally is 220 volts, with 2 round pin plugs (European Standard)
Vaccines: Please check the CDC website for updated information on vaccines, health concerns, etc. It is recommended that you are up to date with Typhoid, Tetanus/Diphtheria, Hepatitis and Polio for any trip to the tropics.
Visa: Visitors from most countries can receive a 30-day visa ($25) upon arrival to Indonesia. Make sure your passport has a blank page and is valid for 6 months.
Language: Bahasa is the language of Indonesia. It is very easy to learn, and we suggest you learn hello, thank you, how are you, and what is your name before your trip.
Domestic Flights: As with all domestic Indonesian flights, be prepared for changes or delays.
Safety: A surface marker buoy is essential for diving Komodo, and as with all dive travel, evacuation insurance is highly recommended.