diving the tectonic plates of silfra in iceland

---
ICELAND DIVING HIGHLIGHTS
Iceland's best-known dive is the famous Silfra Gap, a unique experience diving between continents. Diving the tectonic plates of Silfra is not to be missed, however, there is also some notable shore diving to be discovered along the island's southern shore. Don your drysuit and dive into some of the best cold-water diving in the world!
ICELAND DIVE RESORTS
Diving in Iceland is exclusively land-based, and there are several well-established dive operators that specialize in cold-water diving. Divers interested in diving Iceland's tectonic plates will find this unique experience is offered by multiple reputable dive shops. Accommodation in Iceland is varied with options from hostels to five-star hotels and private rentals.
Check out one of our preferred operators here: DIVE.IS
INTRO TO diving Iceland & silfra
Located just outside the Arctic Circle, Iceland is a small and sparsely populated island nation that offers a one-off dive experience for those brave enough to endure its icy waters. Famous for its volcanic beaches, huge glaciers, and iceberg lakes, diving in Iceland may not be everyone's first choice. However, this prehistoric landscape has a surprising amount to offer below the surface.
Iceland is one of the few places in the world where it is possible to experience subsurface thermal geology firsthand, and the beauty of some of the island's freshwater sites is breathtaking. Most notably, Silfra Gap is a one-way journey through a 230-year-old rift between two continents. Here divers can enjoy crystal-clear water while experiencing the thrill of Iceland's tectonic plates diving.
Silfra diving is not the only worthwhile experience while diving in Iceland. Shore diving is equally fascinating, with healthy coldwater sites and an abundance of North Atlantic species that most divers will not have encountered before. Iceland is also home to some spectacular fresh water lakes with fascinating underwater landscapes worth diving.
Read about our 2022 trip to Iceland & Norway here.
WHEN TO GO diving in iceland
Diving in Silfra is possible year-round, however, shore diving is confined to the summer months when the weather is more favorable.
ICELAND DIVING INFORMATION

---
iceland MARINE LIFE & PHOTOGRAPHY SUBJECTS
Marine life is surprisingly abundant around coastal Iceland, with varied cold-water ecosystems supporting healthy marine life. Visibility on shore dives is very varied depending on the weather, however, it is possible to spot unusual species large and small on most dives. Some of the most abundant and unique marine life is found in the protected reserve at Strytan.
For those keen to photograph unique underwater topography, Iceland's inland sites don't disappoint. The sparkling clear water provides perfect conditions for capturing unusual rock formations in a variety of bright colors.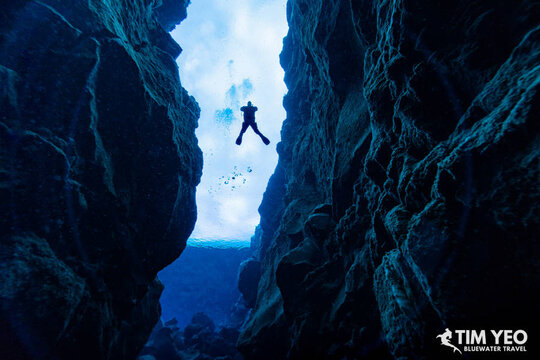 TYPICAL DIVE IN Iceland
Diving in Iceland for all but the hardiest of divers requires a drysuit. While you will need to be qualified or experienced as a drysuit diver, operators have a large number of suits available to rent. Dive operators are well-aware that many visitors will not be accustomed to cold water diving, and so they offer hot drinks between dives and a heated van or trailer to warm up in during the surface interval.
Silfra diving is possible year-round as the Silfra Gap never freezes and water temperatures remain the same. So it just depends on the topside weather as to whether you are happy to dive or not! Other sites tend to be seasonal as the water freezes and the weather blows out. Even in the summer, diving in Iceland can be disrupted due to bad topside conditions, however, most operators expect this and will have a backup plan in place.
All divingin Iceland is done from shore, and entry/exit points are well set up with metal ladders to aid getting in and out of the water.
iceland DIVING CONDITIONS
Water temperature: Silfra 35.5-39oF (2-4oC) year-round, ocean diving averages between 39 and 45oF (4-7oC).
Visibility: Silfra offers some of the clearest water in the world!
Depth Range: 32-131+ft (10-40+m).
Diving Difficulty: Silfra diving is suitable for all abilities, including snorkelers, and ocean diving varies depending on the site.
iceland's BEST DIVE SITES
Diving Iceland is an experience sure to please all divers willing to brave the cold waters. With Diving the tectonic plates of Silfra Gap being the most famous and popular diving experience, there are other dive sites worth visiting.
Silfra
Iceland's flagship dive site, Silfra is an inland fissure located an hour's drive from the capital, Reykjavik, in Thingvellir National Park. This freshwater site is a rift between the Eurasian and North American tectonic plates that is widening by around 2/3 inch each year. Diving Silfra gives divers the unique opportunity to swim between two continents, and at one point it is even possible to rest a hand on both continents at the same time. The water in the gap has been filtered through the surrounding volcanic rocks for over 100 years to create crystal-clear visibility, however, this has also removed almost all nutrients and so there is very little life to be found.
Divers enter the water from a metal platform at one end of the fissure and follow the gap between the rocks as it winds to its deepest point at 60 feet (18m). The surrounding volcanic rocks are brightly colored in red and purple, and the excellent visibility makes it easy to forget you're underwater. After 20 minutes of exploring, the rift opens into a shallow 'pond' lined with green algae. Metal steps at the edge of the pond lead to the exit point and a path that walks you along the edge of the fissure back to the entry point.
Diving in Silfra is tightly controlled and it is not possible to explore without an official guide. The water temperature remains between 35.5 and 39oF (2 and 4oC) year-round, so diving and snorkeling Silfra is possible 12 months of the year.
Gardur
The most popular shore dive in Iceland, Gardur is located an hour south of Reykjavik on the island's southwestern tip. This dive site is notable for its variety of colorful marine algae and giant kelp forests alongside a fascinating topography of patches of sand interspersed with cold-water corals. Divers can discover wolffish, scorpionfish, monkfish, and a variety of flatfish hidden in the sand. There is also the potential for some macro diving here, with nudibranchs and other invertebrates making their home amongst the kelp.
Strytan
This is another shore dive in Iceland that provides rare access to the country's fascinating geothermal geography. Strytan is a huge underwater chimney created when minerals released from a thermal vent hardened in contact with the surrounding cold seawater. Created over the past 11,000 years, this 180-foot (55m) tall limestone tower reaches 50 feet (15m) below the surface and is home to a very unique ecosystem of flora and fauna. Currents here can be strong and it is vital that divers don't come into contact with the chimney as it is a protected natural reserve, therefore, it is recommended for advanced divers only.
Bjarnagja
Bjarnagja offers divers a freshwater and ocean dive in one, where the continental fissure meets the ocean in a 60-foot (18m) coastal ravine. While the water in the rift is predominantly fresh water, it is influenced by the ocean only a couple of hundred feet away. The dive involves some experience in overhead environments.
Kleifarvatn
This Iceland dive site is like no other and is located in Iceland's largest lake. Underwater hot springs were recently discovered around 30 feet (10m) from the edge of the lake, and divers can explore the large crater that emits hot, bubbling water and gas. The gas is released under such pressure that it makes the surrounding rocks vibrate, which can often be felt during the dive. Because Kleifarvatn Lake freezes during the winter, this site is only diveable during the summer months.
El Grillo
El Grillo is an opportunity for experienced divers to wreck dive in Iceland. In the far east of Iceland, the tiny fishing village of Seydisfjordur is home to the El Grillo wreck, a British oil tanker that was sunk during WWII. This 490-foot (150m) wreck rests between 92 and 147 feet (28 and 45m) and so is best suited for divers with a deep or technical qualification.
BEST TIME TO DIVE ICELAND
Diving Silfra Gap's tectonic plates is possible year-round, however, the summer months of July and August provide the best top-side temperatures. Dive operators only offer shore diving during the summer season when weather conditions are most favorable.
There are direct flights to Iceland from both Europe and the USA which means the country can get very busy with tourists during the US Christmas Holiday season and the European summer vacation season. It is vital to book your diving ahead of time as most operators cater to snorkelers as well as divers and book up well in advance.
iceland TRAVEL INFORMATION

---
HOW TO GET TO ICELAND
There are direct flights to Reykjavik's main airport, Keflavik International Airport (KEF) from numerous US cities including Seattle and Portland on the west coast, Denver and Chicago, as well as Orlando, Washington, New York, and Boston on the east coast.
Visitors departing from Europe can fly direct from almost every European capital.
OTHER THINGS TO DO IN Iceland
Iceland is a fascinating country to discover, and simply hiring a car and driving through the breathtaking landscape is an adventure in its own right. Drive the island's south coast road past huge glaciers merging into the sea, and visit iceberg lake where huge chunks of ice are washed out onto the black volcanic sand and the sea beyond.
A visit to one of the island's many hot springs is not to be missed, either the famous but fairly touristy Blue Lagoon or one of the remote mountain spring sites at the end of a short hike. The Golden Circle is another popular day trip to take in the three spectacular sites of Gullfoss Waterfall, the Geysir Geothermal Area, and Thingvellir National Park.
OTHER USEFUL INFORMATION

---
Practical INFORMATION
Currency: Icelandic Krona (ISK)
Language: Icelandic, although most of the population is fluent in English.
Time Zone: Western European Time (GMT+0.00)
Electricity: 230V, 50Hz
UNDERWATER IMAGES

---
Coming Soon!