By bettyr | Date: 06 Jan' 2020
BEST SCUBA DIVING IN THE WORLD
The underwater environment is vast; a rich and diverse domain where each and every dive site offers something new and unique. Selecting the best scuba diving spots in the world is no mean feat, but here at Bluewater Travel, our Travel Experts are equal to the task. We have chosen ten dive destinations that showcase the best scuba diving in the world, ranging from tropical to cold water locations and covering all four corners of the globe. We have included the top sites to encounter amazing wildlife from large pelagics to macro critters and highlighted some once-in-a-lifetime experiences that will have you reaching for your wetsuit.
Curious to know where is the best scuba diving in the world? Read on to discover our ten not-to-be-missed destinations.
World's BEST DIVING SPOTS
1. Galapagos Islands, Ecuador - Rare Marine Life and Large Species in Big Numbers
2. Jardines de la Reina, Cuba - Pristine Reef Diving Teeming with Life
3. Mainland Mexico - Easy Access to Exhilarating Marine Life Encounters
4. Raja Ampat, Indonesia - Mind-Blowing Marine Diversity
5. Anilao, Philippines - More Macro Than You Can Imagine
6. Dumaguete, Philippines - Immense Variety and Exceptional Quality
7. Socorro Islands, Mexico - Memorable Encounters and Big Ocean Diving
8. Fiji - Soft Coral Capital of the World
9. French Polynesia - Warm Water Big Animal Diving Like Nowhere Else
10. The Red Sea - Top Liveaboard Destination with Something New on Every Dive
---
1. GALAPAGOS ISLANDS, ECUADOR
RARE MARINE LIFE AND LARGE SPECIES IN BIG NUMBERS
Located 560 miles off the west coast of Ecuador, the isolated volcanic cluster of the Galapagos Islands offers an abundance of unique biodiversity, quite unlike anywhere else in the world. Both above and below the waves, nature enthusiasts will spot rare endemic species such as the marine iguanas, while divers can marvel at the wide variety of large pelagics that pass through the island's waters in huge numbers. It's no surprise the island chain National Park and its surrounding Marine Reserve have been designated a UNESCO World Heritage Site.
There are two dive areas in the Galapagos that really stand out for us as first-class. Firstly, around Wolf and Darwin Islands you can dive with the world-famous schools of scalloped hammerheads, alongside Galapagos and silky sharks, turtles, mantas, and regular appearances from whale sharks. In contrast, at Punta Vicente Roca, arguably the best cold-water dive site in the world, watch the mysterious Mola mola visiting cleaning stations amongst a huge variety of smaller fauna such as the red-lipped batfish, frogfishes, barracuda, seahorses, and large schools of salemas, which offer wonderful opportunities for underwater photographers.
The Galapagos Islands provide a once-in-a-lifetime opportunity to experience and photograph species found nowhere else.
Read about our trip to the Galapagos last May 2019 here.
PRACTICAL INFO
Diving Season: Diving is year-round, however, the season is split between the warmer manta season (December - May) and cooler whale shark season (June - November).
Skill Level: Diving the Galapagos is for advanced divers and those with a tolerance for cold water (a 5 or 7mm wetsuit is essential). There are often currents, down-currents, thermoclines, and choppy surface conditions, and negative descents are commonplace.
Water Temperature: Warm Season 70-86°F (21-30°C), Cold Season 60-75°F (16-24°C).
Getting There: Fly internationally to Ecuador's Mariscal Sucre International Airport (UIO) in Quito or José Joaquín de Olmedo International Airport (GYE) in Guayaquil. Transfer from Guayaquil on to San Cristobal (SCY) or Isla Baltra (GPS) where most liveaboards depart.
Where to Stay: Due to the remoteness of many of the dive sites, visiting on a liveaboard is definitely the best option. Trips are normally 8 days, 7 nights, and the best way to reach all the top spots, however, there are some special 11 day/10 night trips for those wanting to spend extra days at Wolf and Darwin Islands.
Non-Diving Activities: Most liveaboards will include at least one land-based excursion with a licensed Galapagos naturalist. Expect to see giant tortoises, land iguanas, and a variety of seabirds such as the famous blue-footed boobies, great frigatebird, and flightless cormorants. Wildlife is as fascinating on land as it is underwater.
---
Join our next photography workshops on the Galapagos Master:
Galapagos April 2022 (10N) | Apr 22 - May 2, 2022 |Trip Leader: Mark Strickland | From $8,800
Galapagos Nov 2022 (7N) | Nov 7 - 14, 2022 |Trip Leader: Nirupam Nigam | From $6,160
Galapagos May 2023 (10N) | May 15 - 25, 2023 |Trip Leader: TBA | From $9,300
Galapagos Apr/May 2024 (10N) | Apr 25 - May 5, 2024 |Trip Leader: TBA | From $9,300
OR view the availability of some of the best liveaboards in Galapagos and book online at the best price!
---
2. JARDINES DE LA REINA, CUBA
PRISTINE REEF DIVING TEEMING WITH LIFE
Cuba's Jardines de la Reina (Garden of the Queens) Marine Park is home to the largest and best-preserved coral reef system in the Caribbean. Nearly 850 sq. miles of protected waters are home to an awesome array of shark species, including silky, Caribbean reef, great hammerhead, lemon, nurse, and blacktip. Furthermore, divers are spoiled by an abundance of reef fish and over 50 species of coral and 200 species of sponge; an overwhelming plethora of life unlike anywhere else in the Caribbean. The island is also one of the few places where divers can safely get up close and personal with the American saltwater crocodile.
Jardines de la Reina offers divers the opportunity to experience a beautifully unspoiled reef paradise comparable with the rest of the Caribbean 50 years ago. Coupled with year-round warm water, consistently good visibility, and great weather, this area in Cuba boasts not only the best diving in the Caribbean but some of the best scuba diving in the world.
Learn more about the Caribbean with our article on the Best Diving in the Caribbean or read about our 2017 trip to Cuba here...
PRACTICAL INFO
Diving Season: Year-round with temperatures ranging from 73-77°F (23-25°C), up to 83°F (28°C) in the height of summer.
Skill Level: All levels, there's something for everyone.
Water Temperature: 72-84°F (22-29°C).
Getting There: Fly to Havana's Jose Marti International Airport (HAV), or to Ignacio Agramonte International Airport (CMW), Camaguey.
Where to Stay: The Jardines de la Reina can only be visited by liveaboard, with a maximum of 900 guests permitted per year. However, a permanently moored floating hotel provides stable accommodation as an alternative.
Non-Diving Activities: Cuba has a wealth of top-side activities including great beaches, shopping, plenty of watersports, outdoor activities such as hiking, horse riding, and birdwatching, and a lively after-dark scene in the historic city of Havana. Most liveaboards trips will also include a shore excursion to visit an endemic species of rodent called the hutia. These mini capybara lookalikes will come directly to visitors looking for a handout of fresh papayas and bottled water.
Check out our list of Liveaboards in the Caribbean here or our list of Caribbean Dive Resorts here.
NOTE: Due to current US government-imposed sanctions on Cuba, we are unable to take new reservations. Please contact us for more information or to get you booked on a trip to a similar destination.
---
3. MAINLAND MEXICO
EASY ACCESS TO EXHILARATING MARINE LIFE ENCOUNTERS
Vibrant and exciting, Mexico has so much to offer as a dive destination that several locations are worthy of inclusion on our list of best scuba diving in the world. On the east coast, the Yucatan Peninsula offers divers easy access to the second-largest barrier reef in the world, and a plethora of marine life that makes its home there. Between June and September, the waters around Isla Mujeres, just off Cancun, host record-breaking numbers of whale sharks, and snorkeling alongside so many of these gentle giants is a thrilling encounter that's hard to beat.
Twenty miles south, the island of Cozumel offers some of the most dramatic diving in the Caribbean. Easy drift dives along steep walls give access to a colorful world of vibrant corals and sponges, a myriad of fish life, turtles, rays and the occasional nurse shark. And from Playa del Carmen on the mainland, divers can take part in an adrenaline-filled bull shark dive, where between November and March the sharks are baited and fed for waiting photographers.
For those seeking a truly out-of-this-world adventure, Yucatan's famous freshwater sinkholes, known as cenotes, offer divers an introduction to cavern diving in what the Mayan's believe was the entrance to their underworld. Beaming rays of sunlight bounce between shadowy rock formations to create an ethereal dive that makes this a destination not to be missed.
On Mexico's west coast, the island of Los Islotes, off La Paz in the Sea of Cortez, is home to a thriving California sea lion colony. Interacting with these mischievous creatures is a unique experience, and their inquisitive nature and cheeky antics will provide some fantastic photo opportunities. There are also resident hammerhead sharks and whale sharks in La Paz.
The option for so many unique encounters within such easy reach puts Mexico firmly on the map as one of the best scuba diving destinations in the world.
Read about our latest Crocs & Cenotes trip last August 2019.
You might also want to check out our dive guide to Riviera Maya, Yucatan.
Read about our latest Cozumel trip here...
PRACTICAL INFO
Diving Season: The Yucatan and Cozumel offer excellent diving year-round but the peak tourist season is November to April. October and November are the best months to visit the Sea of Cortez, and the sea lion colony is closed for breeding from 1 July to 31 August each year.
Skill Level: All levels, with the opportunity for more advanced diving.
Water Temperature: Caribbean 77-85°F (25-29°C), the Cenotes area few degrees cooler. The Sea of Cortez ranges between 68 and 84°F (20 and 28°C).
Getting There: Getting to the Yucatan is easy with regular flights from the US to both Cancun International Airport (CUN) and Cozumel International Airport (CZM). On the west coast, La Paz is serviced by Manuel Márquez de León International Airport (LAP), with most flights arriving from Mexico City, Guadalajara or Los Angeles.
Where to Stay: Diving the Yucatan is mainly resort-based, with many resorts spread down the east coast including Cancun, Playa del Carmen, and Tulum. Cozumel also offers a wide range of accommodation to suit all budgets. La Paz offers a mixture of liveaboard and shore-based dive centers, and the full range of accommodation.
Non-Diving Activities: The Yucatan and Cozumel are a popular tourist destination and so offer all the facilities that you would expect in a busy resort. An abundance of restaurants, bars, and nightclubs, lots of shopping, excellent spas and beaches, and a variety of watersports and outdoor excursions. Try to make time to explore the Mayan ruins. La Paz offers many wildlife and fishing excursions, as well as snorkeling and kayaking trips.
---
Interested in diving La Paz or the Sea of Cortez? Join our next trips:
La Paz Oct/Nov 2021 | Oct 30 - Nov 6, 2021 | Trip Leader: Nirupam Nigam | From $2,049
Sea of Cortez Aug/Sept 2022 | Aug 27 - Sept 3, 2022 | Trip Leader: Nirupam Nigam| From $2,895
View the availability of some of the best liveaboards in Socorro and book online at the best price!
---
4. RAJA AMPAT, INDONESIA
MIND-BLOWING MARINE DIVERSITY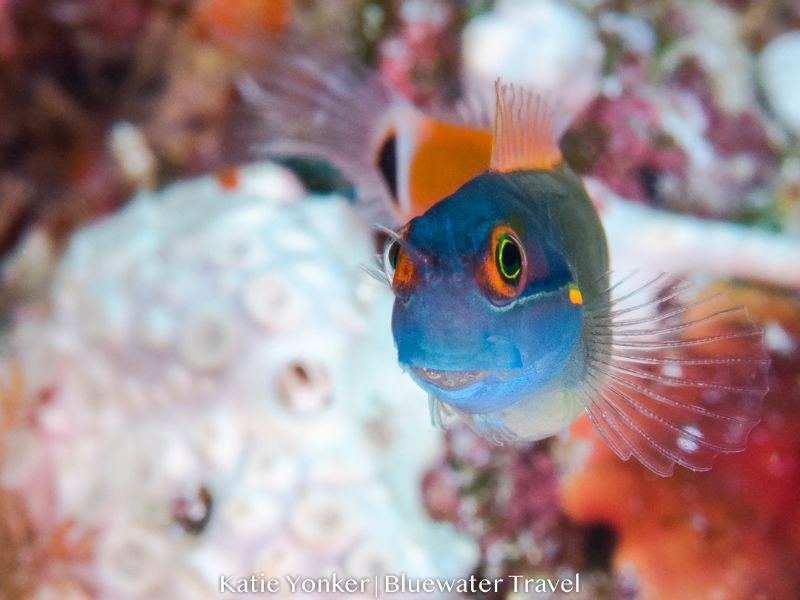 Nestled in the heart of the Indo-Pacific Coral Triangle, the remote Raja Ampat island chain celebrates the richest marine diversity in the world, making it one of our top Indonesian photography destinations. Divers are awestruck by the sheer number and variety of medium to large-size fish, as well as great macro and regular shark and manta sightings across the vibrant hard and soft coral reefs.
The best sites can be found in two locations. At the eastern tip of the Dampier Strait, Cape Kri holds the record for the most fish species spotted in one dive. Stronger currents here bring a multitude of fish and sightings of the quirky wobbegong shark are common. Further south, Misool Island boasts world-class sites such as Boo Windows, Nudi Rock, and Whale Rock, where beautifully colored soft corals jostle with mangrove forests to provide an exotic backdrop. The mind-blowing biodiversity of Raja Ampat is a wonder that has to be seen to be believed, cementing it firmly as one of our top destinations worldwide.
Read about our trip to Raja Ampat last March 2019 here.
Practical Info
Diving Season: October to May is the best diving season, with lower rainfall, calmer seas, and better visibility.
Skill Level: Some experience in stronger currents is recommended.
Water Temperature: 80-86°F (27-30°C) year-round - a thin exposure suit is recommended.
Getting There: Raja Ampat is pretty remote and quite difficult to get to, however, anyone who visits will agree that it is worth the journey. The recommended route is to fly internationally into Jakarta International Airport (CGK), then catch the 4-hour direct flight to Sorong's Domine Eduard Osok Airport (SOQ), which is the departure point for most liveaboards.
Where to Stay: A liveaboard is a great way to experience all this destination has to offer, with the full range of basic to luxury boats available, with the Indo Siren as a notable example. Some boats even offer one-way trips. There is also a wide range of resort-based diving, with excellent choices such as the Meridian Adventure Marina Club & Resort in Waisai. There's so much on offer that you won't be disappointed either way.
Non-Diving Activities: Getting back to nature is the name of the game in Raja; take the opportunity to book a birdwatching tour to spot the exotic bird of paradise. Hiking is a popular activity, and some areas offer cultural tours, however, there is little to no nightlife and internet connections are unreliable in some locations.
---
Join Bluewater Travel's next trips to Raja Ampat on the Damai I:
Raja Ampat Feb 2022 | Feb 9 - 19, 2022 | Trip Leader: Maya Hanna Saad | From $4,450
Raja Ampat Dec 2022 | Dec 1 -11, 2022 | Trip Leader: Mark Hatter | From $6,750
Raja Ampat Dec 2023 | Nov 26 - Dec 7, 2023 | Trip Leader: TBA | From $7,425
OR view the availability of some of the best liveaboards and dive resorts in Raja Ampat and book online at the best price!
---
5. ANILAO, PHILIPPINES
MORE MACRO THAN YOU CAN IMAGINE

For divers searching for the ultimate muck-diving location, Anilao in the Philippines has to be among the best in the world, not to mention one of the best dive spots in the Philippines. Within a 20-minute boat ride of the resort, visitors have access to a variety of unique sites ranging from healthy reef flat to sand, wrecks, rubble, walls, and even the opportunity to experience blackwater diving. This range of habitats is home to an enormous collection of extraordinary critters and macro-species. "The diversity, density, and quality of subjects is simply beyond belief," says Bluewater Trip Leader & Photo Instructor, Erik Lukas.
The guides at Anilao are second-to-none in their ability to spot the smallest and rarest of subjects; there are arguably more shrimp, crabs, nudibranchs, small squid, and cuttlefish here than anywhere else. Add to this regular sightings of frogfish, seahorses, pipefish, and for the most patient photographers, bobbit worms and stargazers. Anilao is hard to top as a world-class destination for the full spectrum of all things macro.
Here is what Bluewater Photo & Travel owner Scott Gietler has to say about Anilao:
"If you combine an easy van ride from Manila, with a large selection of dive resorts, endless number of dive sites, excellent dive guides, short boat rides, a complete lack of surge in the water, and thousands of different fish, corals and critters you end up with one of the best locations for macro, fish, and coral reef diving in the world."
Interested in diving the Philippines? Check out our list of Top Dive Sites in the Philippines.
Read more about Anilao: the Macro Heaven here...
PRACTICAL INFO
Diving Season: Year-round, the main dive season is October to June and the resorts can get busy during April/May.
Skill Level: Easy diving suitable for beginners, with a heavy focus on photography.
Water Temperature: 80°F (27°C) year-round - a 3mm wetsuit and booties are recommended.
Getting There: Anilao is relatively easy to get to, a 2-3 hour drive south of Manila. Fly international to Manila International Airport (MNL).
Where to Stay: Diving is almost entirely land-based, with a great selection of comfortable and high-end resorts.
Non-Diving Activities: The Anilao resorts are predominantly aimed at divers, so top-side activities are limited to snorkeling and kayaking.
---
Join Bluewater Travel's next photography workshops in Anilao at the Crystal Blue Resort:
Anilao Apr-May 2022 (10N) | April 21 - May 1, 2022 | Trip Leader: TBD | From $2,849
Anilao May 2022 (7N) | May 1 - 8, 2022 | Trip Leader: TBD | From $2,199
Anilao December 2022 (7N) | December 4 - 11, 2022 | Trip Leader: TBD | From $1,699
OR view the availability of some of the best liveaboards and dive resorts in the Philippines and book online at the best price!
---
6. DUMAGUETE, PHILIPPINES
IMMENSE VARIETY AND EXCEPTIONAL QUALITY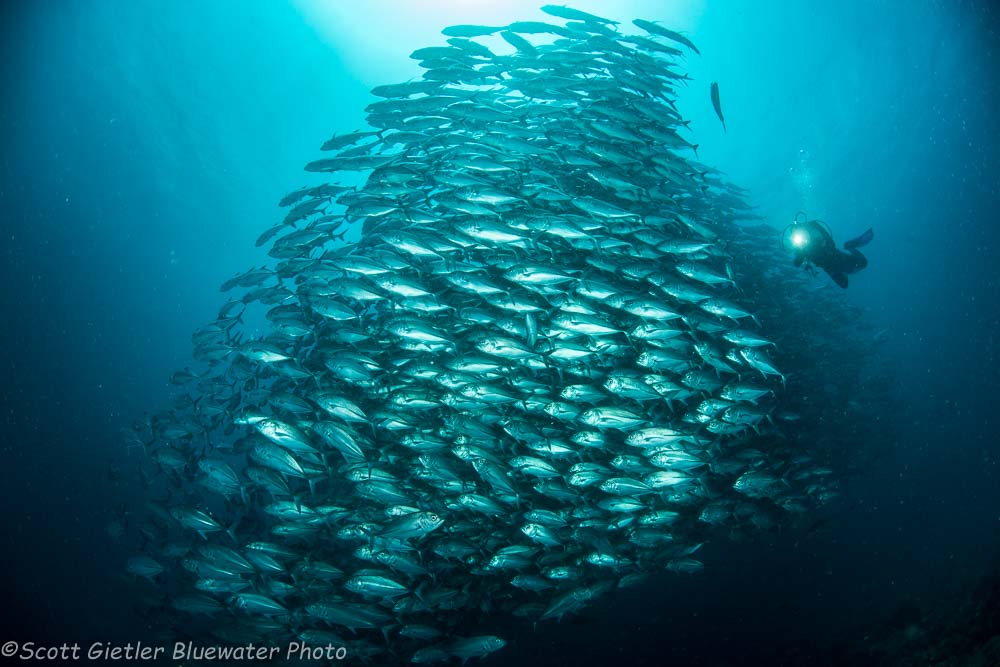 Dumaguete is one of the few destinations in the world that caters to a range of interests, all at an exceptional standard. Describing it as an 'all-round' dive resort does not do justice to the world-class macro, huge coral reefs, schooling jackfish, and famous whale sharks of nearby Cebu.
Minutes from the beachfront resorts, the inshore Dauin sites are easy to get to and home to a plethora of critters and macro subjects to rival any top muck-diving destination. On every dive look out for frogfish, dragonets, pipefish, nudibranchs, squid, octopus, and seahorses, as well as various species of shrimp and crabs. Some guests see 40 frogfish on one trip!
What makes Dumaguete special is that less than 35 minutes from Dauin, the spectacular hard coral walls and reefs of Apo Island provide a thrilling contrast, and some of the best wide-angle diving in the world. Drifting past sites such as Coconut Point, expect to spot sea snakes, turtles, blue ribbon eels, and a huge school of jacks. There is also notable macro at Apo Island, creating a rare opportunity for divers with different interests to enjoy the same site. We can't think of another destination that provides such a range of world-class diving in as small an area.
Interested in diving the Philippines? Check out our list of Top Dive Sites in the Philippines.
Practical Info
Diving Season: Year-round, the main dive season is October to June.
Skill Level: Diving to suit all levels.
Water Temperature: 80°F (27°C) year-round - a 3mm wetsuit and booties are recommended.
Getting There: Fly international to Manila International Airport (MNL), then a 1-hour flight on to Dumaguete-Sibulan Airport (DGT).
Where to Stay: Some of the best luxury resorts are found in Dumaguete, however, there are plenty of more affordable options available.
Non-Diving Activities: Most resorts offer whale shark snorkeling trips to Oslob, where sightings are almost guaranteed. Many resorts have exceptional spas, restaurants, pools and great snorkeling, making Dumaugete one of the top destinations for divers traveling with non-divers.
---
Interested in diving Dumaguete? Check out our Preferred Partners Atlantis Dive Resorts & Liveaboards.
---
7. SOCORRO ISLANDS, MEXICO
MEMORABLE ENCOUNTERS AND BIG OCEAN DIVING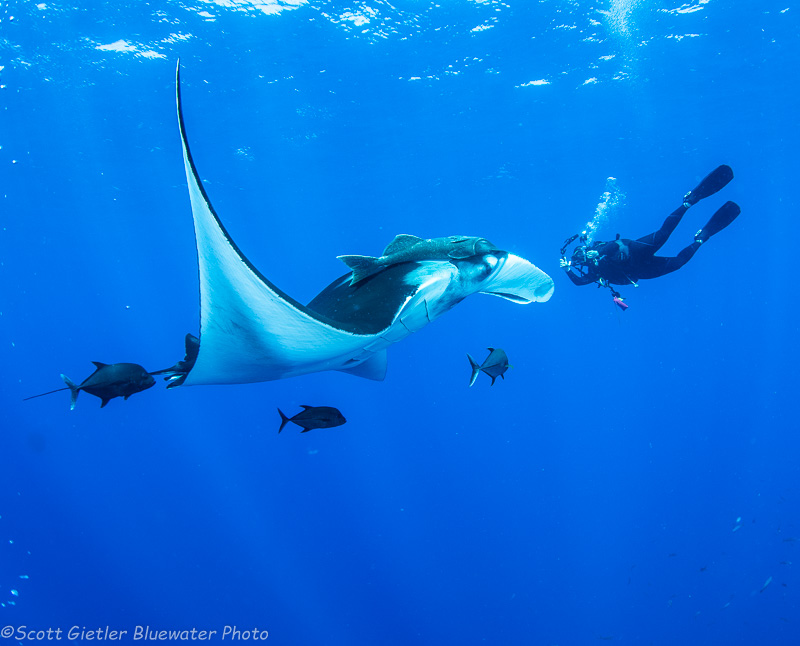 The relatively unknown Revillagigedo Archipelago, more commonly referred to as the Socorro Islands, is unlikely to feature on most divers' bucket-lists, however, diving here is so memorable that we couldn't fathom leaving it off our list of favorite sites. Lying 240 miles from Cabo San Lucas on Mexico's Baja California Peninsula, the four islands that make up this UNESCO World Heritage Site are comparable to the Galapagos Islands, although they are far easier to reach. Remarkable numbers of sharks and other oceanic species school around steep walls and pinnacles rising over 3,000 ft from the ocean floor, so much so that the islands are one of our top shark diving destinations.
The Boiler is the first of two epic dive sites that will leave visitors with incredible long-lasting memories. This submerged pinnacle is one of the best places in the world for swimming with oceanic mantas, as the manta rays gather at cleaning stations to rid themselves of bothersome parasites. These gentle giants are extremely friendly and not put off by the bubbles, often gliding just inches above divers' heads. The experience is truly breathtaking; a rare opportunity to get up close and personal with these magnificent creatures.
The second exceptional dive site is Roca Partida, where world-class shark diving really comes into its own. Feast your eyes on vast numbers of Galapagos, silky, and hammerhead sharks, not to mention the peculiar sight of dozens of whitetip reef sharks stacked and wedged into crevices all along the pinnacle. Top all this off with dives featuring frequent appearances from large gamefish species such as tuna, wahoo, and marlin, some very friendly dolphins, along with the occasional sightings of whale sharks and humpbacks, and the Socorro Islands offer memorable diving within easy reach, that very few other destinations can match.
Find out about exciting shark cage diving destinations.
Interested in diving in Mexico? Check out our list of Mexico Dive Resorts.
Practical Info
Diving Season: The main season is November to May, however, species vary in this time. November and December is whale shark season, February and March is humpback whale season, and May/June is baitball and whale shark season.
Skill Level: Suitable for experienced divers due to choppy seas and often strong currents.
Water Temperature: 70-74°F (21-23°C) in February and March and up to 82°F (28o°C) in November, December, May, and June.
Getting There: Fly international to Los Cabos International Airport (SJD), Mexico, and then speak with your agent about how to arrive at your liveaboard's departure point. Alternatively fly directly into Cabo San Lucas International Airport (CSL), where some boats depart from. Most boats take about 24 hours to reach the Socorro Islands from either city.
Where to Stay: The Socorro islands are uninhabited, so the only way to dive them is by liveaboard. The full range of boats from budget through to luxury are available, and most trips last 8 nights. We heartily recommend the MV Valentina and the Socorro Aggressor as examples of excellent liveaboards that dive this area, or check out our list of Socorro liveaboards here.
Non-Diving Activities: There are some activities available at the departure points of Cabo San Lucas and to a lesser degree San Jose Del Cabo. Golf, fishing, and cultural excursions are popular pastimes.
---
Interested in diving Socorro? Join our next trips:
Socorro on the Rocio Feb 2022 | Feb 15 - 24, 2022 | Trip Leader: Nirupam Nigam | From $3,995
OR view the availability of some of the best liveaboards and in Socorro and book online at the best price!
---
8. FIJI
SOFT CORAL CAPITAL OF THE WORLD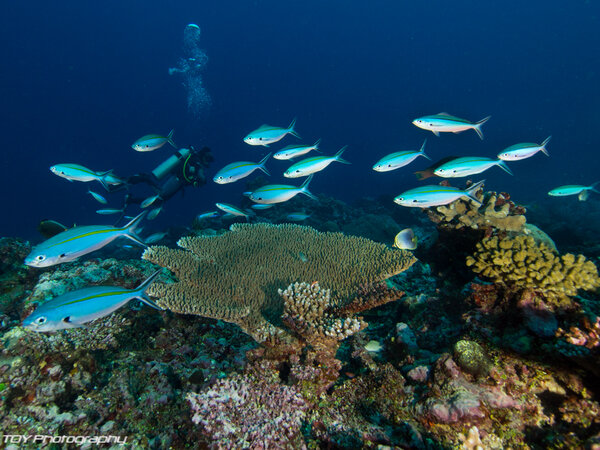 Located in the South Pacific around 1,300 miles north-east of New Zealand, the 300 or so islands that make up the Republic of Fiji are as rich and exciting below the waves as they are top-side. The vibrancy of Fiji's soft coral reefs is second-to-none, providing an exquisite multi-colored backdrop to every dive, and excellent opportunities for some stunning photography. The abundance of vivid marine life that lives on the reef makes for fantastic subjects; this is a great place to practice your wide-angle technique.
The lush reefs flourish further as the often lively currents increase, playing host to a myriad of photogenic species along glowing coral walls. Expect to spot angelfish, butterflyfish, anemone fish, anthias, hawkfish, moray eels, and blue ribbon eels to name but a few. Although sharks are not abundant on these dives, there are a couple of exceptions. One of the best shark dives in the world is at Beqa Lagoon, where the Shark Reef Marine Park is home to up to eight species including grey reef, whitetip reef, silvertip, lemon, bull, and tiger sharks.
Consider taking a photography course before visiting Fiji. The colorful aquarium of lush soft-coral gardens have to be seen to be believed, and sites such as Rainbow Reef and Mellow Yellow help cement these islands as one of our top destinations. About Fiji, Bluewater Travel Advisor & Trip Leader Tim Yeo says, "Fiji has a reputation as the soft coral capital of the world, and divers who have been to Fiji can attest to that honor. The soft coral gardens found at dive sites around the Bligh Waters and Rainbow Reefs regions in Fiji will mesmerize any diver with the cacophony of colors and multitude of anthias dancing around them. Bula!"
Practical Info
Diving Season: Weather can vary between islands, however generally the seasons are split June to October (Dry Season, windy and cooler air temperatures but better underwater visibility) and December to April (Wet Season, warmer air temperatures). The transitional months of November and May can be good times to visit.
Skill Level: There is some diving to suit all levels, however, the best diving is in strong currents where some experience is recommended.
Water Temperature: Dry Season 74-76°F (24°C) with August the coldest month, Wet Season 80-83°F (27-28°C) with February and March being the warmest months.
Getting There: Fiji is one of the most accessible of the Pacific destinations. Fly direct from Los Angeles International Airport (LAX) to Nadi International Airport (NAN) on the main island. If transferring on to an outlying island, the domestic terminal is next to international arrivals and most fights are less than 60 minutes.
Where to Stay: The majority of diving is resort-based, and a wide range of resorts are available based on comfort level. Read Bluewater Travel's Tim Yeo's review of Paradise Taveuni to give you a little taste of paradise, or learn more about our Preferred Partner, Volivoli Bech Resort. There are also a couple of excellent liveaboards servicing the Fijian islands.
Non-Diving Activities: Fiji is fun and lively, offering plenty of cultural and outdoor experiences. Visit traditional villages, temples, hike to waterfalls and caves, or enjoy a spot of golf. There is also the option to take a day-cruise or boat hire to explore some of the outlying islands.
---
Interested in diving Fiji? Join our next trip:
Fiji Oct 2023 | Oct 28 - Nov 7, 2023 | Trip Leader: Mark Strickland| From $6,128
Check out our list of Fiji dive resorts or contact us to help you plan your trip!
---
9. FRENCH POLYNESIA
WARM WATER BIG ANIMAL DIVING LIKE NOWHERE ELSE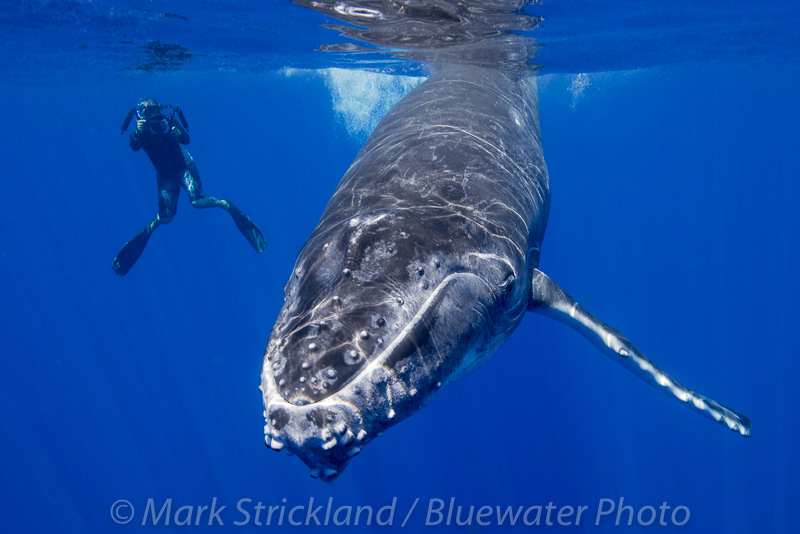 Each and every dive in French Polynesia is rich and diverse, with a bounty of high caliber sites to suit all levels and interests. However, what really sets these islands apart is the concentration of world-class shark and big animal dives centered around a tiny cluster of islands to the west of the region. Often casually referred to as Tahiti, this corner of French Polynesia is home to huge numbers (some estimate millions) of at least 16 species of shark, and the islands of Rangiroa, Bora Bora, and Fakarava, a UNESCO Biosphere Reserve, are some of the best places in the world to experience them. The crystal clear waters around the islands' lagoons and reefs afford intimate encounters with lemon, whitetip, blacktip, grey reef, and hammerhead sharks, all to a backdrop of schooling barracuda, eagle rays, dolphins, turtles, and a multitude of reef fish.
To the south-west, the island of Moorea also boasts some fantastic shark diving, with slack currents and fascinating underwater topography making it accessible for all levels. However, what makes Moorea stand out as a world-class destination is that it is arguably the best, and one of only three places, where visitors can legally swim with humpback whales. From July to November large numbers of these ocean giants migrate to the outer reefs and atolls of the island in search of mates or to nurse their calves. Snorkeling with them is truly a bucket-list experience, sealing French Polynesia as an extraordinary destination.
Read about our 2019 Morea Trip here...
Check out our destination guide to Moorea here...
PRACTICAL INFO
Diving Season: Year-round, although December and January are the wet months. For the humpback whale season visit between July and November.
Skill Level: Suitable for all levels.
Water Temperature: Between 79 and 84°F (26 and 29°C), with average temperatures around 81°F (27°C).
Getting There: The easiest route is from the US. Fly directly from Los Angeles International Airport (LAX) or San Francisco International Airport (SFO) to Fa'a'a International Airport (PPT) on Tahiti, and then take a ferry or short domestic flight to outlying islands.
Where to Stay: There is a range of resorts covering all comfort levels, and some liveaboard diving available.
Non-Diving Activities: Most resorts can arrange cultural activities such as Polynesian dance and pearl farm visits. Hiking and sightseeing are popular, as is visiting the local markets.
---
Interested in diving Moorea? Join our next trips:
Moorea Aug/Sept 2022 |Aug 27 - Sept 3, 2022 | Sept 3 - 10, 2022 |Sept 10 - 17, 2022 |Sept 17 - 24, 2022 |Sept 24 - Oct 1, 2022 |From $2,995
Can't join our trip? Find a liveaboard trip in French Polynesia or contact us for land-based options!
Also check out our list of French Polynesia dive resorts.
---
10. THE RED SEA
TOP LIVEABOARD DESTINATION WITH SOMETHING NEW ON EVERY DIVE
The Red Sea is to the Middle East what Raja Ampat is to Southeast Asia. A bountiful and varied playground of stunning reefs, exceptional marine life, and comfortable dive conditions provide a very alluring alternative to some of the world's more far-flung destinations. The region's isolated geographical location and distinctive climate mean that almost 20% of the 1000 or so fish species found here are unique to the Red Sea. Over 200 types of hard and soft coral flourish on extensive shallow reefs that drop dramatically into deep walls and canyons.
Roughly speaking, the Red Sea can be split into two areas. The northern sites from Hurghada to Dahab, and including Sharm El-Sheikh, offer a plethora of sheltered inshore reefs and walls, in fact, the resort house reefs along this stretch of coastline are second-to-none. There are also numerous accessible wrecks here, including the famous SS Thistlegorm, Dunraven, and Carnatic to name a few.
Venturing south from Hurghada, the dive sites become more remote, but with it more spectacular to boot. The Brothers, Elphinstone Reef, and Daedalus Reef feature steep drop-offs and overhangs that attract all manner of pelagics, and divers have the chance to spot oceanic whitetips, threshers and the occasional hammerhead gliding silently past. As a world-class diving destination, the Red Sea really does tick all the boxes. With hundreds of top quality dive sites, the only problem is deciding where to go.
Read one diver's account of underwater photography in Marsa Shagra, in the Red Sea, here.


PRACTICAL INFO
Diving Season: Diving is available year-round, although many liveaboards don't run in the cooler months of January and February. June through to August is particularly hot top-side. The northern resorts can get really busy from March through to May and September through to November.
Skill Level: Suitable for all levels.
Water Temperature: Up to 84°F (29°C) in the summer, and dropping as low as 70°F (21°C) in the winter.
Getting There: There are regular flights directly to Sharm El-Sheikh International Airport (SSH) from the UK and other European hubs, and some direct flights from the US. To reach Hurghada or Marsa Alam where many liveaboards depart from, it may be easier to connect at Cairo International Airport (CAI)
Where to Stay: Red Sea liveaboards, such as the Emperor Elite or M/Y Blue Melody, offer great value for money and are definitely the best way to cover as much ground as possible during your trip. However, the remoteness of the southern sites means they are only really accessible via liveaboard.
The northern regions are serviced by the very popular resorts of Dahab and Sharm El-Sheikh, where shore diving and day boats provide access to hundreds of sites.
Non-Diving Activities: As a popular tourist destination, there is a huge range of top-side activities to suit all tastes. From shopping and dining, cultural excursions, camel rides, desert trips, and sight-seeing, a plethora of watersports, the options are endless. Staying on an extra week or so to tour around the ancient sites of Cairo and Luxor is also recommended.
---
Interested in diving the Red Sea? Find a liveaboard trip or contact us for land-based options!
---
This just a taste of some of the phenomenal dive destinations you can access through Bluewater Travel. But there's much more! See also six locations added to our top dive destinations and the top 20 dive sites in the world.
---
See also this awesome video of 5 of these best dive destinations:
---
how to book a trip
Bluewater Travel can book you on a liveaboard or resort in Socorro, French Polynesia, Galapagos, Cocos, the Bahamas and 40+ other destinations in the world for the same cost or less than booking any other way. We know the diving, seasons, boats and cabins and when to go better than anyone else!
Email us or write to us in the live chat box to book a resort, liveaboard, or a Bluewater trip!
Further Reading
Check out these useful resources from our sister websites, Bluewater Photo, and the Underwater Photography Guide
Wet Wide Angle Lens Buyer's Guide
Best Underwater Cameras (2019)
---
New to scuba diving? Check out our list of the Best Liveaboard Destinations for Beginner Scuba Divers.
---