By JennyH | Date: 24 Feb' 2023
Shore diving is an affordable and adventurous way to explore the underwater world. The appeal of shore diving is often its flexibility and convenience; without the need for boat logistics, the sites can be visited at most times of day (or night). Divers are also attracted to the freedom of diving in a buddy team, independent of a dive guide. Of course, shore diving is also a less expensive opportunity to dive because it doesn't require a boat, fuel, or crew members. Some divers suffer from seasickness, so shore diving enables them to dive without that discomfort.
Shore diving is an excellent way for divers to explore the underwater world, but it is important to consider the safety implications of diving without a guide. Collect information about the dive sites and laws and regulations from local experts before you go. Thoroughly plan the dive, follow the dive plan, and have an emergency plan in place should any incidents occur. Always dive within your qualification limits.
With such a variety of amazing shore diving spots, deciding on the best place to shore dive is no easy task. This comprehensive guide to the best shore diving in the world will help you to select the perfect shore diving location for your next trip (and add more to your bucket list). We'll provide you with information including the types of shore dives, physicality of the entries, typical conditions, and the best time to dive at each location.
---
the 8 Best shore Diving destinations in the world
Pick a destination or scroll down to read the entire list:
1. Bonaire, Caribbean Netherlands - Shore Diving Capital of the World
2. Bali, Indonesia - Macro, Wrecks, and Reefs
3. Adelaide, Australia - Jetties and Leafy Sea Dragons
4. Dumaguete & Dauin, Philippines - Weird and Wonderful Creatures
5. Curaçao, Caribbean - White Sand and Turquoise Water
6. Southern California, USA - Kelp Forests and Sea Mammals
7. Hawaii, USA - Fascinating Volcanic Topography
8. Marsa Alam, Egypt - Red Sea Shore Diving
Can't wait to start planning your next dive trip? Our team at Bluewater Travel can help you book a resort for shore diving anywhere in the world.
---
A small island in the Caribbean, surrounded by stunning turquoise waters, Bonaire is the ultimate shore diving destination. The Bonaire Marine Park is a protected area which covers the waters around Bonaire and Klein Bonaire to a depth of 197 feet (60 meters). With 2,700 hectares of protected coral reef, sea beds, and mangroves, the Marine Park hosts a wide variety of corals and reef fish.
shore diving capital of the world
Why is Bonaire the shore diving capital of the world? Bonaire's coral reefs provide some of the best shore diving in the world, with easy access to more than 60 shore dive sites. The freedom of diving on your own schedule, fitting in as many day and night dives as your dive computer allows, enjoying great year-round conditions, and exploring beautiful, protected reefs makes Bonaire one of the best shore diving destinations.
Predictably calm conditions and great visibility make Bonaire's shore dive sites perfect for both experienced divers and those still working on their buoyancy and navigation skills. Easy tank rentals and unlimited diving package are available enabling divers to take their equipment and explore the island by rental vehicle, diving any of the 60+ well-marked shore dive sites in Bonaire. Hilma Hooker is a wreck dive accessible from shore, with the 236-foot (72-meter) freighter resting in 65-95 feet (20-29 meters) of water. Karpata dive site is worth the more difficult shore access and offers potential pelagic sightings and a gorgeous vertical wall. Bari Reef is an easy shore dive with great macro critters.
Related: Bonaire underwater photos by Todd Winner
How to shore dive bonaire
Bonaire is great for year-round diving, with consistently mild weather. With excellent dive infrastructure, most of Bonaire's shore dive sites are easily accessible; however, some dive sites require more extreme entry. Bonaire's best shore diving includes over 60+ shore dive sites, so there are plenty of options for all diver's abilities and preferences.
Visitors fly into Bonaire (BON), with direct flights from some major US cities. There is a wide range of accommodations on Bonaire ranging from budget to luxury. Divers will get the most out of a trip to Bonaire by choosing accommodation that offers packaged diving. "Drive and dive" packages are popular for those wishing to explore the island using a rental vehicle to carry their dive equipment and dive from the shore in a buddy pair/group. Dive operators will provide divers with dive maps, a local orientation, whatever rental equipment is required, and cylinders to then dive independently. Avoid leaving any valuables in your vehicle while you go diving by taking only what you need. For divers traveling solo or those who simply feel more comfortable diving with a qualified guide, dive shops offer guided dive and boat diving packages.
Diving Conditions in BONAIRE
Temperature: Average 80-86oF (28-30oC).
Visibility: Exceeds 100 feet (30 meters).
Typical Entry: Easy to extreme. Pebbled, coral rubble beaches or rocky shoreline. Boots are recommended. Dive sites in front of resorts have piers or stairs. A 30 feet (10 meter) swim to the reef from shore.
Non-Diving Activities: Golfing, hiking, snorkeling, butterfly museum, and more.
Required Skill Level: All levels.
Bluewater Hot Tip: Pay extra for Nitrox (if you're certified) so you can extend your bottom times and number of dives!
---
2. bali, indonesia
Indonesia's many islands are famous for some of the best diving in the Coral Triangle. A well-known tourist destination for divers and non-divers alike, Bali is a must-visit for shore diving enthusiasts. Its northern coast is home to some of the best shore diving in the world, including muck dives, spectacular wrecks, and gorgeous coral reefs.
macro, wrecks, and reefs
Bali may appear to be a small island, but with a variety of terrain and narrow roads, it takes time to travel from one destination to another. Each of Bali's shore diving regions has something unique to offer and is worth visiting. To maximize your holiday time and visit all the best shore diving locations in Bali, it is best to start in Pemuteran and work your way east to Amed or vice-versa.
Amed is a quiet fishing village on Bali's northeast coast in the shadow of Mount Agung. Shore diving in the area is primarily macro-focused, with all kinds of interesting critters to be found in the black sand. Explore the dark silty bottom searching for tiny nudibranchs at Jemeluk Bay. Batu Belah dive site is fantastic for dusk and night dives, with divers spotting rhinopias, nudibranchs, ghost pipefish, and more.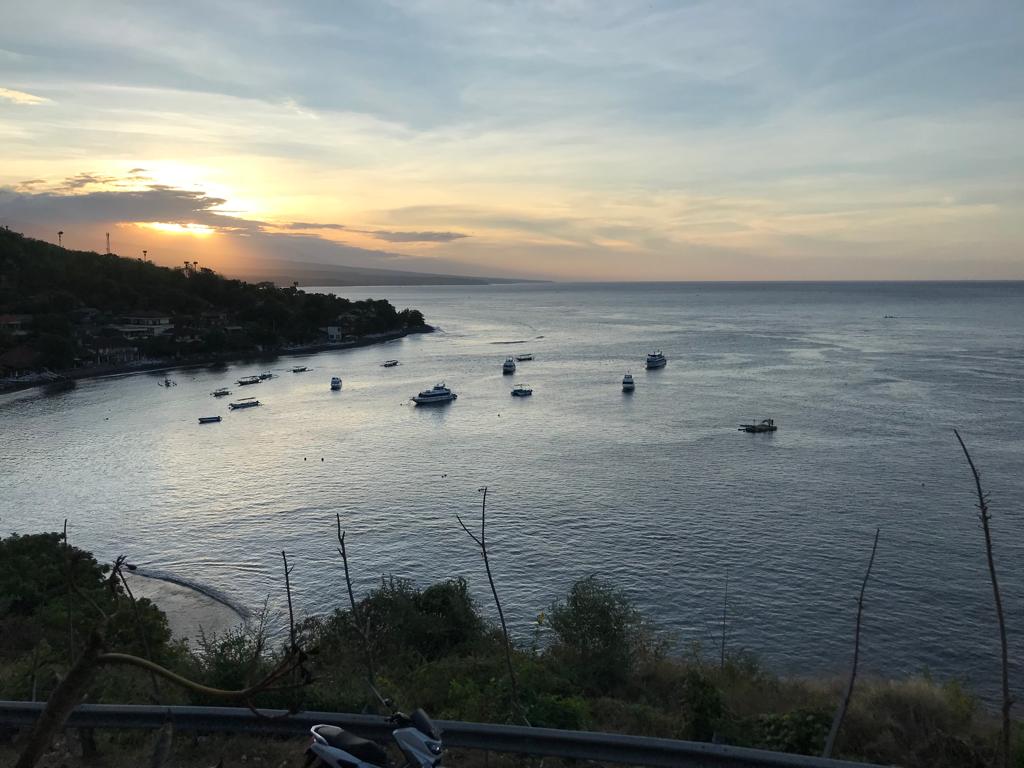 Jemeluk Bay, Amed, Bali
Tulamben is a quieter village just to the west of Amed and is most recognized as the home of the USAT Liberty wreck, one of the most popular shore dive sites in Bali. The massive wreck is located off the rocky shore in water shallow enough for snorkelers to get a view. Coral garden is another easy shore dive site to explore in Tulamben. Expect beautiful hard and soft corals, huge sea fans, eels, octopuses, and a wide variety of fish species.
Kubu, further to the west of Tulamben and Amed, is a very small village with a few dive resorts offering direct access to some of the best shore diving in Bali. The Kubu/Boga Wreck is deeper than the USAT Liberty and more intact, though with less coral growth. This penetrable wreck is a great option for more experienced divers or those taking a wreck diving course. Seraya Secrets is known as one of the best shore diving sites in Bali for macro, with great photo subjects such as pygmy seahorses, harlequin shrimp, and nudibranchs.
Northwest Bali is home to some of the best shore diving in Bali, with all sites within easy reach of the main village of Pemuteran. A small village nestled on a bay, Pemuteran boasts a wide range of accommodations, restaurants, and dive sites. Don't miss shore dives to Jetty during either day or night, where guides regularly spot frogfish and ghost pipefish, and the main reef site where mandarin fish are seen mating at dusk. Puri Jati (60 minutes east by car) gives divers the opportunity to search in the shallows for nudibranchs, mimic octopus, pipefish, and more among the seagrasses.Secret Bay, in Gilimanuk (45 minutes west by car), is known for its colder temperatures and strange creatures found among the muck and debris (rubbish) in the water.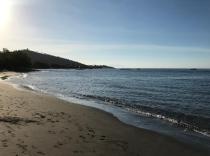 Shore Dive Site at Pemuteran Bay, Bali
how to shore dive Bali
Bali is an excellent choice for year-round diving. The weather is wetter from November through March; however, shore dives are rarely cancelled due to inclement weather. In periods of extreme rainfall, visibility may be reduced. Dry season is from May through September, although winds can be stronger during these months creating waves that make for some difficult shore entries. With plenty of dive resorts and operators to choose from, shore diving in Bali is easily arranged and should be done with a local guide.
Visitors fly in to Ngurah Rai International Airport (DPS) in Denpasar and are usually met by a driver to take them to North Bali. The drive to Amed takes approximately 1.5-2 hours, with Tulamben and Kubu slightly further. To reach Pemuteran, it is approximately 4 hours through the mountains. Along each route, and in each destination, there are plenty of activities and sights to see including rafting, hiking, waterfalls, rice terraces, temples, and more. Bali dive resorts are plenty, and the accommodation options range from budget guesthouses to luxury pool villas.
Take a look at our wide range of Bali dive resorts.
DIVING CONDITIONS in BALI
Temperature: Averages 79-86oF (26-30oC); Secret Bay is cooler at 72-77oF (22-25oC).
Visibility: 40-80 feet (12-25m).
Typical Entry: Easy to extreme. Beaches range from sandy to rocky and surface water conditions range from perfectly calm to rough waves.
Non-Diving Activities: Dozens of tourist activities including, hiking, snorkeling, spas, and nature tours.
Required Skill Level: All levels, including snorkelers.
Bluewater Hot Tip: Book a dive safari to explore the best shore diving in both the northwest and northeast!
---
3. Adelaide, Australia
When divers think of Australia, the first place that comes to mind is the Great Barrier Reef, but the largest country in Oceania has much more to offer scuba divers than its most famous reef system. For some of the best shore diving in Australia, look no further than Adelaide, home to a wide variety of marine life.
JETTIES AND LEAFY SEA DRAGONS
Adelaide, the capital city of South Australia, is surrounded by a coastline dotted with exceptional shore dive sites. With more than 20 jetties to dive, which include some of the best dive sites in Australia, divers of all interests and experience levels can learn why Adelaide is home to some of the best shore diving in the world. A highlight of shore diving in Adelaide is a unique creature and excellent photography subject: the leafy sea dragon.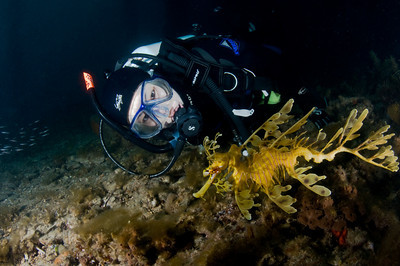 Leafy Sea Dragon
One of South Australia's best shore dive sites, Rapid Bay Jetty is an easy entry using a set of stairs from a dive platform on a nearby jetty. The pier pilings of the 1,500 foot (470 meter) jetty are teeming with life, including large schools of fish, nudibranchs, worms, tunicates, and leafy sea dragons. Roughly 2 hours from Adelaide is another spectacular shore dive site, Edithburgh Jetty. This small dive site features pilings completely covered in colorful sponges and tunicates, as well as a variety of marine life including seahorses, nudibranchs, octopuses, and leafy sea dragons. Night dives at Edithburgh are popular for the chance to see the pajama squid.
Shore Diving at Rapid Bay Jetty
HOW TO SHORE DIVE ADELAIDE
The best shore diving in Adelaide is offered year-round, although temperatures vary significantly between summer and winter months. For warmer temperatures, it's best to visit in December to February. A dive holiday in Adelaide should be planned with enough time to cover the three peninsulas hosting Adelaide's best dive sites.
Direct flights from several countries in Southeast Asia land at Adelaide's International Airport (ADL), as well as direct domestic flights from other major cities in Australia. Accommodation options are wide-ranging in this large city, so divers will easily find something to suit their budget and interests. With the many shore dive sites in Adelaide scattered across a wide area, it is necessary to rent a car to drive the 1-4 hours from the city to the dive sites. Local dive shops rent out tanks, weights, and any other required equipment to certified divers to explore shore diving in Adelaide on their own schedules. Some of the dive sites further from the city have service stations nearby to fill tanks for divers' convenience. If guided diving is preferred, there are plenty of dive shops in Adelaide offering guided tours of the best shore diving in Adelaide.
DIVING CONDITIONS in ADELAIDE
Temperature: 59-70oF (15-21oC).
Visibility: 16-65 feet (5-20m).
Typical Entry: Easy with good purpose-built infrastructure such as stairs, ladders, and platforms.
Non-Diving Activities: Adelaide has plenty of attractions and activities to enjoy topside including botanical gardens, a river walk, street art, museums, markets, and more.
Required Skill Level: All levels.
Bluewater Hot Tip: Combine your shore diving trip with some boat dives to explore some of the many wreck dive sites around Adelaide.
---
4. dumaguete & dauin, philippines
The Philippines is an archipelago made up of over 7,500 islands in the heart of the Coral Triangle. This vast country has multiple locations for exceptional scuba diving, including the famous Tubbataha Reef. Some of the best shore diving in the world is in the Philippines' marine protected coastline around Dumaguete and Dauin.
weird and wonderful creatures
Easy to get to and known for interesting macro critters, shore diving in Dumaguete and Dauin should not be missed. Located on the island of Negros, Dumaguete is a small city with a very small airport and Dauin is a town about 45 minutes south of Dumaguete by car.
The sandy coastline around Dauin is perfect for shore dives, with minimal current and typically calm surface conditions. The area is a marine sanctuary and entering the water anywhere around Dauin guarantees you the chance to see something interesting. If Shaun the Sheep nudibranch is on your list, there are thousands of these tiny critters on the seagrass around Dauin. San Miguel North is a macro dive site with the opportunity for divers to spot juvenile frogfish, nudibranchs, and ghost pipefish among the seagrass and sandy bottom. Dauin Norte dive site offers a mix of both muck and reef diving, all in one dive. Expect to find a variety of corals and critters such as hairy squat lobsters, gobies, and turtles. An artificial reef was created using metal structures at Pyramids dive site, which has become a diverse marine habitat. In Dumaguete and Dauin you can expect weird and wonderful critters like flamboyant cuttlefish, bobtail squid, Donald Duck shrimp, mandarinfish, wonderpus, blue-ring octopus, and more.
Flamboyant Cuttlefish Hunting - Photo by Tina Quan
Dumaguete is on our list of the best diving in the world! Check out the full list here...
HOW to shore dive dumaguete & dauin
Dumaguete and Dauin are popular year-round for exploring some of the best shore diving in the world. The best weather is from December to June, while July to November will be wetter. While typhoons typically make landfall further north (close to Manila), diving in Dauin is occasionally affected by typhoons. Dive sites can be entered from the sandy beach surrounding Dauin, making them some of the easiest shore entries; however, it's important to look at the tide schedule, because a gentle sloping bottom can make for a long swim.
Dumaguete's Sibulan Airport (DGT) is an inexpensive 1-hour domestic flight from Manila's Ninoy International Airport (MAN) or an even shorter flight from Cebu's Mactan-Cebu International Airport (CEB). It is also possible to cross from Cebu Island to Negros and take ground transportation to Dumaguete or Dauin. To make the most of your trip, consider combining Dauin with a trip to Anilao for more great macro diving, or check out Moalboal for the sardine run and Malapascua for thresher sharks.
DIVING CONDITIONS in DUMAGUETE & DAUIN
Temperature: 77 to 81oF (25 to 28oC).
Visibility: 30-40 feet (10-12m).
Typical Entry: Easy sandy beach entry when the water is calm and a bit sportier when there are waves present. Watch for boat traffic (trips leave from the shore to visit Apo Island).
Non-Diving Activities: Not much. Some snorkeling from the beach, day trips to Apo Island, enjoy a book on the beach, and some good restaurants.
Required Skill Level: Suitable for all levels of diver.
Bluewater Hot Tip: Join one of our photo workshops in Dumaguete to learn how to capture these weird and wonderful creatures!
---
5. CuraÇao, caribbean
Located about 40 miles (65 km) north of the coast of Venezuela, Curaçao is a small island country belonging to the Kingdom of the Netherlands. Perhaps most well-known for its namesake liqueur, Curaçao is frequented by cruise ships and tourists flying directly from North America and Europe.
Curaçao's Coastline
White sand and turquoise water
Like Bonaire, Curaçao is home to some of the best shore diving in the world and is popular for its unlimited shore diving packages. Surrounded by breathtaking vistas of sandy beaches and turquoise water, Curaçao is home to over 70 dive sites, with over half of them accessible from shore. Curaçao's best shore diving gives scuba divers the freedom and flexibility of diving on their own schedule throughout their holiday.
With clear, calm water and mild currents, Curaçao is a great location for both beginners and more advanced scuba divers to experience some of the best shore diving in the world. The island's rich marine life with a variety of coral and fish species will interest all divers. Playa Kalki is one of the most popular shore dive sites in Curaçao with a stunning coral reef from 50-100 feet (16-30 meters) and marine species including barracudas, parrotfish, and turtles. Porto Mari dive site is easily accessed from a white sand beach and is home to seahorses, rays, moray eels, and a variety of fish species. Wreck enthusiasts shouldn't miss the MV Superior Producer, an advanced shore dive site to visit this shipwreck that has turned into an outstanding artificial reef that attracts schools of jacks, snappers, and barracudas.
How to shore dive cura
c

ao

Curaçao's shore diving can be enjoyed year-round, with a protected southern shore that maintains calm conditions throughout the seasons. The reef surrounding the island is easily reachable from shore, sitting within about 60 feet (20 meters). Curaçao's numerous shore dive sites are typically well-marked and offer easy entries, making Curaçao one of the best shore diving destinations in the world.

Visitors fly into Curaçao's Hato International Airport (CUR), with direct flights from several cities in the US, as well as Amsterdam, Toronto, and Montreal. A variety of accommodation options are available in Curaçao, from upscale hotels to fully equipped apartments. Divers will find a wide variety of dive packages on offer, including "drive and dive" packages like those offered in Bonaire. Dive shops rent tanks to certified buddy teams and will give divers important information regarding the dive sites such as navigation tips. Guided diving packages are also available at the many operators in Curaçao for those who travel solo or prefer diving with a guide.
Diving Conditions in curacao
Temperature: 79-84oF (26-29oC).
Visibility: 60-100 feet (16-30m).
Typical Entry: Mostly easy with sandy beach entries. Boots are recommended. A 60 feet (20 meter) swim to the reef from shore.
Non-Diving Activities: Explore colorful architecture of the capital city of Willemstad, visit the impressive Queen Emma Bridge, enjoy white sand beaches, and a variety of tours.
Required Skill Level: All levels, including snorkelers.
Bluewater Hot Tip: Get away from the city and head up west. It's a very rustic area off the beaten path, but the diving is well worth it!
---
6. southern california, usa
While it might not be at the top of the bucket list for most international divers, Southern California is home to some of the best shore diving in the world. Convenient, especially for Americans, the California coastline is rich in marine diversity and offers divers the chance to explore kelp forests and encounter some unique creatures.
kelp forests and sea mammals
Southern California is located on the Pacific Coast of the continental United States and shares its southern border with Mexico's Baja Peninsula. With miles of pristine protected coastline, relatively mild water temperatures, and an abundance of marine life, Southern California is a fantastic shore diving destination. There are several areas worth visiting for shore diving in Southern California, each with its own unique benefits.
Catalina Island shore diving is a must for all divers visiting the region. An easy ferry crossing from various mainland harbors, Catalina Island can be visited as a day trip and offers accommodation options for those wishing to spend multiple days exploring the area. The best shore diving at Catalina Island is made easier with a concrete staircase for divers to enter the water at the Casino Dive Park. Catalina Island is surrounded by enchanting giant kelp forests, which can feel like diving into another world. Possible marine life encounters include angel sharks, horn sharks, leopard sharks, octopus, and a multitude of fish.
On the mainland, don't miss La Jolla Cove for the most popular shore diving in San Diego. This dive site is the perfect place to experience both kelp forests and reefs and is one of the best shore dive sites in California to dive with sea lions. Laguna Beach is home to Shaw's Cove, a popular shore diving site home to both a reef and kelp forest. Expect a variety of marine life, including nudibranchs, gobies, lobsters, and a variety of fish when shore diving Shaw's Cove. Veteran's Memorial Park in Redondo Beach is a great site for shore dives during the day and at night, albeit with a more challenging entry. Look for pipefish, nudibranchs, octopuses, and more.
How to shore DIVE southern california
The best shore diving in Southern California can be enjoyed year-round, however, the peak diving season is in summer (July-September), when the temperatures are warmer. With over 100 dive sites to choose from along the sprawling coastline, there are options for divers of all experience and fitness levels.
Visitors fly into Los Angeles International Airport (LAX) or San Diego International Airport (SAN) and rent a car. There is a huge range of accommodation options throughout Southern California, so it's best to consider one in proximity to the desired dive sites. Local dive shops offer guided dives, which is a great way to make the most of shore diving in Southern California and is recommended for divers unfamiliar with the area. For divers familiar with the sites, rental tanks are available to enable divers to explore the shore dive sites on their own schedules.
Diving Conditions in southern california
Temperature: 57-59oF (14 to 15oC) in the winter; up to 68oF (20oC) in the summer.
Visibility: 32-60 feet (10-18m).
Typical Entry: Easy to extreme. Mainly sandy beaches and cliff trails, though some sites have diving infrastructure such as cement staircases into the water. Waves are often present.
Non-Diving Activities: Southern California has no shortage of topside activities, including golfing, hiking, cycling, sightseeing, and more. Stop by our location in Culver City to say hello!
Required Diving Skill Level: All levels, including snorkelers.
Bluewater Hot Tip: Shore diving in Southern California requires more local knowledge than other destinations, so talk to local experts before heading out on your own. Bluewater Travel is headquartered in Southern California, so many members of the team are experts in the local dive sites!
---
7. hawaii, usa
The state of Hawaii is an archipelago spread out over 1,500 miles of the Pacific Ocean. Drawn to its temperate climate, postcard-worthy scenery, and direct flights from the continental United States and Canada, Hawaii attracts millions of tourists each year.
FASCINATING VOLCANIC TOPOGRAPHY
Hawaii is home to some of the best shore diving in the world, with plenty of options to suit the uncertified, beginners, and advanced divers. Scuba diving in Hawaii is popular in all the main tourist destinations, with some spectacular shore diving opportunities in Kauai, Maui, and Kona.
Also known as the "Garden Isle", Kauai is the westernmost island of Hawaii. The island is covered in lush flora and is home to unique fauna above and below the water. Poipu, on Kauai's southern coast, is where most of the scuba diving operations are based. Koloa Landing is a popular shore dive site in this area, with a reasonably sized parking area, a porta-potty, and an old boat ramp serving as an easy entry/exit point. Expect colorful stony corals, lava rocks, sea turtles, moray eels, octopuses, scorpionfish, and listen for the singing of humpback whales from December to April!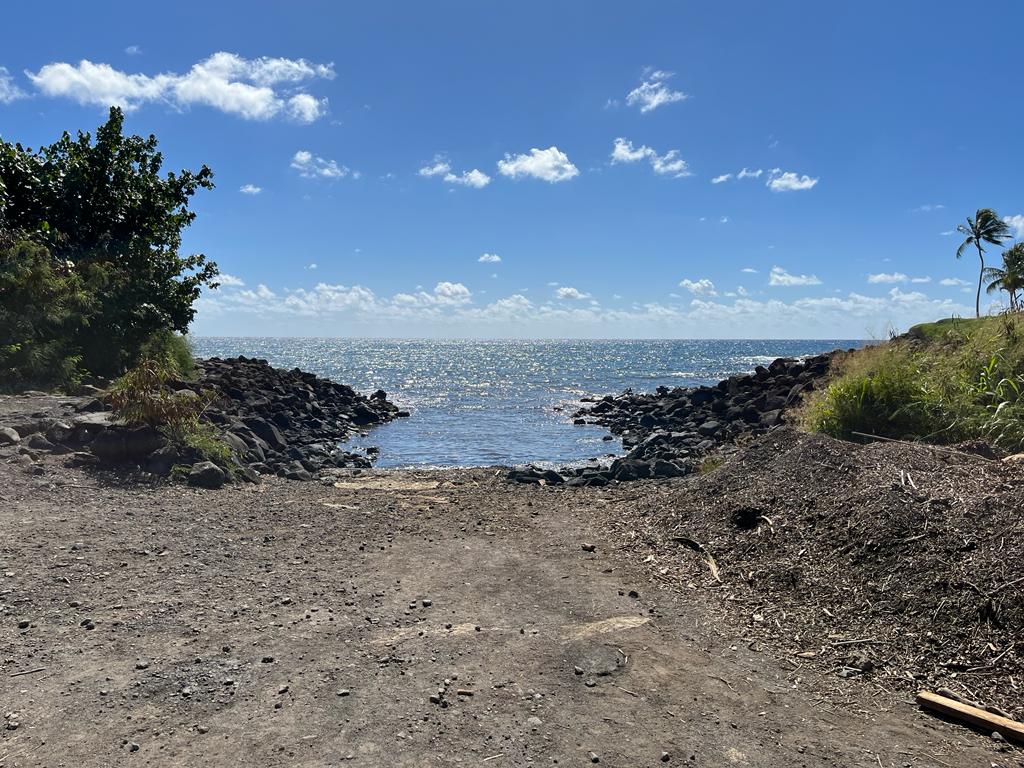 Shore Diving Entry at Koloa Landing, Kauai
The most popular island for tourism, Maui also boasts some of the best shore diving in Hawaii. Maui's more than 30 beaches and bays are snorkeling hot spots, and some of these are excellent for shore diving in Maui. Mala (aka "Mala Wharf" or "Mala Pier") is a pier that was destroyed by a hurricane in 1992. It has since become a habitat for stunning corals and a variety of marine life and is an exceptional dive site for both day and night dives. Expect turtles, frogfish, nudibranchs, and possible reef shark and barracuda sightings.
Kona, aka "The Big Island", is well-known for its famous manta night dives, but it also hosts several excellent shore dive sites on the west side of the island. Shore diving on Kona is best during June to November, and it's best to avoid some dive sites altogether during winter months due to swell. Visit Puako dive site for interesting volcanic formations, coral reefs, and a variety of fish. Kawaihae dive site is home to a huge variety of nudibranchs and will satisfy any macro photographer!
HOW TO SHORE DIVE HAWAII
Shore diving is a year-round activity in Hawaii, but these small Pacific Islands can be affected by adverse conditions with high winds and swells that could cancel a day or two of diving. The diving infrastructure is good, with some easy entries from boat ramps and beaches. Many entry points are rocky and require some physicality (and dive boots!) to enter safely.
Fly into the international airport of any of the islands: Maui's Kahului Airport (OGG), Kona's Allison Onizuka Kona International Airport (KOA), or Kauai's Lihue Airport (LIH). Or fly into Honolulu's Daniel K. Inouye International Airport (HNL) and travel between islands on small local airlines. There is a variety of accommodation on each island, from luxury resort chains to independent vacation rentals. Use a rental car to explore the islands and seek local operators to take you shore diving. Hawaii has a wide variety of topside activities including golfing, kayaking, surfing, hiking, sightseeing, luaus, and some exceptional cuisine.
DIVING CONDITIONS in hawaii
Temperature: 75-80oF (24-27oC).
Visibility: 75-100 feet (25-30m) depending on rainfall and run-off.
Typical Entry: Easy to extreme. Some sites have man-made entrance areas, others are natural shallow rocky entries. Boots are recommended to avoid injury.
Non-Diving Activities: Golfing, hiking, sightseeing, surfing, cultural tours.
Required Skill Level: All levels, including snorkelers.
Bluewater Hot Tip: Pay close attention to local dive regulations, such as diving with a dive flag, for your safety and to avoid potential fines!
---
8. marsa alam, egypt
Six hours south of Sharm, on Egypt's east coast, Marsa Alam is a prime spot for exploring the southern Red Sea. While Sharm el Sheikh in the north may be the iconic Red Sea dive hub, Marsa Alam is still relatively unknown, so a lack of crowds gives it a laid back and low-key vibe. Shore diving in Marsa Alam is wild and often uncharted, with unique and rarely-dived reefs in pristine condition.
unique underwater discoveries
Most Red Sea diving takes place from the comfort of a liveaboard, and boats based in Hurghada will often visit the southern sites around Marsa Alam. However, some of the best shore diving in the world is at Marsa Alam, where divers can pick and choose which sites to visit when there are no other divers in the water. Dives vary immensely, ranging from clear, blue water over shallow sand next to colorful reefs smothered in soft and hard coral. Many reefs feature huge gorgonians, gulleys, and exciting drop-offs where the main reef comes in close to the shore.
While Marsa Alam's best shore diving is possible year-round, the summer months offer encounters with mantas, dugongs, dolphins, and whale sharks. There are also a number of reef shark species, and some lucky divers may spot a hammerhead or oceanic whitetip shark out in the blue. Nonetheless, every site is thriving with life, and the often-brisk currents only add to the vibrancy. Sites such as Gorgonia House Reef, Abu Ghusan, and Marsa Samaday are not to be missed when shore diving Marsa Alam.
HOW TO SHORE DIVE marsa alam
Water temperatures in Marsa Alam vary throughout the year, although shore diving is comfortable year-round. August and September are the warmest months both above and below the surface, and divers can expect 84oF (29oC) at shore diving sites along the coast. Water temperatures are at their lowest in February where a 72oF (22oC) average calls for slightly more robust thermal protection.
Marsa Alam's growing reputation means there are a good number of dive resorts springing up in the region. Most resorts will offer all-inclusive packages and have an in-house dive center, so it's really a case of deciding where to be based. There are seasonal direct flights to Marsa Alam International Airport (RMF) from the UK and other European hubs, or visitors can fly into the larger airport at Hurghada (HRG) and transfer south (roughly a 3-hour drive). There are also regular daily flights between Cairo and Marsa Alam for those traveling long haul.
DIVING CONDITIONS in marsa alam
Temperature: 72-84oF (22-29oC).
Visibility: 75 feet (25m) on average.
Typical Entry: Generally easy beach entries.
Non-Diving Activities: Kitesurfing, desert safaris, national parks, city tours, historical tours.
Required Skill Level: All levels, including snorkelers.
Bluewater Hot Tip: Make the most of your time in Egypt by including a day (or multi-day) trip to visit Luxor, home to incredible ancient ruins.
---
HONORABLE MENTIONS
We haven't forgotten about other destinations for the best shore diving in the world! Read on for more of Bluewater's shore diving recommendations.
Wakatobi National Park, Indonesia - This house reef is considered by many to be the best shore diving site in the world! Divers who have had the pleasure of visiting Wakatobi Dive Resort understand that one of the major draws to the resort is the unlimited diving on the house reef. Shore diving Wakatobi's house reef enables divers to explore a dense, beautiful coral wall with excellent visibility. With unique creatures such as pygmy seahorse, flamboyant cuttlefish, and mimic octopus and pristine corals teeming with fish, this site is worthy of multiple dives throughout your stay at Wakatobi.
Washington State, USA - Depending who you ask, shore diving in Washington might be even better than the shore diving in California. Shore diving in Washington enables divers to visit some of the most diverse and accessible spots in the world, which is the reason most divers in Washington exclusively shore dive. Strong currents in the region contribute to marine diversity and the striking colors found underwater rival most tropical destinations. The variety in Washington's best shore diving sites range from kelp forests to muck diving, with something for every diver to enjoy.
Cayman Brac, Cayman Islands, Caribbean - Another Caribbean destination boasting warm, clear, and calm water, Cayman Brac is home to some of the best shore diving in the world. Divers will enjoy abundant marine life including coral reefs, tropical fish, turtles, and sharks while shore diving Cayman Brac. The variety in shore dive sites around Cayman Brac will keep any diver busy during a shore diving holiday, with multiple wrecks and gorgeous coral reefs surrounding the small island.
Malta - A mecca for all kinds of diving, shore diving in Malta is not to be missed! Malta is known for its bounty of shipwrecks, some of the

best cave diving in the world

, and it also has the best shore diving in the Mediterranean. The clear waters hosting Malta's best shore diving are enjoyable year-round for those with drysuit training. Wreck enthusiasts will enjoy exploring the many wrecks accessible from shore, including the HMS Maori, MV Caminoland, and various tugboats and barges. Must-visit shore dives on the island of Gozo include Blue Hole, Cathedral Cave/Blue Dome, and Double Arch.

Blue Heron Bridge, Florida, USA - This Florida shore diving site is so good, it's on our list of

top dive sites in the world

!

Located in Palm Beach County, Blue Heron Bridge is known for its rich marine life and unique underwater environment. This shallow shore dive is suitable for divers of all experience levels and is entered from a sandy beach. Home to a wide range of species including nurse sharks, stingrays, pufferfish, octopuses, seahorses, and more, Florida's best shore diving site never disappoints.

St. Croix, US Virgin Islands - Shore diving in St. Croix is among the best in the Caribbean, with warm water, fantastic visibility, and incredible marine diversity. St. Croix's most famous shore dive site is the Cane Bay Wall, which plunges spectacularly to over 2,000 feet. This massive reef is home to a variety of corals, reef fish, and lucky divers may even spot dolphins or reef sharks! Frederiksted Pier is another excellent site for St. Croix shore diving, with plenty of macro critters to spot both during the day and at night.

Still don't see one of your favorite shore diving destinations? Contact us and we'll be sure to add it!
Plan your next dive vacation
Bluewater Travel is a full-service dive-travel agency. We can book you a resort or a liveaboard almost anywhere in the world at the same price, or even lower, than booking any other way. Our team of travel advisors has been to most of these places, for some of them even many times. We know the diving, resorts, liveaboards, and logistics better than anyone else in this industry. To get started you can:
Email us to start planning your trip!
Further Reading
Check out more of Bluewater Travel's "Best Of" articles:
Best Dive Resorts in the World