Maui DIVING HIGHLIGHTS
For many families, their first underwater adventure is scuba diving in Maui. One of Hawaii's most popular tourist destinations. Maui is also a unique dive destination, offering a varied range of dive and snorkel experiences, perfect for families and groups of friends. Maui offers clear warm water, many colorful fish, eagle rays, manta rays, and an over-abundance of turtles.
MAUI DIVE RESORTS & Liveaboards
Scuba diving in Maui is exclusively through small, privately-owned operators based either on Maui, Molokai, or Lanai. The only liveaboard in Hawaii is the Kona Aggressor II which services the west coast of Big Island.
Maui offers a wide range of accommodation options from high-end all-inclusive resorts to self-catered rentals and Airbnb.
INTRO TO SCUBA DIVING IN Maui
Maui is the second-largest island county in the State of Hawaii and encompasses the four islands of Maui, Molokai, Lanai, and Kahoolawe. The islands are an award-winning vacation and watersports destination, drawing surfers, windsurfers, and kitesurfers to their sandy black volcanic beaches. Diving around the four islands of Maui can be done from shore or boat, with some of Hawaii's most popular dives just a short boat ride away from one of the two main harbors. One of the most popular activities on the island is snorkeling which can be enjoyed at almost any of Maui's 30 beaches and bays.
The sheltered southern and western coasts boast exceptionally clear water, perfect for spotting some of Hawaii's rare endemic marine species. Exciting volcanic topography, unusual species, and some great snorkeling make diving in Maui a fantastic option for families or mixed groups of divers and non-divers.
Check out Hawaii's other popular diving destinations, Kauai and Kona.
Top dive spots in Maui
These are some of the best dive sites in Maui:
1. Molokini Crater
One of the best-known sites in Hawaii, Molokini is a partially submerged volcanic crater with only one section of crater rim still visible above the water. As a protected marine preserve and bird sanctuary, marine life is superb, and divers will encounter a plethora of multi-colored reef fish, reef sharks, and even manta rays. Humpback whales and Hawaiian monk seals are even spotted on the backside of the crater occasion.
2. Cathedral I & Cathedral II
These two sites on the south coast of Lanai offer stunning topography, rare corals, and unique rock formations, ripe for exploring. The Cathedrals are large swim-throughs with fragmented rock 'windows' allowing light to filter through in a stained-glass window effect. There are plenty of critters and some endemic species to discover among the nooks and crannies of these intriguing sites.
3. Carthaginian
The Carthaginian was a steel-hulled whaler that was used as a floating museum in Lahaina Harbor before being sunk as an artificial reef. It now sits at 97 feet (30m) and is home to numerous cheerful species such as damselfish, goatfish, butterflyfish, and surgeonfish. There are no penetration opportunities on the Carthaginian, making it perfect for novice wreck divers.
4. Mala Ramp
Mala Ramp is the remains of a historic pier that was built in 1922 and then destroyed by Hurricane Iniki in 1992. It is one of the most popular sites in Maui, and for good reason. The pier is home to resident white-tipped reef sharks, green turtles, various eel species, octopus, squid, schooling fish, and the elusive frogfish.
5. Five Caves
As the name suggests, this site on Maui's southwest coast boasts five caves, the first three of which are easily accessed by all recreational divers. Expect to encounter a couple of resting sharks, plenty of turtles, lava tubes, and some fun air pockets.
INFORMATION ON SCUBA DIVING IN MAUI

---
MARINE LIFE & PHOTOGRAPHY SUBJECTS
Hawaii is well-known for its unique endemic marine life, and many of these weird and wonderful species can be discovered in the waters around Maui. Various species of butterflyfish, angelfish, wrasse, triggerfish, and tang adorn the rocky, volcanic reefs. Schooling surgeonfish, squirrelfish, and giant trevally are also a common sight.
Larger species include apex predators such as the whitetip reef shark, gray reef shark, tiger shark, sandbar shark, and even the hammerhead shark. Manta rays and other smaller ray species can sometimes be spotted when visibility is good, and humpback whales are often heard underwater in the winter months, although rarely seen.
Looking for another great destination to dive with hammerhead sharks? Check out Cocos Island.
whale watching in Maui
A big draw to Maui's shores is the opportunity to spot migrating humpback whales during the winter months. The season typically starts in late December and whales can be spotted through until early May. However, bear in mind that November through February is 'big-wave surf season' and so conditions can be challenging.
For another great whale-watching destination, check out diving in Moorea. Or read our Moorea humpbackwhale expedition trip recap from 2021.
DIVING CONDITIONS
Water temperature: 75-80oF (24-27oC).
Visibility: 75-100ft (255-30m) but can vary depending on rainfall and run-off.
Depth Range: 10-130ft (3-40m).
Diving Difficulty: Suitable for all abilities, including snorkelers.
Scuba diving in Maui is possible year-round with fairly consistent air temperatures ranging between 85oF (29oC) in the summer and 78oF (25oC) in the winter. Water temperatures average 74oF (23oC), reaching a peak of 80oF (27oC) in September.
Resorts can become busy during peak season and are quietest in September and January.
TRAVEL INFORMATION

---
HOW TO GET TO Maui
Maui's main airport is Kahului Airport (OGG) with many airlines offering non-stop flights to Maui from the US. It is also easy to fly into Honolulu International Airport (HNL) on Oahu before taking an island-hopper flight across to Maui. There is a daily ferry service between Maui and Lanai islands
HOW TO DIVE Maui
Many visitors to Maui will arrive on a cruise ship and spend the day diving with a local operator, arranged through their tour agent. However, if you opt to visit independently you can arrange diving through your resort or contact one of the local dive shops that run daily trips and charters.
OTHER THINGS TO DO IN Maui
Maui is world-famous for its surf, attracting surfers and watersports enthusiasts from around the world. However, the island has far more to offer from breathtaking scenery and jungle tours to golf, a rich cultural history, festivals throughout the year, and plenty of family activities. There are even lots of things to do if you're a budget conscious traveler in Maui!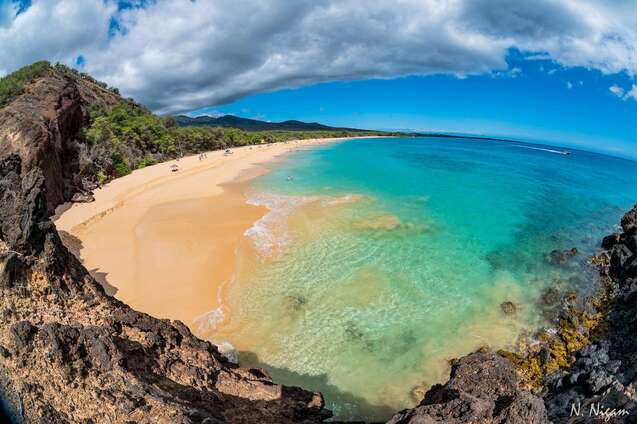 OTHER USEFUL INFORMATION

---
Practical INFORMATION
Currency: US Dollar (USD).
Language: English and Hawaiian.
Time Zone: Hawaii-Aleutian Standard Time (GMT -10:00).
Electricity: 120V.