SCUBA DIVING IN Phuket, Thailand

---
On July 1, Phuket reopened its doors for vaccinated tourists to enter. Check out some great diving deals here.
Phuket DIVING HIGHLIGHTS
Offering access to some of Thailand's best diving, Phuket is a vibrant dive hub boasting a variety of marine life across a range of sites. Numerous dive operators are ready to take visitors along Phuket's famous coastline or to the stunning islands of the Andaman Sea. Phuket diving is not confined to the region itself as it acts as a springboard for many of the Andaman Sea's finest dive islands.
Phuket DIVE RESORTS and LIVEABOARDS
Phuket is a lively tourist area offering a wide range of accommodation options from independent hostels and budget-friendly hotels to high-end luxurious and secluded resorts.
Many of the Andaman Sea liveaboards depart from Phuket, and this is the setting-off point for visiting the Similan and Surin Islands.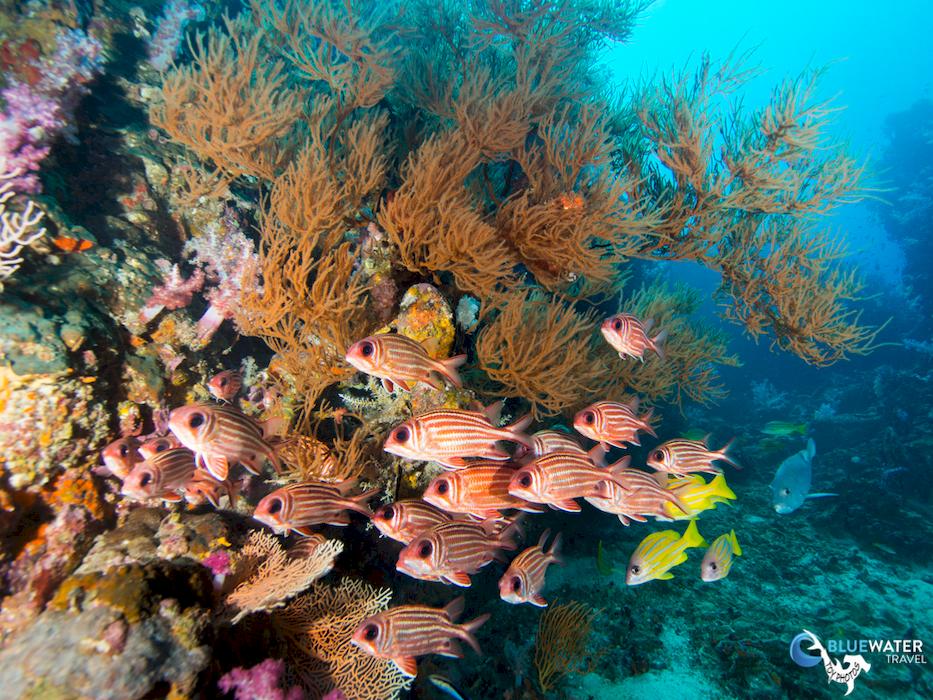 INTRO TO Phuket
On Thailand's southwest coast, the province of Phuket is one of Southeast Asia's most popular tourist destinations, offering a huge variety of dive options throughout its 33 islands. The main island of Phuket hosts over nine million visitors every year, with bustling tourist resorts, busy beaches, and a very lively nightlife. Phuket is also the access point for visiting the Andaman Sea islands, with the ferry to Krabi and famous spots such as Koh Phi Phi, Koh Lanta, and the Similan Islands all within day-trip reach.
Diving around Phuket is diverse and varied, with a wide variety of Andaman Sea species along colorful reefs, walls, and wrecks. Local sites around the main island can become crowded during peak season, and much of the best diving can be found on the outlying islands, especially the Similan Islands. While this protected chain can be visited on a dayboat, it is best explored from one of the liveaboards that depart from Chalong Pier on Phuket Island.
WHEN TO GO
Phuket can be dived year-round although the best diving is between November and April.
Phuket DIVING INFORMATION

---
MARINE LIFE & PHOTOGRAPHY SUBJECTS
Phuket boasts a wide range of exciting marine life, with creatures large and small found along the islands' colorful reefs. Bright tropical fish such as the clown anemonefish, various species of triggerfish, moray eels, angelfish, butterflyfish, groupers, and big schools of snappers and fusiliers can be found throughout the area.
Larger pelagic visitors such as whale sharks and mantas can be spotted around Hin Daeng, Hin Muang, and Phi Phi in the middle of the year, while manta rays can also regularly be seen at the nearby islands of Racha Noi, Koh Tachai, and Koh Bon. Leopard sharks can be spotted at many sites around Phuket, and green or hawksbill turtles can be found just about everywhere.
Phuket also boasts some notable macro, and keen-eyed critter hunters can spot harlequin shrimps, whip coral shrimps, the elusive hairy shrimp, ornate ghost pipefish, many types of nudibranch and flatworm, and even the occasional frogfish.
BEST TIME TO DIVE Phuket
Phuket boasts a tropical climate with distinct wet and dry seasons but comfortable dive conditions year-round. The wet season runs from May to December and visitors can expect a brief daily downpour each afternoon. The dry season runs from January to April and offers hotter, dryer days. This is the best time to visit Phuket, but also the most popular, with peak tourist season in January and February. Liveaboards and beach resorts in Phuket tend to be fully booked, accommodation prices rocket, and dive sites are crowded, so these months are best avoided.
The best diving is between November and April when the visibility is good, dive sites are quiet, and the sea is calmer than in the summer months.
DIVING CONDITIONS
Water temperature: Averaging 85oF (29oC) year-round, but rarely gets below 79oF (26oC).
Visibility: Up to 130 feet (40m).
Depth Range: 16 - 131feet (5 - 40m).
Diving Difficulty: Diving and snorkeling suitable for all levels and tastes.
BEST DIVE SITES
Here are some of the top best dive sites in Phuket.
1. Phuket Shark Point
One of the best day-trip dive sites in Phuket, but also incredibly popular and very busy during peak season. Three pinnacles are covered in beautiful pink and purple soft corals, numerous barrel sponges, and the marine life is plentiful. This is an excellent site for encountering leopard sharks near the sandy bottom, as well as bamboo sharks, banded sea snakes, and turtles.
2. Anemone Reef
Another popular site visited by day boats and liveaboards, this single pinnacle is named after the large field of anemones that cover it. Divers can spot lionfish, clownfish moray eels, and reef sharks, as well as some fascinating macro clinging to the rocky substrate.
3. Home Run Reef
Two hours by boat from Phuket, Racha Island is home to several dive sites including Home Run Reef. A gently sloping reef leads to a maximum depth of 72 feet (22m) with plenty of fascinating coral formations and a host of tropical fish. The wreck of the Andaman Explorer can also be dived just off the reef.
4. Lucy's Reef

A great drift dive on Racha Island, Lucy's Reef is a great spot for large pelagic spots including manta rays, barracuda, and tuna. There are also plenty of leopard sharks and stingrays as well as pods of dolphins.

5. Karon Beach

A very shallow local shore dive, this site is often utilized by dive centers and novice divers but is also great for muck diving. There is plenty of marine life to be spotted, including rays and turtles, as well as some bright coral formations.

6. King Cruiser Wreck

Phuket's most popular wreck dive, this 280 feet (85m) ferry sank in 1997 after hitting the reef. It is now home to a plethora of Andaman Sea species, and while penetration is no longer possible, there is still plenty to explore outside the wreck.

7. Koh Dok Mai

One of the best macro sites around Phuket, this wall dive features colorful corals and critters abound. Photographers can find yellow tiger-tail seahorses, ornate and harlequin ghost pipefish, and a whole host of different nudibranchs.
TRAVEL INFORMATION

---
HOW TO GET TO there
After Bangkok, Phuket International Airport (HKT) is the busiest in the country, servicing international flights from Asia, Europe, and Australia. There are also several daily domestic flights from Suvarnabhumi Airport (BKK) in Bangkok. For visitors enjoying a multi-destination break, taking the train or bus from Bangkok to Phuket is a great way to spend a day enjoying the stunning Thai scenery.
HOW TO DIVE Phuket
Phuket diving is mainly from shore, and there are a good number of local operators facilitating dives straight off the beach or from small inshore speedboats. There are many day boats offering trips to nearby islands, some of the most popular being Similan Island, Koh Phi Phi, and Koh Lanta.
There are accommodation options to suit all tastes and budgets, from exclusive luxury resorts to backpacking hostels and everything in between.
Many Thai liveaboards also embark and disembark from Chalong Pier in Phuket, offering itineraries throughout the Andaman Sea and to the stunning Similan Islands. Phuket is a great option for a combination vacation to enjoy some resort diving either before or after a liveaboard trip.
New to liveaboards? Let's help you get started with our Guide to Liveaboard Diving. You may also want to check out our list of the Best Liveaboard Destinations for Beginner Scuba Divers.
OTHER THINGS TO DO IN Phuket
Phuket is a popular tourist destination with a wide range of attractions, lots of great things to do, and some beautiful scenery to enjoy. Spend time on one of many long sandy beaches, discover the vibrant in-shore snorkeling, or take a boat trip to explore the caverns and caves of Phang Nga. The nearby Phi Phi islands are a great day-trip option, as is a visit to one of the many Buddhist temples on the island. The nightlife on Bangla Road in Pa Tong is fun to experience, or learn about the architecture and history of Old Phuket Town.
OTHER USEFUL INFORMATION

---
PRACTICAL INFORMATION
Currency: Thai Baht (THB)
Language: Thai and English
Time Zone: UTC +7
Electricity: 220 - 240V
UNDERWATER IMAGES

---