Scuba Diving in Ambon, Indonesia
---
Ambon Diving Highlights
Ambon, Indonesia is an off the beaten path dive area in eastern Indonesia offering world-class muck and nudibranch diving, along with some healthy reefs & pelagic accessible via liveaboard. Many rare critters offer a great photographic opportunity when scuba diving in Ambon. Besides great muck diving, Ambon also has some beautiful soft coral and fantastic wall dives with overhangs and even some caverns or caves for the adventurous.
Find out about more fantastic Indonesia dive areas.
---
LOOKING FOR A LIVEABOARD IN INDONESIA?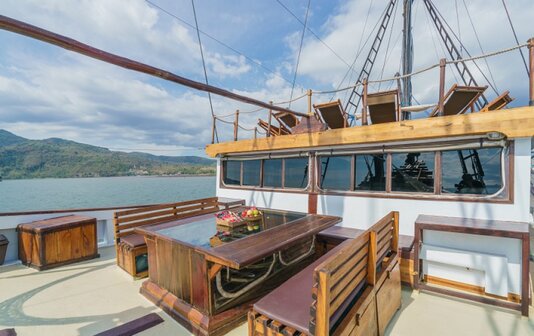 The MY Oceanic and SMY Ondina are two top choices! Their itineraries visit Raja Ampat, Komodo, Alor, Ambon, Cenderawasih Bay and the Banda Sea, giving you easy access to some of the best dive sites in the world. If you want to know more about these two liveaboard options, don't hesitate to contact our expert dive travel advisors at info@bluewaterdivetravel.com.
---
Where is ambon?
Ambon is the capital city of Maluku Province in eastern Indonesia. You can fly into Ambon out of Jakarta (CGK), the country's capital; Bali (DPS) with a stop or two; and other major cities in Indonesia. Most of the muck dive sites that make Ambon famous can be found around Ambon Bay which is only a 20-minute van ride away from the airport.
Intro to Ambon
Part of the Maluku Islands, Ambon Island has some gorgeous pristine beaches and breathtaking views from its mountains. The volcanic island offers a number of hot springs, an amazing landscape, and lush green rainforests. This lesser-known island in Indonesia is truly a gem having very few tourists and the locals are welcoming every visitor with a warm sunny smile. Throughout history, the island has been a center point for trading spices and you can still get some taste of it from their local markets.
Ambon liveaboards & dive resorts
Ambon's underwater world can be discovered either by liveaboard diving or staying at a dive resort. The liveaboards take you to numerous muck dive sites around the area. Often the liveaboards itinerary includes other nearby locations and take scuba divers to great dive sites in the Banda Sea or in the biodiverse destination Raja Ampat. Dive resorts are available on Ambon too, for those who want to enjoy the island itself.
Diving Information
---
Ambon Marine Life and photography subjects
Ambon has many color reef dives full of crinoids, large barrel sponges, large sea fans and table corals - especially as you get outside of Ambon Bay. Some sites will have many fish, fusiliers, bumphead parrotfish, and Napoleon wrasse. Inside the bay, you have spectacular muck sites, with critters such as rhinopia, numerous species of shrimps and crabs, wonderpus, ghost pipefish, seahorses and many frogfish.
Here is a list of some of the marine life you can spot when scuba diving in Ambon:
Nudibranch
Pygmy Seahorse
Frogfish
Ghost Pipefish
Cuttlefish
Blue Ringed Octopus
Harlequin Shrimp
Stonefish
Napoleon Wrasse
Moray Eels
Puffer Fish
Sweetlips
DIVING CONDITIONS
Water temperature: Temperatures in Ambon on average stay around 80°F (26°C).
Visibility: Visibility varies but on the muck diving sites it is rather poor reaching up to 50 feet (15m)
Diving Difficulty: Dive sites for advanced and beginner divers both
Best Dive Sites in Ambon
The Ambon bay has many excellent muck sites, full of amazing critters. There is a good amount of trash and debris in the Ambon area, but the creatures seem to adapt and make it their home. Outside of the bay, you can find more dive sites with beautiful corals.
Here are the top dive sites in Ambon:
1. Air Manis - Located in Ambon Bay, it is a wonderful muck diving site. On the site and around the pier you can find very many interesting creatures. You can see many crabs, cuttlefish, pipefish among others.
2. Duke of Sparta - The wreck dive "Duke of Sparta" is an underrated, outstanding dive. The mast of this wreck is just full of critters and invertebrate species, and the deck is intact. The only largest octopuses in the area are on this wreck, along with a plethora of lionfish species.
3. Laha - Great for macro photographers because it's rich in marine life and macro photography subjects. There are also some beautiful coral and fire urchins on its sandy bottom.
4. Pintu Kota - The big arches of this dive site look like gates leading to an underwater city, which is why it got its name Pintu Kota which means Gate of the City. It is a great muck diving site with various critters and fish to see.
5. Hukurila Cave - If tight spots don't bother you, then this dive site is a must-see. The entrance to the cave is through some tight gaps, but inside opens up a beautiful view of sea fans and colorful schools of fish.
Liveaboard availability
---
The rates shown below are per person in USD. Some of the operators quote in other currencies and the pricing at the time of booking may vary depending on the latest exchange rates.
Please contact us for the availability of the following boats: Arenui, Mutiara Laut, MSY Aurora, Velocean, and Panunee.
Travel Information
---
How to Get There
Direct flights to Ambon (AMQ) are available from Jakarta (CGK), Manado (MDC) and Makassar (UPG). You may also fly from Bali (DPS) via Makassar.
How to Dive Ambon
Diving in Ambon is accessible through dive resorts, local dive centers, and liveaboards. You can find many liveaboard trips combining Ambon with different regions in Indonesia (i.e. Raja Ampat, Banda Sea, Halmahera, etc).
Check out combination trips on our Indonesia Liveaboards page.
Best Time to Dive
Ambon can get some heavy rainfall, so we recommend diving Ambon in the dry season, between October and April. March, April, May and October are usually quite good.
Topside & Non-Diving Activities
The city of Ambon itself doesn't offer much to do. However, you can take a venture to explore the surrounding scenery and meet the locals. Pintu Kota Beach holds a beautiful natural bridge to see. You can also see the traditional market and explore the spices they offer. Moreover, you can do some island hopping and visit other nearby islands.
Other Useful Information
---
Currency: Indonesian Rupiah
Language: Indonesian, but English might be used at most tourism sites
Time Zone: UTC+9
Electricity: 230 V 50 Hz