Scuba Diving in Banda Sea, Indonesia
---
Banda Sea Diving Highlights
The remote Banda Sea is blessed with a vibrant and healthy reef system and abundant marine life. It's an amazing area to see big schools of fish, big pelagics, and great macro life. The Banda Sea also hosts several areas to dive up close with sea snakes, notably off Manuk and Gunung Api islands. Hammerhead shark cleaning stations can also be found at some of the sites, with reportedly up to 200 sharks seen in one dive. Generally, the Banda Sea dive sites have good conditions with great visibility and mild currents, but you can also find some sites with strong currents that are more suitable for advanced divers.
Find out about more fantastic Indonesia dive areas.
---
LOOKING FOR A LIVEABOARD IN INDONESIA?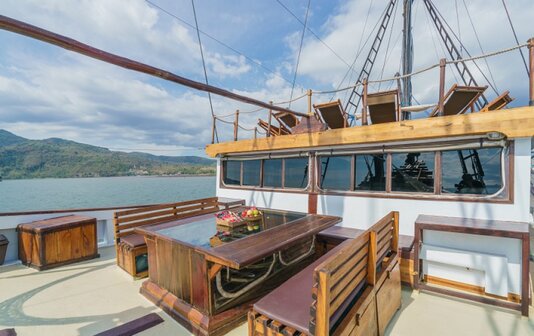 The MY Oceanic and SMY Ondina are two top choices! They have been operating for more than 20 years, pioneering many of the most reputed areas in the region. Their itineraries visit Raja Ampat, Komodo, Alor, Ambon, Cenderawasih Bay and the Banda Sea, giving you easy access to some of the best dive sites in the world. If you want to know more about these two liveaboard options, don't hesitate to contact our expert dive travel advisors at info@bluewaterdivetravel.com.
---
Where is the Banda Sea?
The Banda Sea is a sea in Maluku Province, surrounded by hundreds of islands and is connected to the Pacific Ocean. Due to the remote location, it is only possible to dive the Banda Sea via liveaboard.
Intro to the Banda Sea
Away from human activity and mass fishing, the untouched Banda Sea has been blessed with a colorful underwater world and healthy coral reefs. Additionally, the clear waters make it a comfortable home for corals and a suitable place for growth. The island group in the Banda Sea, in Eastern Indonesia, consists of nine islands from which the Great Banda is the largest. The islands themselves have been divided into two chains. Volcanic islands in the central area and limestone islands in the eastern area. Some of the volcanoes there are still active! The Banda Sea does not only offer unforgettable diving experience but it also has a rich and fascinating history and interesting stories from their successful spice trades.
Banda Sea liveaboards
The liveaboards in the Banda Sea give you a unique once in a lifetime opportunity to explore this rich area with exciting marine life. A dive liveaboard is also the only way to explore the islands. The diving varies around the islands and you will be able to see some great muck diving sites, some sites that attract big pelagics like hammerhead sharks, great wall dives, and beautiful coral gardens. Thus, a liveaboard holiday in the Banda Sea is very exciting as each dive site and dive area is different from another. Due to its remoteness, the area is not crowded and often your liveaboard will be the only one at a site leaving the reefs to yourself. The liveaboard choices in the Banda Sea are plenty and you can see the live availability right away!
Diving Information
---
Banda Sea Marine Life
The Banda Sea is home to many large pelagics but also does not lack of great macro sites. From the big fish, you can see hammerhead sharks, dolphins and even various types of whales. Manta rays often pay a visit to the area, as well as Mobula rays and large schools of tuna. Scuba divers seeking out small critters and macro objects will not be disappointed either. Seahorses, scorpionfish, frogfish, nudibranch, mandarin fish, and many more small creatures can be spotted in various dive sites.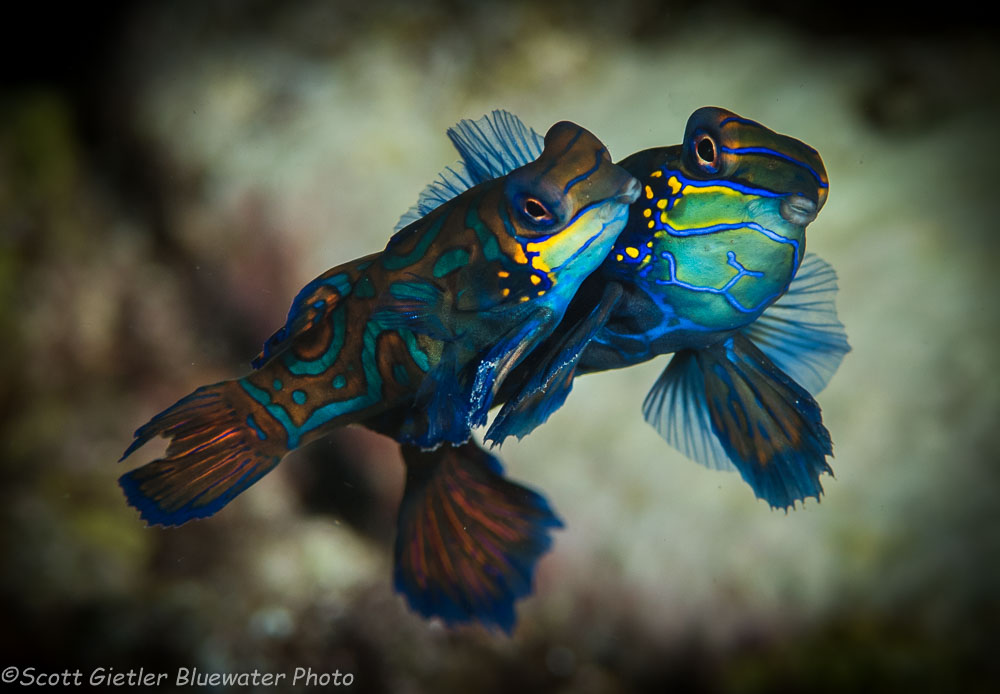 DIVING CONDITIONS
Water temperature: Temperatures in the Banda Sea on average stay around 80-84°F (26-29°C).
Visibility: Visibility is generally good, reaching up to 100 feet (30m)
Diving Difficulty: Most dive sites are suitable for all levels with a few exceptions that are suitable only for advanced divers.
Best Banda Sea Dive Sites & areas
The Banda Sea is rich with diverse dive sites and all of them guarantee seeing lots of marine life. Scuba divers can expect to see a variety of smaller fish, critters, but also large pelagics. Though there are so many dive sites to choose from, here are some of the best dive sites in the Banda Sea.
1. Karang Hatta - Located near the Hatta island, Karang Hatta has beautiful sloping reefs and huge schools of fusiliers that together create a big cloud of yellow and blue. Though the fusiliers want to grab your attention to themselves, be sure to spot some trevally, groupers, triggerfish, snappers and butterflyfish. Large pelagics like eagle rays, barracuda and even hammerhead sharks can be spotted. Moreover, you will be able to see some of the largest sponges you have ever seen!
2. Koon - This great wall dive site with gentle current carrying you along the way will show you countless species of fish. Ghost pipefish, triggerfish, crabs, napoleon wrasse, tuna, barracuda and giant morays are just a few examples of who you can meet during your dives there. The reef slope has a beautiful mix of hard and soft coral.
3. Batu Kapal - What makes this dive site special is the huge pinnacles from which the center one resembles a large ship. Hence, the dive site's name means the ship rock. Between the pinnacles of different shapes and sizes, you'll see multiple sea fans and gorgonians. Many fish like snappers, moray eels, gobies, butterflyfish, triggerfish, anemonefish and other colorful reef fish like swim around the pinnacles. Even sharks like the grey reef sharks can be seen by scuba divers.
4. Pombo Boi - Lucky divers may see some dugongs and dolphins around Pambo Boi. Shrimps, triggerfish, butterflyfish, gobies and lobsters are very common in the area. The reefs are covered with sponges and a mix of hard and soft coral in a variety of colors. The dive site has very easy conditions that make it also a great dive site for beginners.
5. Manuk - Although this site is not always visited by liveaboards as it is weather dependent and conditions can be rough, it still is a remarkable dive site. It is one of the remotest dive sites in the Banda Sea and is special due to its large sea snake population. They are very curious to see divers but still like to keep their distance. Besides the snakes, you can spot barracudas, jacks and rainbow runners swimming around. Having volcanic sand, you might even notice some bubbling geothermal gas.
6. Gunung Api - Its reef system was once destroyed by a volcano eruption but the regrowth has created a new spectacular dive site. Several species of coral like the table corals, Acropora corals, cabbage leaf corals, and many more have created a unique view. Parrotfish, triggerfish, cuttlefish, batfish, shrimp, wrasse, and numerous other species of fish are just adding color to the scenery.
Liveaboard availability
---
The rates shown below are per person in USD. Some of the operators quote in other currencies and the pricing at the time of booking may vary depending on the latest exchange rates.
Please contact us for the availability of the following boats: Arenui, Mutiara Laut, MSY Aurora, Velocean, and Panunee.
Travel Information
---
How to Get There
The Banda Islands can be reached via Ambon to where direct flights (AMQ) are available from Jakarta (CGK), Manado (MDC) and Makassar (UPG). You may also fly from Bali (DPS) via Makassar.
How to Dive Banda Sea
The Banda Sea is only possible to be dived by a liveaboard. Some of the Banda Sea liveaboards also include other nearby exciting destinations, like Raja Ampat, in their itinerary.
Check out combination trips on our Indonesia Liveaboards page.
Best Time to Dive
The diving conditions in the Banda Sea are generally very good with good visibility and mild currents. The calmest months are in spring from March to April or in late autumn around September to December. The rainy season is during the summer months.
Topside & Non-Diving Activities
Though a liveaboard holiday is the best way to visit the area, the islands in the Banda Sea are still accessible. The islands are very different and some of them offer activities for tourists. The Banda Besar island, for instance, is good to learn about their spice trade history by joining a spice tour. You can go hiking on some of the volcanoes like on the Banda Api island. Many islands have a very laid back vibe and are great for enjoying its beautiful beaches.
Other Useful Information
---
Currency: Indonesian Rupiah
Language: Indonesian, but English might be used at most tourism sites
Time Zone: UTC+9
Electricity: 230 V 50 Hz