SCUBA DIVING IN

ZANZIBAR, TANZANIA & KENYA

---
ZANZIBAR, TANZANIA & KENYA DIVING HIGHLIGHTS
Seldom visited but with a wealth of marine and top-side wildlife, scuba diving in Zanzibar, Tanzania, and Kenya is a rewarding experience and an excellent destination for global adventurers keen to discover a fantastic new dive destination. Diving Tanzania's three main islands of Zanzibar, Pemba, and Mafia reveal an array of macro as well as regular encounters with ocean-going species, while Kenya's large marine reserves offer up lively reefs in excellent condition.
ZANZIBAR, TANZANIA & KENYA DIVE RESORTS/LIVEABOARDS
While a small number of private charter liveaboards are available, the majority of diving is shore-based or from day-boats.
INTRO TO ZANZIBAR, TANZANIA & KENYA
Located on the east coast of equatorial Africa, the islands of Zanzibar and Pemba, along with Mafia Island to the south are the central hub of diving in Tanzania. Also known as the Spice Islands, these three dive locations offer a wealth of tropical reef diving, some reasonable macro, and unexpected encounters with larger pelagic species migrating along Africa's Indian Ocean coastline. The Spice Islands also offer a wealth of historic, cultural, and wildlife experiences, and are a fantastic family or group travel destination full of exotic discoveries.
Diving along Tanzania's mainland coast is also possible, with a range of sites from the northern border with Kenya, through Bagamoyo, Dar es Salaam, and Kilwa, as far south as Mtwara. While the northern stretches of coastline offer typical Indian Ocean diving, the southern reaches near the border with Mozambique are relatively unexplored, with a dramatic coastline, deep trenches, and diversifying ocean currents creating an excitingly wild environment ripe for discovery.
Finally, no visit to Tanzania would be complete without a dive or two in Lake Tanganyika. Famous for its collection of freshwater cichlids, this is a unique experience that is ideally combined with a land safari or trip to the country's interior.
Venturing north of Tanzania, Kenya's diving coastline boasts four protected marine parks and six marine reserves harboring a wealth of beautiful reefs, tropical fish species, and interesting topography to suit all diving abilities. The protected status of these areas makes for some excellent reef diving with large corals in very good condition and an abundance of marine life, big and small.
Interested in diving Zanzibar, Tanzania, and Kenya? Check out Diving in South Africa.
WHEN TO GO
Diving is possible year-round, although the main dive season is from November through to March.
ZANZIBAR, TANZANIA & KENYA DIVING INFORMATION

---
MARINE LIFE & PHOTOGRAPHY SUBJECTS
Scuba divers exploring Zanzibar, Tanzania, and Kenya will have access to the full catalog of tropical Indian Ocean species throughout the region's balmy waters. A myriad of reef fish adorns the inshore reef sites, with ribbon eels, fire dartfish, octopus, moray eels, and giant groupers commonplace. Many larger species also patrol the inner reef walls and barracuda, yellowfin tuna, and large schools of trevally are not an uncommon sight in the blue. Reef sharks and dolphins can be spotted year-round, as can the manta rays in Kisite Marine Reserve.
Mafia Island offers a resident population of whale sharks, as well as remarkably good fish life, and green sea and hawksbill turtles, with the opportunity to witness turtle hatchings at certain times of year.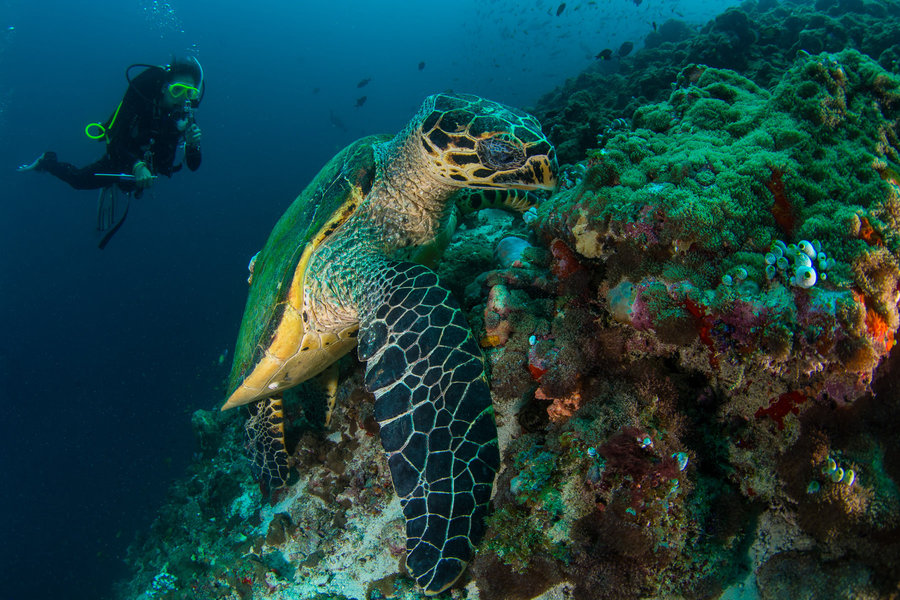 A good number of ocean visitors pass through the Spice Islands and along the coast of Tanzania and Kenya on their seasonal migrations. Whale sharks can be spotted between October and April, but are most common in November and December, and this is also the season for humpback whale sightings. Although far less common, hammerhead sharks can sometimes be seen along the outermost reefs in the winter months.
For a unique experience, divers can visit Lake Tanganyika and dive with almost 250 different species of endemic cichlid fish. It is believed that 98% of these fish are unique to the lake.
Kenya's coastline is known for its diverse collection of nudibranchs and opisthobranchs, including some rare species and color variations unique to this part of the Indian Ocean. It is also common to find large scorpionfish and stonefish along the reefs, as well as shrimps, lobster, and various other crustaceans.
Check out some other fantastic macro dive destinations.
Photos by Hagai Zvulun
DIVING CONDITIONS
Water temperature: 78-85oF (25-29oC).
Visibility: Upwards of 100ft (30m) outside the wet season.
Depth Range: 32-130ft (10-40m).
Diving Difficulty: All levels.
BEST DIVE SITES
Mnemba Atoll, Zanzibar
The tropical fish capital of East Africa, Mnemba Atoll boasts pristine coral walls and a myriad of marine life in fantastic visibility. Most dives are gentle drifts along vibrant walls, teeming with beautiful corals and an overwhelming array of fish.
Leven Bank, Zanzibar
Off the northern tip of Zanzibar, nutrient-rich currents sweep through Leven Bank creating a playground for all manner of pelagic visitors. Huge schools of barracuda and trevally mix with tuna, king mackerel, and a variety of wrasse, and humpback whales can often be heard underwater between August and September.
North Horn, Pemba Island
Famous for shark encounters, divers can expect to spot whitetip, silvertip, gray whaler, and even the occasional hammerhead shark along coral festooned walls dressed in huge gorgonians.
Pemba Channel, Pemba Island
Off the west coast of Pemba Island, the shallow reef plunges thousands of feet into the Pemba Channel and a series of pinnacles and steep walls create a habitat for a variety of interesting marine life. Reef sharks, turtles, Napoleon wrasse, and other pelagic gamefish frequent the strong currents of the channel, but despite the excellent visibility, this site is best suited to experienced divers.
Misali Island Coral Garden, Pemba Island
A Marine Conservation Area home to remarkable species diversity including 350 species of fish and over 40 varieties of coral, Misali is a true diving paradise in East Africa. Extensive and beautifully vibrant coral reefs support a plethora of reef fish species small and large, as well as endangered turtles and larger marine creatures.
Mafia Island Marine Park, Tanzania
Nearly half of Mafia Island's coastline is protected under the Marine Park and is home to over 460 species of tropical fish, five species of turtle, and the shy dugong. Mafia Island is a great place to spot whale sharks between October and March, pausing to feed on plankton upwellings as they migrate along the coast.
Lake Tanganyika, Tanzania
The second-largest freshwater lake in the world, Lake Tanganyika's surface sits at an altitude of 2,530 feet (773 meters) above sea level and offers a rare opportunity to dive with several hundred species of cichlid fish, of which 98% are endemic to the lake. Water temperatures are similar to the sea and visibility is generally crystal clear.
Watamu Marine National Park, Kenya
One of the best protected and managed marine reserves in Kenya, at least a dozen dive sites range in depth and are suitable for all levels of diver. The endangered green sea turtle is a common sight around the park reefs, as well as moray eels and octopus holed up in the coral at Moray Reef. Whale sharks are often spotted passing through between October and February. The Canyon is an excellent all-round site boasting a soft coral covered arch teeming with snapper and trevallies.
Arguably the most beautiful destination on Kenya's coast, much of the diving centers around Wasini Island, with 10 sites both inside and outside the park offering great year-round diving. Over 40 varieties of coral and 250 species of fish have been documented here so far, with the star of the show the huge manta rays. Strong currents at Nyulli Reef promote drift dives through a blur of snapper, barracuda, and sightings of the rare zebra shark, while the chilled-out and shallow Kisite Point offers up encounters with turtles and bottlenose dolphins.
North of Mombasa city, the coastline boasts some beautiful coral reefs and a range of diverse sites full of life. The overhangs and outer reefs of Mtwapa are an exciting dive featuring large grouper and the occasional whale shark, while the MV Dania is a purposely scuttled wreck in 115ft (35m) of water with some reasonable penetration opportunities. The Vuma Caves near Kilifi Creek are accessed via sea caves at 65ft (20m) and exited through a 32ft (10m) chimney in the reef above. The caves are a hideaway for eels, barracuda, and grouper, and the entrance is often frequented by dolphins.
If you like the idea of swimming with whales, check our guide to the best places to swim with whales.
TRAVEL INFORMATION

---
HOW TO GET TO ZANZIBAR, TANZANIA & KENYA
Zanzibar and Pemba Island
Flights from the US and Europe will normally connect in the Middle East or Kenya before arriving at Abeid Amani Karume International Airport (ZNZ), Zanzibar. Alternatively, connect in the Middle East and fly on to Dar es Salaam's Julius Nyerere International Airport (DAR), before taking a 20-minute flight out to Zanzibar. Although this means an extra connection, there is a wider choice of airlines and potentially cheaper flights.
Pemba Airport (PMA) is an 80-minute flight from Dar es Salaam or a 30-minute flight from Zanzibar. A cheaper option is to take the ferry from Zanzibar to Pemba. Bear in mind that the safety record of some of these ferry companies is questionable so contact us for recommendations.
Mafia Island
Mafia Airport (MFA) is a 30-minute flight from Dar es Salaam's Julius Nyerere International Airport (DAR).
A cheaper option is to take the ferry from Nyamisati on the mainland out to Mafia Island, leaving once a day at 4 am.
Kenya
There are direct flights to Nairobi's Jomo Kenyatta International Airport (NBO) from the east coast of the US and Europe. Flights from the west coast of the US connect in one of the major European hubs. Once in Nairobi, reserves and lodges tend to arrange private flights between destinations for guests.
HOW TO DIVE ZANZIBAR, TANZANIA & KENYA
Almost all diving in Zanzibar, Tanzania, and Kenya is from the shore or day-boats. Accommodation takes the form of beach resorts or hotel apartments, as well as the more traditional style lodges. Zanzibar has a good number of dive operators, as well as some resorts with in-house dive centers. Pemba is more remote, so accommodation tends to be far more exclusive, whereas Mafia Island has a reasonable selection of dive operators and accommodation options.
Kenya offers a good number of dive operators along its southern coastline, and a good range of beach resort and hotel options to suit all budgets.
BEST TIME TO DIVE ZANZIBAR, TANZANIA & KENYA
Zanzibar, Tanzania, and Kenya enjoy an equatorial climate with air temperatures rarely dropping below 68oF (20oC), and often soaring to 100oF (38oC) in the cities or away from the coast. The main diving season from November through to March coincides with the dry season when coastal air temperatures are in the mid to high 70s (24-26oC) and water temperatures can reach 85oF (29oC) in March and April.
The dry season is also the best time to spot large pelagic visitors, with whale shark sightings most common in January and February, manta rays between November and January, and humpback whales in September.
Interested in diving with humpback whales? Check out Diving in Moorea.
OTHER THINGS TO DO IN ZANZIBAR, TANZANIA & KENYA
Zanzibar's rich history offers up a plethora of activities from spice farm tours detailing the island's spice trade history, cultural tours to a Nungwi village, and visits to the ruins of the once opulent Maruhubi Palace. Stone Town is a UNESCO World Heritage Site and visitors can lose hours wandering the medieval settlement's historic streets. There are also plenty of top-side wildlife attractions such as a cruise to Prisoner Island to visit the giant tortoises, or searching for the rare endemic Zanzibar leopard in Jozani Chwaka Bay National Park. On top of all this, watersports such as kitesurfing on the island's east coast are popular, or simply soaking up the sun on one of the beautiful northern beaches.
Find out about scuba diving Costa Rica for another great wildlife/dive combination destination.
Pemba Island is home to the Kidike Flying Fox Sanctuary as well as the Ngezi Forest Reserve, with arranged tours in search of a variety of endemic bird and animal species. For those with cultural interest, Pemba boasts the ruins of Ras Mkumbuu, Chwaka, and Mkama Ndume, relics from the island's trade route past, as well as a variety of watersports and deep-sea fishing opportunities.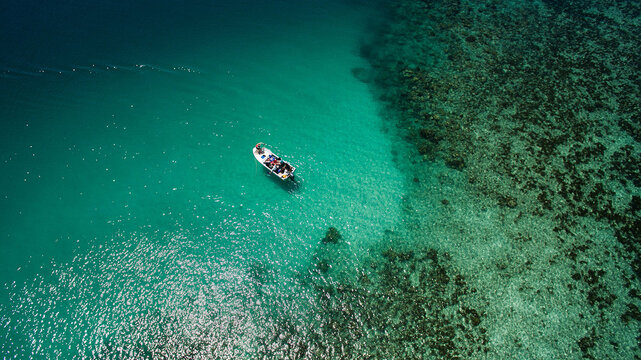 Mafia Island offers a range of wildlife activities, much of which can be encountered on treks into the island's jungle interior. The Arabic ruins of Kua and Chole Island are worth a trip, and visitors have the option of a range of watersports and deep-sea fishing expeditions.
For another unique wildlife destination, check out the Komodo Dragons and our guide to diving Komodo or the orangutans in our Borneo dive guide.
Best known for their big game reserves, Tanzania and Kenya are the perfect destinations for a combination vacation exploring the best wildlife both above and below the waves. Visitors can tackle Africa's highest mountain Kilimanjaro or immerse themselves in East Africa's wealth of top-side wildlife. Safari trips into the Serengeti and to Ngorongoro Crater are a popular trip extension, especially to witness phenomena such as the wildebeest migration. It is also worth learning about the colorful Maasai culture by visiting their local villages.
For another great diving/safari destination, check out diving Sri Lanka.
OTHER USEFUL INFORMATION

---
PRACTICAL INFORMATION
Currency: Tanzanian Shilling (TZS) and Kenyan Shilling (KES)
Language: Bantu Swahili and English
Time Zone: East Africa Time (GMT+3)
Electricity: 230V in Tanzania and 240V in Kenya
underwater images

---