SCUBA DIVING IN VANUATU

---
VANUATU DIVING HIGHLIGHTS
Those lucky enough to scuba dive Vanuatu will be impressed by the range and variety of world-class dive sites, with diving suitable for all levels of diver and snorkeler. Sparkling turquoise lagoons bordered by lively reefs give way to steep drop-offs, large caves, and some great wrecks for both recreational and technical divers.
VANUATU DIVE RESORTS/LIVEABOARDS
Vanuatu diving is predominantly resort-based, and dives are either straight off the beach or from day boats.
INTRO TO VANUATU
Located just over 1,000 miles east of Australia, Vanuatu is a Pacific island nation situated between Fiji, New Caledonia, and the Solomon Islands. With a similar Melanesian heritage to these other South Pacific countries, the pace of life in Vanuatu is slow and very relaxed, and locals enjoy a simple lifestyle of subsistence farming and fishing.
Find out more about diving in Fiji or scuba diving the Solomon Islands.
Vanuatu's 83 volcanic islands border the northern Coral Sea and their waters are teeming with life. The vibrant and healthy reef system supports an abundance of smaller inshore marine species, while pelagic hunters can be spotted searching for their next meal out in the blue. There are numerous wrecks around Vanuatu's coastline, most notably the SS President Coolidge, a WWII troop carrier sunk close to shore. Diving in Vanuatu is suitable for all levels, with a great range of experiences and underwater adventures for divers and snorkelers.
The capital and gateway to the country is Port Vila on the main island of Efate, towards the center of the archipelago. Efate is reasonably lively, with a vibrant culture and some good tourist facilities. Diving is also exciting, the north coast offering deeper walls and overhangs with some nice drift dives.
A one hour flight north, Espiritu Santo island is home to the famous SS President Coolidge wreck as well as several other wrecks and military sites. Underwater caverns and tunnels connect the flourishing reef systems, and the whole island is surrounded by azure water. Topside, Espiritu Santo is larger but less developed than Efate, its lush jungle interior fringed by white powdery beaches.
For more exciting underwater topography, check out our guide to diving Hawaii.
A 45-minute flight south of Port Villa, the island of Tanna hides a wealth of mystery amongst centuries-old customs and traditions. Wild horses roam the island, and Mount Yasur volcano regularly spews molten rocks and lava from her active crater. The island is also home to some unique 'cargo cults', one which worships an American WWII serviceman known as John Frum, and another which worships Prince Phillip, Duke of Edinburgh. Diving is an emerging pastime here and there is currently one dive operator on the island, however, there are some great critter sites and interesting pelagic visitors.
WHEN TO GO
Diving is possible year-round, although be aware that December to April is cyclone season.
VANUATU DIVING INFORMATION

---
MARINE LIFE & PHOTOGRAPHY SUBJECTS
Visibility is excellent in Vanuatu, and divers are often overwhelmed by the sheer volume of fish life swirling around the reefs. Beautiful gorgonians, a rainbow of colorful corals, and some fascinating underwater topography create a dramatic backdrop to the thousands of small reef fish constantly schooling in the shallower waters. Expect to see plenty of triggerfish, angelfish, batfish, and clownfish, as well as turtles and a few sharks at the outlying sites. Coral heads hide the more elusive species such as eels, octopus, and crustaceans, while rays can be seen in the sandy lagoons. Such a wealth of life attracts bigger game fish into the brisk currents of the outer reef walls, and bigeye tuna, barracuda, and jack are often spotted patrolling in the blue.
Vanuatu is also an excellent destination for divers looking to swim with dugongs. These shy mammals feed on seagrass close to shore and can be found throughout the archipelago. The chance to swim and snorkel with them is a fantastic and rare opportunity.
The islands' numerous wrecks also offer some great photo opportunities and hide a few less common marine creatures. Crocodile fish and scorpionfish lurk amongst the rusting superstructures, and many other species now call these huge artificial reefs home.
TYPICAL DIVE IN VANUATU
Most dives take place from small speed boats that transport divers to the local lagoons and reefs several times each day. Some sites are so close to shore that divers can walk in from the beach. There are a few sites with running currents that require some experience.
DIVING CONDITIONS
Water temperature: 70 to 80oF (21 to 27oC)
Visibility: Excellent, upwards of 164ft (50m)
Depth Range: 33 to 130ft+ (10 to 40m+)
Diving Difficulty: All levels
BEST DIVE SITES
1. Star of Russia, Port Vila
A three-masted ship built in 1874, this 255ft (90m) long sailing vessel now lies in 108ft (33m) of water with the hull intact. A good variety of marine life can be found around her steel frame, while the wooden decking has largely perished allowing easy penetration.
2. The Cathedral, Port Vila
An impressive cavern under the reef with an entry point at 72ft (22m) and an exit through the open roof to the surface. Shafts of sunlight filter down to create a unique lighting effect in the surrounding gloom, providing the ideal refuge for critters and dark-loving species such as shrimps, scorpionfish, and nudibranchs.
3. Konanda, Port Vila
A purpose-sunk wreck, the Konanda is a 147ft (45m) Island Trader vessel sitting on the sandy bottom at 85ft (26m). She was carefully prepared for diving so that her cabins and cargo hold are easily accessible, while the masts reach up to 32ft (10m) making her a great snorkeling site.
4. SS President Coolidge, Espiritu Santo
A casualty of WWII, the SS President Coolidge was a huge luxury liner pressed into service as a troop carrier during the war. In early-1942 she hit two mines trying to enter the harbor on Espiritu Santo island, beached on the nearby reef, and then slid down to her current position at a depth of 70 to 240ft (21 to 73m). Accessible from the shore, and with much to offer both recreational and technical divers, there are around 50 dives on this massive wreck, and many visitors to Vanuatu will dive exclusively on the President Coolidge. Marine life is abundant, and many of the South Pacific's key species make an appearance. The most photographed icon on board is a porcelain panel known as 'The Lady', still in good condition and with the original colors visible. The SS President Coolidge is one of our picks for the top 10 shipwrecks to scuba dive. Read more about it here.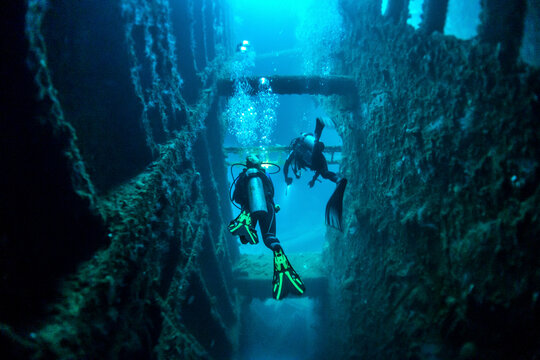 5. Million Dollar Point, Espiritu Santo
Another site full of military artifacts, Million Dollar Point is the location of a huge jettison of war machinery and equipment, dumped by the US after WWII. Trucks, cranes, bulldozers, guns, and ammunition are amongst the treasures strewn across the beach and seabed here, and many are now festooned in soft corals and home to a good number of fish.
6. Cindy's Reef, Espiritu Santo
Characterized by huge plate and staghorn corals, Cindy's Reef is an aquarium of beautiful tropical fish and several turtles. The reef ranges in depth from 26 to 114ft (8 to 35 m), and crystal clear waters make for an excellent photography site.
7. Kamitua Reef, Tanna
A site on the outer reef that experiences strong currents along steep walls and drop-offs. Numerous pelagic species such as yellowfin tuna, barracuda, and grey reef sharks loiter close to the reef, while critters such as nudibranchs and shrimps hide in overhangs and crevices.
BEST TIME TO DIVE VANUATU
Diving is possible year-round, with the tropical climate providing warm, wet weather from December through to May, and cooler, dryer weather from June to November. Air temperatures average from 83oF (28oC) in the summer down to 73oF (23oC) through the winter. December to April is cyclone season, and Vanuatu does experience some significant tropical storms.
TRAVEL INFORMATION

---
HOW TO GET TO VANUATU
From the US the most direct route is either via Fiji or New Zealand, with direct flights available from San Francisco International Airport (SFO) to both destinations. Flights are also readily available from the east coast of Australia, and this may be a better option for travelers based in Europe or Asia.
Port Vila on Efate island is the gateway to the rest of the country, and most international flights will land at Bauerfield International Airport (VLI). There are also airports on Espiritu Santo (Santa-Pekoa International Airport (SON)) and Tanna (Whitegrass Airport (TAH)).
HOW TO DIVE VANUATU
Facilities vary between islands, however, on the main islands of Efate and Espiritu Santo accommodation ranges from lodges and self-contained studio apartments to tourist class hotels and deluxe resorts. The capital, Port Vila, offers a good range of dive operators who work with the local hotels and will arrange pick-ups and drop-offs, while Luganville on Espiritu Santo has a couple of reputable operators that concentrate on diving the SS President Coolidge. The outlying islands tend to have fewer basic accommodation options and only one or two dive operators.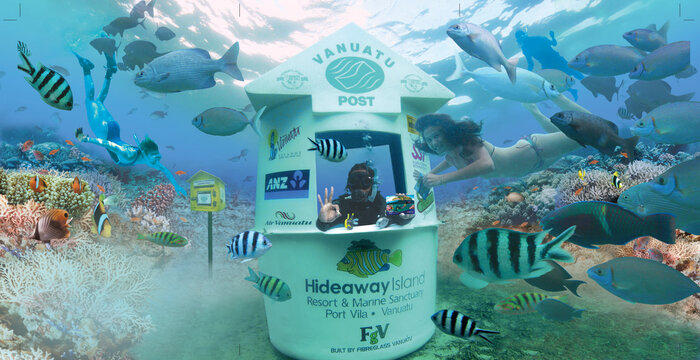 OTHER THINGS TO DO IN VANUATU
Life is very relaxed in Vanuatu, so many visitors simply enjoy soaking up the slower pace of life and spending time on one of the island's many palm-fringed beaches. For those seeking adventure, Tanna Island is home to the world's most accessible active volcano, as well as volcanic hot springs and unique ash plains. The jungle interiors of the islands are worth trekking into to visit plunging waterfalls and experience a variety of wildlife. Vanuatu has a wealth of WWII history topside as well as beneath the waves, and cultural village visits are a great way to learn about the indigenous Melanesian people and experience their warm and generous hospitality.
OTHER USEFUL INFORMATION

---
PRACTICAL INFORMATION
Currency: Vanuatu Vatu (VT, VUV) - Australian Dollars (AUD) are also accepted in tourist areas
Language: Bislama, but English and French are widely spoken
Time Zone: Vanuatu Standard Time (GMT+11)
Electricity: 220-240V
UNDERWATER IMAGES

---