By GillF | Date: 27 Dec' 2021
Wild, exotic, and the place of legend, Africa is an exciting alternative scuba diving destination offering a huge variety of underwater experiences. With coastlines on the Red Sea, the Indian Ocean, and the Atlantic Ocean, Africa
boasts some of the world's best scuba diving
. From the flourishing reefs of northern Egypt through to shark cage diving with great whites on the southern tip of South Africa, there's something for everyone in Africa!
On top of all that, many countries offer great top-side culture and wildlife experiences, making for a fantastic all-around vacation.
With such a variety of amazing dive spots, deciding on the best place to go scuba diving in Africa is no easy task. But, worry not! We've rounded up a list of the best places to go scuba diving in Africa complete with information on what to see, when to go, and where to stay, so that you can pick the perfect spot for your next Africa dive trip, hassle-free!
Best spots to go scuba diving in africa
Pick a destination or scroll down to read the entire list:
1. The Northern Red Sea - A Huge Variety of Diving Experiences
2. The Southern Red Sea & Sudan - Frontier Scuba Diving on the Doorstep
3. South Africa - Big Adventure for Thrill-Seeking Divers
4. Madagascar - A Nature Lover's Paradise
5. Mozambique - Extreme Diving at the Edge of Africa
6. Zanzibar and Tanzania - Rich and Diverse Above and Below the Waterline
7. Kenya - A Hidden Macro Gem
8. Outlying Islands - Mauritius, Seychelles, Cape Verde, and the Canary Islands
Can't wait to start planning your next African scuba diving trip? Our team at Bluewater Travel can help you book a resort or liveaboard in Africa or anywhere in the world.
Discover our new African Safari trips!
---
A huge variety of diving experiences
As the most northerly tropical sea in the world, the Red Sea offers an exceptional range of dive experiences and some unique fish and coral species not found anywhere else. Named as one of the seven wonders of the underwater world, this 1,400-mile long inlet of the Indian Ocean is sandwiched between the African nations of Egypt, Sudan, and Eritrea to the west, and Suadi Arabia to the east. There are various different dive areas ripe for exploration in the Red Sea, but in particular, the northern waters are home to the stunning coral gardens and shallow drifts of Ras Mohammed National Park. To the northeast, the four reefs of Tiran offer deep walls and stronger currents that support huge gorgonians and vast numbers of small and medium reef fish. Other notable spots include the golden triangle of Brothers, Daedalus, and Elphinstone, three offshore reef and seamount systems that attract vast numbers of pelagics and some exciting shark action.
The northern Red Sea is also well-known for its numerous accessible wrecks, many within recreational dive limits. Perhaps the most famous is that of the SS Thistlegorm, a 420-foot military supply ship that was bombed during WWII. She now rests in 100 feet of water and her cargo of jeeps, motorbikes, ammunition, and various other military supplies can still be explored. Many of the Red Sea's wrecks have been absorbed into the reefs they floundered on, and so now create fascinating artificial reefs smothered in life.
How to dive the northern red sea
The majority of scuba diving in the northern Red Sea is accessed through Egypt, in particular the resorts of Sharm el Sheikh and Hurghada. Both towns offer a good range of dive shops and the majority of hotels have a dive center on-site. Day trips from Sharm take you to the nearby sites of Tiran and Ras Mohammed which are some of the best in the area. There are also numerous smaller dive resorts dotted along the Egyptian coast and in Israel, Djibouti, and Jordan.
However, most divers exploring the Red Sea will do so via a liveaboard. Red Sea liveaboards are some of the most affordable in the world and offer exceptional value for money. There are dozens of boats to choose from with departure points varying depending on the route, but most northern boats are based in Sharm el Sheikh or Hurghada. Both towns have international airports, often with a transfer through Cairo.
Scuba diving in Africa is available year-round, however, the height of the summer experiences extreme top-side temperatures and very busy inshore dive sites. Most liveaboards and resorts close for a month in January.
Discover our full range of Red Sea liveaboards.
Practical information
Temperature: 70 to 84oF (21 to 29oC) with the highest temperatures in September, and the lowest in February.
Visibility: Up to 650 feet (200m).
Non-Diving Activities: Swimming, snorkeling, other watersports, cultural tours in Egypt, desert trips, and sightseeing.
Required Skill Level: All levels.
---
2. THE southern RED SEA & Sudan
frontier scuba diving on the doorstep
Relatively unexplored compared to the northern stretches, the southern Red Sea offers frontier diving and some exciting unexplored stretches of reef with barely another dive group in sight. Generally referred to as the 'Deep South', diving is relaxed and varied, with marine life rich in small and medium fish species and some notable macro. Fury Shoals is a vast plateau of coral gardens, home to grazing turtles, dolphins, and reef sharks. Just south of the Tropic of Cancer, Zabargad and Rocky Islands are surrounded by stunning blue lagoons and offer diving amongst thriving corals and huge gorgonians as well as rare black coral trees. The stronger currents here attract some impressive open ocean visitors including manta rays, whale sharks, and hammerheads.
On the border with Sudan, St John's Reef is exciting in its isolation and as such is virtually untouched. Caves, tunnels, and overhangs are overgrown with corals and patrolled by large pelagics. While those brave enough to venture into Sudan's rarely visited waters will be overwhelmed by the exotic and large-scale topography on display. Marine life is unphased by divers and huge shoals of fish are ever-present at close range. There are also some more challenging deep and wreck penetration scuba dives available, including the wreck of the Umbria which is on the itinerary of many Sudan-based Red Sea liveaboards.
HOW TO DIVE THE southern RED SEA & Sudan
Diving in the southern regions of the Red Sea is almost exclusively via liveaboard, with departures from Port Ghalib or Hamata in Marsa Alam for the Deep South routes and from Port Sudan for Sudan itineraries. Both towns have international airports although most travelers into Sudan will transfer through Khartoum Airport. The Sudan routes tend to be more expensive and with longer itineraries due to the expedition-like nature of the trips.
Boats depart year-round, however, strong winds between October and April can cause choppy surface conditions.
practical information
Temperature: 79 to 84oF (26 to 29oC) with the highest temperatures in September, and the lowest in February.
Visibility: 33 to 115 feet (10 to 35m).
Non-Diving Activities: Southern Egypt and in particular Sudan, are rarely frequented by tourists, however, Naqa and Musawarat are worth a visit, as are the Meroe pyramids.
Required Skill Level: Deep South all levels, Sudan is best suited to advanced divers.
---
3. South Africa
big adventure for thrill-seeking divers
With nearly 1,700 miles of coastline bordered by the Indian Ocean to the east and the Atlantic Ocean to the west, diving South Africa offers a unique and thrilling experience full of challenge and adventure. Scuba diving is possible along both coasts but varies dramatically between regions due to the sheer size of the country. The milder tropical climes of the northeastern KwaZulu-Natal province offer warm water diving along stunning beaches and some of the country's richest marine life. One of the best spots is Sodwana Bay, perfectly positioned within the UNESCO World Heritage Site of iSimangaliso Wetland Park. The reefs here are unspoiled and bursting with Indo-Pacific life.
Exploring further south past Durban, the legendary Aliwal Shoal is the staging post for some epic shark diving with bull sharks, hammerheads, tiger sharks, blacktips, and the local favorites, sand tiger sharks. And a sight not to be missed is the annual sardine run, a high-energy event that draws countless sharks, game fish, dolphins, birds, and seals to feast on giant, ever-moving baitballs of millions of sardines.
On South Africa's Western Cape, the cooler kelp-filled waters and rugged coastline of the Atlantic coast are home to countless seal colonies and African penguins which in turn attract apex predators. Towns such as False Bay and Gansbaai are renowned shark cage diving destinations, and while great white sharks are what everyone wants to see, there is an excellent chance of encountering seven-gill sharks, dolphins, and even orcas.
Read our full destination guide to diving South Africa.
how to dive south Africa
South Africa is a huge country, so when to dive and how to get there can vary drastically. The northeastern coast is diveable year-round with temperatures rarely dropping below 70. Durban's King Shaka International Airport is the best point of access to explore the region's coast. The sardine run occurs annually between May and July, with the peak time in late June.
The Atlantic side is wilder and colder with the summer months of October through to March preferred for diving. Temperatures can drop below 55 and conditions can be challenging. Cape Town International Airport is the best starting point for visiting the west coast.
practical information
Temperature: 68 to 82oF (20 to 28oC) on the east coast and 53 to 64oF (12 to 18oC) on the west coast.
Visibility: Varies, but is often better in the winter.
Non-Diving Activities: Explore the famous Winelands or head north on a safari in Kruger National Park.
Required Skill Level: Intermediate and advanced divers, although beginners can be catered for.


---
4. MADAGASCAR
a nature lover's paradise
Off the southeast coast of the African continent, the country of Madagascar is the fourth-largest island in the world and boasts unique flora and fauna of endemic species that have evolved in geographical isolation from the rest of Africa. While Madagascar is increasingly popular as a destination for nature lovers, the island's dive scene is still relatively quiet, and even in the busier tourist hubs, the beaches and dive sites will seem uncrowded compared to other Indian Ocean vacation islands. The oceans and reefs around Madagascar boast incredibly rich biomass and the chance to spot some rarer species such as the coelacanth and Omura's whale. There are 34 different species of cetacean found around Madagascar, and one of the best places to spot them is Ile Sainte-Marie of the northeast coast, directly on the migratory route for humpback whales.
Arguably the best area for diving in Madagascar is the northwestern archipelago of Nosy Be. At least 300 types of hard coral play host to 1,300 species of reef fish, turtles, and over 50 types of shark. This is also a prime spot for whale shark encounters in October and November each year. The scuba diving here is perfect for beginners while still offering experienced divers a stunning insight into the region's breathtaking biodiversity. Further north, the clear waters and fascinating volcanic topography of the Mitsio Archipelago offer up awesome manta and shark encounters as well as some great pelagic action.
HOW TO dive MADAGASCAR
Madagascar's dive infrastructure is well established with a good number of land-based resorts and dive operators, especially around the north of the country. While Madagascar can be dived year-round, most centers will close during the cyclone season between December and March. The best time to visit is between May and December when whale sharks and migrating humpback whales are visiting. Visibility is generally over 100 feet, and while the odd plankton bloom can reduce visibility it will also draw in pelagics.
There are also a small number of liveaboards that visit Madagascar's outlying islands and archipelagos. This is a great option to reach the most remote regions.
practical information
Temperature: 77 to 83oF (25 to 28oC) with the warmest temperatures from July until September and the coldest months January through March.
Visibility: Over 100 feet (30m), and while the odd plankton bloom can reduce visibility it will also draw in pelagics.
Non-Diving Activities: The topside wildlife is spectacular, and best explored on nature treks and kayak tours.
Required Diving Skill Level: Suitable for all levels, including snorkelers.
---
5. Mozambique
extreme diving at the edge of Africa
Mozambique's 1,500-mile long coastline is an exhilarating introduction to southeast Africa's impressive megafauna. While it may not be the most accessible of dive destinations, this makes for relatively untouched dive sites, few other divers, and the feeling that you're at the frontier of underwater exploration. The northern Quirimbas Archipelago enjoys the protection of one of Africa's largest Marine Protected Areas. Over 125 miles of remote, undeveloped islands, sandbars, mangroves, and healthy reefs are home to the best of the Indian Ocean's tropical marine life as well as some fascinating underwater topography. Further south within the Mozambique Channel, the Bazaruto Archipelago boasts exciting drift dives along walls of canyons, caves, and overhangs.
Heading south another 150 miles, Praia do Tofo is a well-known manta and whale shark destination boasting regular year-round sightings of these pelagic giants. August and September are also prime humpback months and migrating whales can be spotted daily on their journey through the Mozambique Channel. In the country's deep south, Ponta do Ouro is a spectacular location, and one of the best in the southern hemisphere to scuba dive with big pelagic shark species. Bull sharks, known here as Zambezi sharks, and hammerheads, are just two of the 19 species that frequent these waters.
The photos above are provided by Armin-Tratnau
HOW dive Mozambique
The main challenge with diving in Mozambique is getting there. Maputo International Airport (MPM) in the south of the country is a good springboard for the southern destinations, however, at least one, sometimes two domestic connections are required to get to the northern archipelagos. It may be easier to fly into Tanzania and then take a local flight south. There are also ferries that service the islands.
Diving Mozambique is predominantly shore-based, with local operators and dive shops supporting the lodges and hotels. Planning ahead is crucial as not all areas offer tourist accommodation. Diving can be remote and logistics challenging, so while the rewards are more than worth the effort, this is a destination for experienced divers.
practical information
Temperature: Quirimbas Archipelago 77-79oF (25-26oC), Bazaruto Archipelago 73-75oF (23-24oC), Praia do Tofo and Ponta do Ouro sites 73-84oF (23-29oC).
Visibility: 26 to 130 feet (8-40m), but can vary due to plankton blooms.
Non-Diving Activities: Mozambique is a great cultural location, with lovely colonial buildings and market streets to explore, as well as some good museums. Fishing and watersports are popular.
Skill Level: Some sites are suitable for all levels, however the more exposed sites and those with stronger currents require some experience.
---
6. ZANZIBAR AND TANZANIA
RICH AND DIVERSE ABOVE AND BELOW THE WATERLINE
Spread across the equator on Africa's east coast, the country of Tanzania is perhaps best known as a topside safari destination. However, it also boasts varied Indian Ocean diving along its coastline as well as some exceptional sites around the outlying islands of Zanzibar, Pemba, and Mafia. Zanzibar and Tanzania truly are must-visit destinations when scuba diving in Africa. On the mainland, diving is possible as far north as the border with Kenya and south to the town of Mtwara, with the underwater landscape gradually changing from tropical reefs to deeper ocean trenches and a wilder coastline further towards the border with Mozambique.
Most scuba divers to the region will choose to visit the renowned island of Zanzibar, famous for its Spice Island heritage and stunning beaches. Along with Pemba to the north and Mafia 125 miles further south, these three islands offer some of the best diving in Tanzania. Large pelagic species traveling up Africa's eastern seaboard compete for space on lush tropical reefs where an abundance of medium and small reef fish, barracuda, trevally, reef sharks, and several types of turtle are all common spots. November and December are peak months for whale shark and humpback whale sightings, and manta rays can be found year-round in Kisite Mpunguti Marine Park.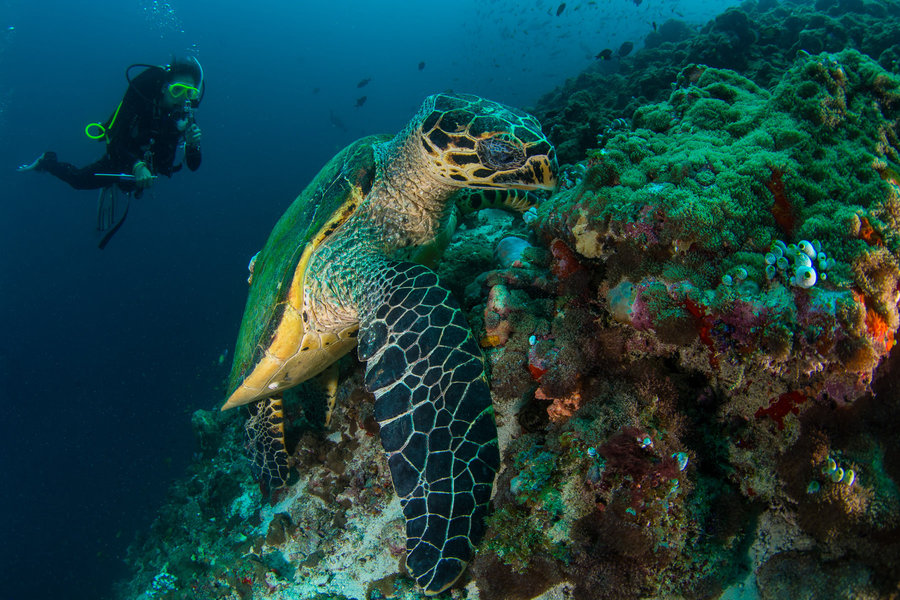 How to dive Zanzibar and Tanzania
Almost all diving in Zanzibar and Tanzania is from the shore or day-boats. Accommodation takes the form of beach resorts or hotel apartments as well as the more traditional style lodges. Zanzibar has a good number of dive operators, as well as some resorts with in-house dive centers. Pemba is more remote, so accommodation tends to be far more exclusive, whereas Mafia Island has a reasonable selection of dive operators and accommodation options.
Diving is available year-round, although the main season is from November through to March.
practical information
Temperature: 78 to 85oF (25 to 29oC) year-round.
Visibility: Upwards of 100ft (30m) outside the wet season.
Non-Diving Activities: The Spice Islands offer a wealth of history and culture, while Tanzania is a world-class safari destination.
Required Skill Level: Suitable for all levels.
---
7. KENYA
a hidden macro gem
Despite being almost completely off the radar for most divers, Kenya offers a surprising array of marine life, particularly for macro-lovers. Nearly 900 miles of coastline are protected within four marine parks and six marine reserves where beautiful reefs and some fascinating topography remain relatively undisturbed. Watamu Marine National Park is one of the best-managed conservation areas in the country, home to green turtles, dugongs, and diverse fish life. In the country's far south, Kisite-Mpunguti Marine Reserve offers stunning coastlines and year-round diving on Wasini Island. Over 40 species of coral and 250 different types of reef fish can be found here, as well as manta rays, turtles, and large pods of bottlenose dolphins.
One of the most popular scuba dive areas is Mombasa Marine National Park & Reserve just north of the city. Here, large coral heads are home to a unique array of nudibranchs and opisthobranchs, including some rare species and color variations not found anywhere else. The outer reefs feature shelves and overhangs as well as the interesting Vuma Caves with a chimney exit at Kilifi Creek. Eels barracuda, grouper, and other dark-loving critters loiter in the gloom while the occasional whale shark can be spotted in the blue.
Photos by Hagai Zvulun
How to DIVE Kenya
Scuba diving Kenya is exclusively from shore-based operators running day boats into the protected reserve areas. The majority of dive shops can be found along the south coast, and this is also where the main beach resorts and hotels are centered.
The country's capital, Nairobi, is the main arrival hub, with direct flights from the east coast of the US and Europe. Once in Nairobi, reserves and lodges often offer private transfers for their guests.
practical information
Temperature: 78 to 85oF (25 to 29oC) year-round.
Visibility: Upwards of 100ft (30m) outside the wet season.
Non-Diving Activities: The Spice Islands offer a wealth of history and culture, while Tanzania is a world-class safari destination.
Required Skill Level: Suitable for all levels.
---
8. Africa's outlying islands
Mauritius, Seychelles, Cape Verde, and the Canary Islands
MAURITIUS
Six hundred miles off the east coast of Madagascar, the small island nation of Mauritius is famous as the home of the dodo. As expected for an Indian Ocean island, Mauritius offers an excellent marine diversity with endemic species and some unique hard and soft corals. Despite the damage done by regular cyclones and over-fishing, scuba diving Mauritius is definitely worthwhile, and sites such as Grand-Baie's and Trou-aux-Biches offer some great macro diving. There are several offshore spots that are renowned for pelagic and shark encounters, with bull sharks, grey reef sharks, and silvertip reef sharks at The Shark Pit and Belle Mare on the island's east coast. There is also some exciting dolphin action at Tamarin Bay, and the Djabeda wreck is completely covered in pink soft coral.
Mauritius can be dived year-round from in-house dive centers based at many of the resorts. November through to April offers the best visibility and warmest waters.
SEYCHELLES
Another 1,100 miles directly north of Mauritius, Seychelles boasts some of the best scuba diving in the Indian Ocean. The three main islands of Mahe, Praslin, and La Digue are where the majority of diving takes place, with protected coral islets and atolls offering reefs with corals abound. The inner reefs are home to a plethora of small and medium-sized reef fish such as angelfish, butterflyfish, wrasse, and parrotfish, as well as turtles and nudibranchs. Further out around the less-visited outer reefs, sailfish, reef sharks, oceanic whitetip sharks, mantas, and whale sharks can often be spotted. The southern islands also offer some great drift and wall dives.
Seychelles can be dived year-round from either a liveaboard or from a resort. The best conditions are in April and May and in October and November when the seas are at their calmest.
CAPE VERDE
On Africa's Atlantic coast, the Cape Verde islands sit 390 miles west of Dakar in Senegal. Located at the junction of tropical equatorial waters and cooler currents from the Mediterranean, marine life around the islands is unique and diverse. When researching what scuba diving in Africa is like, you might not initially come across Cape Verde as a top destination as diving is still in its infancy here, however, year-round access to some rich and unusual dive sites makes it memorable for all who visit. Large schools of fish are a common sight, with turtles, manta rays, and many different types of moray eel also common. Between January and March, the islands are visited by humpback whales.
Diving is available on three of Cape Verde's 10 inhabited islands, with local operators offering day trips in conjunction with the hotels. Diving is available year-round but is best between April and November.
THE CANARY ISLANDS
Off the northwest coast of Africa, the Canary Islands are a Spanish archipelago that enjoys the sub-tropical climate of their closest neighbor, Morocco. The islands' volcanic origins result in clear water and some fascinating underwater topography. There are some notable large species to be encountered here, including angel sharks, turtles, and five different species of ray. Caverns, swim-throughs, and crevices provide the perfect home for moray eels, grouper, barracuda, and plenty of small reef fish.
With a warm wetsuit, it is possible to scuba dive the Canary Islands year-round. Diving is shore-based, with local dive shops and operators running day trips to local sites.
---
Plan your next African dive vacation
Bluewater Travel is a full-service dive-travel agency. Whether you're looking to plan a trip scuba diving in Africa or anywhere else, we can book you a resort or a liveaboard almost anywhere in the world at the same price, or even lower, than booking any other way. Our team of travel advisors has been to most of these places, for some of them even many times. We know the diving, resorts, liveaboards, and logistics better than anyone else in this industry. To get started you can:
Email us to start planning your trip!
---
Further Reading
Check out these useful resources from our sister websites, Bluewater Photo and Underwater Photography Guide.
Heaven is a Place on Earth: Diving Mauritius